Worms is a franchise that has always been near and dear to my heart. I cut my teeth on Worms: Armageddon, and have played almost every title released ever since. After over 20 years, I wasn't sure the franchise could bring more to the table than it already has, but I was happily proven wrong when Worms Rumble launched last year, putting its spin on the battle royale genre. While the definitive way to play the game is undoubtedly on the PS5, its port to Nintendo Switch is great for when I have a few minutes to kill or while on the go.
Worms Rumble is the first real-time worms game in the series – every other game featuring turn-based combat. Up to 32-players at once can take part in game modes such as Team Deathmatch and Last Worm Standing while taking each other out with new and old weapons alike, including the iconic Holy Hand Grenade or Sheep Launcher (both being personal favorites of mine).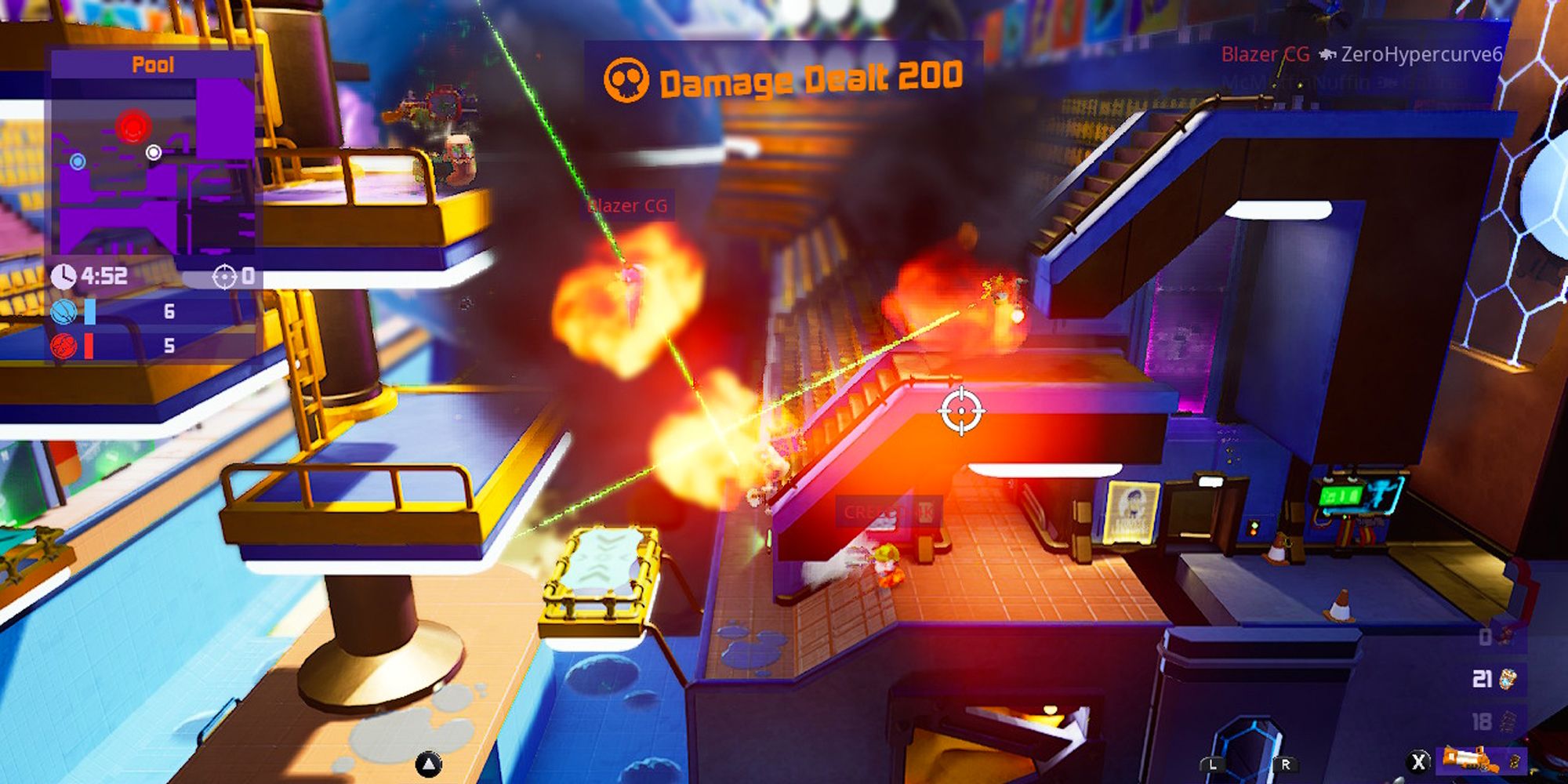 These multiplayer battles can take place via cross-platform, should you so choose, but unless you're trying to play with your friends on different devices, it's probably best for you to stay platform-specific – at least when it comes to the Nintendo Switch version of the game. I've never shied away from sharing my disdain for Joy-Con controllers, but there's something to be said for the responsiveness of the Joy-Con control layout not being nearly as good as on DualSense controllers. I don't fault Worms Rumble's controller layout on the Switch, but I figure that it's worth mentioning as a potential downfall, especially when playing cross-platform.
Related: Olympic Games Tokyo 2020 Review – A Bronze Medal Performance
To that end, while the Switch's screen is more than capable while playing in handheld mode, there are moments during the firefights that are difficult to see due to the sheer amount of things happening at once on the screen. One moment you might be by yourself collecting loot. Then, all of a sudden, five or six Worms show up on the tiny screen at the same time, resulting in multiple explosions and chaos galore, making it difficult to know what's even happening until it's too late. Again, these technical limitations are mostly a result of the Switch hardware itself, rather than Worms Rumble. If you're willing to put up with those quirks, however, you'll have plenty of fun playing Worms Rumble on Nintendo's portable console.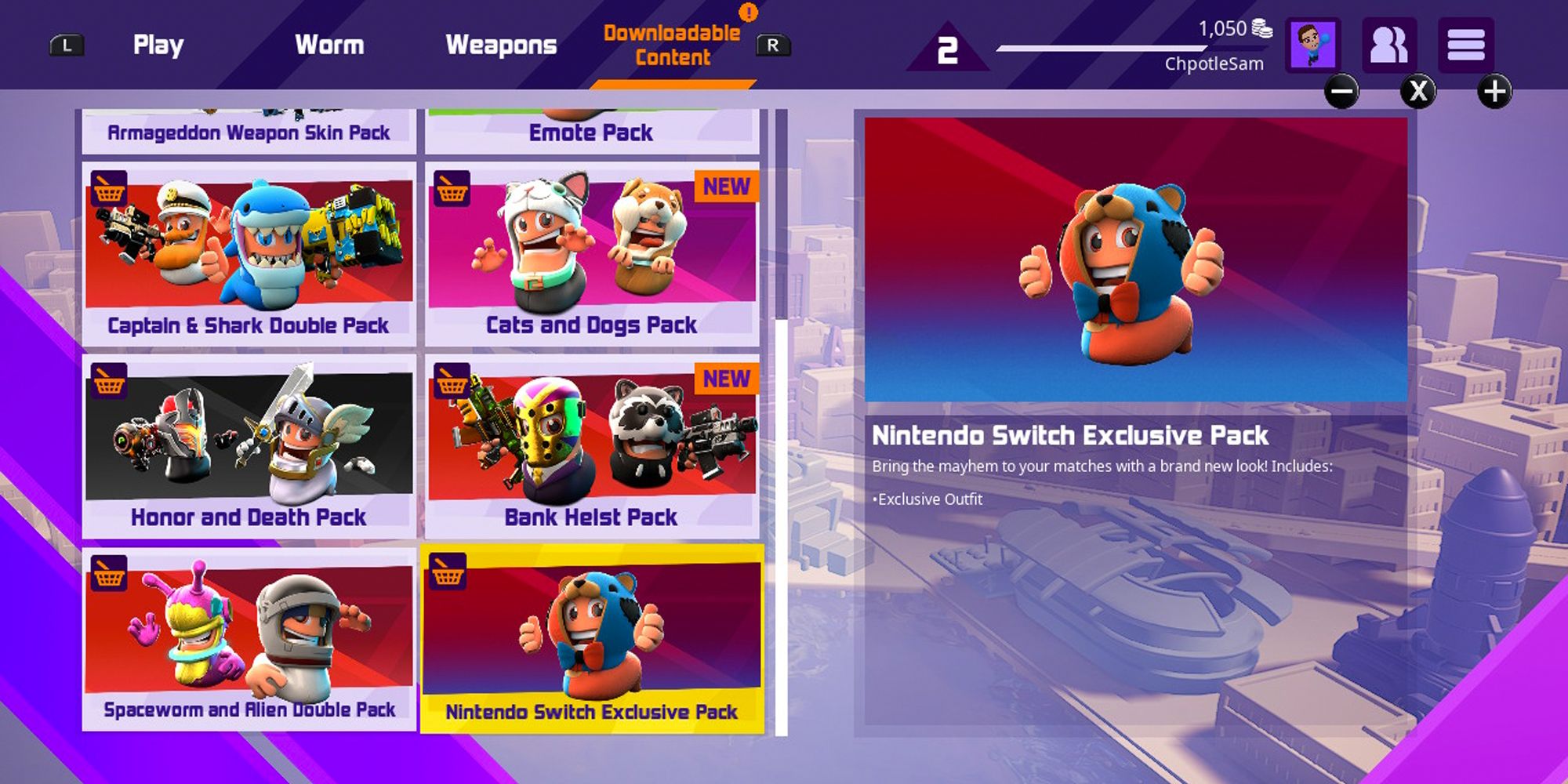 All of the previously released cosmetic packs are available on the eShop, as is the Patchwork Bear costume, which is a Switch-exclusive skin. Spaceport Showdown is also a new level released across all platforms that features a randomly generated low-gravity mechanic that changes up the pace during battle. Everything else that you would expect from the longstanding Worms franchise is there as well, such as the slapstick humor and dialogue, effectively (and finally) bringing the series into the next generation of console releases.
Technical limitations aside, Worms Rumble on Nintendo Switch is a solid addition to the eShop, which is surprisingly sparse in its collection of Worms titles – Worms W.M.D. being the only other title available digitally right now. The better Worms Rumble experience can be found on other platforms, but the Switch version is good enough for wherever you have just a few minutes to play or while traveling.

Score: 4 out of 5 Stars
A Switch copy of Worms Rumble was provided to TheGamer for this review. Worms Rumble is now available on PC, PS4, PS5, Xbox One, Xbox Series X|S, and Nintendo Switch.
Next: Microsoft Flight Simulator Finally Sold Me On Xbox Series X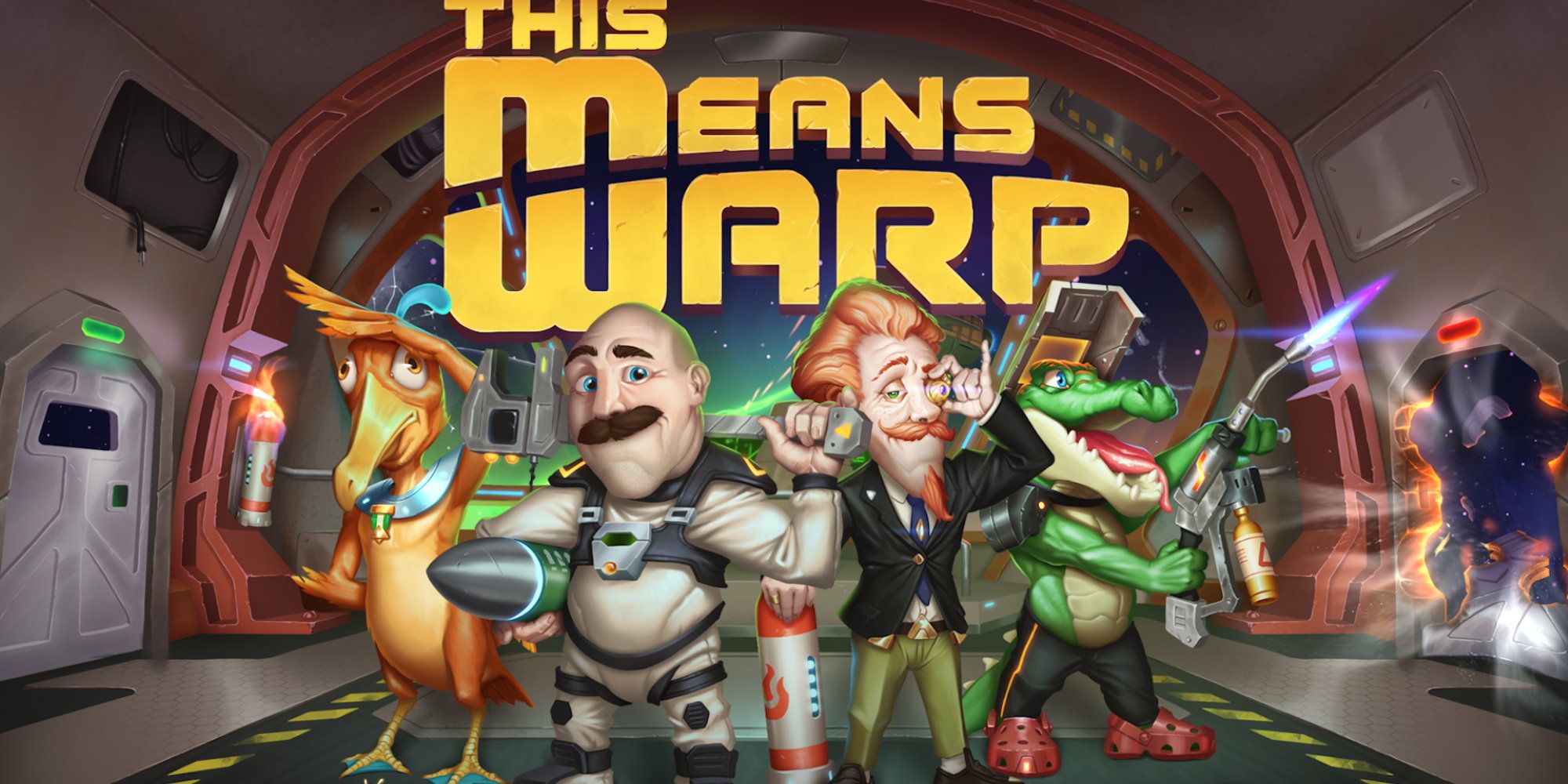 If you ever wanted to play as a spacefaring panda that's running around a besieged ship putting out fires, then we've got the game for you right here.
Game Reviews
Worms
Worms Rumble
Sam has been writing for TheGamer since early 2018, earning the role as the Lead Review Editor in 2019. The Denver, Colorado-native's knack for writing has been a life-long endeavor. His time spent in corporate positions has helped shape the professional element of his creative writing passion and skills. Beyond writing, Sam is a lover of all things food and video games, which – especially on weekends – are generally mutually exclusive, as he streams his gameplay on Twitch (as well as TheGamer's Facebook page) under the self-proclaimed, though well-deserved moniker of ChipotleSam. (Seriously…just ask him about his Chipotle burrito tattoo). You can find Sam on Twitter, Instagram, and Facebook as @RealChipotleSam.
Source: Read Full Article