The new game pack for The Sims 4, Journey To Batuu, is the most contentious DLC for The Sims 4 to date. This ambitious crossover between the two major franchises seems to have drawn even more criticism than My First Pet Stuff and Moschino Stuff combined. Now that I've had time to explore more of the pack, I took a look at the new Create A Sim options, build and buy items, and those bizarre alien "hats," as well as the rest of the gameplay.
Switching Sides And Completing Missions
In the preview, I explored a little about the world itself, as well as the Resistance questline. Since then, I've had the opportunity to follow the First Order and Scoundrels' adventures.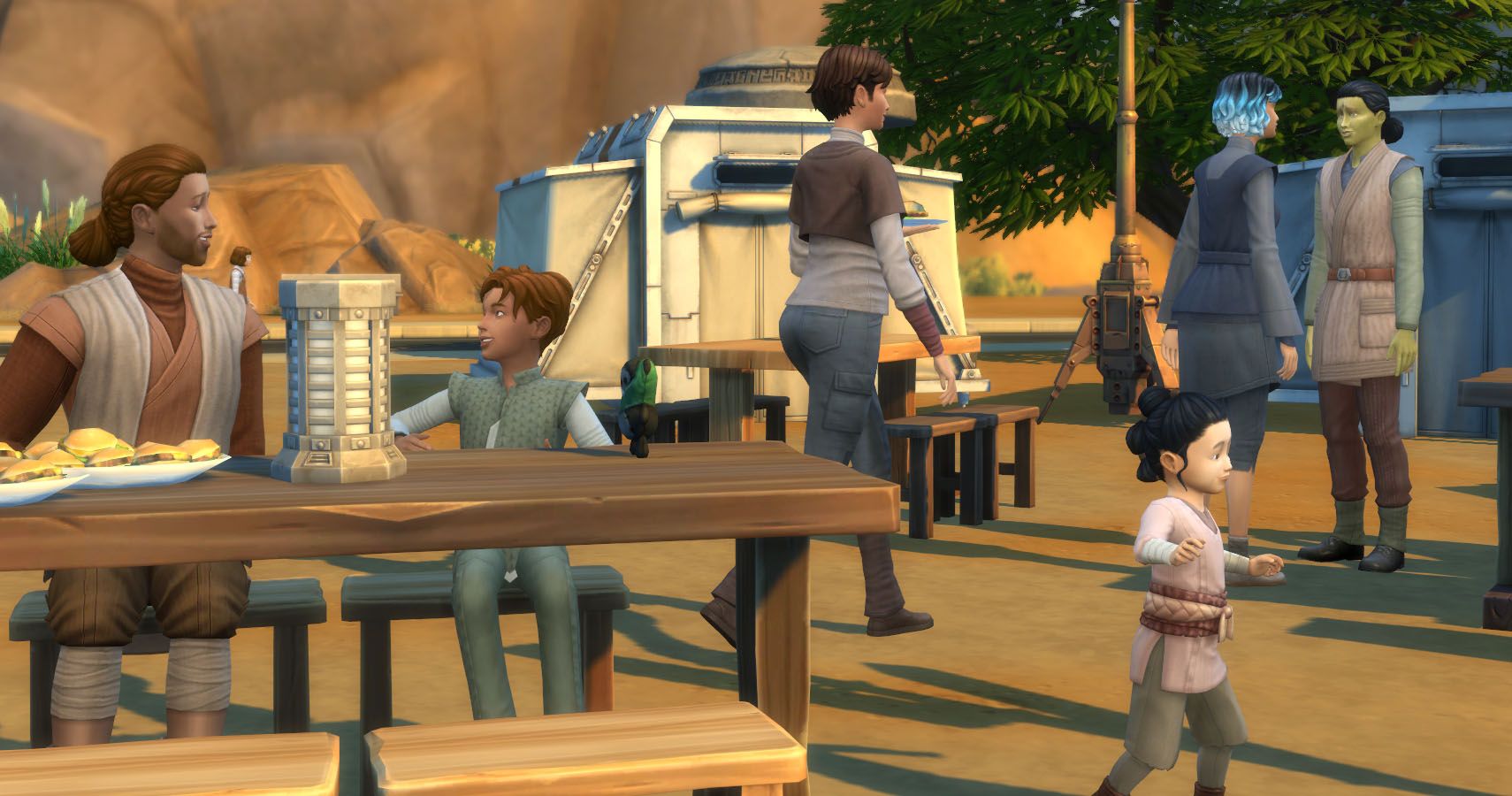 The First Order storyline was more unique than expected. Although it tells the Resistance's story for another perspective, the quests are very different. The Scoundrel questline is even more unique and focuses heavily on using the Millenium Falcon. Scoundrels also have no regard for your reputation, so you can build your standing with them alongside a reputation with either the First Order or Resistance.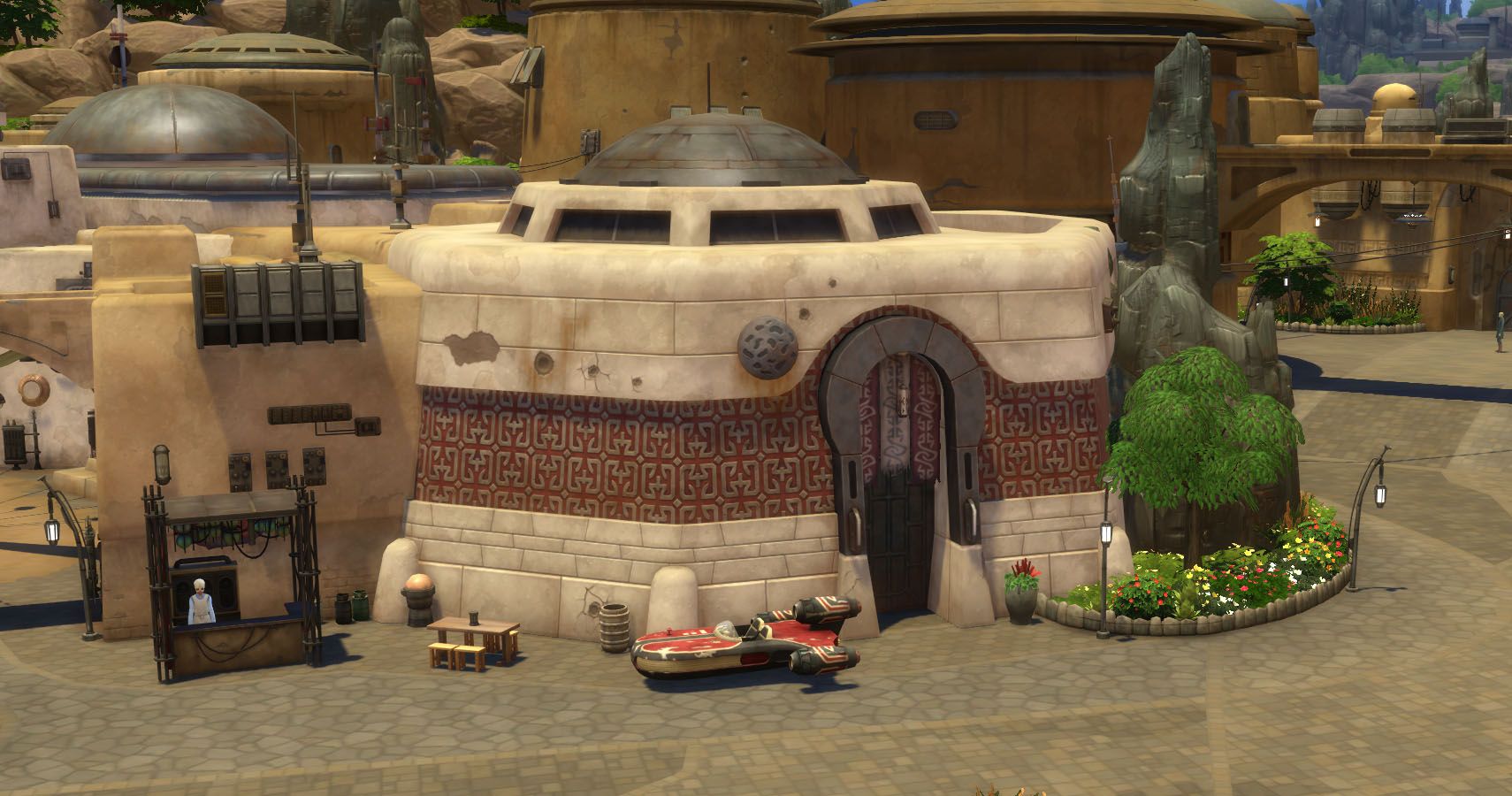 The only other thing to note is that the aspiration linked to the Scoundrels requires you to bribe a Stormtrooper early on. This appeared next to impossible with a high Resistance reputation, so it can be worth checking out the aspiration before you do too much else.
If you play through all three storyline missions, it will take a decent amount of time. The missions also don't just end when complete. Each faction has repeatable tasks that you can continue to do to earn Galactic credits to spend on droids, lightsabers, and all kinds of other weird and wonderful goodies.
The mission system plays like a combination of Jungle Adventure's temple running and Island Living's odd jobs. For example, slicing panels to hack them requires you to analyze the item to find the correct option, or take your chances and hope for the best. Some missions use the rocketship's choices system, while some will require you to speak to, find, or even interrogate different people or locate specific items. There's also some sneaking and distracting involved, tasks which your droid is very useful for.
Build And Buy
The build and buy catalog is incredibly expansive for a game pack. It includes windows, doors, wallpaper, stairs, fences, and stone paths. You'll also find chairs, tables, bars, shelves, and a massive range of decorative and clutter items.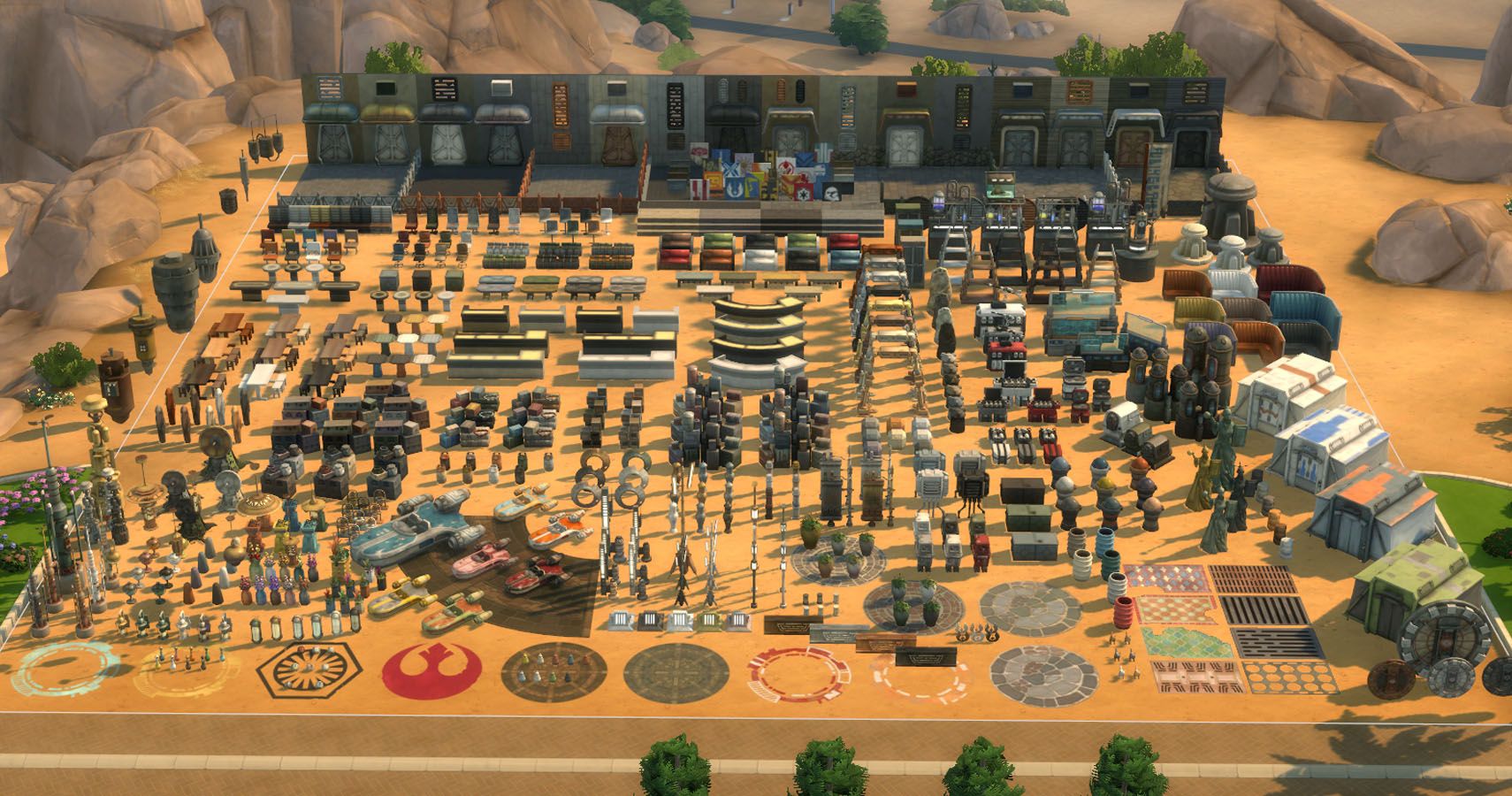 The aesthetic is based on Batuu, so everything matches well and the vibe very much screams Star Wars. It's a home on a desert planet with a post-apocalyptic steampunk look, and includes huge amounts of industrial-type items including generators, crates, and vents.
As expected, live edit and hidden objects increase the number of items available and will even allow you to place ships on your lots. Whether you find the items useful will very much depend on how you build. While most are too niche for a regular home, they are well suited to industrial lots and match especially well with the Strangerville items. Builders will also love the sheer volume and versatility of the clutter items in particular.
Create A Sim
Heading into Create A Sim, the regular clothing choice is reasonable for a game pack. Every item is designed to match the outfits seen on Batuu and there are choices for all ages.
Spread across adult masculine, feminine, and unisex options are 12 one-piece outfits, 16 tops, and 12 skirts or trousers. Alongside this are three pairs of boots, as well as outfits that allow you to dress as Kylo Ren, Rey, and Vi Moradi. As you gain a reputation with the different factions, you can also unlock ten more options including stormtrooper outfits, First Order uniforms, scoundrel outfits, and rebel pilot costumes.
Children have two unisex tops, three pairs of trousers, and a pair of boots, while toddlers have three one-piece options. All ages have five new hairstyles, most of which are unisex. Children can also dress as Jawas.
All these outfits can be worn in the regular world, but Sims on Batuu can only choose from this selection to keep the immersion intact. However, when you open up the headgear things get a little weird.
Create A Bith
In Batuu, you'll notice that there are different races wandering around. They are the Abedned, Twi'leks, Mirialan, Zabrak, and Weequay.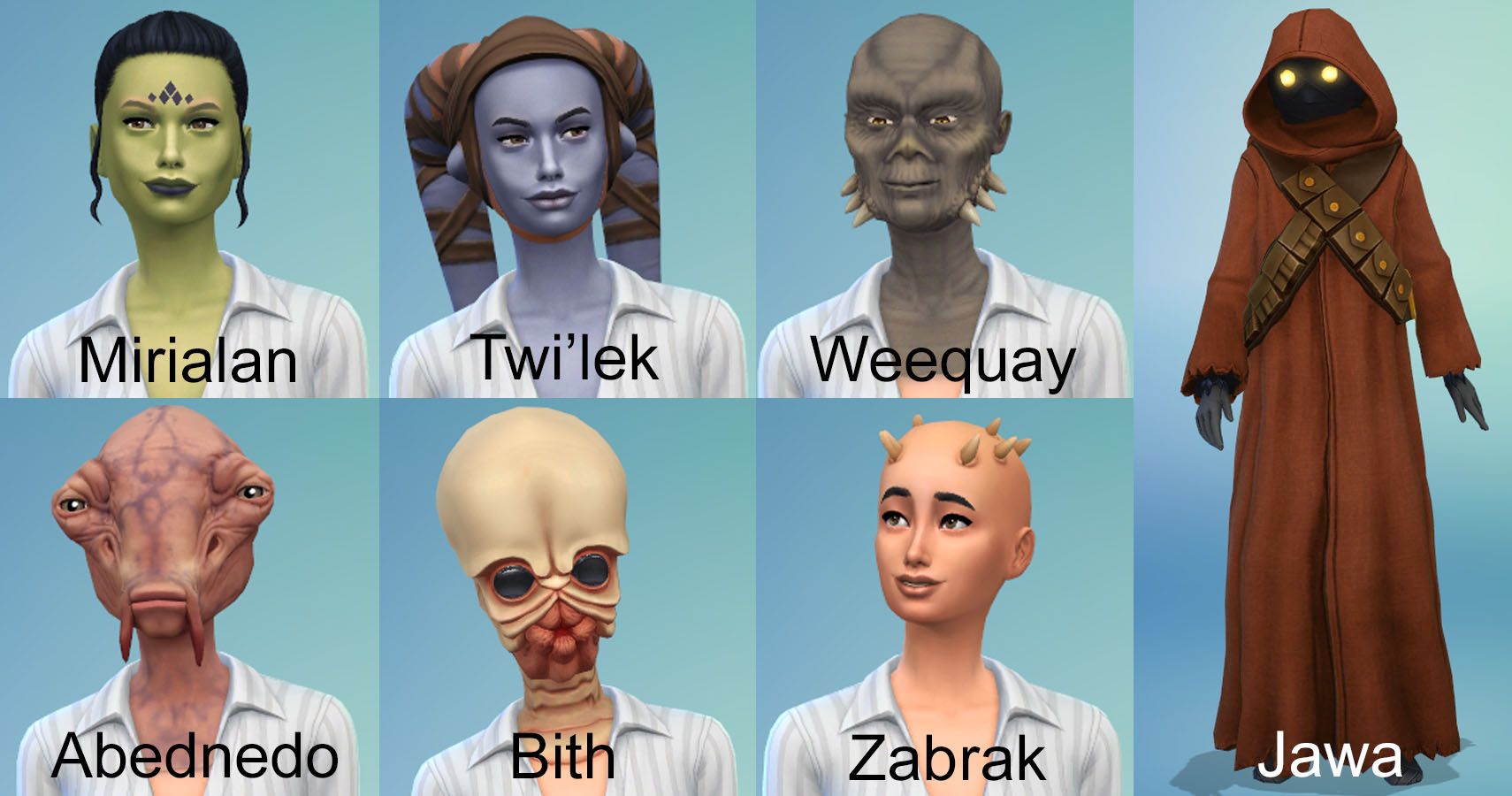 You can actually produce a Sim with any of these looks, but there are some bizarre limitations. Mirialan's are created by selecting the face paint option, while Twi'leks' facial features are found under hats. Both have full-body skin colors. In fact, the Twi'leks have six full-body skin color options. The Zabrak can also be easily created using a "hat" since their skin color matches the regular options.
However, the Bith, Weequay, and Abednedo have a "hat" option that gives players a custom head, along with a skin that extends only onto some of the body, meaning these three races cannot be dressed in anything less than mid-length sleeves and trousers with a high neckline.
"Your Focus Determines Your Reality" – Qui Gon Jin
Whether or not you find this pack enjoyable will very much depend on your playstyle, as well as how much you love Star Wars. It also depends on your expectations. The pack is unique in terms of the crossover and aesthetics, but uses many existing gameplay systems in a new way, similar to how Cats & Dogs adjusts the restaurant system for Vet Clinics.
In terms of fans versus non-fans, the quests are playable for non-Star Wars fans, but the experience will be harder work and less enjoyable. Simple things like not knowing the names of the ships can make it difficult to find things. Scanning items to learn more about them helps, as does hovering over the mission objective for hints. However, these do slow you down and are not always clear. There are also a lot of Star Wars easter eggs in the pack which will bring a smile to fans' faces, but totally pass others by.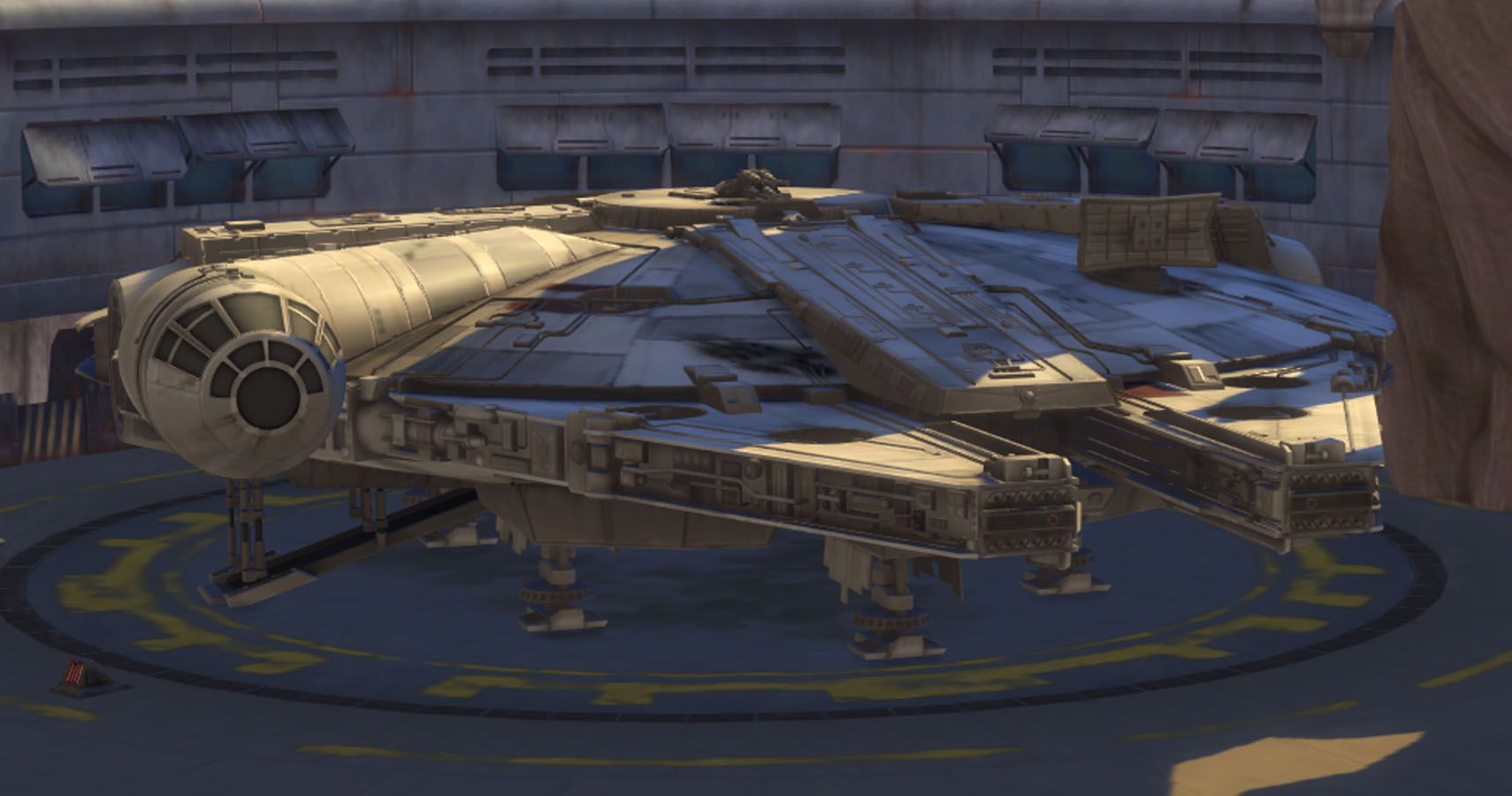 I predict that this pack will be a love-it or hate-it for many players. For me, the biggest disappointments are that most of Batuu is merely set design, Chewie is a still photo, and the alien CAS options are limited. I also really wanted to fully interact with Kylo Ren and Rey. However, when considering these limits, you also have to remember that this is a Sims 4 game pack, not a full-blown Star Wars game or even an expansion pack.
Whatever you think of Journey To Batuu, it's the very first pack that you can truly just skip over if it isn't your thing. Batuu is entirely separate and you can only edit Oga's Cantina and the First Order supply building as well as the Resistance bunker and a small part of the camp outside. The build items are useful, but fit a very specific aesthetic many people may not like and the clothing options are the same. If you choose to pass on this one, you truly won't be missing out in terms of the wider game, which is a huge plus for a pack that's so unique and specific.

A PC copy of The Sims 4: Journey To Batuu was provided to TheGamer for this review. The Sims 4: Journey To Batuu will be available for PC, Mac, Xbox One, and PlayStation 4 on September 8. A copy of The Sims 4 is required to play Journey To Batuu.
Source: Read Full Article