Despite being too afraid to even play Tomb Raider by myself at night, I love horror games. Early on in my childhood gaming days, I gravitated towards the scares found in Silent Hill, Resident Evil, and Fatal Frame. I was never really good at them, and while my older cousins would turn the lights off and close the door for maximum scares, I would turn every light in the house on and play with my dog in my lap. I'm sure I take twice as long to beat horror games as my peers, but I still dig them and snatch every new one up that I can. That being said, I have a new weirdly specific genre I adore – multiplayer horror games Stream.
Console storefronts tend to have a tougher barrier of entry to navigate, so I don't quite find these gems elsewhere, but I'm constantly scrolling through Steam to find multiplayer horror treasures. Most of them are in early access, and they often don't offer more than a few hours of laughs, but they're always reasonably priced for a night of fun. They also aren't a big ask when you're a group of 2-4 folks looking for a new game to play, so instead of spending nearly $200 on a new triple-A game, we're spending about the price of a theater ticket and entertaining a big group. While the list is hardly comprehensive, I'm eager to share some of my favorite scares. So, here it is, I present to you the best of Steam's multiplayer horror titles.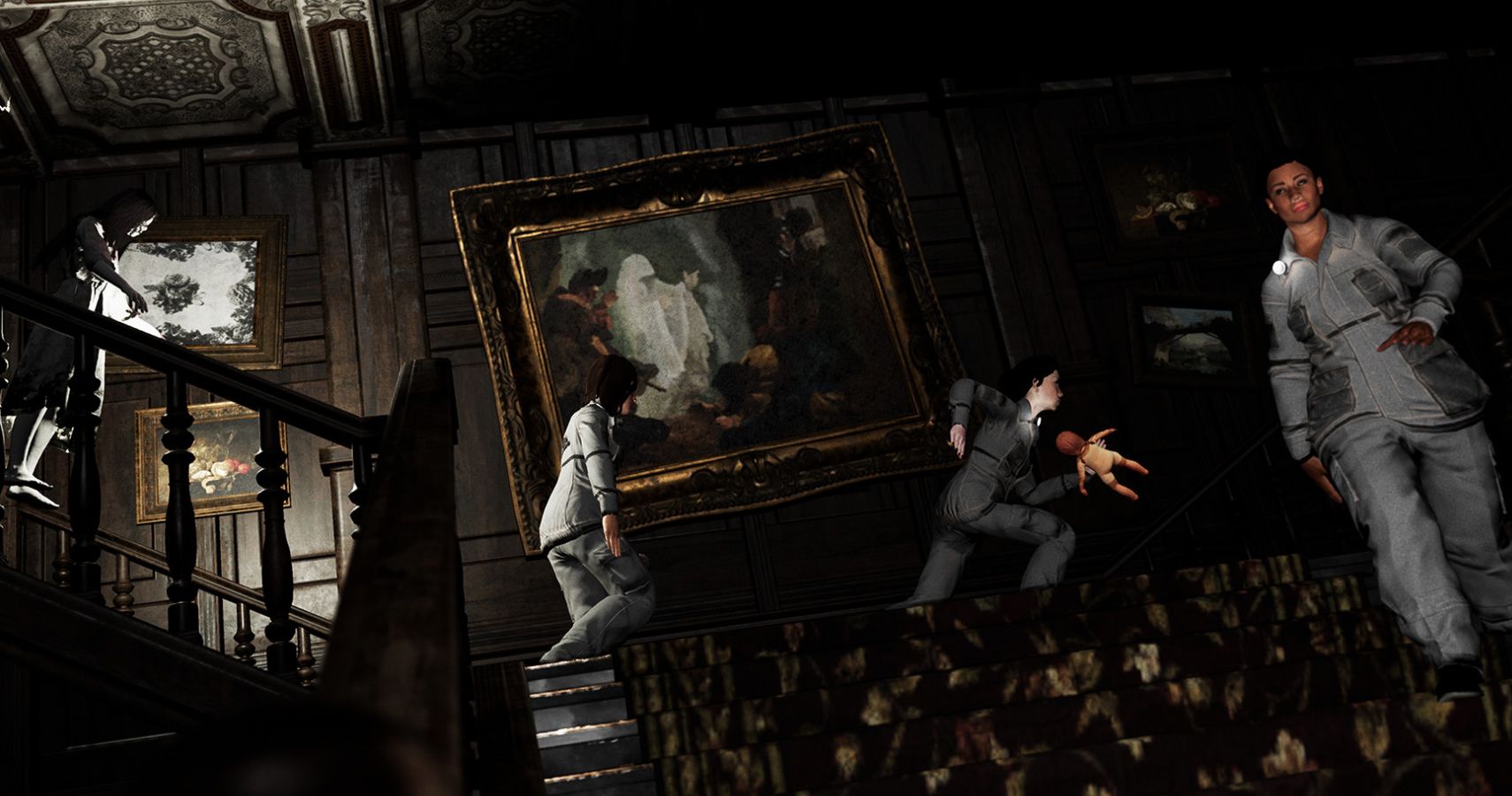 Pacify
Pacify's screaming little girl apparition sent me into an absolute panic. While it's one that's probably only worth one night with friends, it's an easy sell for something less than five bucks on Steam. In Pacify, you've decided to wander into a haunted mansion – as any reasonable person would do – and to escape, you'll need to collect several keys. Collecting keys wouldn't be so bad a chore in itself, but there's a monstrous little girl and her dolls terrorizing the grounds. You'll have to avoid her, burn her dolls, and find a way to escape. Initially, I played with two people, and we couldn't beat it, but things got way easier as a group of four. If you're the easily spooked type that spends most of your time hiding behind friends, I recommend bringing three of them.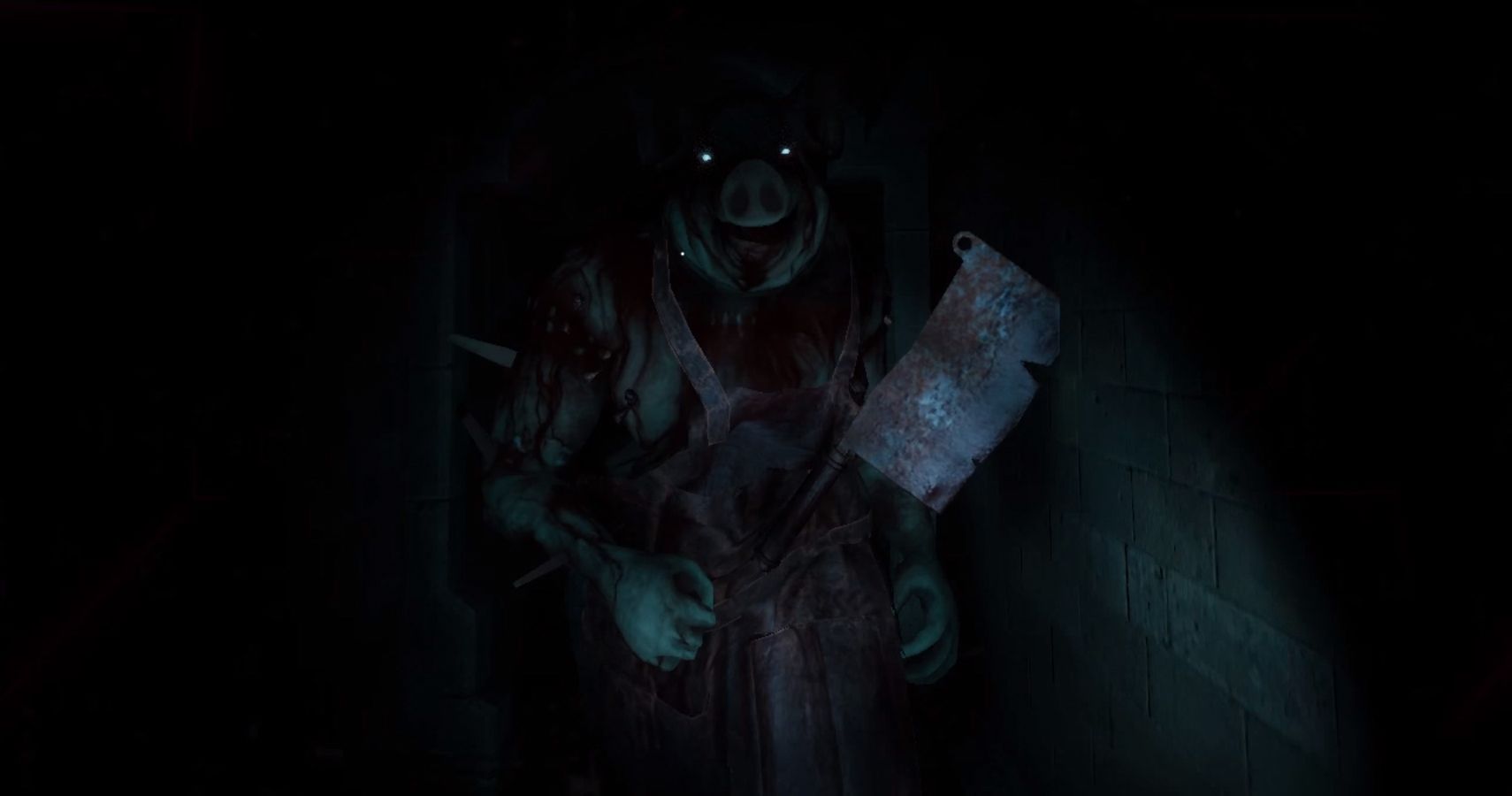 Labyrinthine
Last year, this came out around the same time as Phasmophobia, and I initially missed it in a rush to keep playing my ghost-hunting adventure. It's one that's in early access and still quite short, but my friends and I recently beat all of its four levels in just two nights, and I haven't screamed that loud in a while.
In Labyrinthine, you'll navigate a series of mazes (surprise) with monsters lurking around every corner. They each have their own little gimmick to catch on to in order to lose them and escape the hellishly confusing maps. There's one level where you're chased by a giant pig, and I don't think I've quite recovered from it. I'm already quite pleased with the money spent, and developer Valko Game Studios still has plans to add more.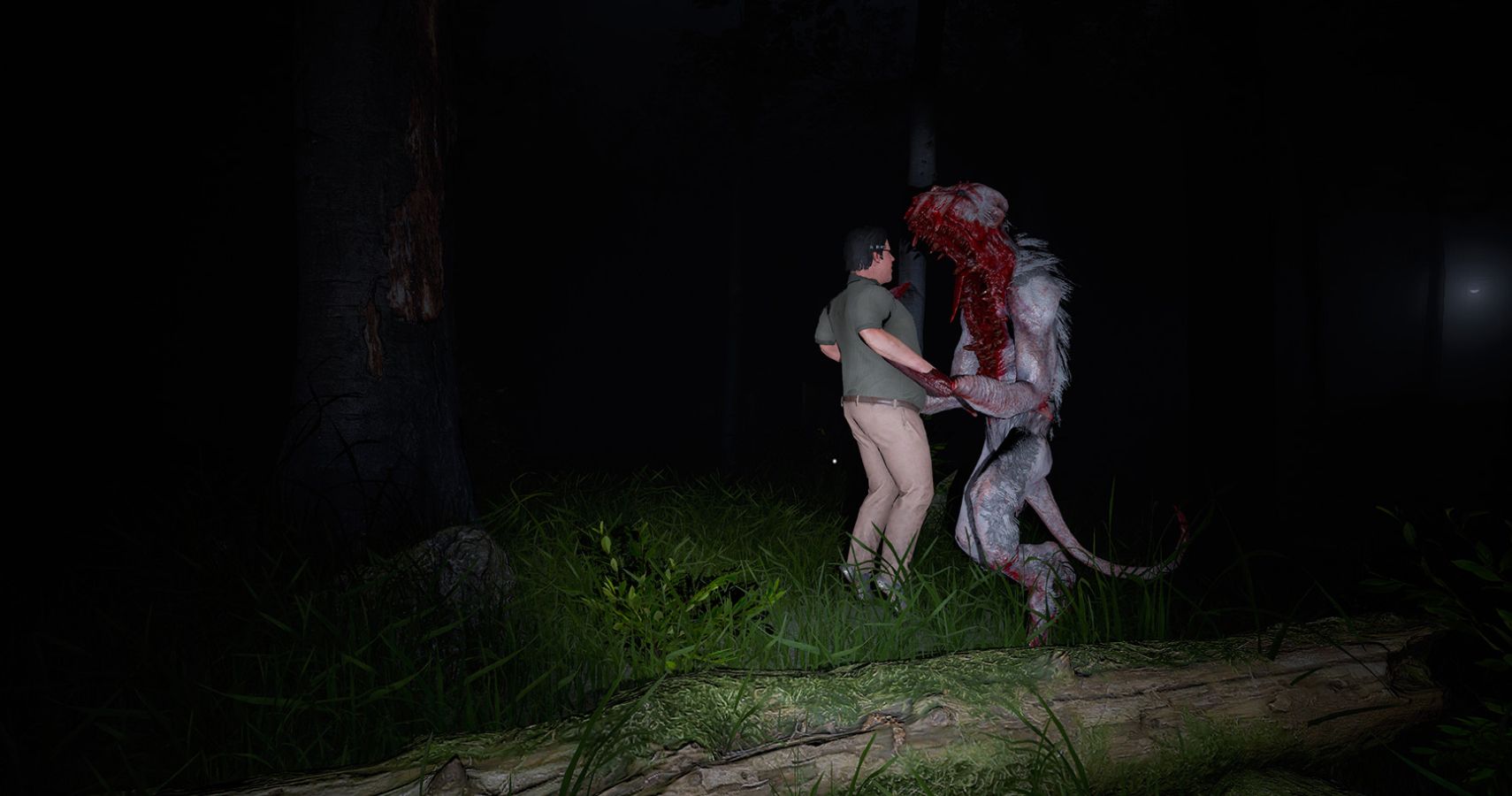 In Silence
Perhaps less scary and more for the laughs, In Silence is another asymmetrical horror game that I've spent way too many nights in with a glass of wine and a stacked friend group. One person (or AI) is a creepy, bloody rat monster, while 2-6 other plays will take on the role of survivor. The big beasty has horrific vision, much like myself, so you rely mostly on sound to find the survivors and gobble them up before they can escape. That, coupled with the proximity-based chat, makes for a terrifying combo as survivors try to whisper quietly while searching for ways to escape and not alert the creature.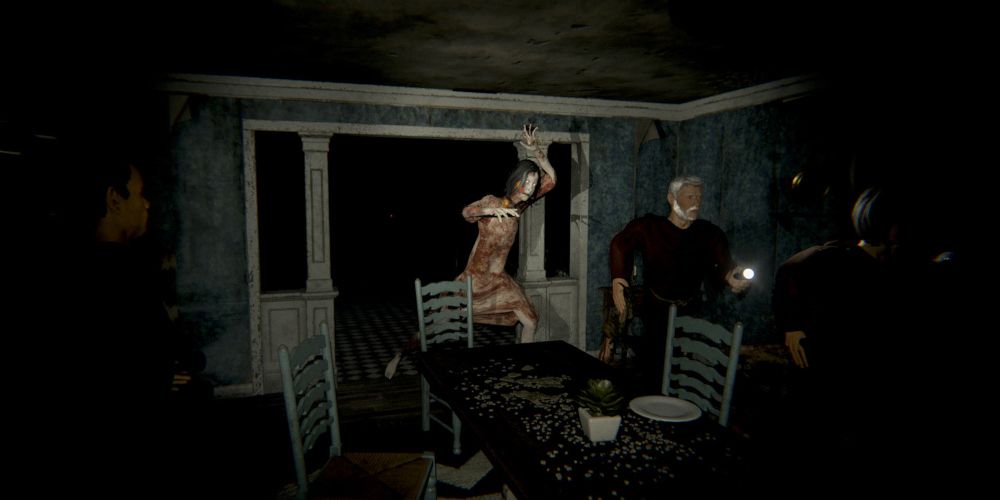 Devour
In my biggest southernism yet, I described Devour as a "hoot 'n' a holler" much to the delight of my friends because I couldn't stop laughing and crying at the same time. Like the rest of these, you can play with up to four friends, and you'll try to excise a demonic cult leader. I damn near pissed myself seeing this giant, creepy lady come running down the hallway. She isn't the only creepy-crawly lurking either, as Devour sports several other monsters and demons you'll need to dodge. While I don't think I'd recommend this one for night after night of fun, it still boasts a little more replay value than the average cheap scare with procedurally generated setups and new updates.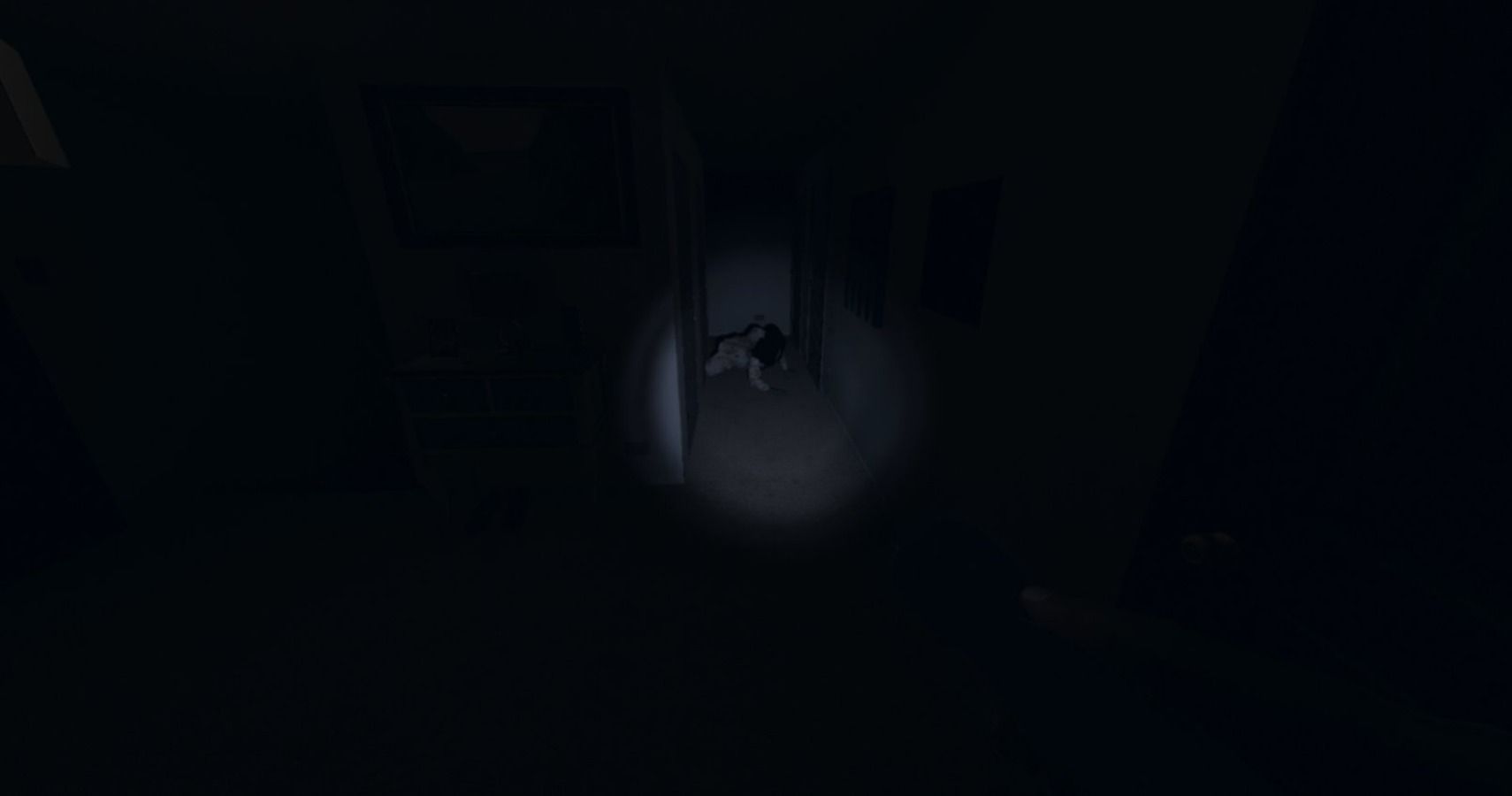 Phasmophobia
Ah, the most obvious recommendation of the bunch and easily the best, Phasmophobia. In my constant hunt for more spooks with friends, I found Phas the night it launched and had maybe one or two reviews. Over 100 hours later, and I never realized at that time that it would turn into the internet sensation it became. As a Steam horror connoisseur, it's easily the best of the best, and this game became my friend group's go-to multiplayer title for months.
For the unfamiliar, Phasmophobia is a 1-4 player ghost hunting game where you visit haunted locations in order to identify the other-worldly entities lurking there. It's not Ghostbusters, you aren't trying to excise anything, the objective is simply to go in, figure out what's haunting the place, and leave. That means there is no way to actually fight your enemies; you just rely on items like spirit boxes, ghostwriting books, cameras, and other goodies to figure out if the location is haunted by a demon, oni, poltergeist, etc. With a good group, it's an incredible mixture of terrifying and hilarious. At just $13.99 on Steam, it's easily the best investment I've made for some time with friends.
Source: Read Full Article