Kipling is celebrating Pac-Man's 40th anniversary with a brand new collection of bags based on the retro game. The collection, which includes a selection of backpacks, suitcases, tote bags, and more, is now available, so Pac-Man fans can get their hands on high-quality bags featuring the titular character and his ghostly nemeses.
Pac-Man has been around for a long time, and its popularity doesn't seem to be waning anytime soon. Released in 1980, Pac-Man started as a classic arcade game and has gone on to see numerous sequels, two TV shows, and all kinds of merchandise. The series remains one of the best-selling and highest-grossing franchises of all time. And now, as it celebrates its 40th anniversary, it has teamed up with Kipling to celebrate.
RELATED: Pac-Man Hates Loud Moviegoers As Much As We Do
Kipling's Pac-Man Special Collection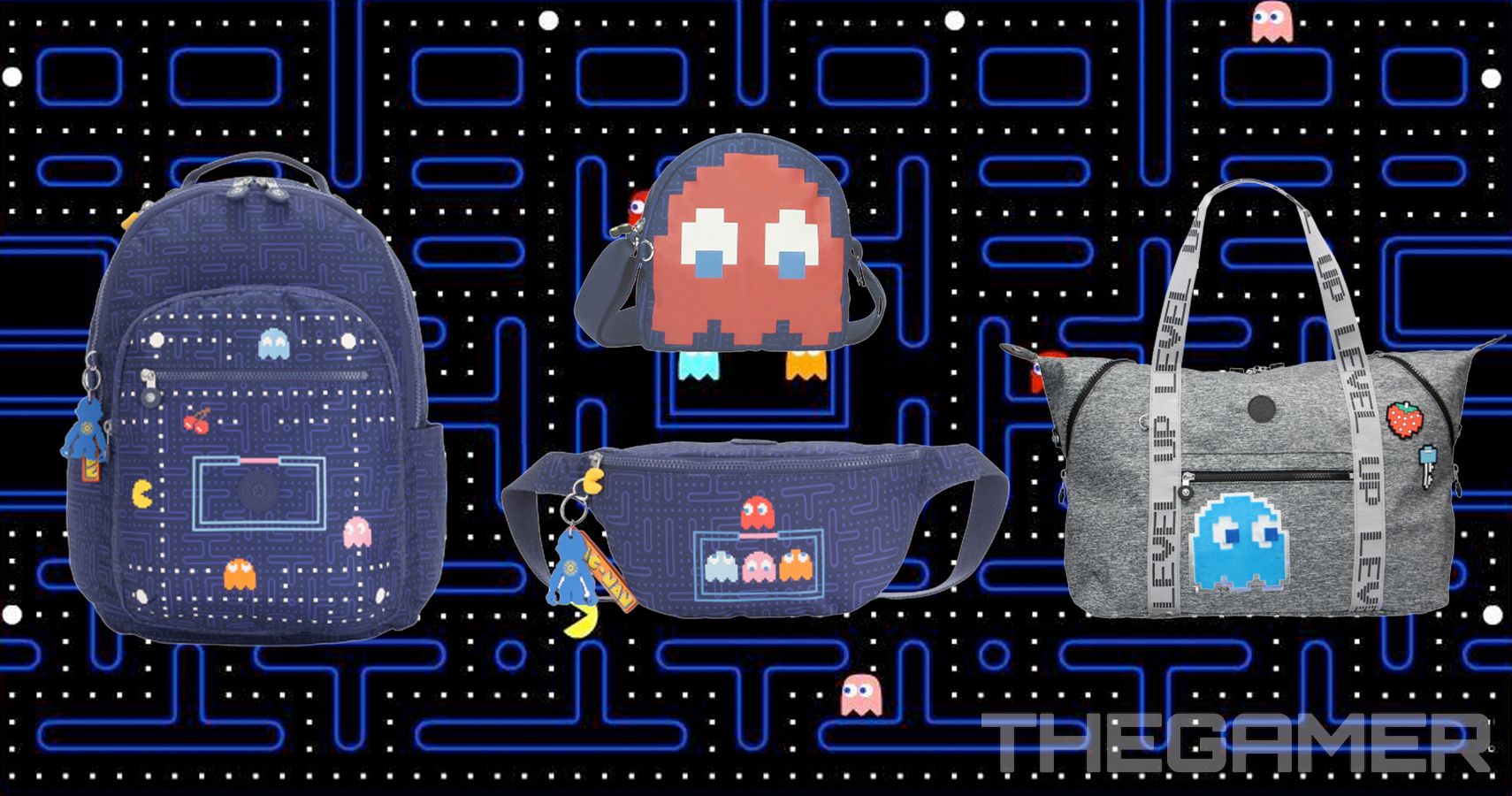 Kipling's special collection commemorating the retro game features 30 men and women's bags and accessories and is available at 35 Kipling and department stores, as well as on Kipling's official website.
The collection has bags for every occasion, from pouches and tote bags to suitcases, wristlets, pen cases, crossbody bags, and backpacks. So, if you've ever wanted a Pac-Man fanny pack or a Blinky crossbody bag, now's your chance. Some accessories are also available, such as zipper covers in the shape of Pac-Man's iconic ghosts.
This isn't the first time Kipling has collaborated with other franchises and companies. In the past, Kipling has teamed up with Disney, as well as Urban Outfitters, The Emoji Company, and other designers.
RELATED: Pac-Man Quarter Scale Arcade Cabinet Review: Maximum Nostalgia!
Our Impression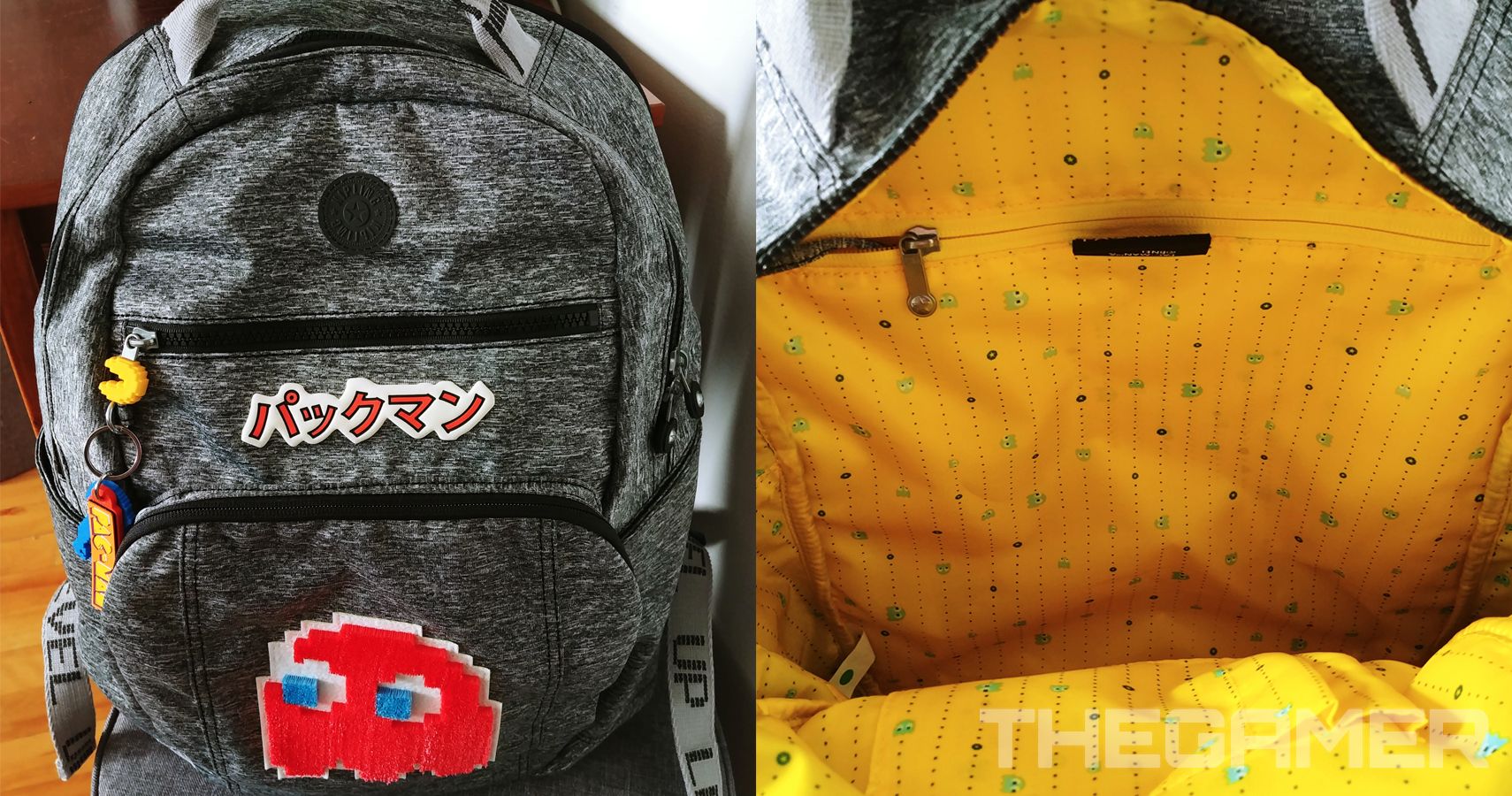 We got our hands on the 13" Laptop Backpack called Troy and were instantly impressed with its quality, not to mention all of its pockets. Troy has four outside pockets, including two small ones on the front, a larger middle pocket, and a padded pocket in the back that fits a 13″ laptop with some room to spare. The middle pocket also has a zippered compartment of its own (as you can see in the right-hand photo above), as well as a clip for keys, a pouch, and some pencil slots. There's even a luggage sleeve on the back of the backpack, which means that traveling with it won't be a hassle.
The bag itself is extremely lightweight and might be the least heavy backpack I've ever owned. When you consider all of the things one typically carries around in their backpack, its easy for it to get a bit heavy — and, if you're anyone like me, who uses my backpack to carry my laptop and often fills it with groceries and whatever I need from the store, then you can end up carrying around what feels like a brick on your back all day. Thankfully, Troy's lightweight material makes the bag that much lighter, which can make a surprising difference.
The backpack is comfortable and easy to wear. Its straps are padded and, unlike other backpacks, are a lot more narrow, making it ideal for someone who, like myself, doesn't have big, broad shoulders. Its material is soft and appears to be waterproof, which is amazing if you're planning to carry around a computer in the rain. Troy also has some incredible details, such as a soft Blinky on the front, a Pac-Man zipper, and a keychain featuring the Pac-Man logo and Kipling monkey. The material inside is another ode to Pac-Man, as it's dotted with the franchise's iconic ghosts and power pellets.
Overall, I was impressed with Kipling's Troy backpack and can't think of any other features I'd need on a daily basis that the bag is lacking. I also like to see myself as the titular explorer whenever I use it, as Blinky, the iconic red ghost who shadows Pac-Man in the series, is always at my back.
Kipling's Pac-Man special collection is currently available and can be checked out here.
Source: Read Full Article