Final Fantasy 14's Endwalker expansion saw the close of the story arc that has been in the making for the past ten years, so now players are looking forward to what the future will hold. The game's producer and director Naoki Yoshida recently held the 68th 'Letter from the Producer Live' broadcast to discuss the plan for the next ten years' worth of content for FF14.
The first part of the live stream discussed FF14's journey so far, encompassing 2010 through to 2021, before moving on to plans for the future. Yoshi-P also took the time to explain that he has no intentions of leaving FF14 or adding NFTs to the game.
After fan feedback and market research, the team wants FF14 to become a game that can be enjoyed alone or with friends. Plans to achieve this include adding Trust compatibility for all main scenario dungeons and four-player trials in increments throughout Patch 6.1-6.5. However, eight-player trials will not be updated during this time but will be considered for 7.0 or later. To begin this, Patch 6.1 will make all A Realm Reborn (Patch 2.0) scenario duties Trust compatible.
Yoshi-P reassured fans that there are no plans to remove the matching system for dungeons that allow for players to group together via the Duty Finder as the focus on the Trust compatibility is aimed at players who wish to play through the story on their own.
Trust AI characters will not always be the Scions or main characters, as this would not fit the storyline for all duties — for example, if a character is elsewhere in the world, it wouldn't make sense for them to come and help you — so Yoshi-P gave the example of some Trust characters being members from the Adventurer's Guild or other people with the Echo. Of course, during other key duties, notable characters will be joining you, and there may be script changes to the game to ensure it makes sense for them to do this.
There are also improvements planned for low-level main scenario dungeons and trials, and there will be changes made to some older duties too. For example, the puddles in The Thousand Maws of Toto-Rak that inflict Slow will be removed, the eight-man duty Cape Westwind will be removed and will instead be reworked as a quest-instanced battle where you fight Rihtahtyn sas Arvina. Praetorium and Castrum Meridianum will become four-person instanced dungeons, so the battle with Lahabrea in Thancred's body will also become an instanced story quest battle.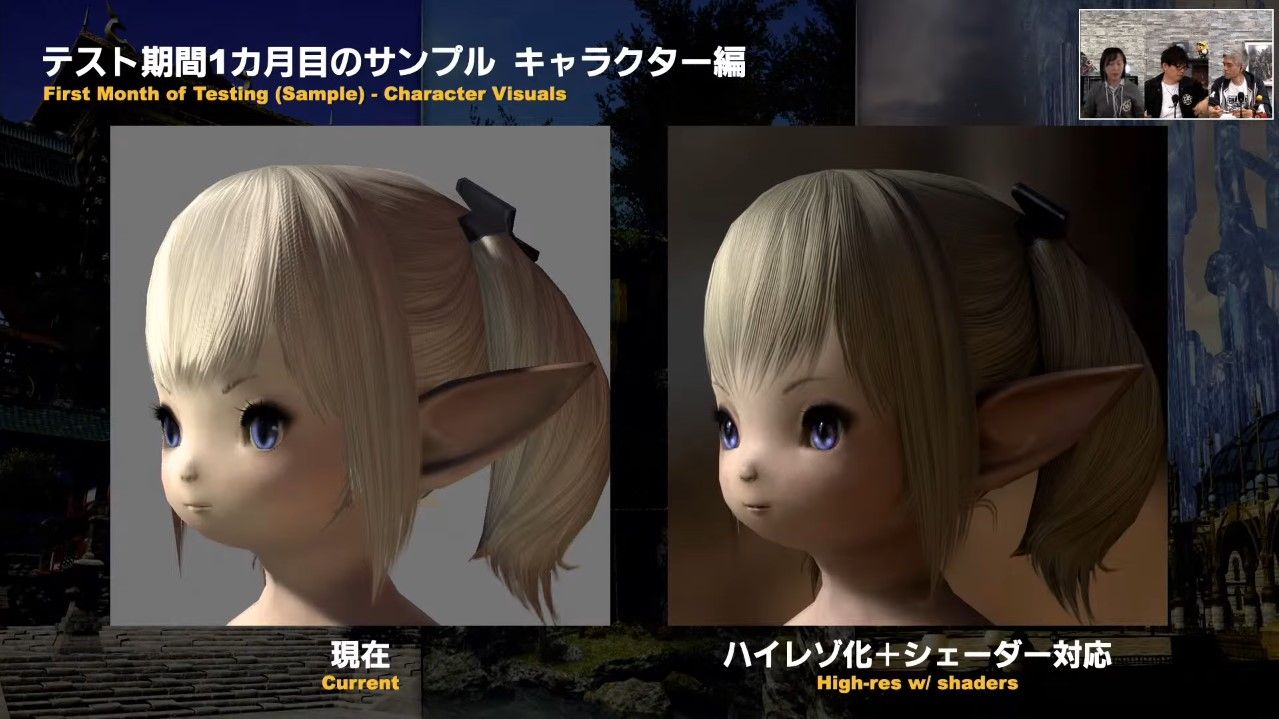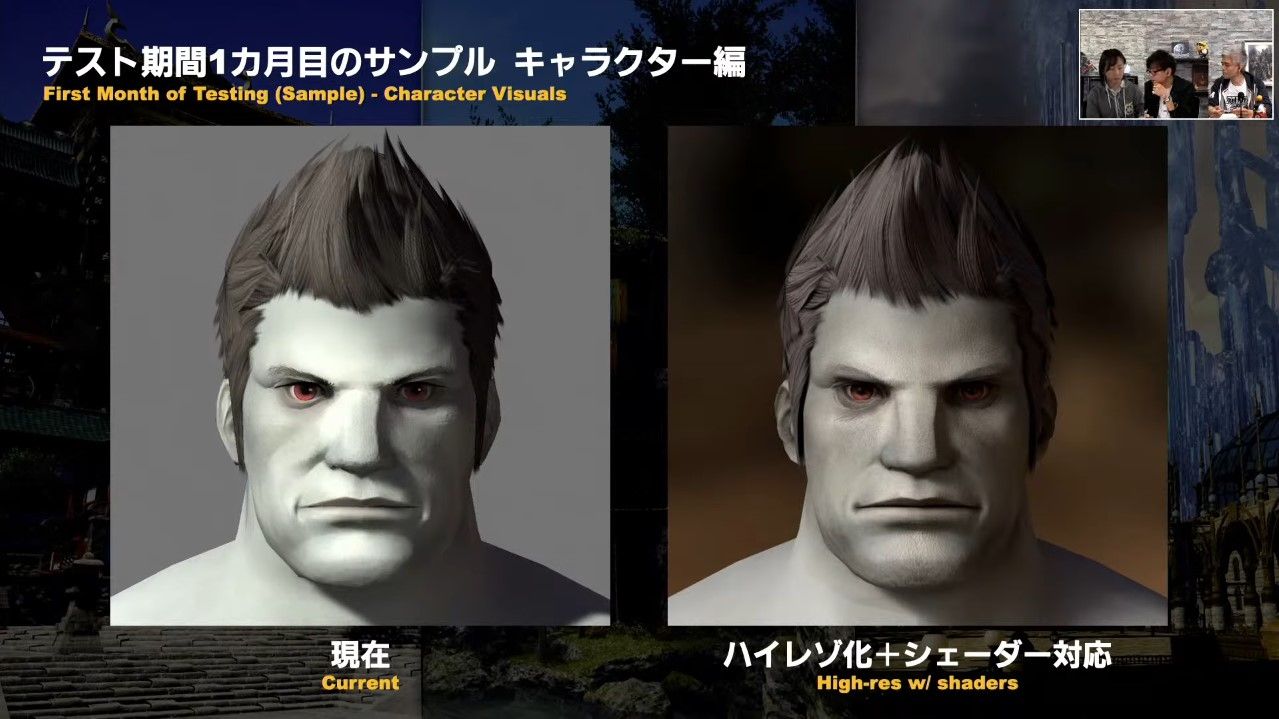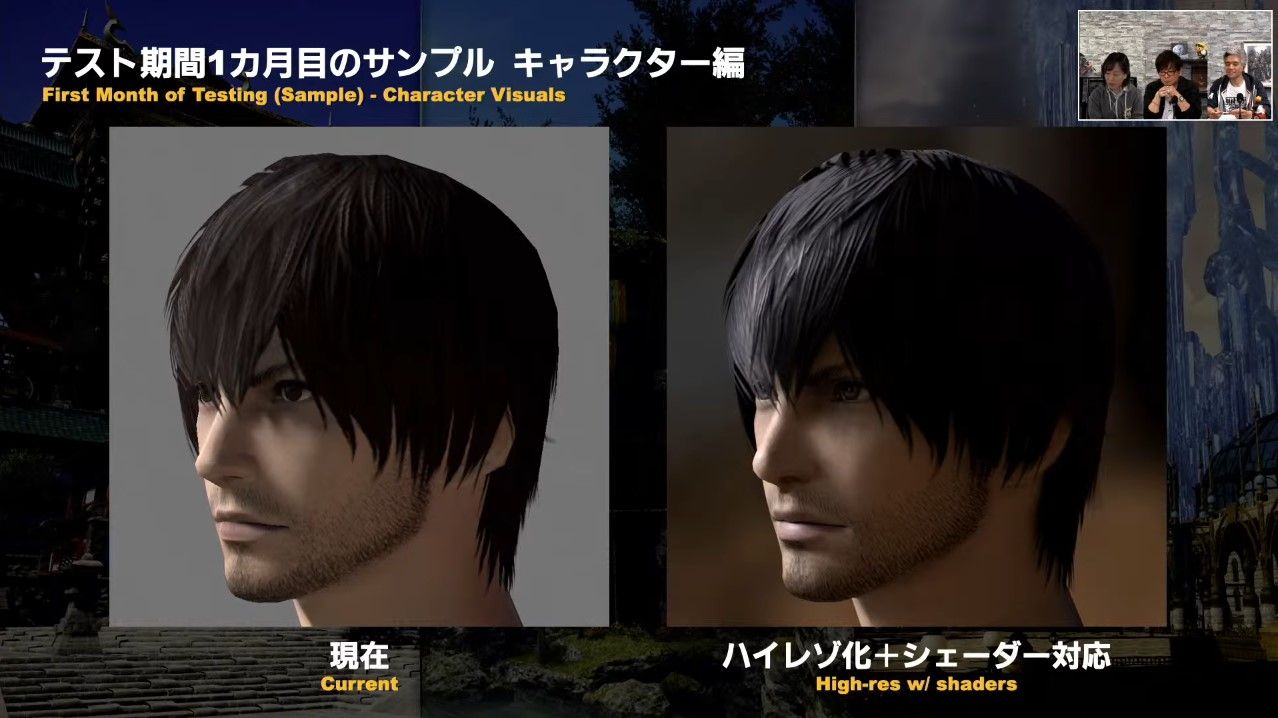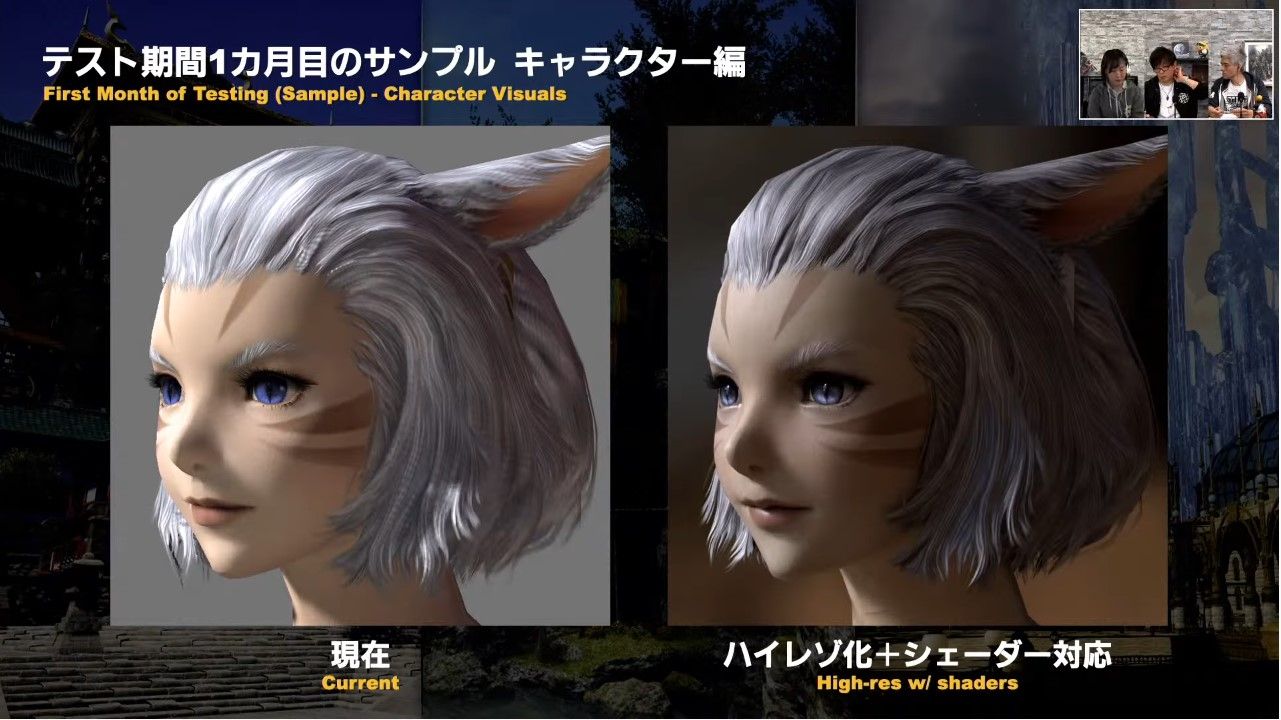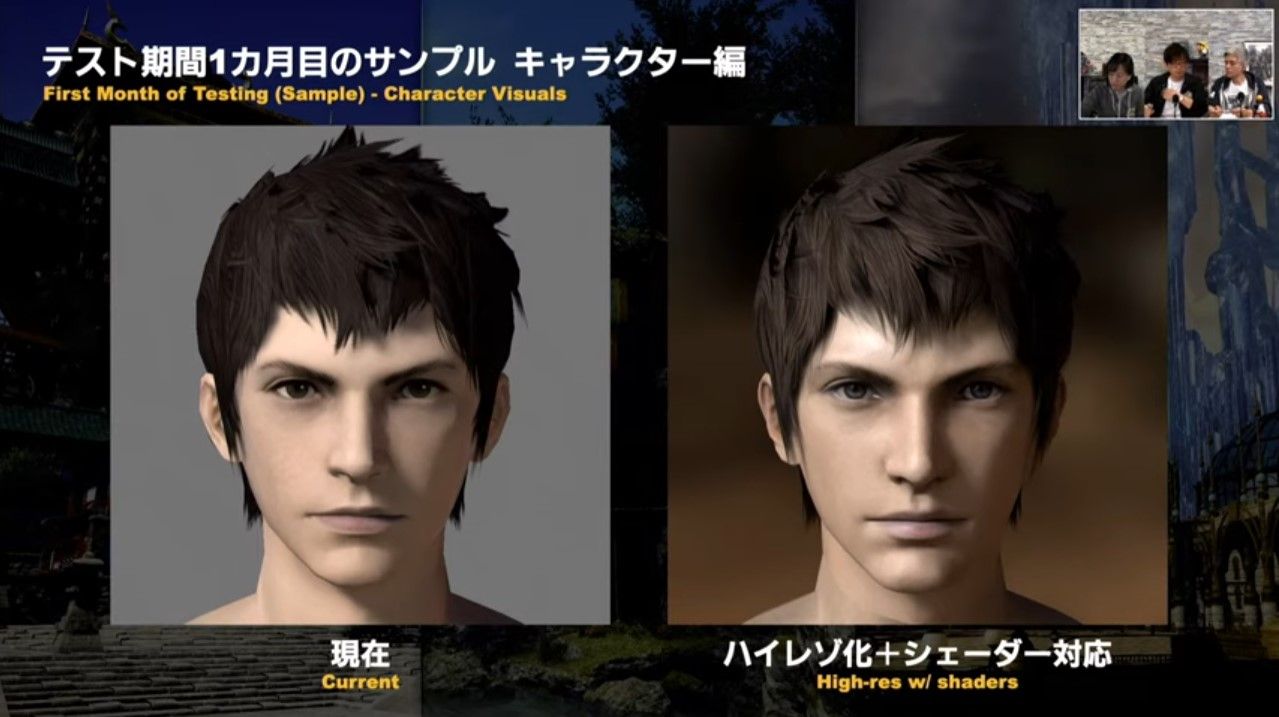 The first graphical update will be implemented in 7.0, including animation and lighting systems updates, allowing for the possibility of longer-lasting emotes. Naturally, this means that the minimum operating specifications will change as of 7.0, though Yoshi-P emphasized that the graphics of FF14 will not be comparable to standalone Final Fantasy titles and that photorealism would not be the goal. Despite the planned graphical update, Yoshi-P clarified that this does not necessarily mean that support for the PlayStation 4 version will be coming to an end as of 7.0.
Upgraded character model samples were showcased; these were produced after only a month of testing high resolution with shaders, so these are not the end result for 7.0, but give players an idea of the kind of improvements that will be made. The team will continue to update players as testing continues.
Planned character appearance updates include higher resolution textures for hair, skin, and gear, improved material qualities, and better lighting and shadow effects. Due to the sheer number of equipment available, not all legacy gear will be updated for 7.0, though older gear that is still popular glamour options for players will be prioritized. Other gear will be updated from 7.x onwards, with Yoshi-P stating that it will take a few years to update all textures. Graphical improvements will be made to older NPCs throughout 7.x also. Overall appearance for player characters will be altered as little as possible and testing for additional improvements will continue into the future.
Several test screenshots were shown to display improvements with additional lighting, higher resolution, texture improvement, the placement of additional environmental objects and detail for better immersion, and improved plant resolution. Other possible improvements are also being tested for fog and other ambient occlusion effects.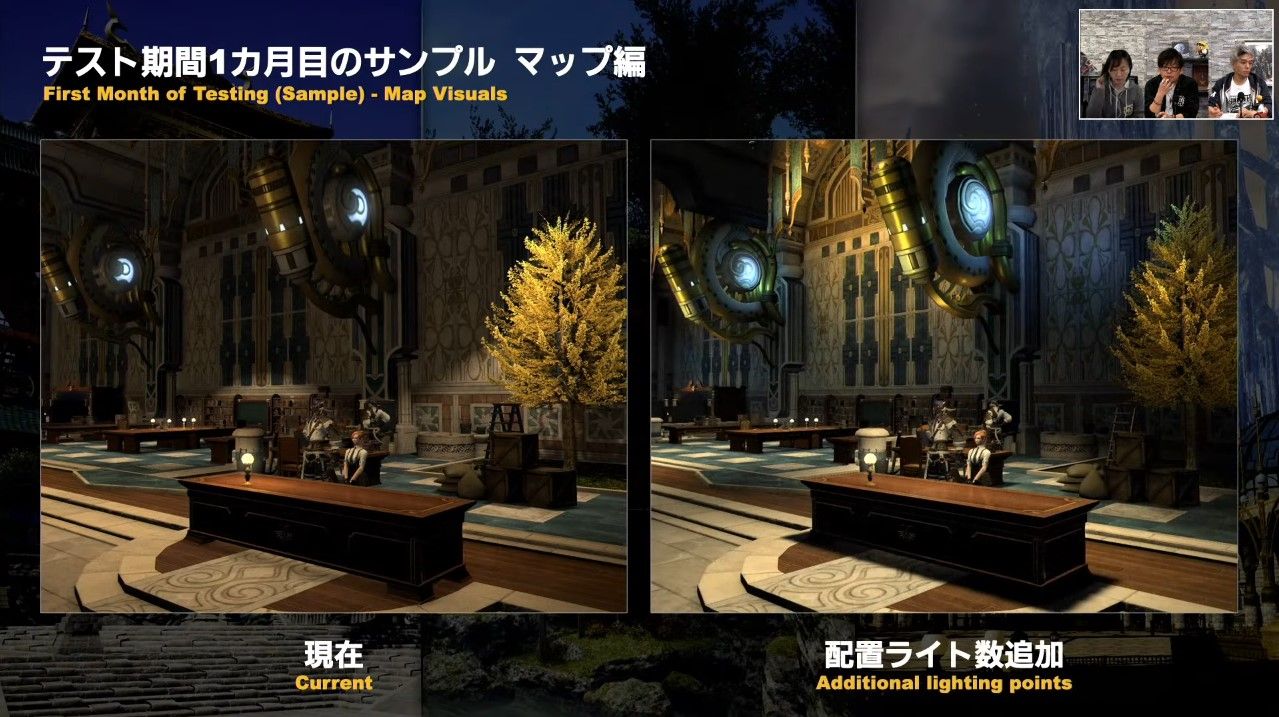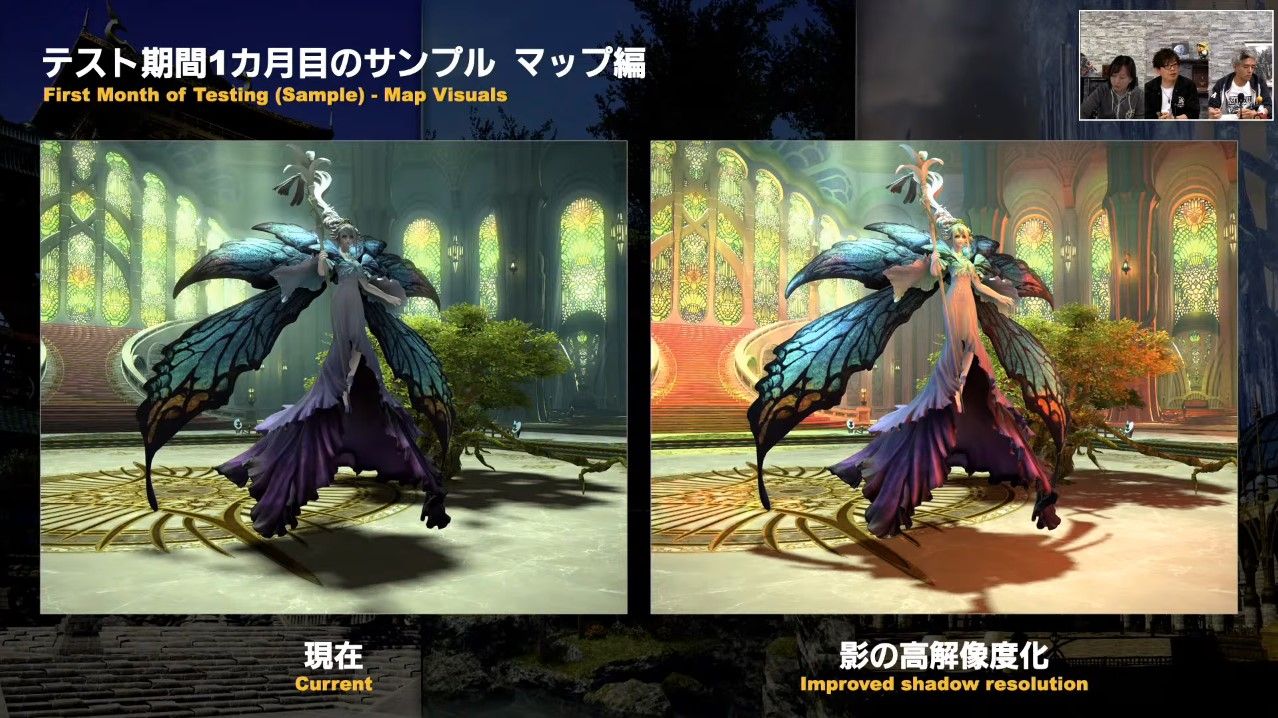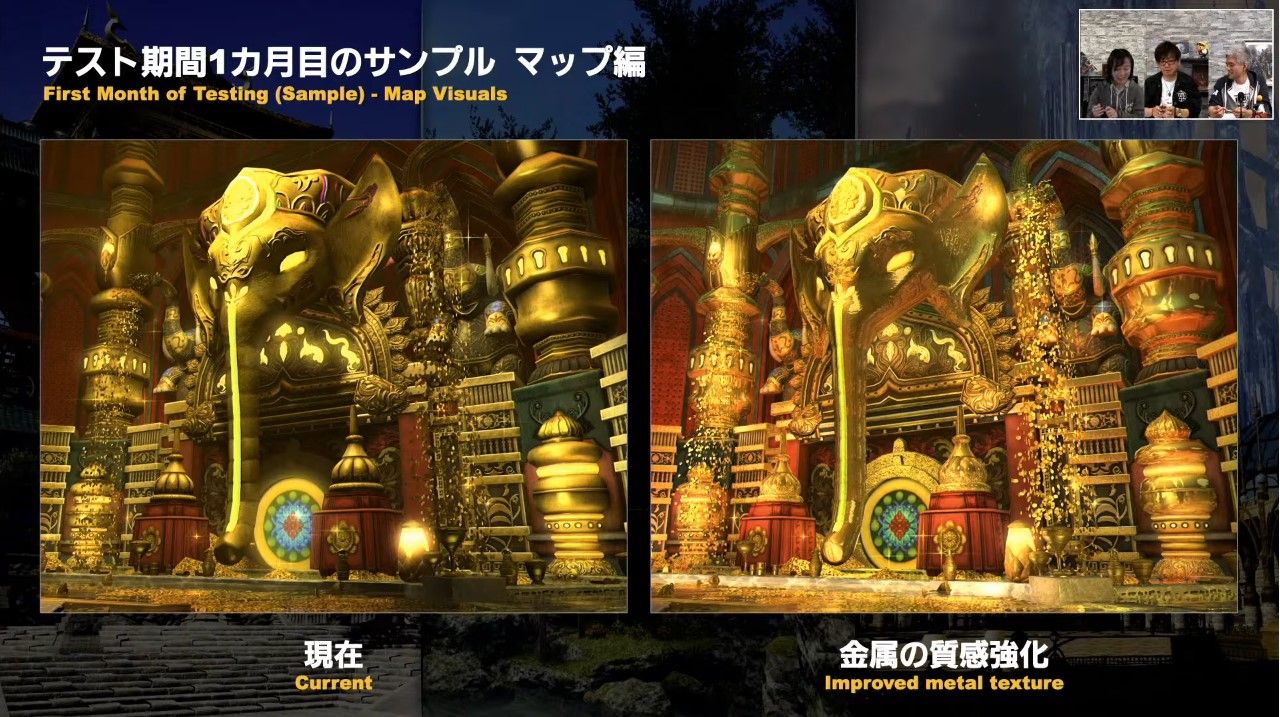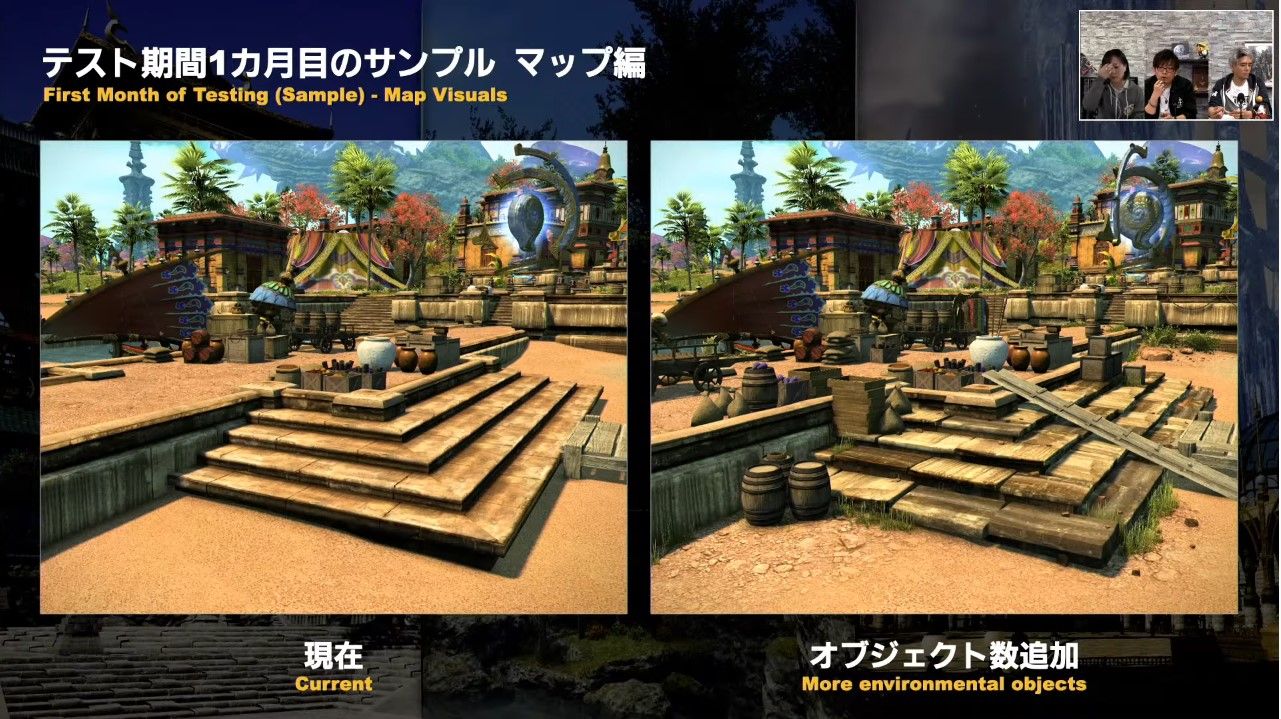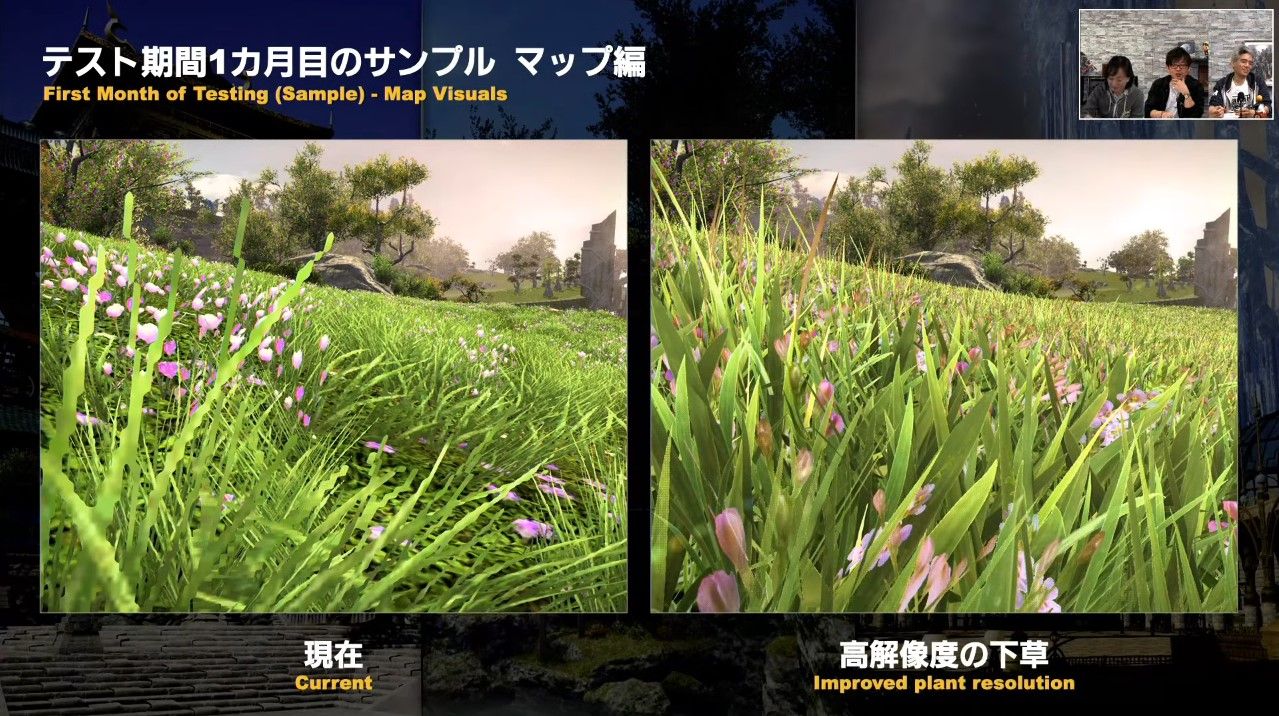 Yoshi-P stated that the team would continue to provide regular updates on an appropriate schedule and revealed that in addition to the main scenario updates planned through Patch 6.1-6.5, the 'Somehow Further Hildibrand Adventures' and 'Tataru's Grand Endeavor' sidequest series would also launch during these patch updates.
Patch 6.1 Planned Major Updates
The Patch 6.1 series will see the implementation of the first part of the Myths of the Realm alliance raid, a new PvP mode called Crystalline Conflict, the Arkasodara tribe quests and dailies, and Ultima's Bane (Unreal). A new Ultimate duty called Dragonsong's Repise will launch in Patch 6.1.1, while Crystalline Conflict is planned to land in Patch 6.15.
Players were already aware that the new Ishgard Empyreum housing ward will open in Patch 6.1, but other plans for the Patch 6.1 series roadmap included the aforementioned Trust system implementation for 2.0 dungeons, a new Calling Card-style UI (not the final name), new hairstyles for Hrothgar, and new Custom Deliveries for Ameliance.
More details regarding the new features and exactly when they will be implemented will come in the Live Letter planned for March 4, 2022.
Patch 6.2 Planned Major Updates
The Patch 6.2 series will see the Trust system being implemented for the 2.x main scenario dungeons, as well as for two or three Heavensward main scenario dungeons, new weapon enhancements, a new type of dungeon with variable difficulty for one to four players with the codename Criterion, and finally, the debut of the highly anticipated Island Sanctuary content. The Glamour system will be getting a much-needed update, with more Glamour plates being added. New Pandæmonium and Faux Hollow content, additional trials, and more, are all planned too.
Patch 6.3 Planned Major Updates
The Patch 6.3 series will feature the Trust system implementation for the remaining Heavensward main scenario dungeons, a new Deep Dungeon series, a new Ultimate duty, and an update to the Island Sanctuary. Additionally, more Myths of the Realm and Faux Hollows content, new trials, and more will be added.
Patch 6.4/6.5 Planned Major Updates
The patch 6.4 series will see the Trust system added to all Stormblood main scenario dungeons, two new Criterion dungeons will be added, as well as a brand-new area for Island Sanctuary. The conclusion to Pandæmonium, more Myths of the Realm and Faux Hollows content, new trials, and more will also be added. Additional plans for 6.4 and 6.5 are still being worked on.
Patch 6.x Planned Major Updates
There are plans for Blue Mage to receive a level increase, but at this time there is no exact timeframe for this. Data Center travel is currently planned for Patch 6.8.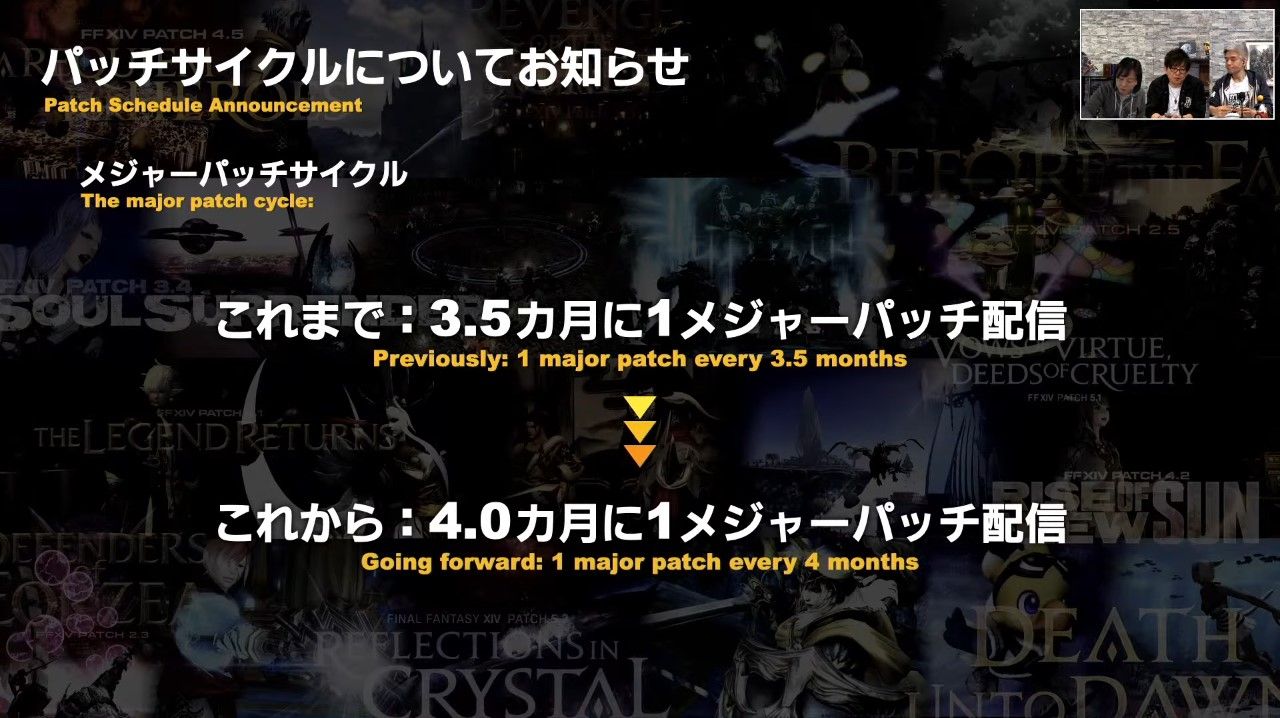 Additionally, Yoshi-P announced changes to the usual major patch cycle; since A Realm Reborn, a major patch has launched every three and a half months, but going forward each major patch will launch every four months. This is to allow an extra week for both implementation and fine-tuning. An additional week during summer and New Year's holidays will also be added.
You can watch the full live stream here. There will be a dedicated Live Letter in the future to discuss Patch 6.1 in detail.
Source: Read Full Article