Quick Links
The Renown Track And Its Rewards
World of Warcraft: Dragonflight added four main factions with whom you can earn Renown (a.k.a. reputation) to the game. Among these four groups are the Maruuk Centaur, a large band of – you guessed it – centaurs divided into a few different clans but united under the banner of the Maruuk.
There are a few ways to get to max Renown with the Maruuk Centaur in the forms of weekly, semi-weekly, daily, and infinitely grindable content. Additionally, this faction is the quickest grind of them all and is definitely one that Leatherworkers and Blacksmiths will want to max out as soon as possible due to the recipes/formulas they offer.
How To Gain Renown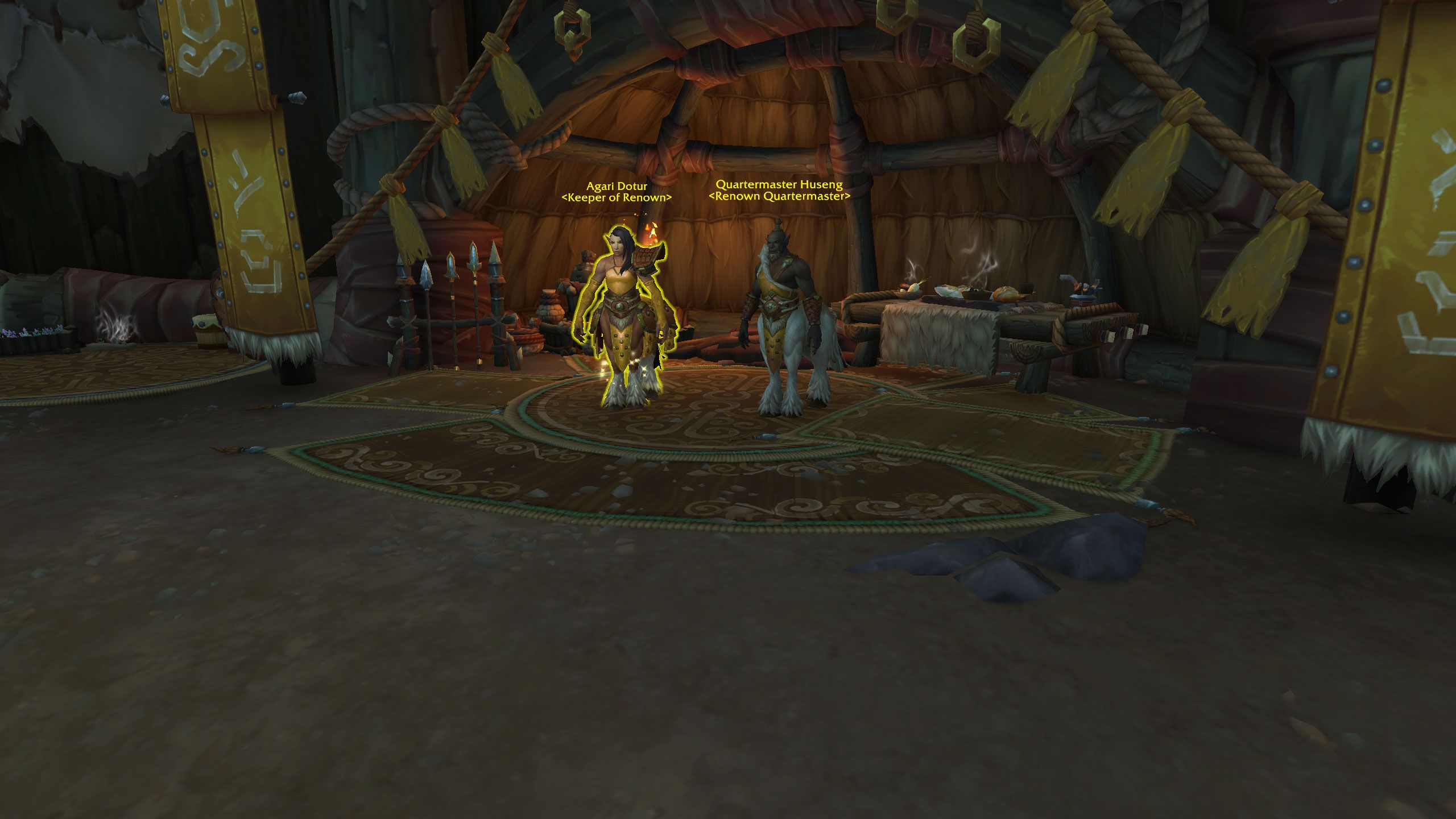 There are a few ways to gain Renown with the Maruuk Centaur. While they will all be listed out here, some will be looked at more closely in the later sections:
| | |
| --- | --- |
| Main Story Quests | This will likely already be done for you on your main character, but if you're trying to gain Renown on your alts, don't forget to run those main story quests on them as well. |
| Side Quests | Similar to the case with the main story quest, these are one-time completions, but they give a nice chunk of Renown. |
| World Quests | Not all world quests will improve your Renown with the Maruuk Centaur, so just check each one to see which faction it is listed under. |
| Aylaag Camp Quests | This is a nomadic Centaur camp that will have quests for you to do semi-weekly, just like world quests. |
| Daily Rare Kills | While not every rare will give Renown progress with the Maruuk Centaur, most in the Ohn'ahran plains will give 50 reputation each. |
| The Grand Hunt | This is a repeatable community event that gives decent Renown progress. |
| Centaur Hunting Trophies | The infinitely repeatable currency you can farm out and turn in for small Renown progress. |
Aylaag Camp
The nomadic centaur tribe of Aylaag Camp, as mentioned before, offers you four quests to do semi-weekly, so that's eight quests per week. Without any reputation buffs, each round of four quests gives you between 750 and 1,000 reputation, so it's a nice chunk. It's easy to forget about these guys, but don't forget to include them with your semi-weely world quest runs.
Their quest givers have blue exclamation points over their heads, but contrary to this color's usual use in World of Warcraft, these are not daily quests.
The Grand Hunt
This is the main source of your infinitely grindable reputation. You can only get the epic (purple) reward bag once per week (per character) for completing this, and every time you complete it, the reward bag goes down in quality, to rare (blue), then uncommon (green), then common (white). While the epic bag rewards are undoubtedly better, the common bag rewards still net you around four Centaur Hunting Trophies (more on those in the next section).
The Grand Hunt is not an event exclusive to the Ohn'ahran Plains. These can spawn in any of the four Dragon Isles zones and will show up on your map as a horn (as shown in the image above).
In addition to getting some Centaur Hunting Trophies to turn in, each part of the Grand Hunt awards 15 reputation. So, since each Grand Hunt has six hunts within it, that nets you 90 reputation per Grand hunt, which is decent.
Centaur Hunting Trophies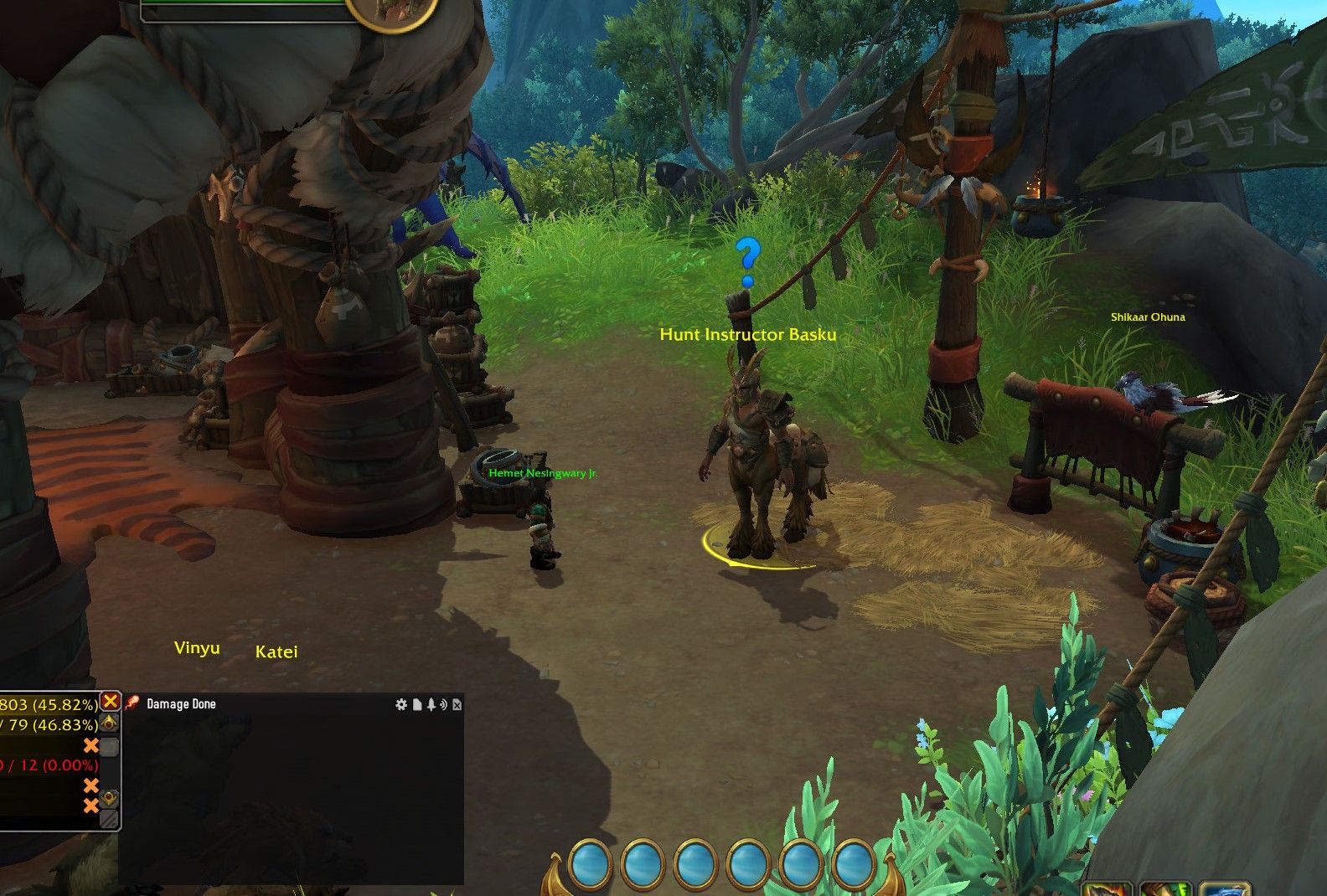 Each of the four Renown factions introduced in Dragonflight has its own infinitely grindable items, and for the Maruuk Centaur, it's the Centaur Hunting Trophy. Each trophy can be turned in to Hunt Instructor Basku in Maruukai (as shown in the image above with a blue question mark over his head) for 25 reputation, and can be turned in in bundles of five or 20 if you're stacking up on them.
While you can get a fair number of Centaur Hunting Trophies by killing rares and looting treasures throughout the Dragon Isles, your best source of this currency is through the Grand Hunt. Thus, if you're looking to grind and farm these trophies, it's not even worth rare or treasure hunting as you should instead just go from Grand Hunt to Grand Hunt and get them in the common bag rewards.
The Renown Track And Its Rewards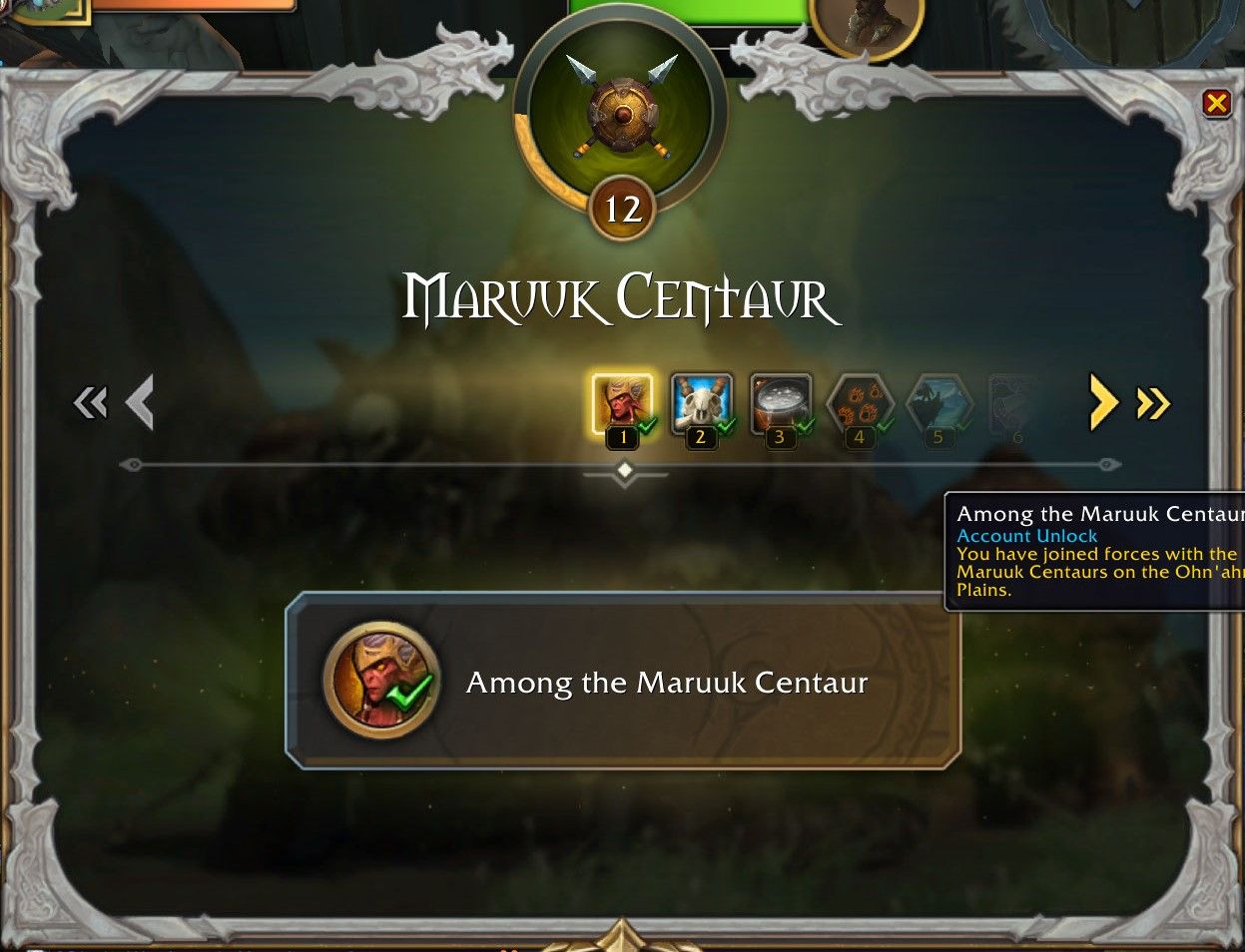 Regarding the actual reward track for the Renown, below is a list of all the rewards you unlock at each level of Renown. But before looking at said list, please note three things:
Each Renown level requires 2,500 reputation, no more no less.
All of the Maruuk Centaur Renown reward NPCs will be located in Maruukai, their base of operations in the Ohn'ahran Plains.
All profession recipes will be listed, but not all will be buyable even if you've unlocked them. For example, if you're a Leatherworker, you're not going to be able to buy the Jewlecrafting or Blacksmithing recipes, so you can disregard those rewards on the track if that's the case.
Renown Level

Reward(s)

Reward(s) Explained

Account Wide Unlock?

1

Among the Maruuk Centaur

Allows you to start gaining reputation with the Maruuk Centaur.

Yes

2

Centaur Hunting Trophies

Allows you to find Centaur Hunting Trophy.

Yes

3

Centaur Furnishings

Toys purchasable from Quartermaster Huseng.

Yes

4

Call of the Plains

Unlocks Aylaag Camp.

Yes

5

Call of the Hunt I

Unlocks The Grand Hunt.

Yes

6

Drakewatcher Manuscripts I

Two Drakewatcher Manuscripts are purchasable from Quartermaster Huseng.

Yes

7

Essence of Awakening

Essence of Awakening are purchasable from Quartermaster Huseng.

Yes

Centaur Armaments I

Twelve helm cosmetics are purchasable from Farrier Rondare.

Yes

8

A Centaur's Companion

Pet – Hoofhelper.

Yes

Centaur Enchanting I

Two enchanting formulas are purchasable from Quartermaster Huseng.

No

9

Call of the Hunt II

Unlocks a Bakar or Ohuna pet to help you in your Grand Hunts at Trainer Frodrum.

Yes

Replacement Hooves

Unlocks a questline with Initiate Radiya.

Yes

10

Call of the Hunt III

Enhance your Bakar or Ohuna pet at Trainer Frodrum.

Yes

Word of a Worthy Ally I

Increases reputation gains by 100 percent for alts up to Renown 10.

Yes

11

Aylaag Windstones

Aylaag Windstone Fragments are purchasable from Quartermaster Huseng.

No

Friendly Farrier I

Item level 376 boots are purchasable from Quartermaster Huseng.

No

12

Call of the Hunt IV

Further enhance your Bakar or Ohuna pet at Trainer Frodrum.

Yes

Hunting Efficiency I

You gain a 25 percent chance to obtain additional Dragon Isles Supplies from defeated beasts in the Dragon Isles.

Yes

13

Centaur Armaments II

Twelve shoulder cosmetics are purchasable from Farrier Rondare.

Yes

Centaur Alchemy I

One alchemy formula is purchasable from Quartermaster Huseng.

No

Centaur Blacksmithing I

Three blacksmithing formulas are purchasable from Quartermaster Huseng.

No

Centaur Leatherworking I

Two leatherworking formulas are purchasable from Quartermaster Huseng.

No

14

Ohn'ahran Friendship

Toy – Ohuna Perch.

Yes

15

Drakewatcher Manuscripts II

Two Drakewatcher Manuscripts are purchasable from Quartermaster Huseng.

Yes

Centaur Inscription I

One inscription formula is purchasable from Quartermaster Huseng.

No

16

Call of the Hunt V

Further enhance your Bakar or Ohuna pet at Trainer Frodrum.

Yes

17

Centaur Armaments III

Cosmetic weapons are purchasable from Weaponmaster Aloom.

Yes

18

Hunting Efficiency II

You gain another 25 percent chance to obtain additional Dragon Isles Supplies from defeated beasts in the Dragon Isles (50 percent total).

Yes

Centaur Blacksmithing II

Three blacksmithing formulas are purchasable from Quartermaster Huseng.

No

Centaur Leatherworking II

Four leatherworking formulas are purchasable from Quartermaster Huseng.

No

19

Drakewatcher Manuscripts III

Three Drakewatcher Manuscripts are purchasable from Quartermaster Huseng.

Yes

20

Call of the Hunt VI

Further enhance your Bakar or Ohuna pet at Trainer Frodrum.

Yes

Word of a Worthy Ally II

Increases reputation gains by 100 percent for alts up to Renown 20.

Yes

21

Pennants of the Maruuk

Four back cosmetics are purchasable from Farrier Rondare.

Yes

22

Call of the Hunt VII

Further enhance your Bakar or Ohuna pet at Trainer Frodrum.

Yes

Centaur Alchemy II

One alchemy formula is purchasable from Quartermaster Huseng.

No

Centaur Blacksmithing III

One blacksmithing formula is purchasable from Quartermaster Huseng.

No

Centaur Inscription II

One inscription formula is purchasable from Quartermaster Huseng.

No

Centaur Leatherworking III

One leatherworking formula is purchasable from Quartermaster Huseng.

No

23

Call of the Hunt VIII

Shikaar Hunting Horn is purchasable from Quartermaster Huseng.

Yes

24

An Ally's Armor

Item level 389 chest armors are purchasable from Quartermaster Huseng.

No

25

The Wind's Recognition

Title – Khansguard.

Yes

A Heroic Reward

Receive a Primal Infusion, a crafting reagent to increase a piece of crafted gear's item level to 395.

No
Source: Read Full Article