Quick Links
How To Obtain Every Hek Variant
Warframe features hundreds of weapons for players to craft or find. Automatic rifles, explosive bows, throwing knives, and a wide range of melee weapons are just a few things you can get your hands on. Newer players might feel intimidated by the number of options available.
That's why most newer players should set their sights on the Hek, a quad-barreled shotgun with a tight pellet spread and excellent base damage. A Hek with the right Mods can clear the entire Star Chart, while its upgraded variants are capable of slaying Acolytes and other endgame foes. Here's how you can obtain every Hek weapon in Warframe and the best builds for each of them.
How To Obtain Every Hek Variant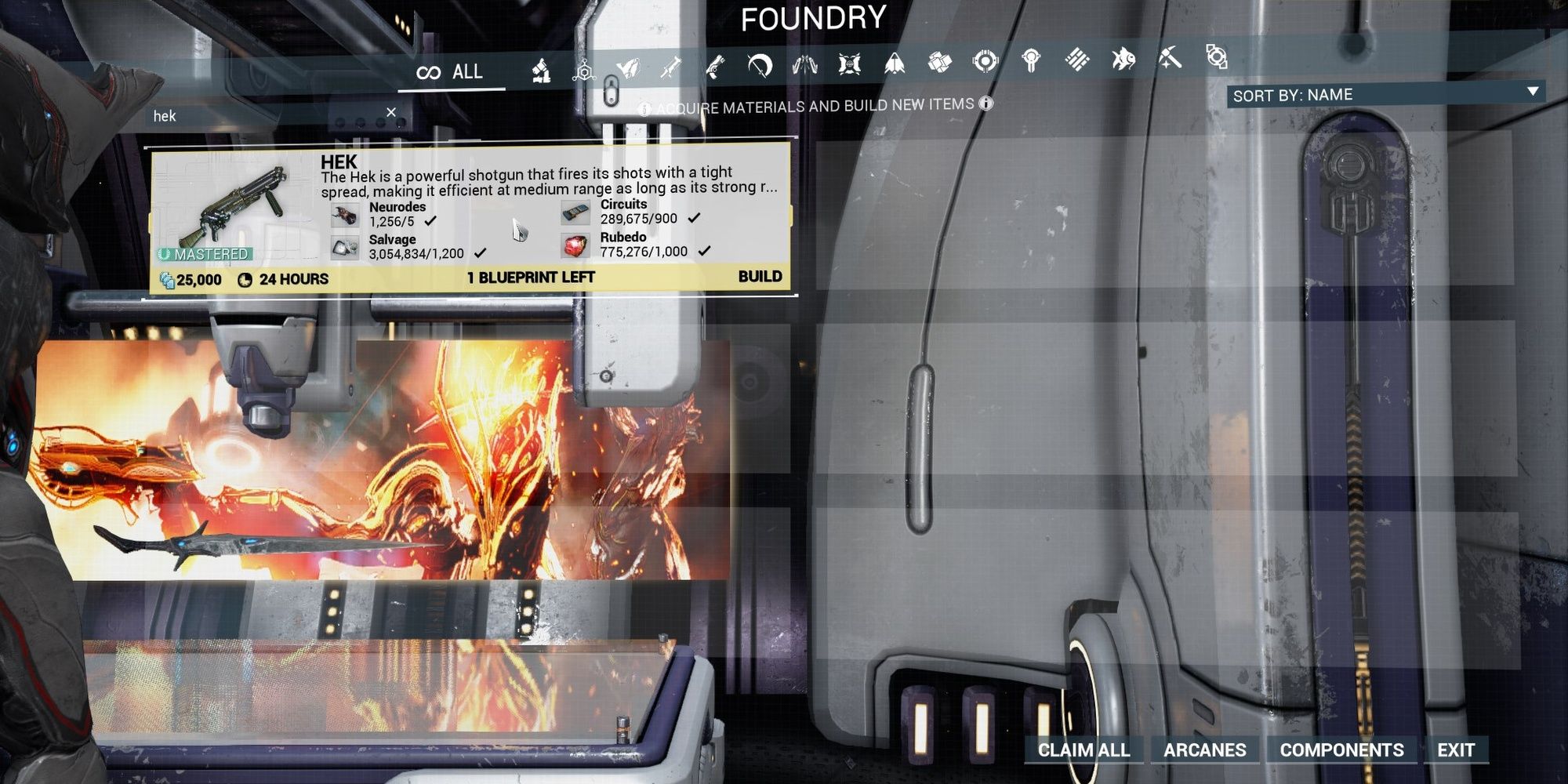 There are three versions of the Hek that come from different sources:
Hek: Crafted through a blueprint (purchased from the in-game market).
Vaykor Hek: Purchased from the Steel Meridian Syndicate (requires 125,000 Standing).
Kuva Hek: Obtained from slain Kuva Liches.
Most players can get the Hek as early as MR4, making it a fantastic early game shotgun. The Vaykor Hek is tied to a lengthy, time-gated reputation farm, while the Kuva Hek is tied to an endgame activity.
The standard Hek requires the following materials to craft:
Hek Crafting Requirements
5 Neurodes
900 Circuits
1,200 Salvage
1,000 Rubedo
Credit Cost: 25,000
Build Time: 24 Hours
Hek Stats And Features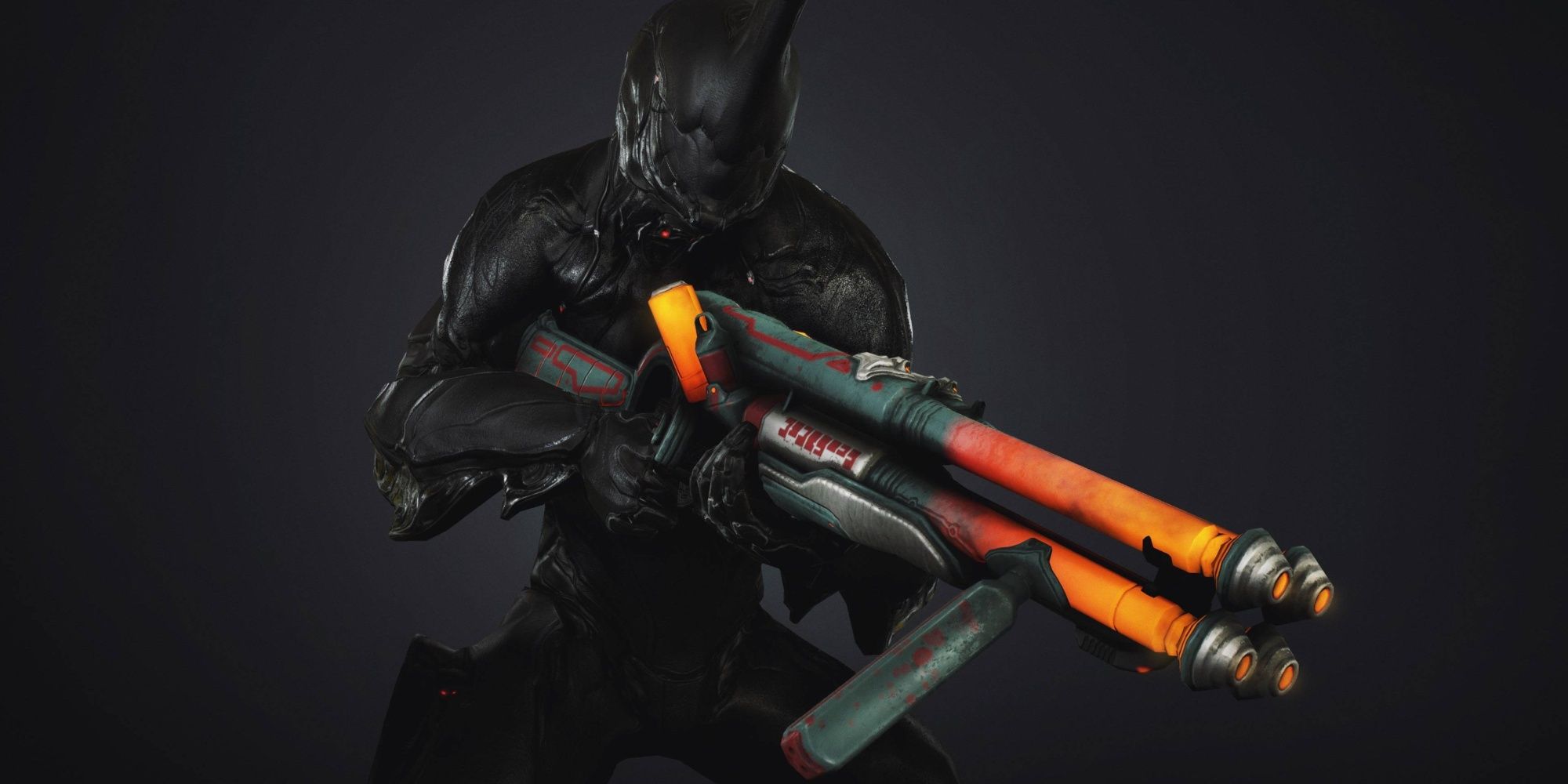 Hek Stats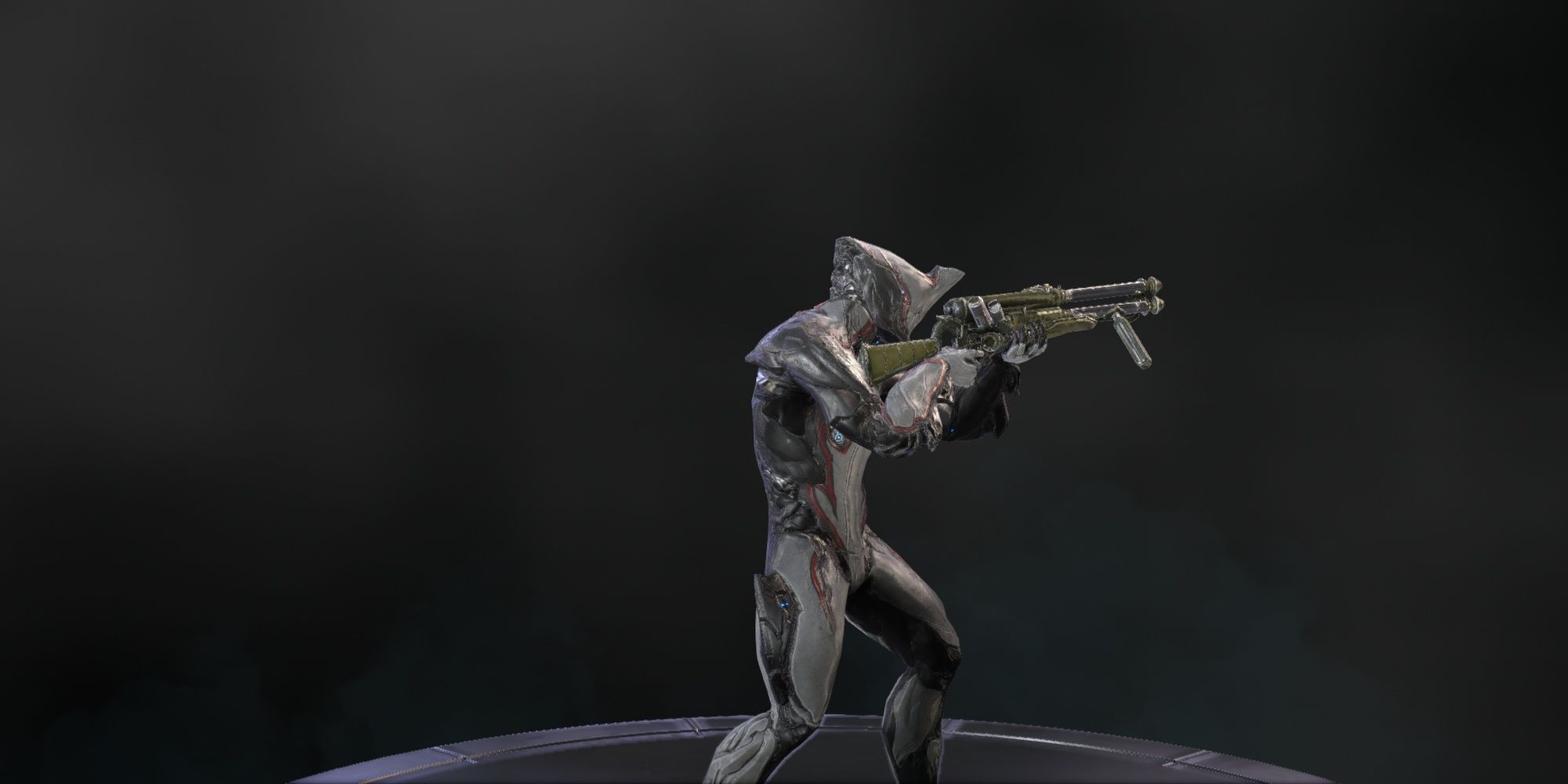 Hek Stats
Damage
Impact: 11.3
Puncture: 48.8
Slash: 15.0
Total Damage
525
Multishot
7
Fire Rate
2.17
Critical Chance
10%
Critical Multiplier
2.0x
Status / Projectile
10.7%
Misc.
Weapon Type
Shotgun
Trigger Type
Semi
Accuracy
9.1
Magazine
4
Reload Speed
2.0 Seconds
Fall Off
10-20 Meters
MR Requirement
Mastery Rank 4
The default Hek is a powerhouse of a shotgun and ideal for newer players. Each shot rips through your targets with incredibly high base damage and solid fire rate. The best part about the Hek is its Scattered Justice Mod, an augment sold by the Steel Meridian Syndicate. While equipped, the Hek gains an extra 200% multishot and will occasionally trigger the Justice effect, releasing a wave of Blast damage around you that replenishes a portion of your Health.
You can stack Scattered Justice with Hell's Chamber and other multishot effects to deal some absurd damage per shot, allowing the Hek to scale through the entire Star Chart and even Sortie-level content. Should you need even more firepower, consider the Hek's variants.
Vaykor Hek Stats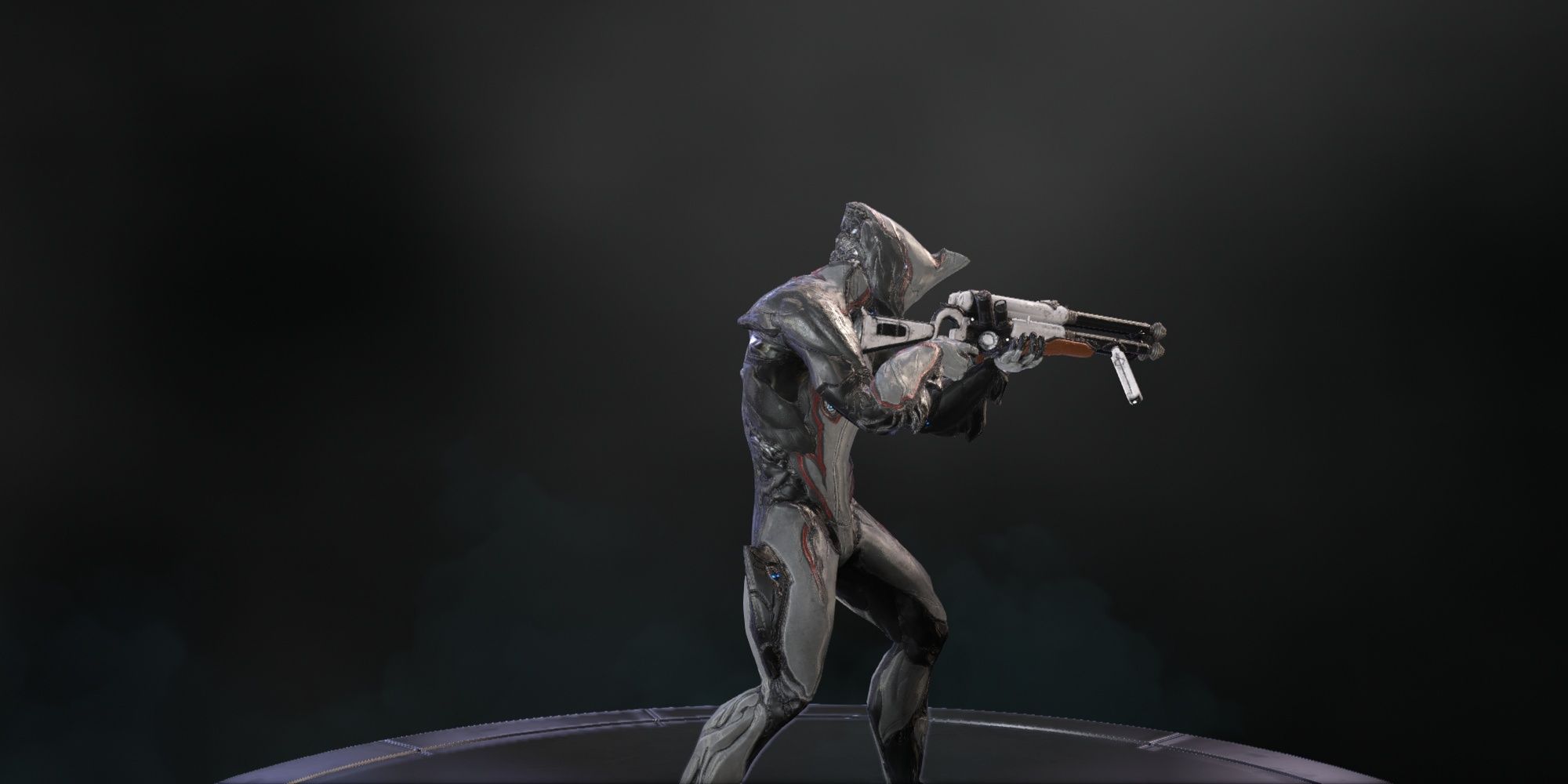 Vaykor Hek Stats
Damage
Impact: 11.3
Puncture: 48.8
Slash: 15.0
Total Damage
525
Multishot
7
Fire Rate
3.0
Critical Chance
25%
Critical Multiplier
2.0x
Status / Projectile
10.7%
Misc.
Weapon Type
Shotgun
Trigger Type
Semi
Accuracy
9.1
Magazine
8
Reload Speed
2.3 Seconds
Fall Off
10-25 Meters
MR Requirement
Mastery Rank 12
The Vaykor Hek is a sidegrade to the standard Hek, incapable of using Scatted Justice but having far better critical stats. Steel Meridian's Vaykor Hek features far stronger critical stats with 25% critical chance with a 2.0x multiplier. Since critical chance is calculated per pellet on shotguns, just a bit of investment ensures that at least one pellet will critically hit with every shot.
Additionally, the Vaykor Hek comes with the Steel Meridian's Justice effect by default, allowing it to release Blast AoEs and heal you without any Mods. Build this weapon for critical stats, and you should be able to exceed what the normal Hek is capable of. The Vaykor variant also has double the magazine size, slightly better falloff range, and better fire rate—sizable quality-of-life improvements over the standard Hek.
Kuva Hek Stats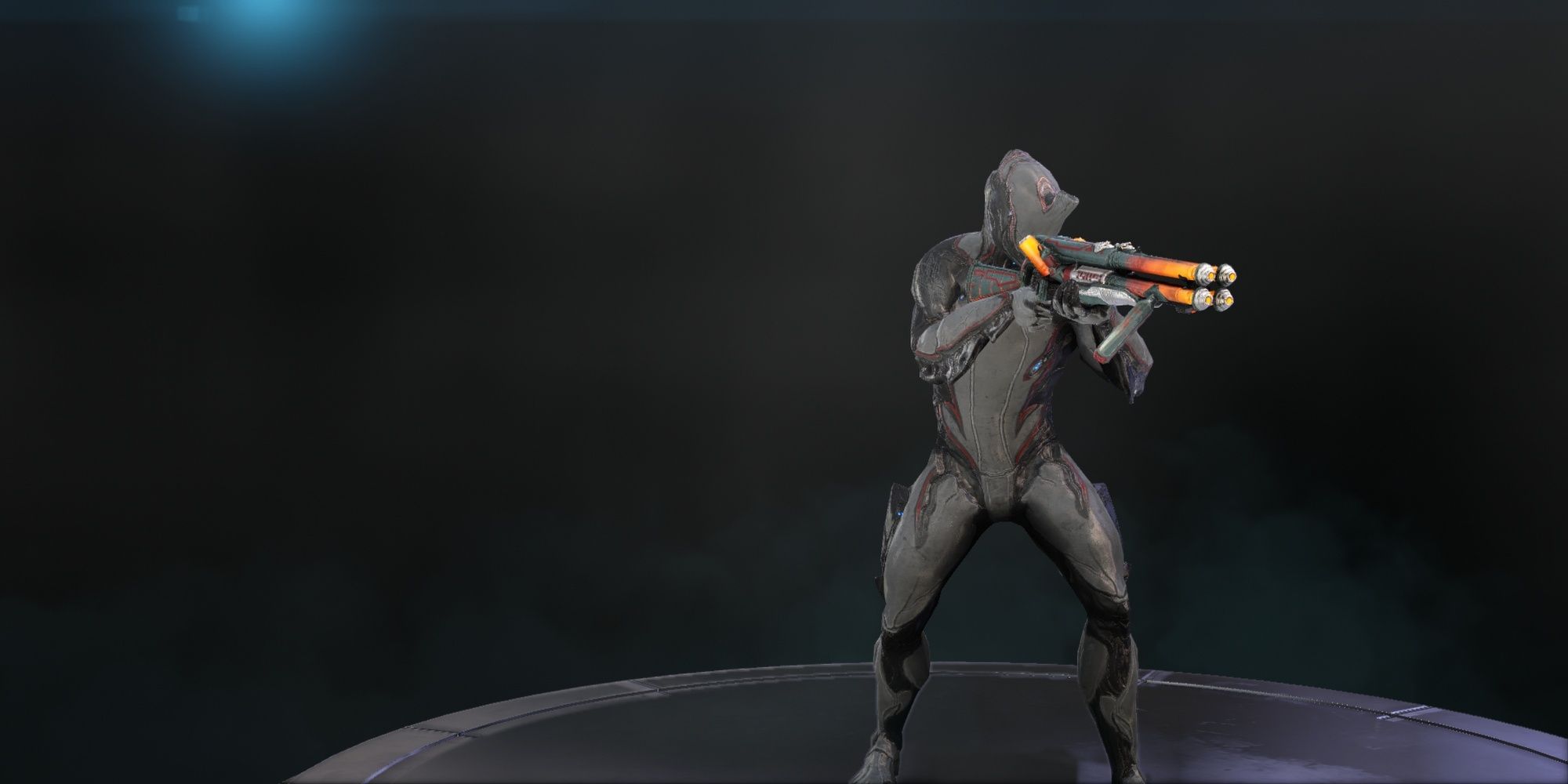 Kuva Hek Stats
Damage
Impact: 13.1
Puncture: 56.5
Slash: 17.4
Total Damage
609.0
Multishot
7
Fire Rate
2.17
Critical Chance
23%
Critical Multiplier
2.1x
Status / Projectile
13.3%
Misc.
Weapon Type
Shotgun
Trigger Type
Semi
Accuracy
9.1
Magazine
4
Reload Speed
1,9 Seconds
Fall Off
15-30 Meters
MR Requirement
Mastery Rank 15
The Kuva Hek is a stronger version of the standard Hek, inheriting the critical buffs the Vaykor Hek received. This weapon also has a higher status chance, damage falloff, base damage, and can gain a 60% elemental damage buff intrinsically through your Lich progenitor.
Additionally, the Kuva Hek has an added alt-fire that expends four shots at once, dealing cataclysmic damage to whatever is on the other side of the barrel. This mode only fires four shots at once, so having a smaller magazine prevents you from using the alt-fire. Conversely, modding your magazine to eight allows you to fire two back-to-back barrages for absurd damage. In general, the Kuva Hek is an upgrade over the previous variants, although the Kuva Hek cannot use the Scattered Justice mod.
Hek Builds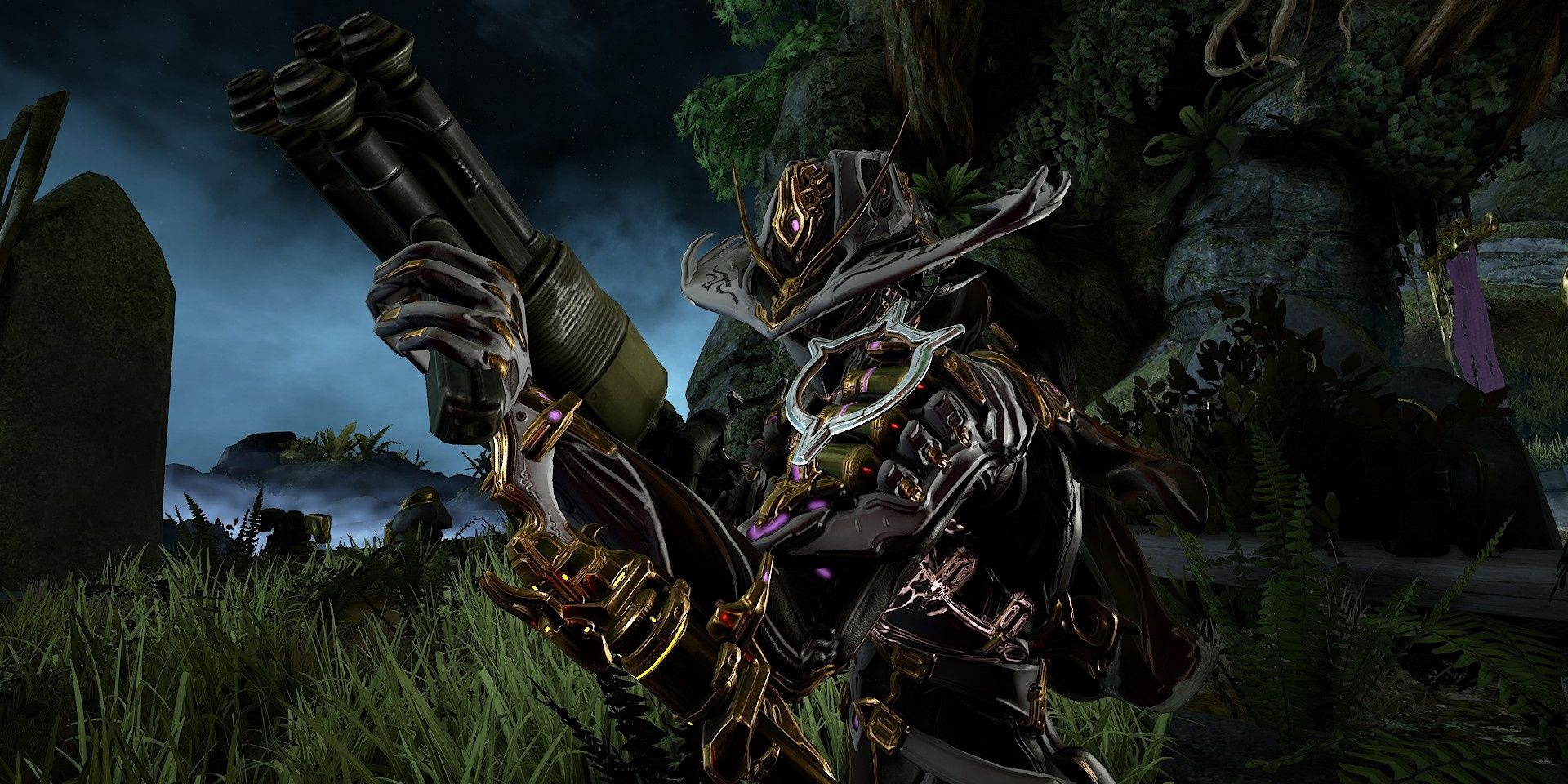 We'll be covering three builds around the Hek series of Shotguns, one for each weapon. The Hek is using a no investment build, while the Vaykor and Kuva variants require some expensive Mods and a few Forma.
Hek Riven Mods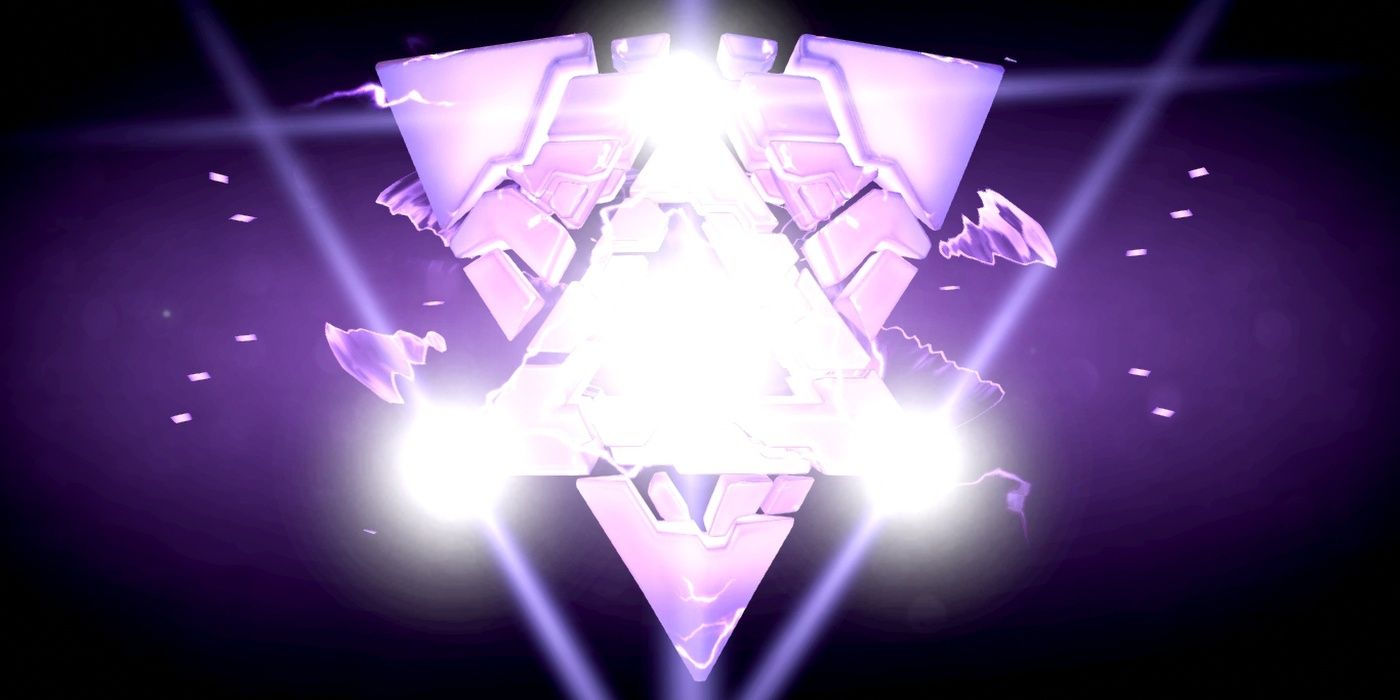 Each Hek weapon has a different Riven disposition. The standard Hek has a 4/5 disposition, while the Vaykor and Kuva variants have a 3/5 disposition. In general, we recommend searching for Rivens with critical chance, critical damage, punch through, or elemental damage.
Starter Build (Hek, 0 Forma)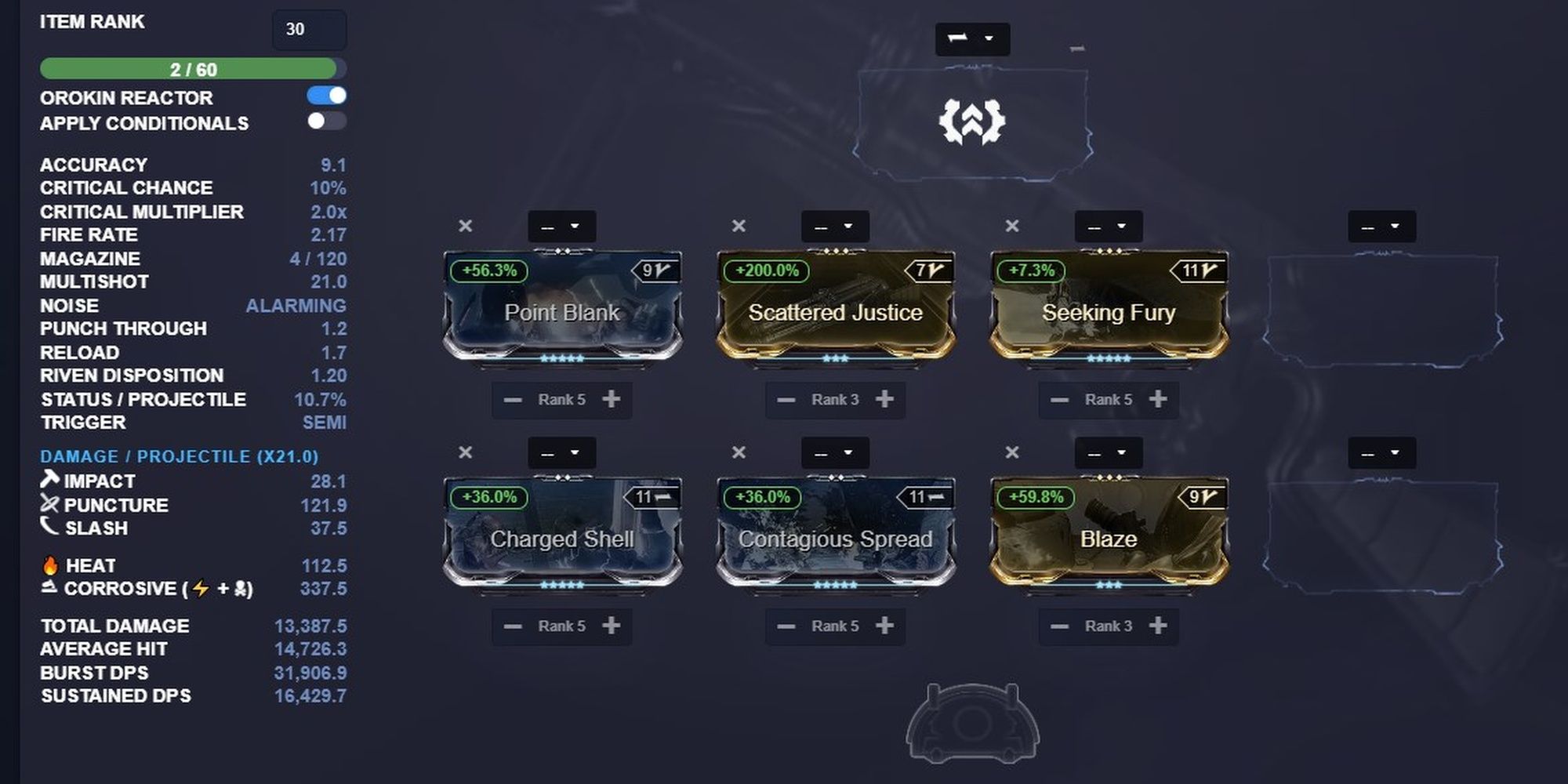 This build is perfect for newer players looking for a reliable primary weapon. You'll be able to clear the Star Chart and even Sorties with little issue. We'll be using Point Strike and Scattered Justice to scale the Hek's base damage and multishot, causing each shot to deal far more damage.
We amplify that damage with elemental mods, utilizing Contagious Spread and Charged Shell to create Corrosive. Most armored targets will take massive damage from Corrosive, making this weapon far better against Grineer. For Infested, we'll also equip Blaze, a Heat Mod that grants base damage and extra Heat damage. The sixth Mod is up to you. We recommend Seeking Fury for some much-needed punch through, but feel free to use a reload speed or magazine Mod.
Workhorse Shotgun (Vaykor Hek, 4 Forma)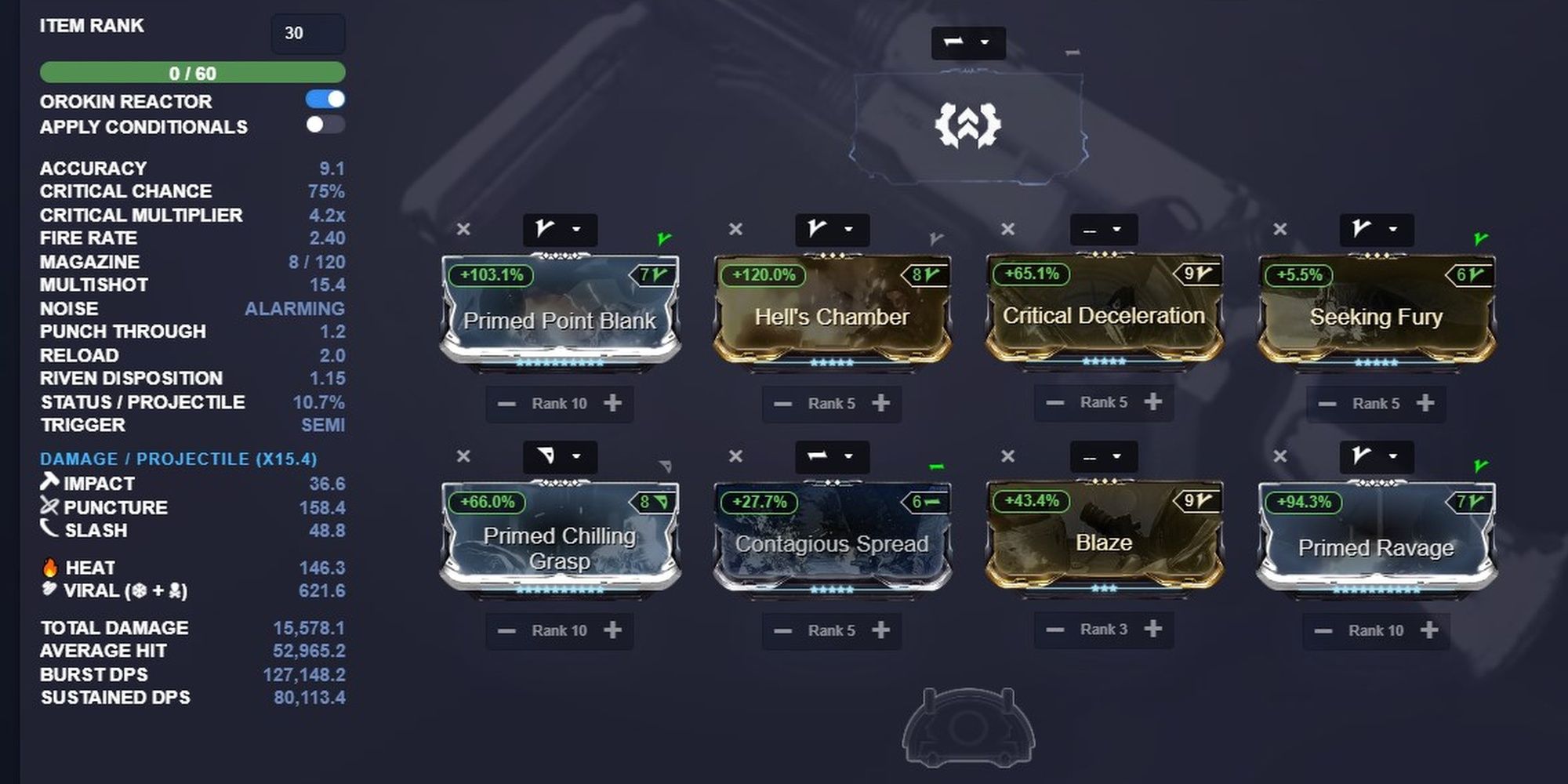 Forma: 4 (3V, –)
Variant: Vaykor Hek
For those that want a harder-hitting Hek with some quality-of-life improvements baked in, you'll want a Vaykor Hek and a few Forma. This build uses some mid to late-game Mods to ramp up the damage of the Vaykor Hek without relying on Galvanized Mods or Weapon Arcanes.
Primed Point Blank and Hell's Chamber will heavily scale your base damage. Critical Deceleration and Primed Ravage are your best Mods for scaling critical stats on shotguns, making your Vaykor Hek critically hit reliably with a large multiplier. Viral and Heat is a good elemental combo since this weapon comes with an innate D polarity. For the final slot, we use Seeking Fury for some punch through, making it easier to clear hallways. If you need more damage, replace that Mod with Hunter Munitions.
Kuva Cannon (Kuva Hek, 5 Forma)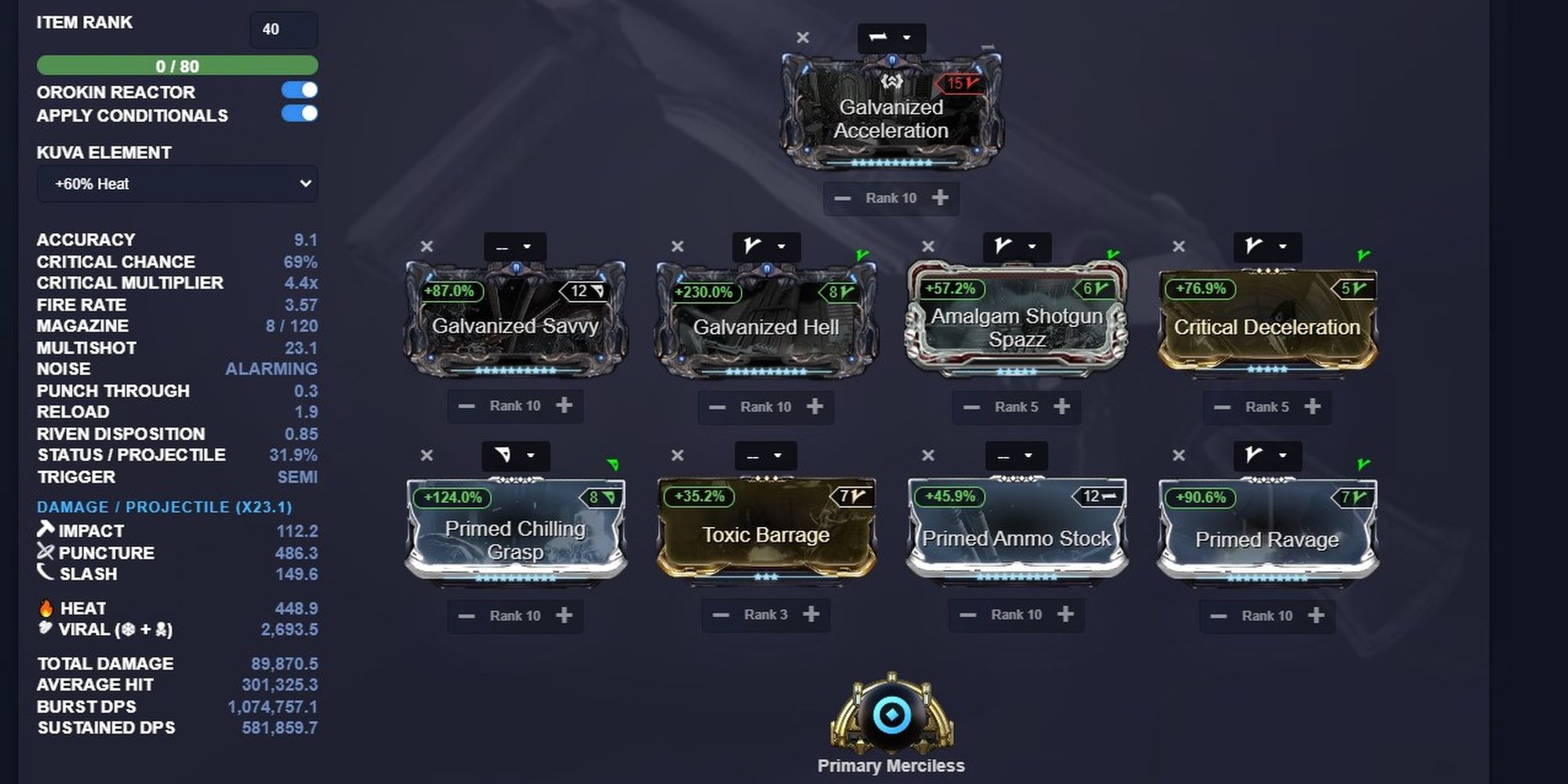 Forma: 5 (4V, D)
Variant: Kuva Hek
Lich Element: Heat
This is an endgame build for the Kuva Hek, the strongest variant of the Hek you can farm for. Get a Heat progenitor to free up a Mod slot in the build. For the build itself, we scale our base damage with Galvanized Savvy, Galvanized Chamber, and Primary Merciless. Thanks to the Kuva Hek's improved status chance, you can easily ramp up Galvanized Savvy to deal some absurd damage numbers.
Support this base damage with Critical Deceleration and Primed Ravage, giving this weapon respectable critical stats. Viral allows this weapon to ramp up its damage on tankier foes, making it a great pick for just about all content. If you're fighting Infested on Deimos or Steel Path Grineer, consider using Corrosive instead. The last Mod slot is up to you. We use Primed Ammo Stock to give the Kuva Hek the same magazine size as the Vaykor variant, allowing you to shoot two alt-fire rounds for jaw-dropping burst damage. If you want more damage, use Hunter Munitions or a fire rate Mod.
The Exilus Mod is also down to preference, but we recommend you either use Vigilante Supplies or Galvanized Acceleration. The former gives your critical hits a chance to raise a tier, dealing far more critical damage. Galvanized Acceleration almost doubles the Kuva Hek's effective range, making damage falloff irrelevant for most tilesets.
Source: Read Full Article