Quick Links
Thrillville: Off The Rails is a 2007 theme park simulation game and follow-up to 2006's Thrillville. Both games turn the complex business of managing theme parks into a third-person park explorer, a selection of quirky mini-games, and increasingly bizarre conversations with your guests.
The sequel adds to this formula with extreme, set-piece-based roller coasters, multiple theme parks to unlock, and an impressively broad range of mini-games. However, to get there you must become familiar with how it escapes business realism and instead puts stress on whether you can beat a magazine critic at mini-golf or not.
Understanding Menus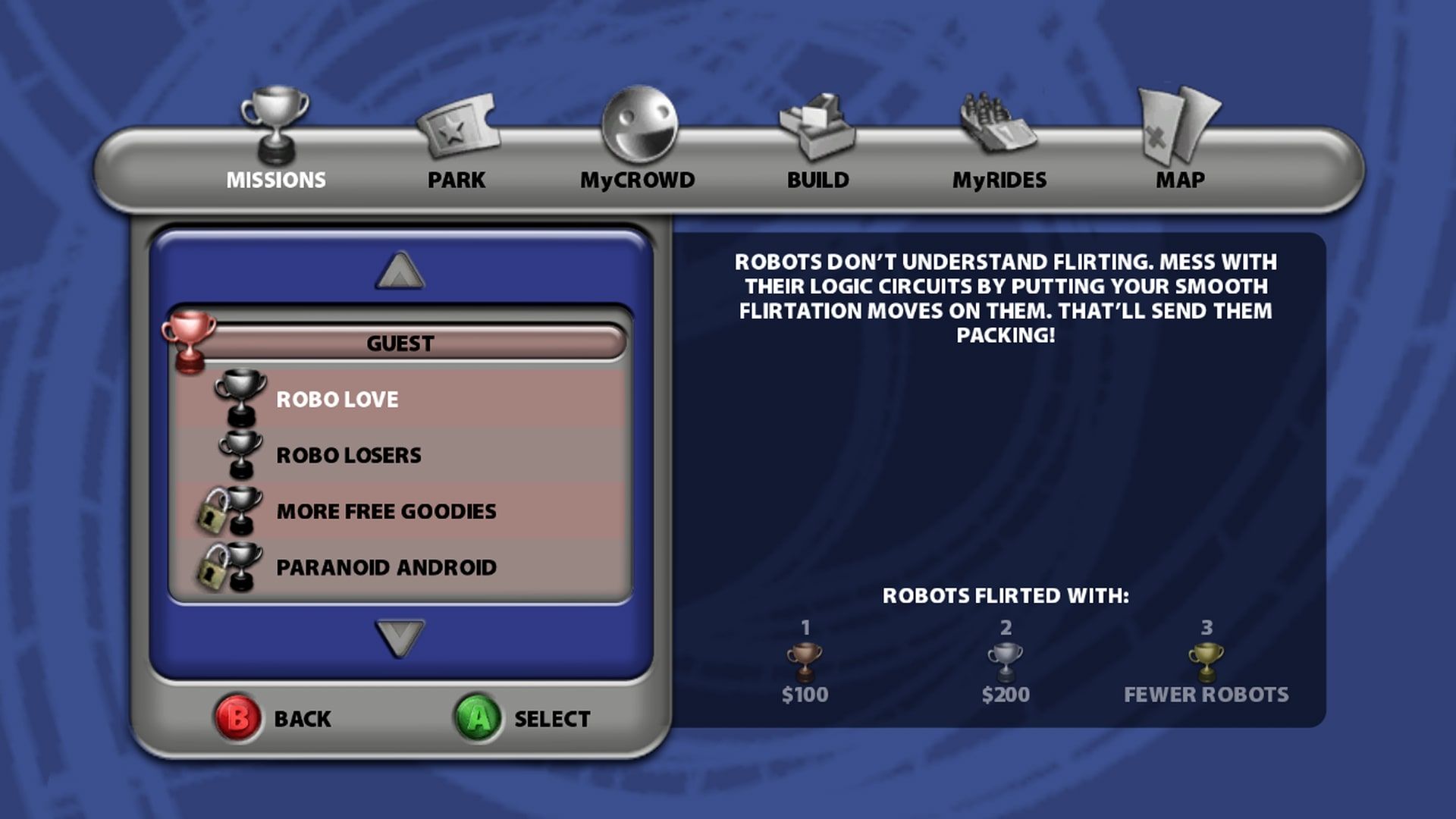 The game's unique approach results in a collection of nested menus which, even if you pay attention to tutorials, can be confusing.
Rather than overall earnings or happiness levels, Missions are the driving actions of the main game, and you will find them and often be able to start them from the first menu screen. There are missions for each of the skills that are being judged, and the ones for Build and Games can be the toughest to complete, as they require skillful consideration. Each mission has three trophy levels which will earn you different rewards or progress, and to complete a park you must earn a trophy in every quest.
The Park menu contains several ways to analyze game statistics, and most importantly Park Upgrades and Staff. These are the most important here as they determine where you are putting funds. It's unlikely you will need to hire more than one of each type of staff, and spending well on research and marketing will increase your park's earnings and unlock new thrill rides.
MyCROWD allows you to see your key guests and friends you make and their needs, and MyRIDES allows you to control every attraction in your park via the menu. You can teleport to important guests and interact with the rides and stalls here without needing to run around the park looking for them — though if you did want to do that, the Map section will show you that.
Building The Park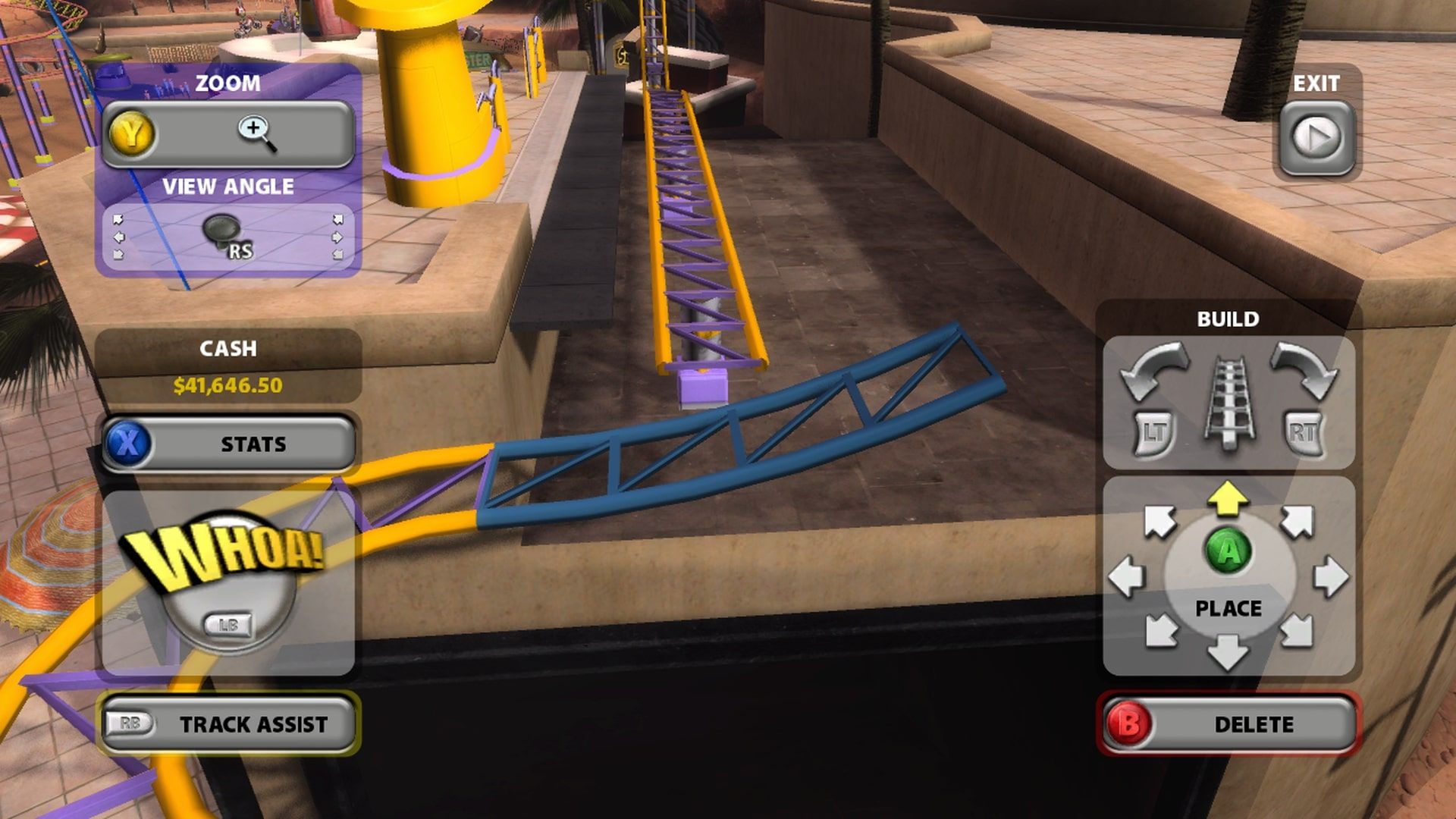 The Build menu itself is where you will complete some of those harder missions. They require you to create new rides, spend earnings on each track piece, and design to specifications. The general advice given is to keep nausea on rides low, and the thrill high, which are two meters that will be affected by each design choice. Doing so is tricky, especially when laying the next piece of track can be confusing in itself.
The special selection "Whoa" pieces, which add thrill, only appear in their radial menu if it would be possible to lay them, leading to potential confusion at their disappearance if your current piece is pointing at an angle.
You are also able to design log flumes, go-kart tracks, and mini-golf courses, which all have their own special pieces.
Management Lite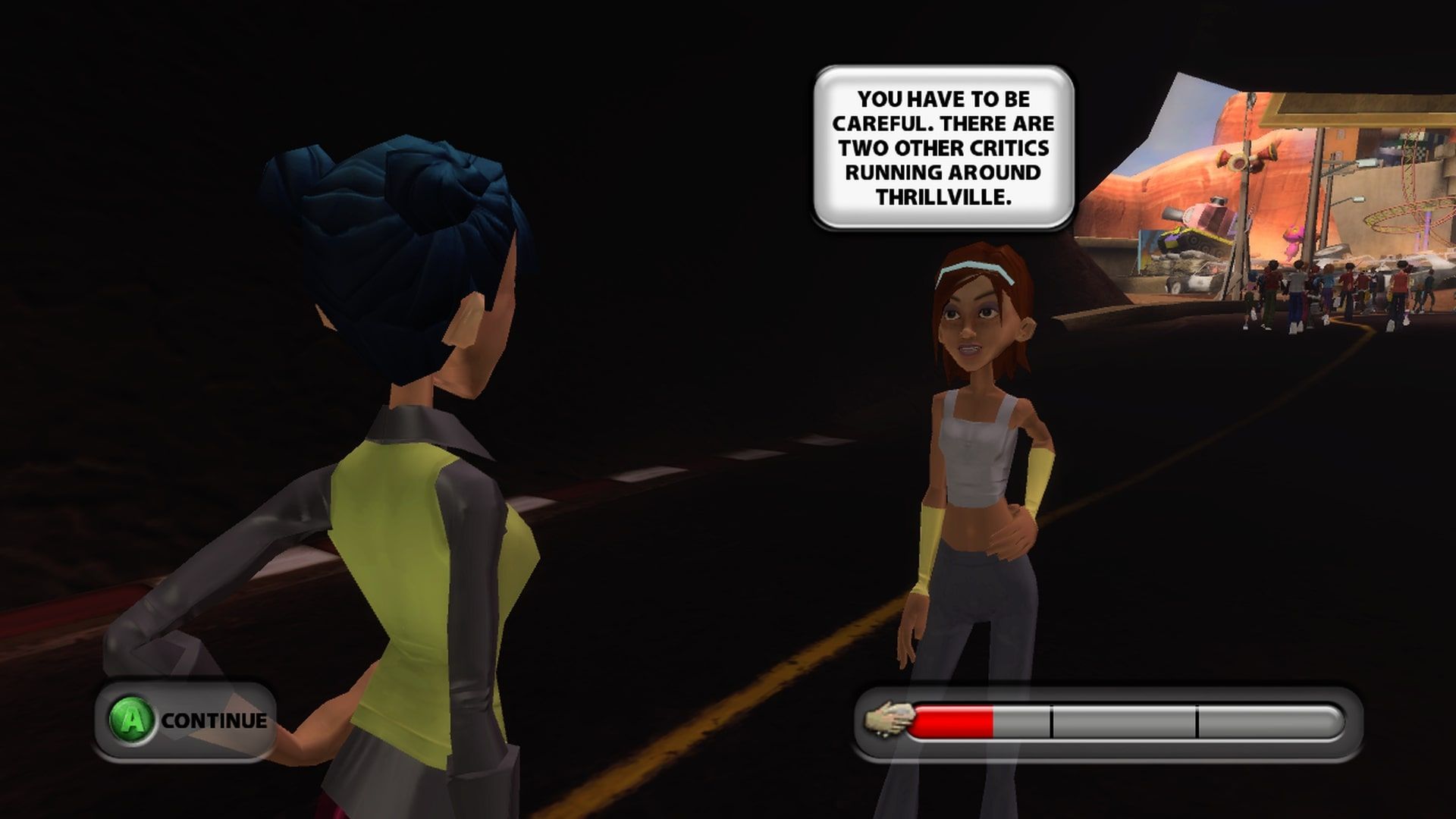 In Thrillville: Off The Rails, the emphasis isn't really on the simulation of an effective business, with no huge pressure for you to succeed or resource wars that will tank your prospects. Remember the basics of management simulators, build according to the meter-based worries customers have, visible as Needs when you talk to them, and you will do well.
Since Thrillville is also a big collection of mini-games, a coaster designer, and a first-person ride simulator, if the absurd missions of this main game get boring, there are also enough ways to play the game to make it feel like you're not even playing a business simulator at all. Even creating a coaster that crashes isn't considered that much of a sin. Speaking of…
Fix Up The Starter Rides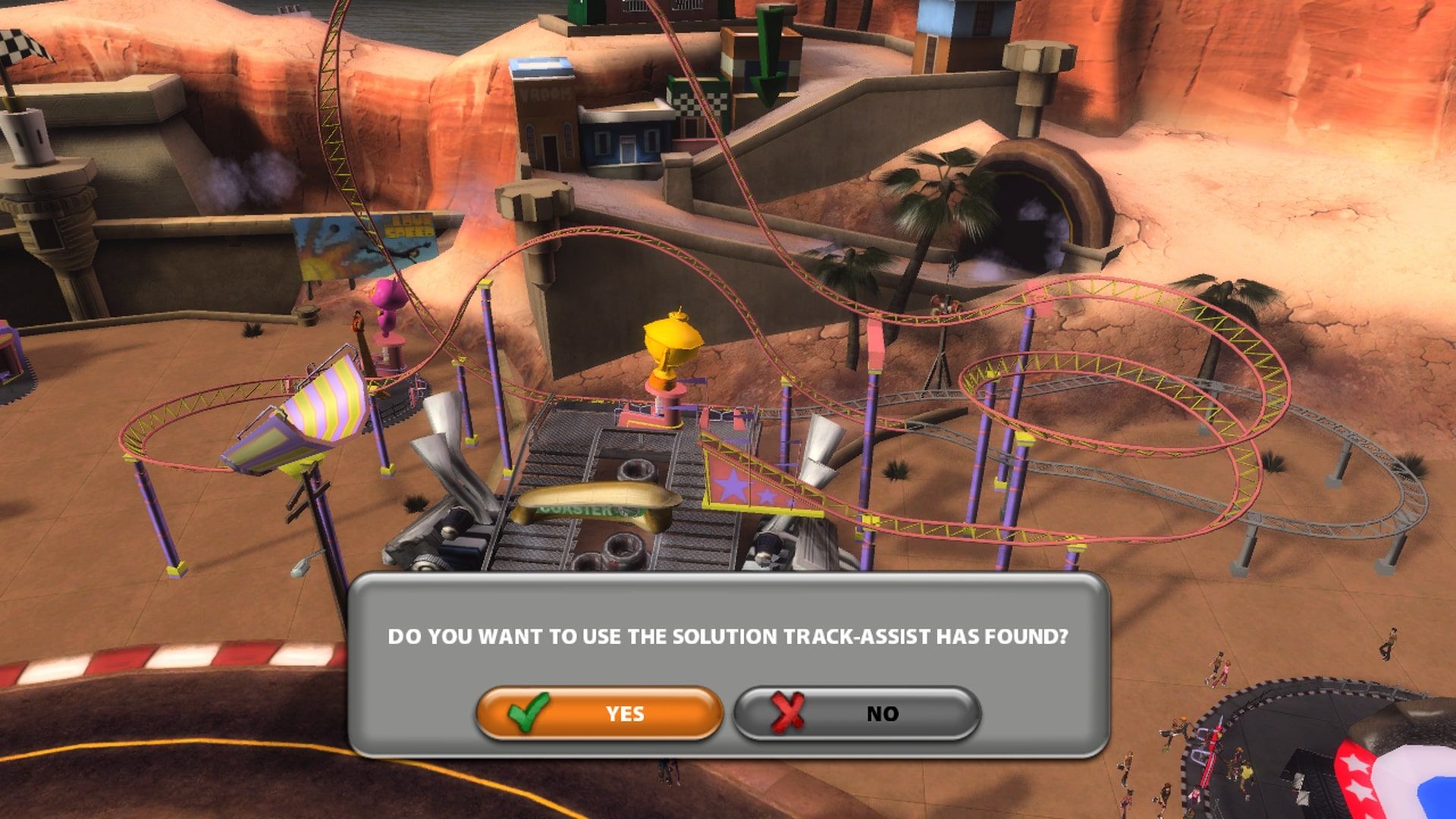 Some rides you start with in the opening Thrillville Stunts park are broken. You will discover this by talking to park goers who cheerily say their ride just crashed, or from a starter mission. However, it won't be clear which track they mean, so check the ones that you didn't build.
To do this, approach the track's start booth and select Manage, then Edit, or do so via MyRIDES, and you will be taken to the building screen. If there is an issue causing the coaster to crash, the piece you auto-select will not be connected to the ride's launch station. Connect them up, either by your own design or by taking advantage of the game's Track-Assist tool, which searches for a way to join rides back to their start. This should clear up any early frustration with a problem that's easy to miss.
The early quest that asks you to do this comes with extra rewards based on how much added length you build.
Mini-Games Are Important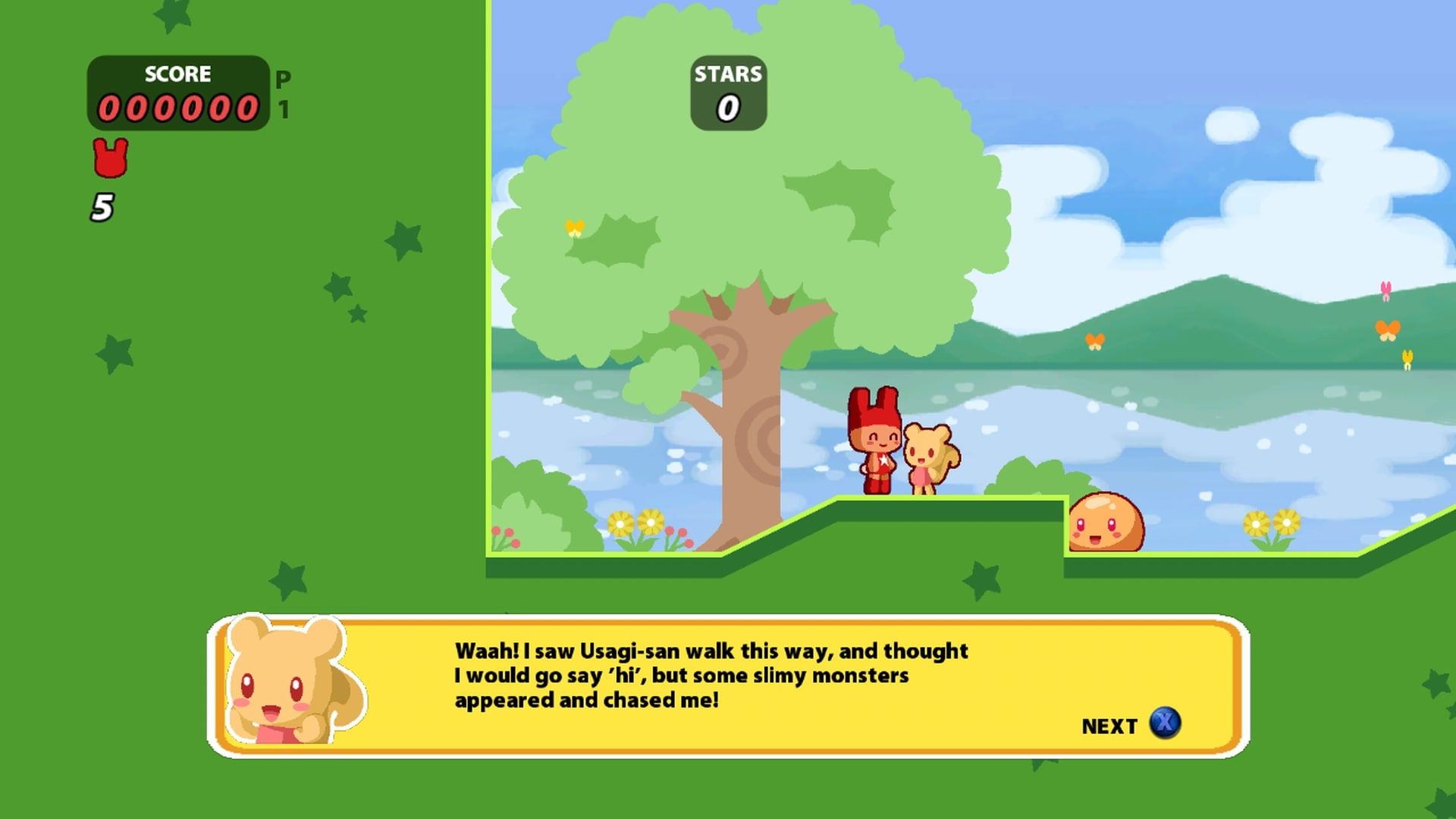 While in most games they are the sideshow, here the mini-games are part of the major structure of the main story, and you can further your park's reputation, complete training, become friends with guests, and finish missions just by playing a mini-game when it comes up.
The range of games is quite impressive, from a bucking bronco and a multi-world arcade platformer to a first-person shooter and multiple different styles of rhythm games. There are so many, in fact, that even each stall you place, from donuts to balloons, has its own dedicated mini-game. You can very effectively play this as a party game, and there's even a mode for this on the main menu that will unlock more games for you to enjoy if you play through the main story.
Source: Read Full Article