The Witcher Season 3 is ramping up production as Netflix has announced four new cast members. Robbie Amell is Gallatin, Meng'er Zhang is Milva, Hugh Skinner is Prince Radovid, and Christelle Elwin is Mistle.
Filming began earlier this month as marked by a photo of Yennefer, Ciri, and Geralt in their cast chairs, sitting in the snow by a horse with a stretched out forest just ahead of the plains. We know that Yennefer and Geralt are taking Ciri into hiding to protect her, while also bringing her to Aretuza so she can master her magic. Season 3 is adapting the Time of Contempt book where the Northern Kings start planning their war against the Scoia'tael, Elvish freedom fighters. Netflix has now cast Prince Radovid of Radania, one of the northern kingdoms, and a Scoia'tael commander, finally bringing the book to live-action.
Netflix described Radovid as a "royal playboy and younger brother to King Vizimir." He'll be playing a central role in the Redanian Intelligence, using his "good looks and drunken charm." Netflix added, "Radovid amazes with how incisive he can be in political affairs, but it's all games until someone gets hurt."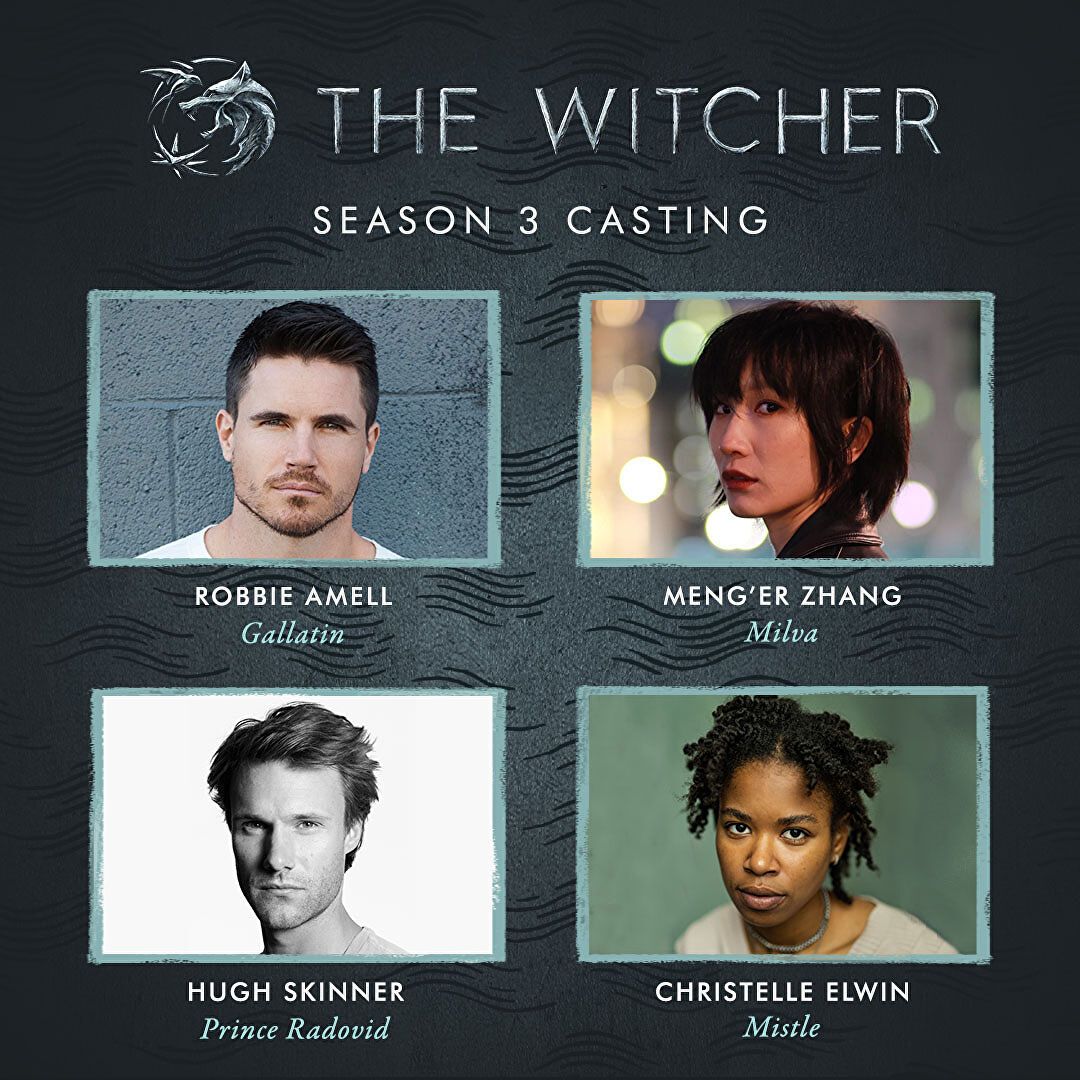 The Scoia'tael commander mentioned is Gallatin, played by Robbie Amell. He also starred as Chris Redfield in Resident Evil: Welcome to Raccoon City, but in The Witcher, he'll be playing a "born fighter" who is leading an army for Nilfgaard. He's "unafraid to speak his truth" and his "loyalty to his people ultimately leads him on a collision course with Francesca over power."
Then there's Mistle who is part of The Rats, a street gang who "steal from the rich and give to themselves – and sometimes the poor." Netflix describes her as "street hard, suspicious of everyone and out for revenge, until a chance meeting that will change everything."
Finally, Netflix has cast Meng'er Zhang as Milva, a "fierce and talented" hunter who was raised by the dryads in the Brokilon Forest. Netflix said, "Exact archery skills coupled with a stone-cold aptitude for survival make her a formidable adversary in the unforgiving Contintent. Those that cross her, do so at their peril."
Source: Read Full Article