As part of the Summer of Sims event, The Sims 4 currently has its very own in-game music festival. It features performances from Bebe Rexha, Joy Oladokun, and Glass Animals' Dave Bayley. Your Sims can visit the event site and enjoy the festivities but there are a few steps you need to take to get there.
We take a look at how to get to Sims Sessions event, whom you can invite, and what you can expect to find. So get your rain boots ready as we head to Willow Creek for this new in-game experience.
When Does The Sims Session Event Take Place?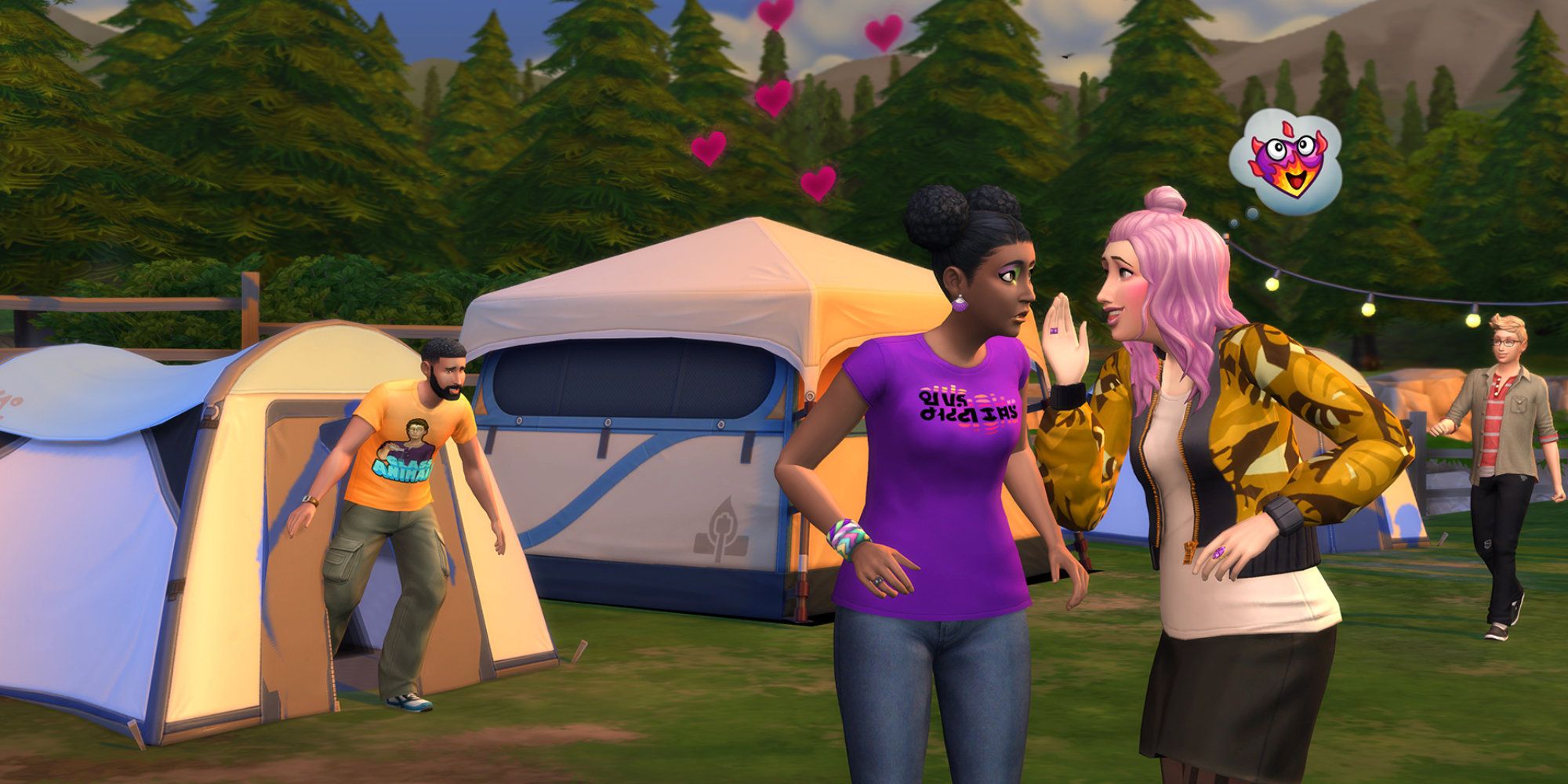 The Sims Sessions event runs from 10 am PT on June 29, until the same time on July 7, 2021. During this time you'll find the festival running every in-game Sunday.
How Do I Get To The Sims Session Event?
At 12.00 pm on Sunday, you'll get an in-game call asking if you want to head over to the event. If you accidentally miss this you can also head directly there by traveling to Magnolia Blossom Park in Willow Creek between 12 pm and 12 am.
To enter the event head over to the right-hand side of the lot and you'll see signs along the path. Follow these down through the trees and the event site is in the top right-hand corner of the lot.
What Songs Are Performed At The Sims Session Event?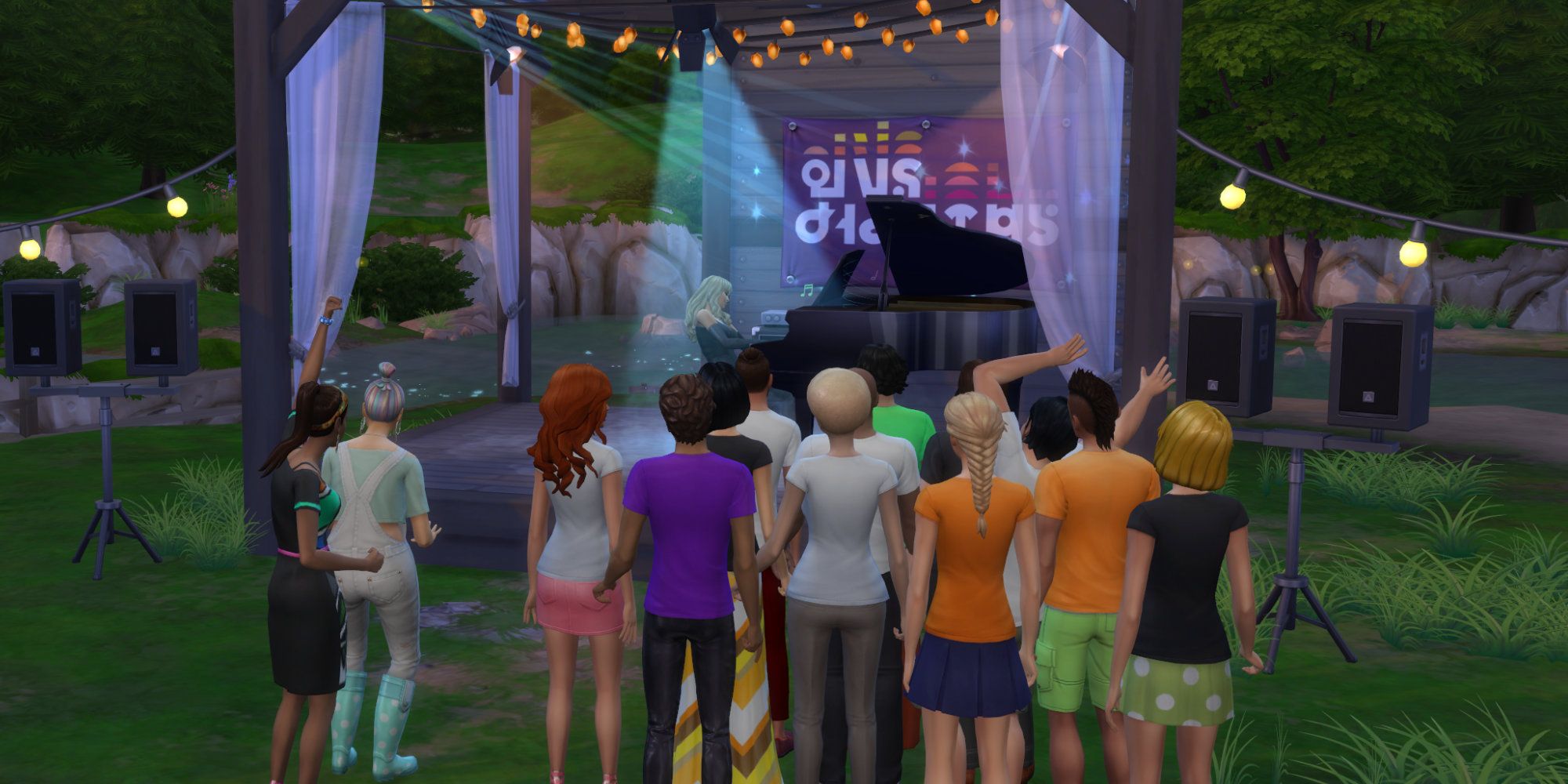 You'll see Sim versions of all three artists playing on the stage. Joy Oladokun plays Breathe Again, a powerful ballad, while Dave Bayley's Sim plays Glass Animals Heat Waves. The final act is Bebe Rexha who performs Sabotage from her Better Mistakes album.
All the songs are performed in Simlish by the artist's Sim. The performances take place over the course of the in-game evening and nighttime.
Related: The Sims 4 Cottage Living: Everything We Know So Far
Can My Sim Participate In The Sims Session Event?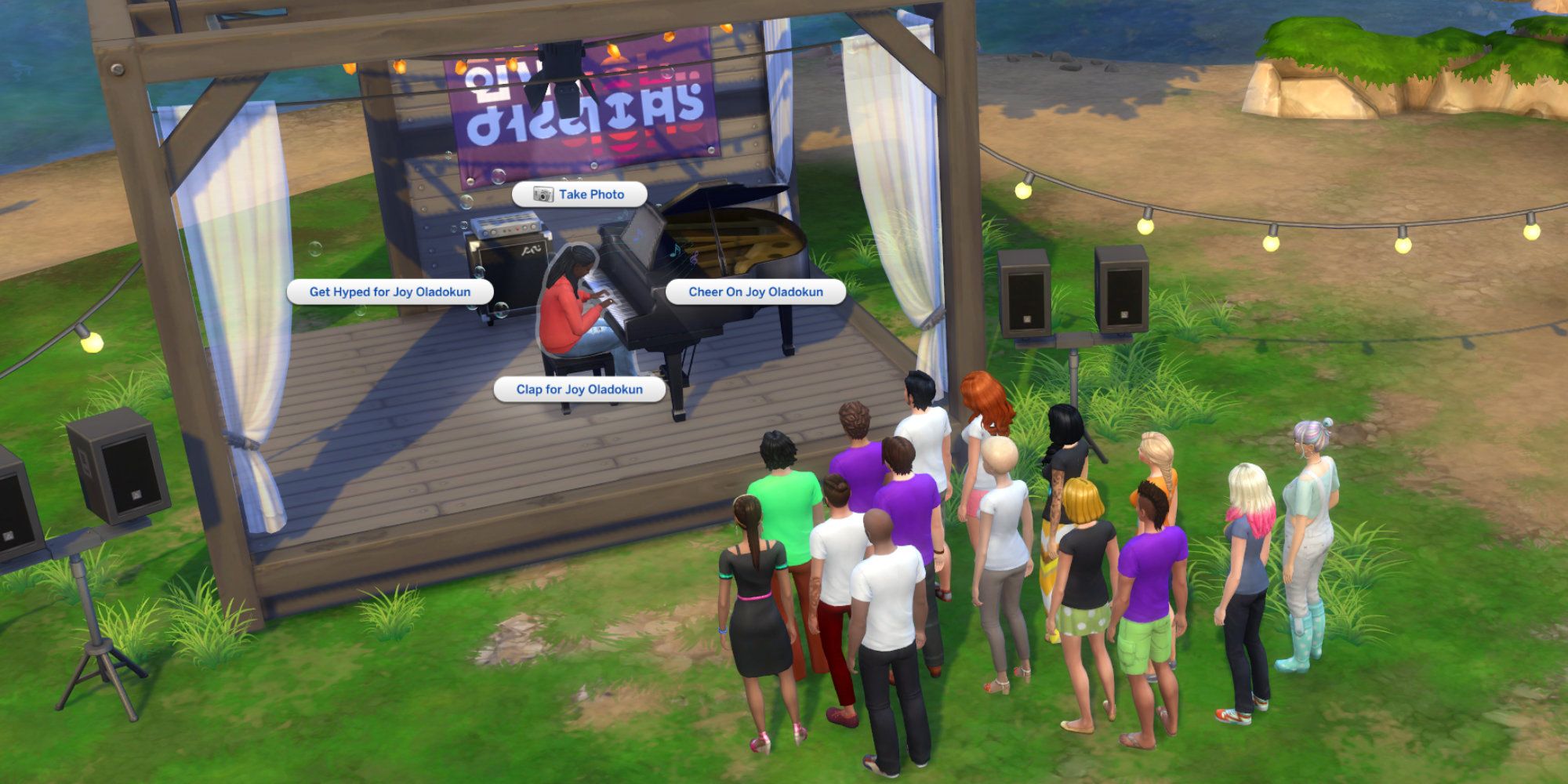 Sims can access the stage and piano outside of the performances, allowing you to create your own open mic type set up. However, during the main event, only the Sim performers can take to the stage.
Your Sims will be able to participate by getting hyped, dancing, and cheering on their favorite artists. They can also take photos of the event.
Is There Anything Else To Do At The Sims Session Event?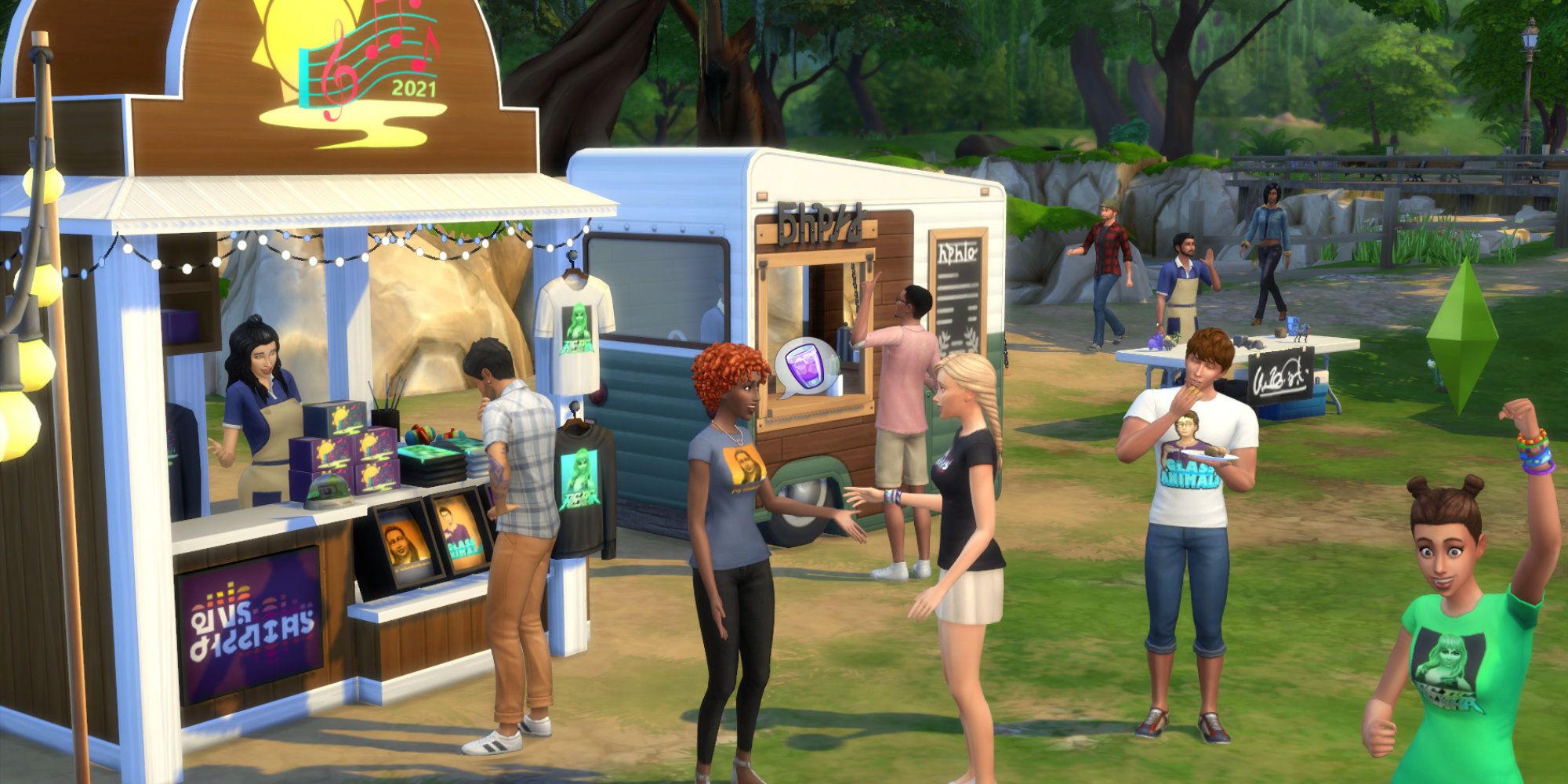 The festival offers a few different things to do. Here's what you'll find:
A Merchandise Stall
The stall offers a range of festival-appropriate items including tents, camping chairs, a guitar, a firepit, a chiller, and even a ball to kick around. You can use these to enjoy some downtown with the townies who attend the festival while waiting for the performances.
You'll also find t-shirts for the three artists as well as Summer of Sims and Sims Session branded t-shirts. These can be purchased by your Sims and you can change into them in the handy tents for some instant festival vibes.
A Coffee Stall
The Coffeeshop van sells a range of grab-and-go food items suitable for a festival including pizza slices. You'll be able to keep on top of your needs with ease so you won't miss any of the show.
A Random Stall
We may not be entirely sure why there's a Sim selling MySims statues or other random items from a table at the festival but every good event needs a stall selling something random, right? Take a chance and see what's there this week, since it appears to variable!
Facilities
There is also a public bathroom you can use after you drink too much coffee, as well as some tents. The tents can be used by anyone and allow Sims to sleep, relax, change into their festival clothing, and even indulge in some sneaky woohoo.
Can I Attend The Sims Sessions Event Again?
Yes! The event will take place every in-game Sunday until July 7 at 10 am PT. Sims from any world can attend the event and is accessible from existing saves as well as new games. You can even take other Sims yours is friends with along to enjoy the fun.
Next: The Sims 4 – A Complete Guide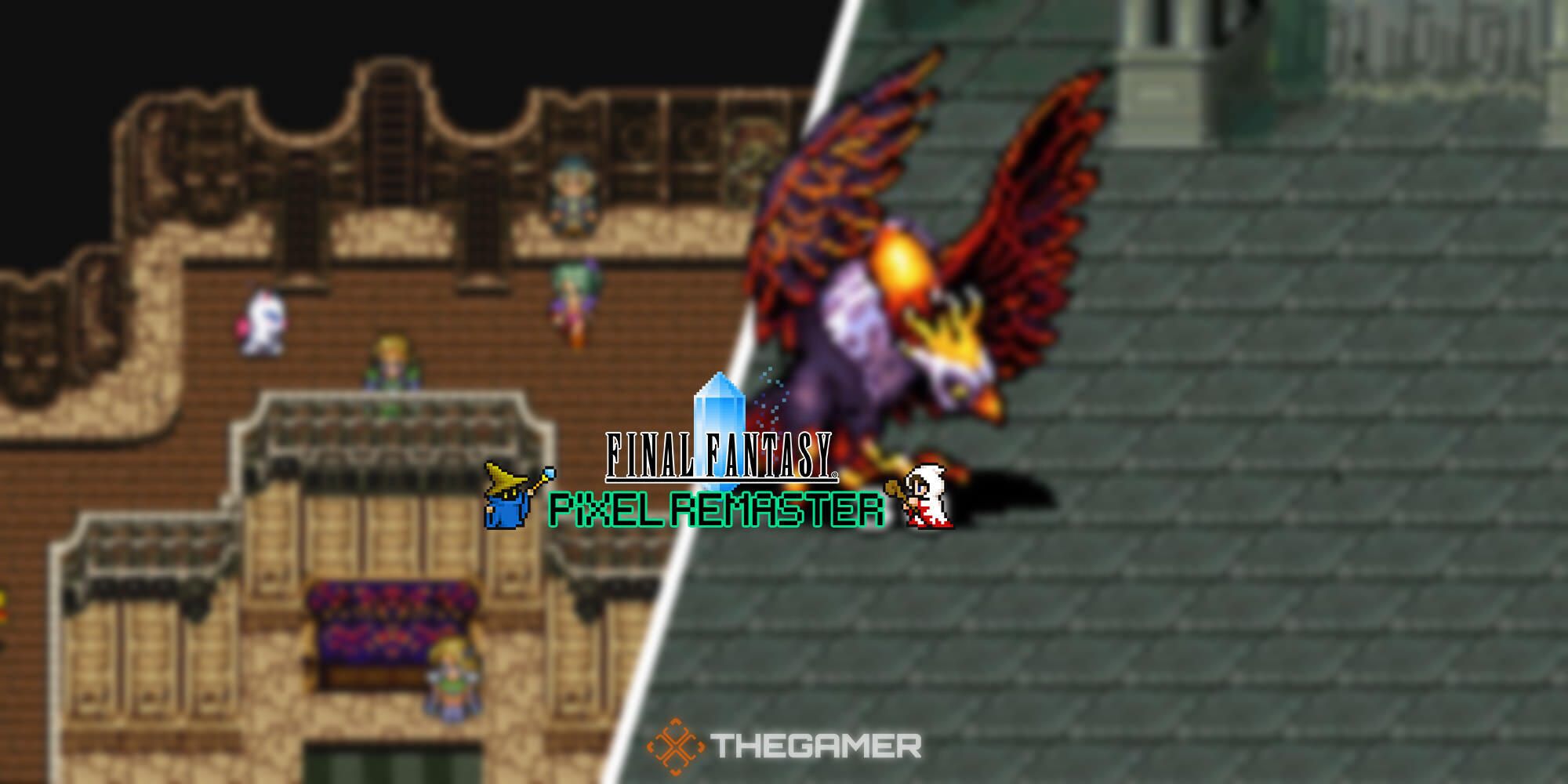 If you wanted to play the 2013 remasters of Final Fantasy 5 and 6, then you'd better download them before July 27.
Helen began playing games at an early age with her first computer being a hand-me-down Sinclair ZX Spectrum. It didn't put her off… She is all grown up now but is still a gamer at heart, especially when it comes to The Sims and other strategy and simulation games.
She juggles the daily demands of life with a family and somehow still finds the time to indulge her two passions in life, writing and gaming; sometimes both at the same time.
Source: Read Full Article