In a 1994 article published in Wired titled, "This Is Your Brain on Tetris," contributor Jeffrey Goldsmith equates Tetris to a sort of mind-altering drug. Dubbing it a "pharmatronic"—a label that doesn't seem to have garnered much over the past quarter-century—Goldsmith describes how a week spent doing little else but playing the game influenced the way he perceived, thought of, and dreamed about the world about him. This phenomenon eventually became more widely recognized as the "Tetris effect," and it's likely that anyone obsessed with rapid-pace high-score-centric games has experienced it.
RELATED: Tetris Effect Connected: 10 Pro Tips To Dominate Online
Tetris' effect on a player's dream state was the partial inspiration behind 2018's blatantly-titled Tetris Effect. Taking the basic building blocks of gameplay initially seen in the title's classic 1984 release and introducing new modes, missions, and all sorts of trippy new visual effects, it was perhaps the most significant upgrade the long-celebrated puzzle game had ever seen. Unfortunately, PlayStation-exclusivity meant that quite a few potential players were barred from entry.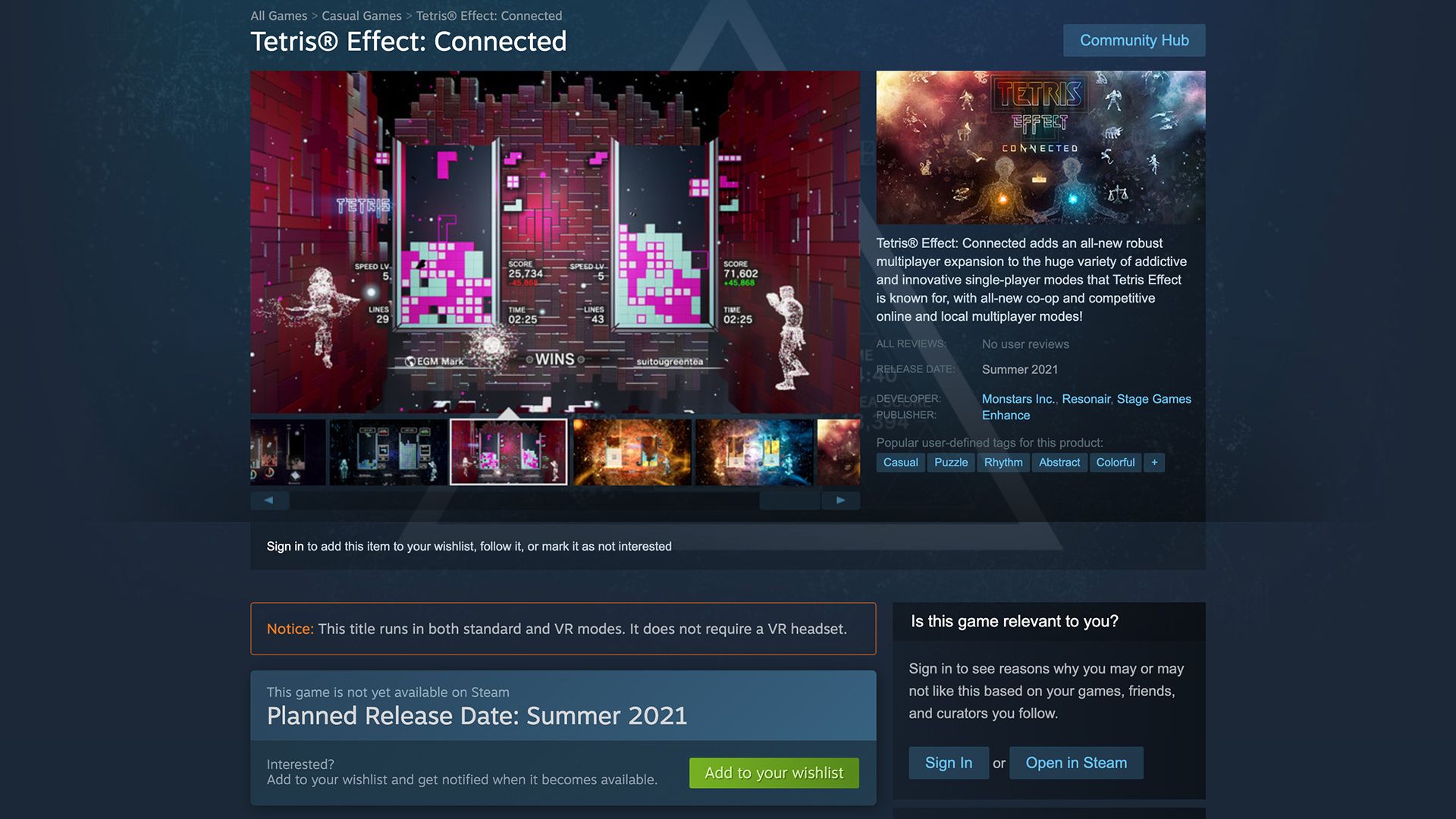 As of this summer, that will no longer be an issue; the game's publisher, Enhance, recently took to Twitter to announce the forthcoming PC debut of Tetris Effect: Connected, an augmented version of the title packed with multiplayer support, as well as the launch of the game's Steam store page.
Connected retains all of the features of the original game, but adds in extra modes as well as competitive and cooperative multiplayer offerings. The store page makes specific mention of a new zone mode featuring time manipulation, as well as an eponymously titled "connected" co-op experience to bolster the expected unranked and ranked play.
Also worth mentioning is the inclusion of VR support. It was a defining feature of the title's original release, and, while Tetris and virtual reality don't sound all that compatible in theory, it serves to enhance the dreamlike or altered-mindset-esque aspects of the ordeal. VR headsets aren't mandatory for play, however, so those who don't yet own one need not feel excluded.
Though there's no set-in-stone release date available yet, the game can be wishlisted on Steam, and the standard variant of Tetris Effect can already be purchased on Steam via the Epic Games Store.
Source: Read Full Article