Valve just released Steam's 2021 year in review, and perhaps unsurprisingly given the constant reports of Steam breaking its concurrent user record, Valve's digital game sales platform had yet another record year.
The second year of the pandemic seemed to be just as successful as the first. Steam reported 132 million active monthly users and 69 million daily users. On average, Steam added "2.6 million first-time purchasers each month of 2021," which brought it to 31.2 million purchases for the year. That matches the same growth rate as seen in 2020. Steam prefers to call new user accounts "first-time purchases" since some Steam users like to have multiple accounts.
Steam saw a 21% increase in time spent in-game over 2020, which totaled 4.3 million years of playtime. And as previously mentioned, Steam broke its concurrent user record with 27.4 million players in 2021, although that record has long since been shattered several times.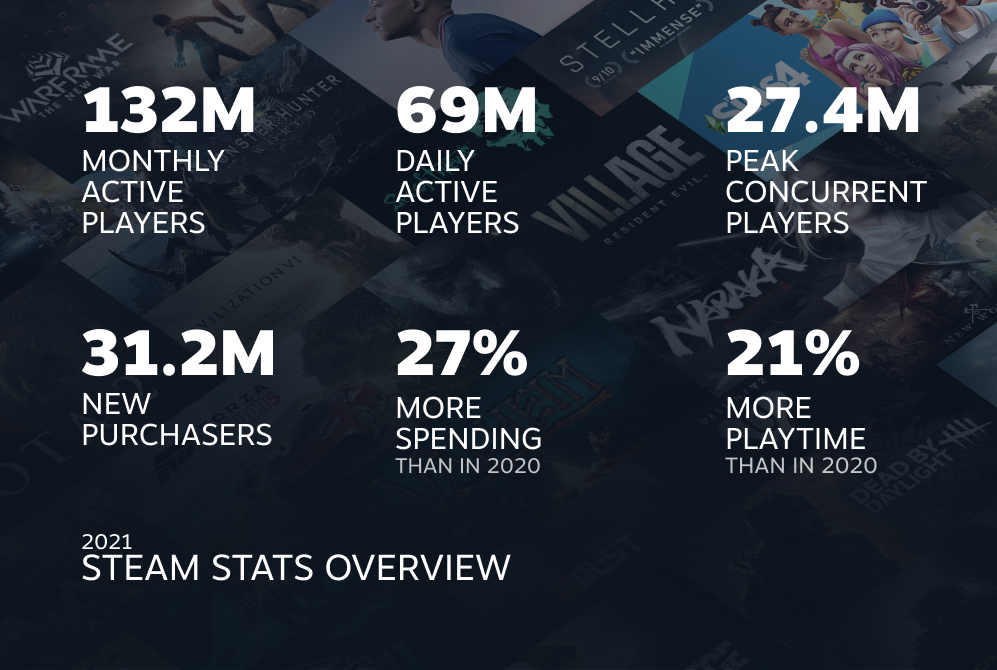 "Steam's ongoing success is ultimately driven by two factors: the games available to players, and the quality of experience players can have with those games," explained Valve, although they added that a few new releases that were previously console exclusives certainly didn't hurt (lookin' at you, Days Gone and Forza Horizon 5).
Another big success story for Steam last year was just how global the platform has become. "More than a third of our top releases in 2021 were from developers shipping on Steam for the first time," Valve noted, with developers ranging from Costa Rica to Estonia. Chinese game devs also had a major breakthrough, seeing a 300% increase in sales growth to non-Chinese markets on Steam (although that sort of growth might not continue into 2022).
In other Valve news, a new datamine on the recently released Aperture Desk Job provides us with new clues to the long-rumored Half-Life game, codenamed "Citadel." Described as an RTS/FPS hybrid, Citadel would pit Combine forces against the rebellion in a team-based, squad-based strategy campaign. There were also some lines mentioning CS:GO's long-awaited Source 2 port as well. Keep in mind that what we find in code doesn't necessarily mean anything will happen soon.
Source: Read Full Article