Update 5/12/23 4pm GMT: The Steam listing for Star Wars Jedi: Survivor originally appeared as March 16, 2023 on Steam, before changing briefly to March 15, 2023, and has now been removed completely.
Star Wars Jedi: Survivor, the eagerly anticipated sequel to the best-selling Fallen Order, has had its release date announced and more details revealed via a Steam listing, and players can expect a host of new gameplay features.
Developed by Respawn and published by EA, Star Wars Jedi: Survivor has a launch date of March 16, 2023. The game picks the story up five years after the events of Fallen Order and "follows Cal's increasingly desperate fight as the galaxy descends further into darkness".
Cal will face new threats: "As one of the last surviving Jedi Knights, Cal is driven to make a stand during the galaxy's darkest times," the listing reads. Since he has to protect himself, his crew, and the legacy of the Jedi Order players can expect new abilities Cal seemingly picked up along the way, especially as the game is set five years on from the previous game.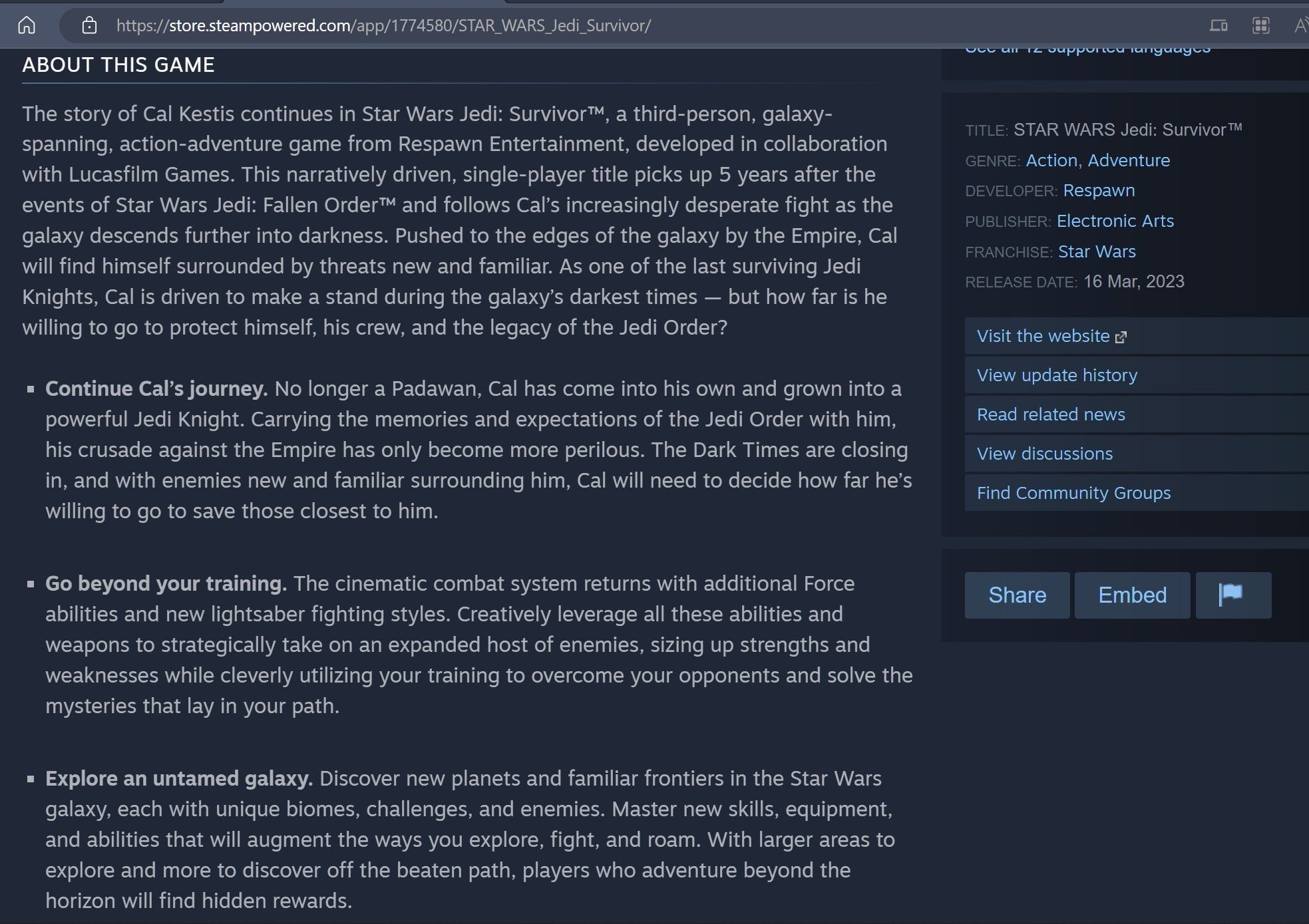 Since Cal has grown into a "powerful Jedi knight" players can expect additional Force abilities and new lightsaber fighting styles. The original game was inspired by the Soulsborne genre and so while your character was suitably powerful as a Jedi padawan, players had to be careful not to be overwhelmed by strong foes that included various planet's fauna. While the "cinematic combat system returns" players will have to "creatively leverage" all the new abilities Cal possesses or will gain as you progress and "strategically take on" an expanded host of enemies.
Survivor look like it'll require players to use their wits in order to overcome opponents as well as solve environmental puzzles and uncover the game's mysteries. In addition, players will find new equipment, skills, and abilities that will aid in exploration. This is going to be an expanded game with an expanded galaxy. "Discover new planets and familiar frontiers" as the listing has it, with unique biomes, challenges, and enemies.
"With larger areas to explore and more to discover off the beaten path, players who adventure beyond the horizon will find hidden rewards". It's all quite tantalising stuff for Star Wars Jedi fans. Meanwhile, the Steam listing also reveals that the game is set to need around 130 GB of available space and what PC specs are required at minimum. Recommended specs include graphics cards RTX 2070 or RX 6700 XT.
Star Wars Jedi: Survivor launches March 16, 2023. It is not yet available to pre-order but we'll let you know when that happens. A new trailer is widely rumoured to be revealed at this week's The Game Awards.
Source: Read Full Article