In recent sad news, Sony is shutting down the official PlayStation forums later this month.
It's always a bitter-sweet goodbye when the time has come to bid farewell to a product or service that was used for a very long while. Whether the service or product breaks, generally stops functioning, or becomes replaced with something better, it's still not easy to ditch it in favor of something new. Unfortunately, such scenario can be applied to the official PlayStation forums because they will permanently go offline later this month.
For a good while now, the PlayStation forums were used by fans to talk about PlayStation, its games, and everything in between. Just as a normal forum would function, the PlayStation forums performed a similar job, ultimately bringing people together into one spot to share posts. However, as the internet evolved over the years, so did other websites, thus giving birth to other social websites that became very popular. The popularity of those websites essentially overshadowed forums, and the concept of forums slowly started to die down.
PREVOUSLY: End Of An Era: GameRankings Shutting Down Next Week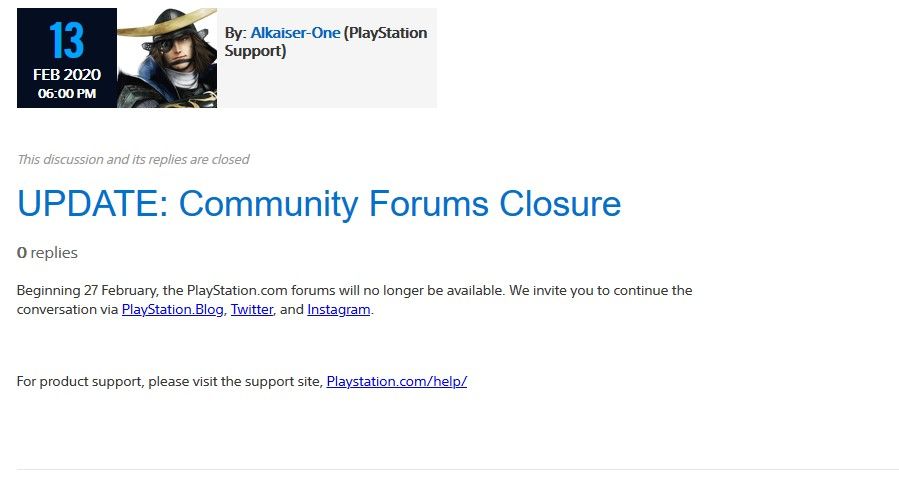 Social media sites like Twitter and Facebook, as well as websites like Reddit, are incredibly popular because not only do millions of people use them, but they also have additional functions. For instance, Twitter's hashtag concept or Reddit's subreddits give internet users the ability to quickly and comfortably find what they are looking for. Unfortunately, forums are much more retro and seem to be going out of style.
A similar thing happened to GameRankings in December 2019. The aggregate scoring website, which was around since 1999, also shut down. The reason for that was because other video game score websites like MetaCritic became far more popular, thus making GameRankings obsolete and essentially meaningless. As times change and the digital realm pushes itself ahead, its older concepts lose value and become forgotten relics, being replaced with more modern and innovative platforms and ideas.
Although the PlayStation forums will be shut down on February 27, the future isn't that bad for PlayStation fans and current users of the forums. First, they still have some time before the shutdown, and second, they are encouraged to use other platforms for their conversations, such as the above mentioned websites and even the official PlayStation blog.
Source: Read Full Article