Someone has extensively documented the torment that streamers have experienced when playing the notoriously frustrating Jump King. A Google Sheet is floating around Reddit, containing the exact amount of time many popular streamers have spent trying to beat the game – as well as their jumping and falling statistics.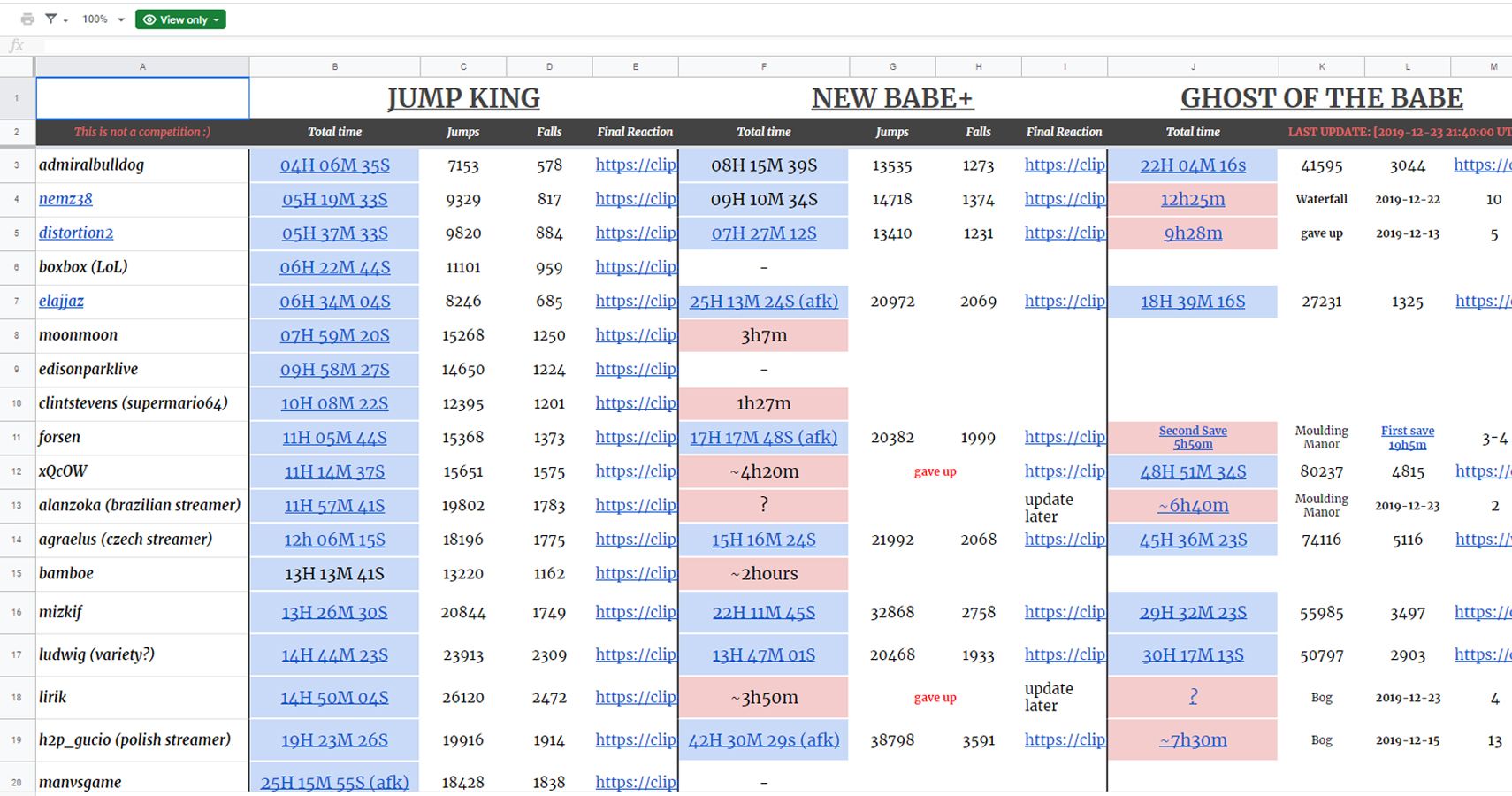 Jump King is currently chief among this trendy new "Schadenfreude-Vanias" genre, Twitch viewers deriving sick pleasure from the constant setbacks these streamers experience throughout the game. Many are familiar with similar games such as Getting Over It, Pogostuck, and the early QWOP; Jump King follows suit with the promise of the "Smoking Hot Babe of legend" awaiting at the end of the hellish jumping nightmare. It is especially popular on Twitch right now due to a free new DLC, Ghost of the Babe, recently released by the game's sinister developers.
French-Canadian streamer xQc brought a large amount of attention to the title, spending over 48 hours before finally beating the DLC (not to mention the many hours he spent on the original.) Needless to say, xQc experience no shortage to soul-crushing setbacks along the way.
Forsen, another heavy-hitting Twitch streamer, is still in the process of beating the DLC, with over 20 hours put into the jumping purgatory. The evil developers even added in a cheeky little reference to the very end of the original game, tricking Forsen into believing he beat the DLC as well. The clip is a great demonstration of the range of human emotion – total joy, confusion, acceptance, and depression.
One of the most successful streamers to beat Jump King is AdmiralBulldog, who clocked in at just over 4 hours and sits at the top of the Google Sheet's rankings. This can be compared to streamers towards the bottom spent over 20 hours, such as MANvsGAME. Perhaps all of the pain and suffering that goes into beating the game is worth it, seeing that AdmiralBulldog's reaction when beating the game was that of eternal happiness.
For those interested in the seeing the many reactions of streamers who managed to beat the game (alongside the time it took each of them to get there,) check out the sheet. For those crazy enough to put themselves through the game's rage-inducing trauma, Jump King is 33% off on Steam until December 27th.
Sources: Reddit
Source: Read Full Article