Everyone's favorite comical green-skins are back on the field with the latest Snotling releases for Blood Bowl.
"Whoa! Wait a minute, did I hear you right? Snotlings… Blood Bowl…". Yes, you did. Snotlings have been a fan favorite for years amongst Games Workshop's tabletop games Warhammer and Age of Sigmar games, but until now they have been relatively absent from Blood Bowl, save for the occasional use in ogre teams; after all, you can throw a Snotling further than you can a goblin. It's been a long time coming for the little guys, with GW first hinting at this release before the global shutdown back in April. Now that the world is starting to get back to normal, it is fitting that we start to see unreleased announcements begin to filter through.
Snotlings are known across the realms as being the annoying younger brother of the orcs and goblins. As such, they have largely been left out of the Blood Bowl, instead relegated to selling mystery meat "burgers" and what we can only hope is fermented liquid to the crowd goers. This new release changes all that, as the Snotlings finally have a team to call their own – The Crud Creek Nosepickers. Expect the regular lunacy associated with this comical crowd as they bring their unique playstyle to the turf. The sculpts bring the Snotling sense of humor to the field perfectly with some notable highlights of minis riding boulders, hurling mushrooms, and walking on stilts. Oh, and let's not forget the weapon of choice they are most known for, the pump wagon. All in all, this promises to be a joy to paint and a challenge to wield.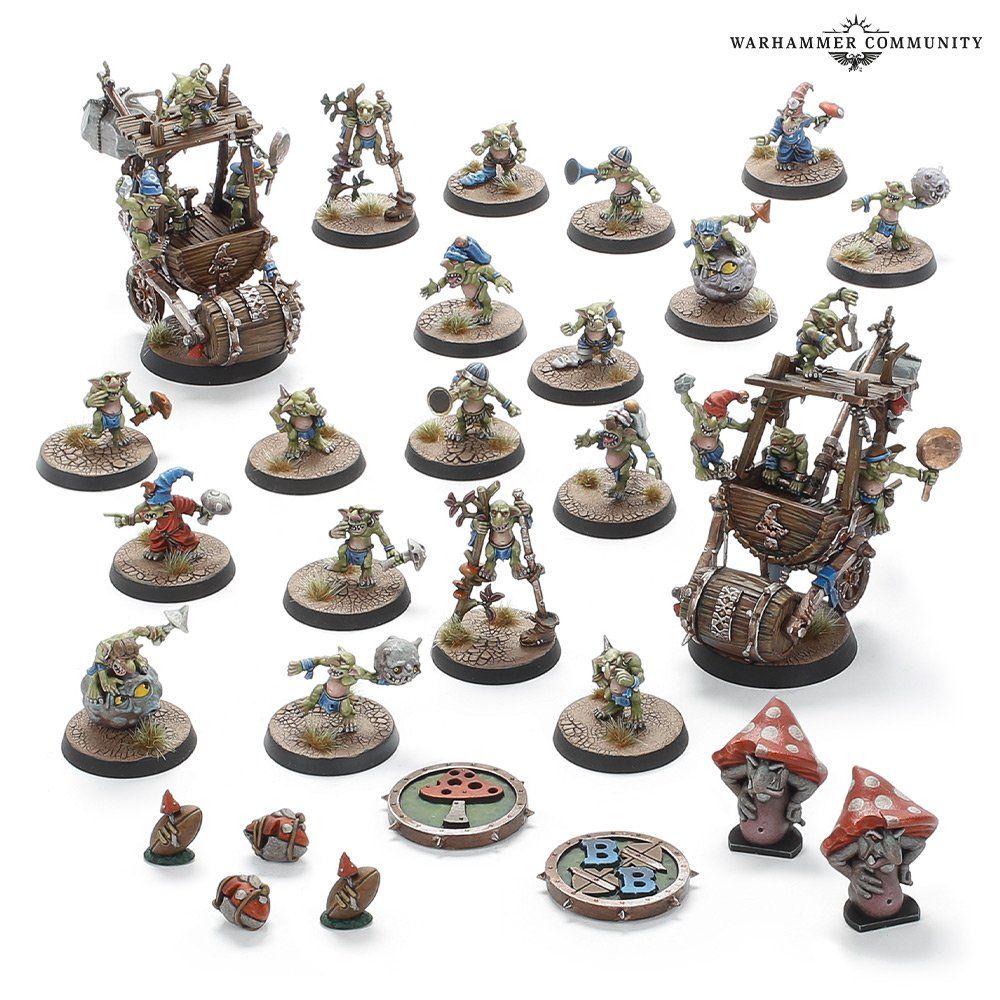 Alongside the release of the Crud Creek Nosepickers, issue 10 of Spike! can be found. This is the essential Blood Bowl magazine that features regular rule additions and updates as well as team and player spotlights. For those of you looking to field the new Snotling team, this issue is essential as it includes the rules needed to field the greatest anarchic menace the pitch has yet to face.
The Crud Creek Nosepickers, Snotling tactics cards, and dice will be available to preorder starting August 22, with a scheduled retail release the following week.
NEXT: GW Releasing New Gangs, Terrain And Rules For Necromunda
Source: Read Full Article