Dujan Kulusevski is the first Road To The Knockout SBC in FIFA 23. Yes, with an Architect this card can be lengthy. Yes, Spurs might do decently in the Champion's League. However, the card is pretty expensive – especially compared to the Sterling SBC that went live yesterday. We compare the two cards below.
This guide breaks down how much the SBC costs, how Kulusevski plays, and whether we reckon this card is worth your coins at this stage in the game.
How Much Is Kulusevski?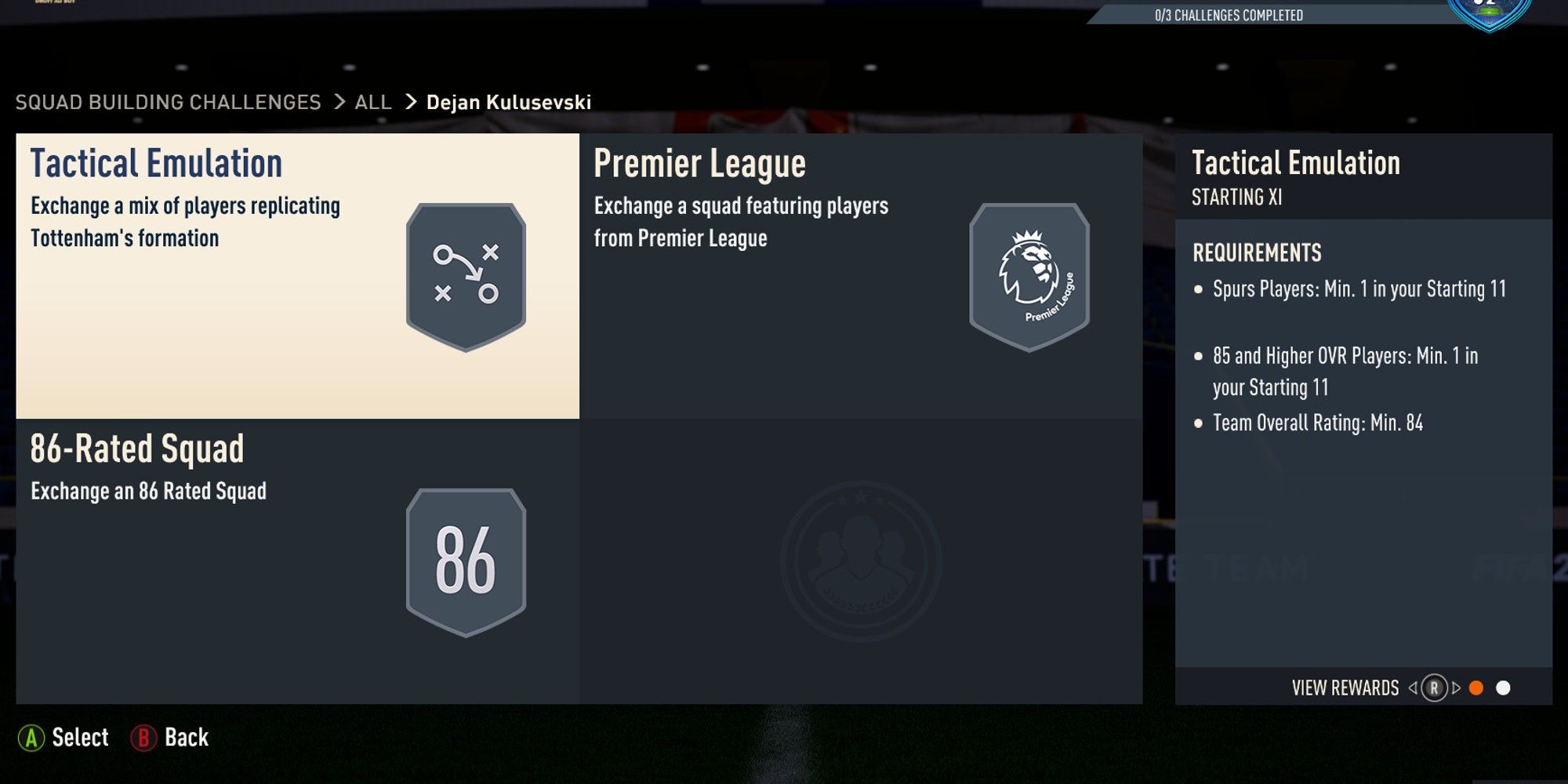 Kulusevski requires an 85-rated squad with a Spurs player, an 86-rated squad with one player above 86 rating, and an 86-rated squad with one player rated 87 or higher. In other words, Kulusevski is expensive. Somewhere in the 170k – 200k mark across all platforms. Yep. That's more expensive than Sterling's OTW SBC. A whole extra squad!
That should be sign enough that maybe this SBC isn't the best value.
Is Kulusevski A Good SBC To Complete?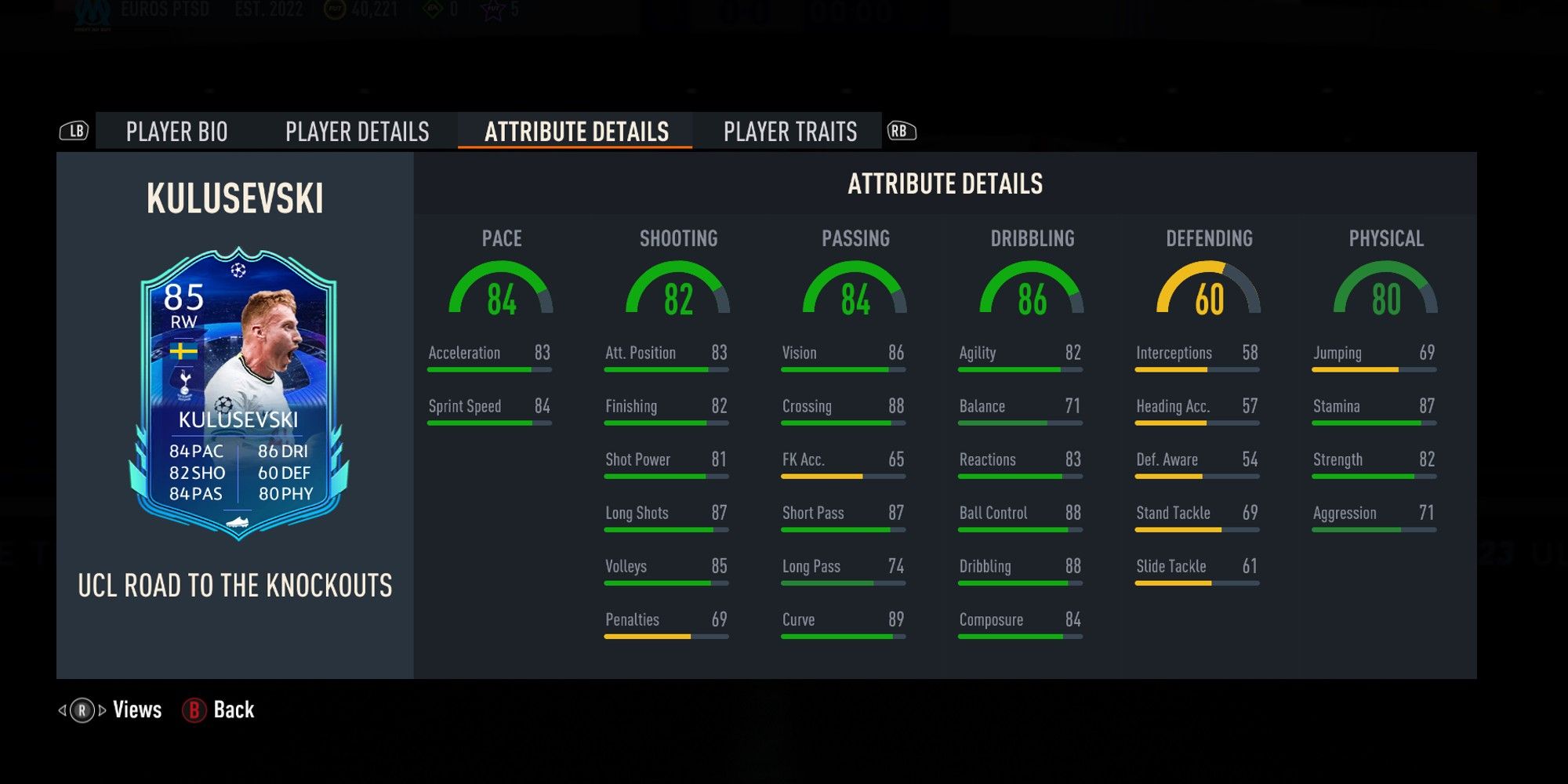 We are here to offer impartial advice – in our opinion, Kulusevski is absolutely not worth this kind of coin. Even with the potential of one or two, maybe even three if Spurs go all the way, upgrades, this card is still not worth this sort of money. Let's compare this card with Sterling's Ones To Watch card from yesterday's live SBC.
Kulusevski
Sterling

84 Pace, but Kulusevski can be Lengthy with an Architect chemistry style. Depends on how much you value that Lengthy stat this year.
4-star skills, 3-star weak foot
6 foot 1
Can play as LM or CF

90 Pace.
Better starting card.
You can see the full stats in our Sterling SBC guide above.

Chance of an upgrade? Kulusevski will almost definitely receive an upgrade – Spurs' next three games are against Eintracht (who they did draw against, to be fair), Sporting, and Marseille. Of course, nothing is certain in football, and certainly not with Spurs. In the past, RTTK cards have worked as 1 x Upgrade for getting out of the group, and 1 x Upgrade for winning group matches.

The Ones To Watch cards work differently, as in, Chelsea only need to win a couple more games after their victory against Crystal Palace (and Sterling is a starter in a very hopeful England team at the world cup.) Sterling is even more likely to receive more upgrades than Kulusevski.

In general, Sterling outclasses Kulusevski in most areas.

In short, pick Sterling if you're going to do one of these two SBCs. Unless you're a Spurs fan, in which case, you might as well.
But, it's not all negative. Kulusevski is a well-rounded card, with solid 80+ stats in pretty much every area it matters (including a juicy 87 long shots for those wing cut-in shots), and plenty of physicality and passing. With upgrades, and the full Lengthy stat from Architect, you will have a bit of a monster of a player on your hands. It's just whether you think it's worth almost 200k this early on.
If this SBC was the same price as Sterling's, or maybe just a little cheaper, then we'd definitely consider giving this card a go.
Player Review
We've used Kulusevski's base card (it started in our first Premier League team), but not this SBC version. Yep, the card can be Lengthy which makes it much more usable than cards like this in the past. Even so, we've found that bursty pace for wingers is still more valuable. Lengthy is better for fullbacks and wingbacks.
Source: Read Full Article