Independent video game developer Youthcat Studio and publisher Gamera Game recently announced the Steam Early Access phase for their interstellar industrial management strategy sim Dyson Sphere Program. The game's Early Access left atmo on January 21, and is currently planned to last for about a year.
The Steam page for Dyson Sphere Program currently has the game priced at $17.99, which includes a 10% launch promo discount that ends this January 27. The price will return to its standard $19.99 after the promo discount ends. The page also lists the Dyson Sphere Program Soundtrack DLC for $4.99.
Dyson Sphere Program (DSP) is the result of a successful Kickstarter campaign ran by Youthcat Studio in November and December of last year. A total of 319 backers helped the campaign reach and surpass its ¥1,060,000 (about $10,213.91) goal to end with ¥1,434,062 (about $13,818.29).
According to the press release, DSP is "a sci-fi sandbox with space exploration and factory automation elements." That definition seems to greatly undercut and undersell what the game is actually about. The Kickstarter notes have a better description, calling it "a sci-fi simulation game with space, adventure, exploration and factory automation elements where you can build your own galactic industrial empire from scratch." And as the name of the game implies, your main objective here is to build a Dyson Sphere, a real-life theoretical mega-structure device "capable of capturing and harnessing all the energy generated by a star."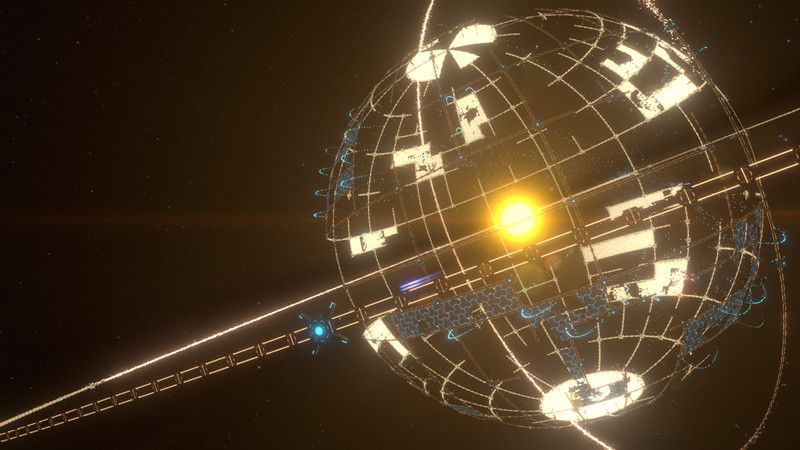 In-game, you take on the role of a galactic engineer employed by the space alliance COSMO. You are given the use of a mecha-suit called an Icarus, which is capable of intra- and interplanetary flight. You then set out to locate and gather the astronomical amount of resources you'll need to construct the Dyson Sphere. And since it's theorized that no single planet can provide all the necessary resources, you'll be exploring a vast procedurally-generated universe, building resource-gathering and manufacturing facilities on numerous planets in order to gather all the supplies you need for your ultimate task.
The DSP Early Access build contains an entirely playable campaign, with the devs stating "you can enjoy standard modes, sandbox missions and exploration almost without limitations", which includes about 100 hours of gameplay. More content is expected to be added during Early Access, with a major focus on identifying and eliminating bugs and improving gameplay.
To learn more about Dyson Sphere Program, hyperspeed over to the game's Facebook, Twitter, Reddit, and Discord channels.
Source: Read Full Article