Overwatch's Winter Wonderland event continues this week with a brand new set of rewards – this time, they're Roadhog-themed. Like with the past 2 weeks, the unlock requirements are simple: win 9 games for 3 rewards, those being the Frosty Roadhog player icon, spray, and epic skin.
This will cover the final push of the event, with the unlocks being available from December 29 until January 5. After that, Winter Wonderland is done and your chance of getting this brand new snowman-themed Roadhog is lost. That is until 2021's Winter Wonderland – hopefully, Overwatch 2 is out by then.
The past two weeks featured Elf Junkrat and Gingerbread Ana, but those aren't the only new skins up for grabs this year. Alongside returning fan favorites such as Krampus, Santaclad, Yeti, and Nutcracker, this year sees the additions of Reinhardt's Conductor, Mei's Penguin, Zenyatta's Toybot, and more.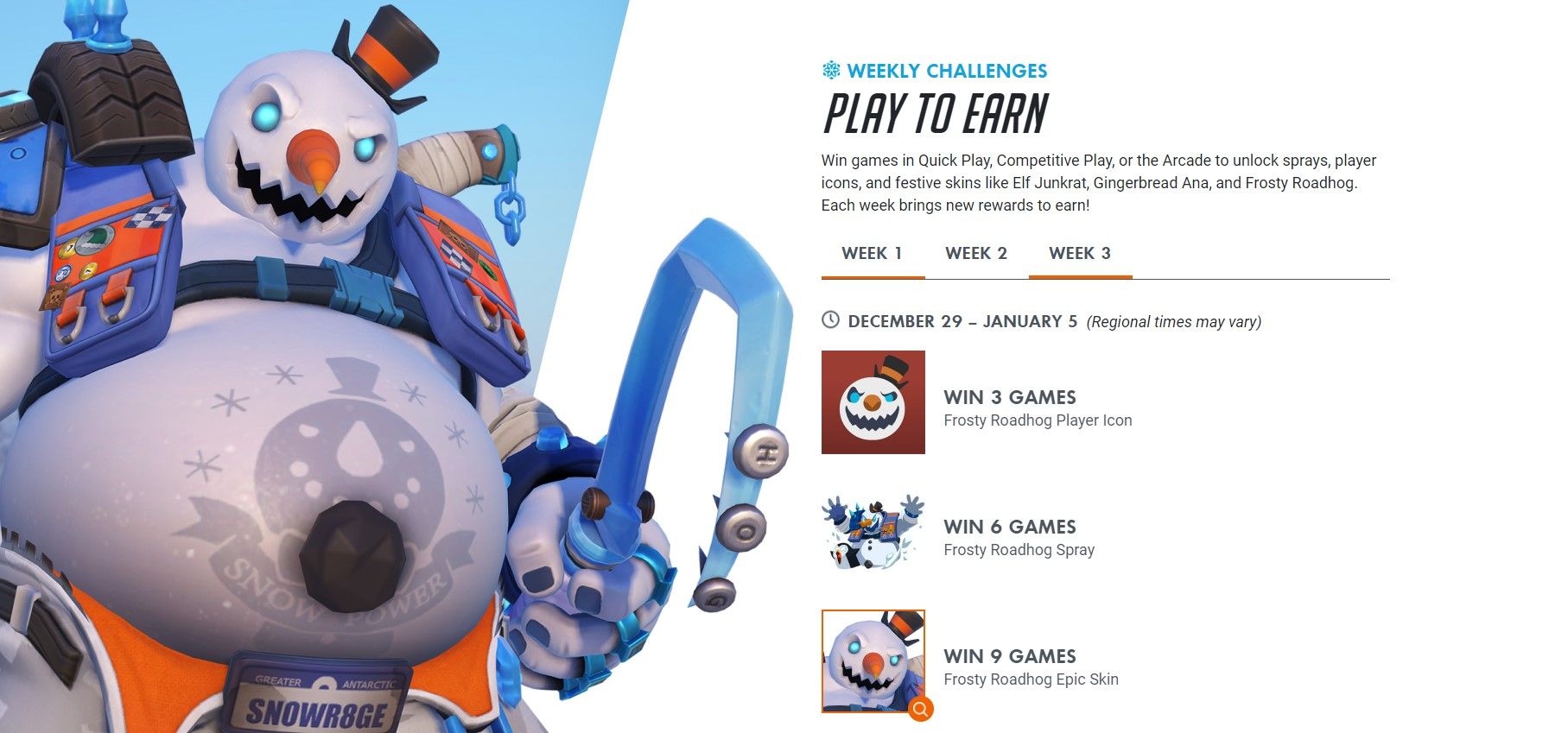 The player icon up for offer is a simplistic rendition of the new Roadhog skin's face whilst the spray sees Roadhog attacking a poor little penguin. The skin gives Roadhog a neat little tophat with some white body paint and new tattoos alongside a carrot nose and a jaggedly carved mouth. His license plate has even been changed to read 'SNOWR8GE' rather than 'ROADRAGE.'
It could easily be mistaken for a legendary, but alas, it's an epic. This marks his third Christmas-themed skin with his last one being the legendary Ice Fisherman. The one before that was the epic Rudolph skin, his very first.
With Winter Wonderland coming to a close and Roadhog sending it off, we have the Lunar New Year event and all its new skins to look forward to. Last year, the Year of the Rat began on January 16, so the wait for the Year of the Ox might not be too bad. It ended on February 5, and news of Overwatch 2 is set to be announced at Blizzcon next year which runs February 19-21. Simply put, the first couple of months next year are going to be packed to the brim with our favorite Overwatch and Talon heroes.
Next: In Its First Year On Steam, Destiny 2 Breaks Into Top 12 Best-Selling Games
Source: Read Full Article