Quick Links
Pretty much every game in Pokemon Unite needs a proper support role, and Eldegoss is always a strong candidate for your pick. A healer, a shielder, and even a disruptor, the little cotton spore is perhaps one of the most reliable Pokemon in the game.
However, you will need to dedicate yourself to a build in the select screen, as it's less flexible in terms of item choices — at least if you want to drive home its advantages over other supports. Fortunately, it's pretty easy to know your role when everyone else is locking in carries.
When To Pick Eldegoss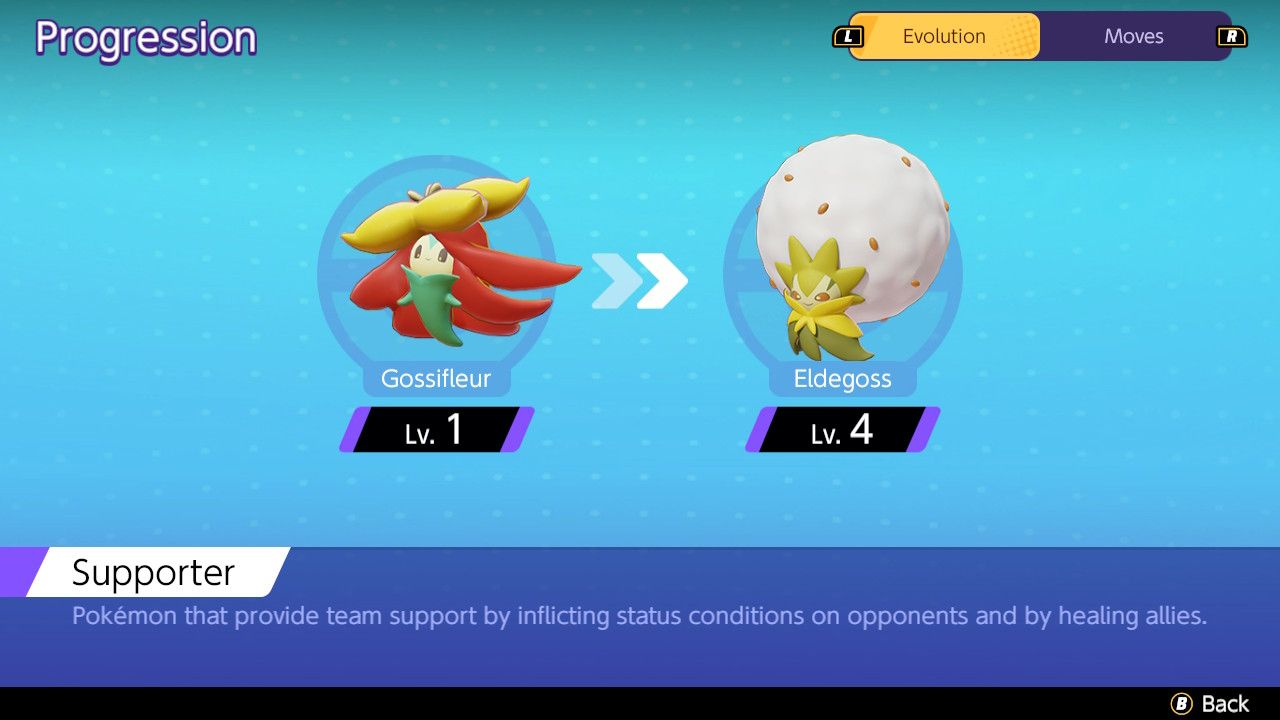 You could theoretically pick Eldegoss in 100% of your games, it's that strong as a Supporter, and it's that often that other players won't look to play a role that's not showered in glory. The flexibility you have in playing Eldegoss as a healer or more shield-oriented support is also a key factor.
It's great alongside junglers like Gengar and Greninja, ranged attackers like Cramorant or Pikachu, and mega-tanks such as Snorlax. In fact, while it doesn't seem apparent on the surface, a botlane combo of Eldegoss and Snorlax can make the latter one incredibly frustrating Pokemon to play against.
Eldegoss: Healer Build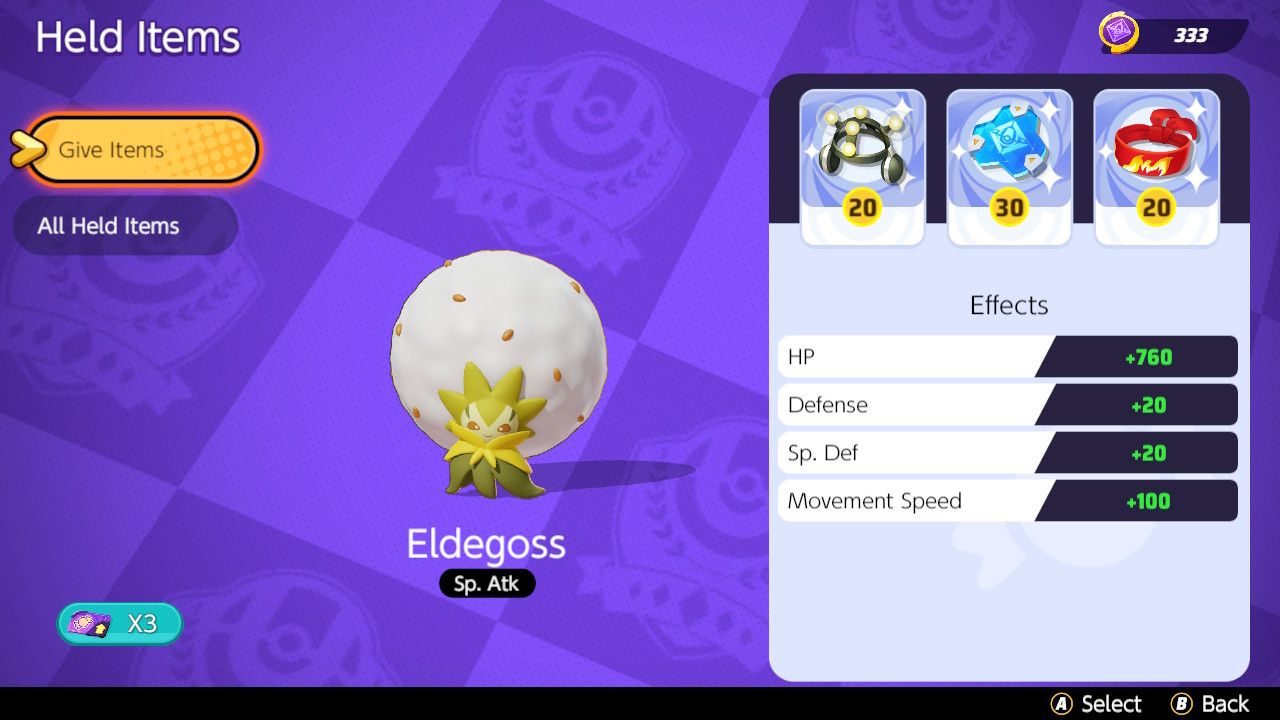 The more common of the two builds, the healer path is usually taken in the bottom lane to support an Attacker. The longer a skirmish goes on the better chance your team has to succeed and push the lane thanks to the sustain Eldegoss brings to the table.
Cotton Guard is key to this build, protecting your ally and then healing them on expiry, while Pollen Puff adds even more protection when used on your teammates. You can do some additional poke with Pollen Puff, but you're best keeping a hold of it for when you need it most. Use Cotton Cloud Crash when everyone is bunched up and in need of a pinch heal.
You're going to want Exp. Share for this build due to the lack of farming, while Buddy Barrier is a no-brainer. Focus Band makes the most sense for a little extra sustain, although you can switch that out for a Muscle Band if you want to play a little more aggressively. Eject Button is the best Battle Item.
Eldegoss: Support Build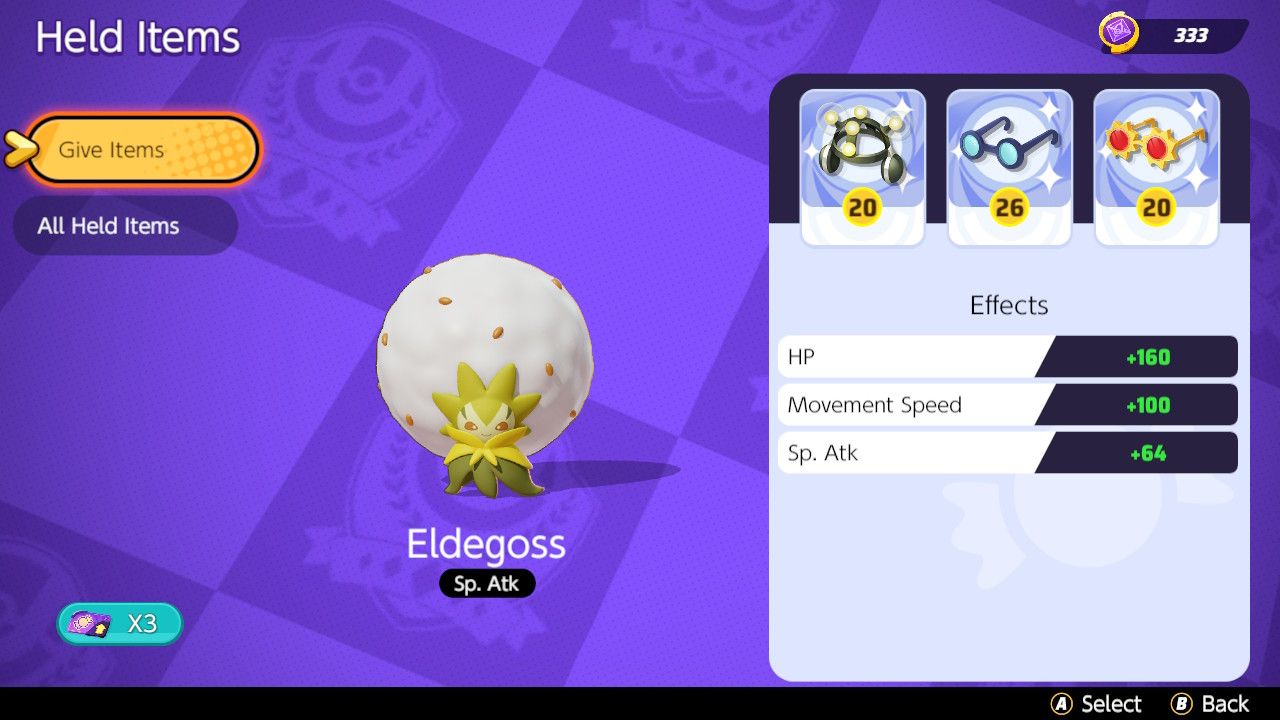 This build focuses more on your shield than your healing, with your Unite Move covering that if and when it's needed. Your teammate should play more carefully, but with additional shielding it can be easier to push lanes more.
Cotton Guard is a must for that reason, but you'll want to pair it with Leaf Tornado so that you can zone your enemies away from your goal or neutral objectives. Overall you'll be more aggressive in lane, but you'll be more exposed as you push up more.
Keep hold of the Exp. Share so you don't fall too far behind, and add the Wise Glasses and Choice Specs. With this build you'll deal more damage to enemies, but you'll be left more exposed to them locking you down and sending you back to base, so take the Eject Button for a quick escape.
Eldegoss: Stats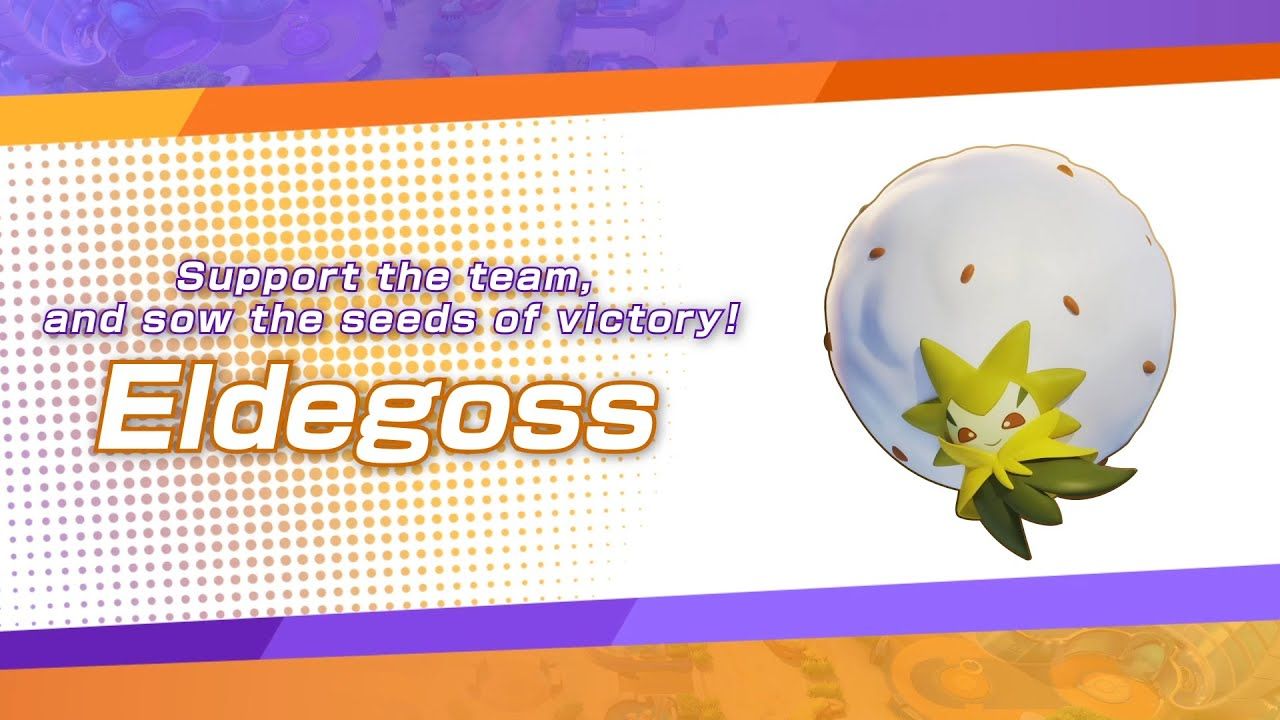 | Level | HP | Attack | Def | Sp. Attack | Sp. Def | Crit Rate % | CDR % | Lifesteal % |
| --- | --- | --- | --- | --- | --- | --- | --- | --- |
| 1 | 3278 | 130 | 40 | 40 | 30 | 0 | 0 | 0 |
| 2 | 3383 | 134 | 44 | 54 | 33 | 0 | 0 | 0 |
| 3 | 3503 | 139 | 48 | 70 | 36 | 0 | 0 | 0 |
| 4 | 4114 | 162 | 69 | 152 | 52 | 0 | 0 | 0 |
| 5 | 4274 | 168 | 74 | 173 | 56 | 0 | 5 | 0 |
| 6 | 4457 | 175 | 80 | 198 | 61 | 0 | 5 | 0 |
| 7 | 4668 | 183 | 87 | 226 | 66 | 0 | 5 | 0 |
| 8 | 4911 | 192 | 95 | 258 | 72 | 0 | 5 | 0 |
| 9 | 5190 | 203 | 104 | 295 | 79 | 0 | 10 | 0 |
| 10 | 5511 | 215 | 115 | 338 | 87 | 0 | 10 | 0 |
| 11 | 5880 | 229 | 128 | 387 | 96 | 0 | 10 | 0 |
| 12 | 6305 | 245 | 142 | 444 | 107 | 0 | 10 | 0 |
| 13 | 6794 | 264 | 159 | 509 | 119 | 0 | 10 | 0 |
| 14 | 7356 | 285 | 178 | 584 | 133 | 0 | 10 | 0 |
| 15 | 8002 | 310 | 200 | 670 | 149 | 0 | 10 | 0 |
Source: Read Full Article