Last month, Pokemon Sword & Shield players in the U.S. could walk up to their local GameStop and redeem a code for Shiny Eternatus. Available in limited quantities, the Shiny Eternatus was given away to likely drive traffic to the retailer in hopes of securing pre-orders for Pokemon Scarlet and Violet too, however, no purchase was necessary to redeem the code. Players in Europe will no longer have to look on in envy, as it's their turn now.
Announced last week, the Shiny Eternatus giveaway is now live in participating retail outlets across Europe, and will go on till November 17. As with the U.S. giveaway, no purchase will be required, you can simply walk up to a participating retail outlet and ask for the code, as long as it's in stock. Undoubtedly, there will be people trying to hoard codes and scalp them at a cost, so you better hurry.
"Shiny Eternatus will arrive in your game at Lv. 100 with a Timid Nature and the Pressure Ability," says the Pokemon website. "It'll know the moves Dynamax Cannon, Eternabeam, Sludge Bomb, and Flamethrower, so it should make a powerful addition to your team!" Once you get your hands on a code, you can redeem it via the Mystery Gift menu.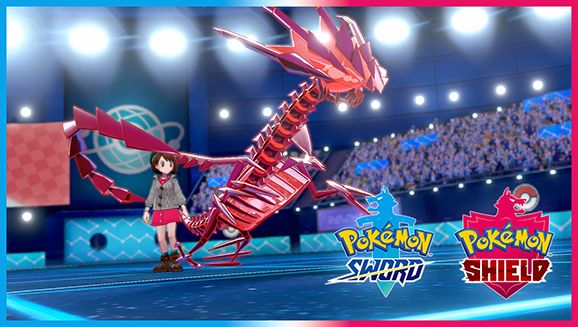 According to Serebii.net, the retail stores below are participating in the giveaway in their respective countries:
UK – GAME, Smyths
France – Micromania
Italy – Gamestop
Belgium/Netherlands – GameMania
Denmark – Nintendo Pusheren, Proshop
Norway – Outland
Greece – Game Explorers
Sweden – Arcade Dreams, Euronics Sala, INET, Lekia Söderhamn, Lekia Arvika, Lekia Umeå, Mediamarkt, Place HD, Skivakuten Hudiksvall, Spel & Sånt, Webhallen
Norway – Gamingsjappa, Neo Tokyo, Outland, PLATEKOMPANIET, Pku, Spilldall
Only a few days ago, a new 'mon was revealed for Pokemon Scarlet & Violet, one that looks like a thin, white Diglett. There was confusion about this new Pokemon at first, with some suggesting it could be the Paldean variant of Diglett. For now, this new Pokemon has been dubbed 'Wiglett' during the Ecological Society presentation, noting that while there are similarities to Diglett, it is indeed an entirely different 'mon due to its body and environmental preference.
Source: Read Full Article