Quick Links
Along your journey in Pokemon Scarlet & Violet, you'll be tasked with the monumental challenge of completing the Pokedex. With exactly four hundred entries in this generation to find and catch, you'll definitely have your hands full for several hours. Additionally, with so many version exclusives and trade-evolved Pokemon in this generation, you'll definitely want to complete the Pokedex for the ultimate prize at the end: the Shiny Charm.
However, as you complete your Pokedex, you'll also be able to collect small prizes along the way to aid in your catching journey. These include Evolutionary Stones, Candy, Poke Balls, and more. For every ten entries, you'll be able to claim a new prize from your Pokedex — and every once in a while, you'll also be able to claim unique prizes from Professor Jacq at your game's resident Academy.
Jacq's Rewards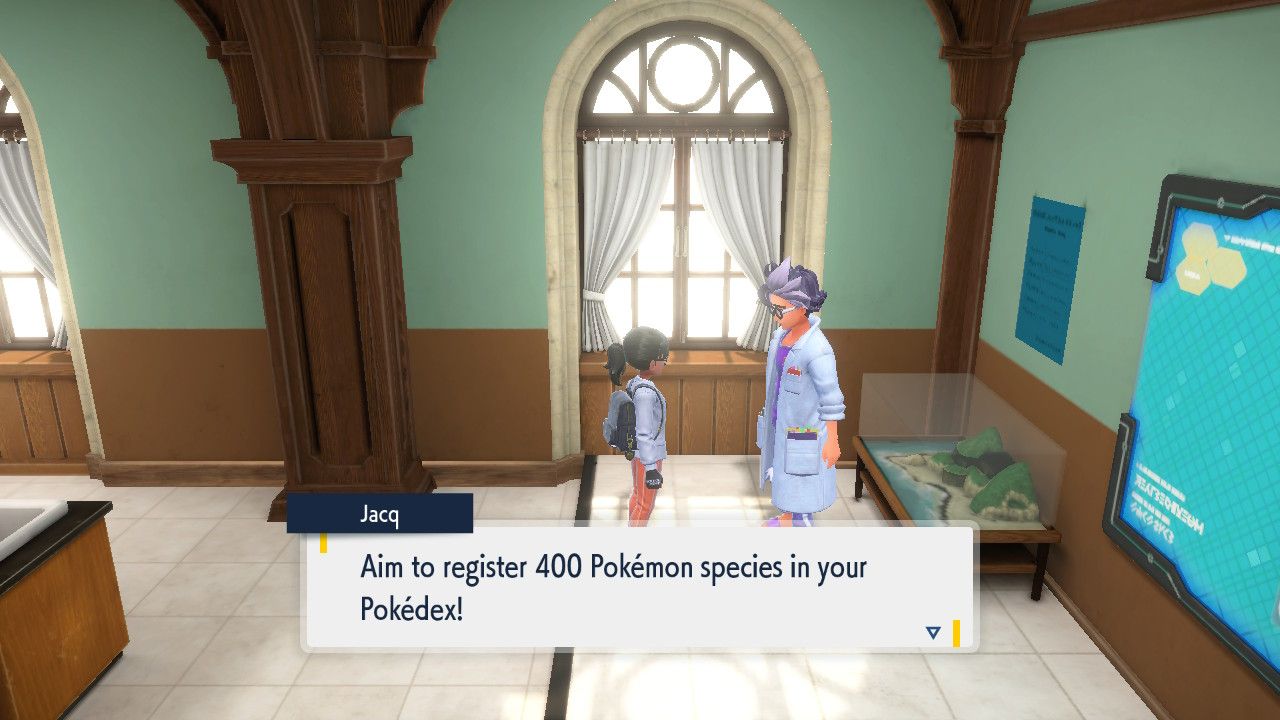 To unlock the rewards available from Jacq, you need to speak with him in the Biology Lab in Naranja/Uva Academy. His first gift you can unlock early, if you wish, by taking a biology course from him.
Speak with him afterward if you're wanting False Swipe but haven't yet captured thirty species. Otherwise, you can receive the following gifts from Jacq as you fill volumes:
Jacq's Rewards

Volumes Filled

Reward

30

TM057 (False Swipe)

100

20 Ultra Balls

200

20 Quick Balls

400

Shiny Charm
Pokedex Rewards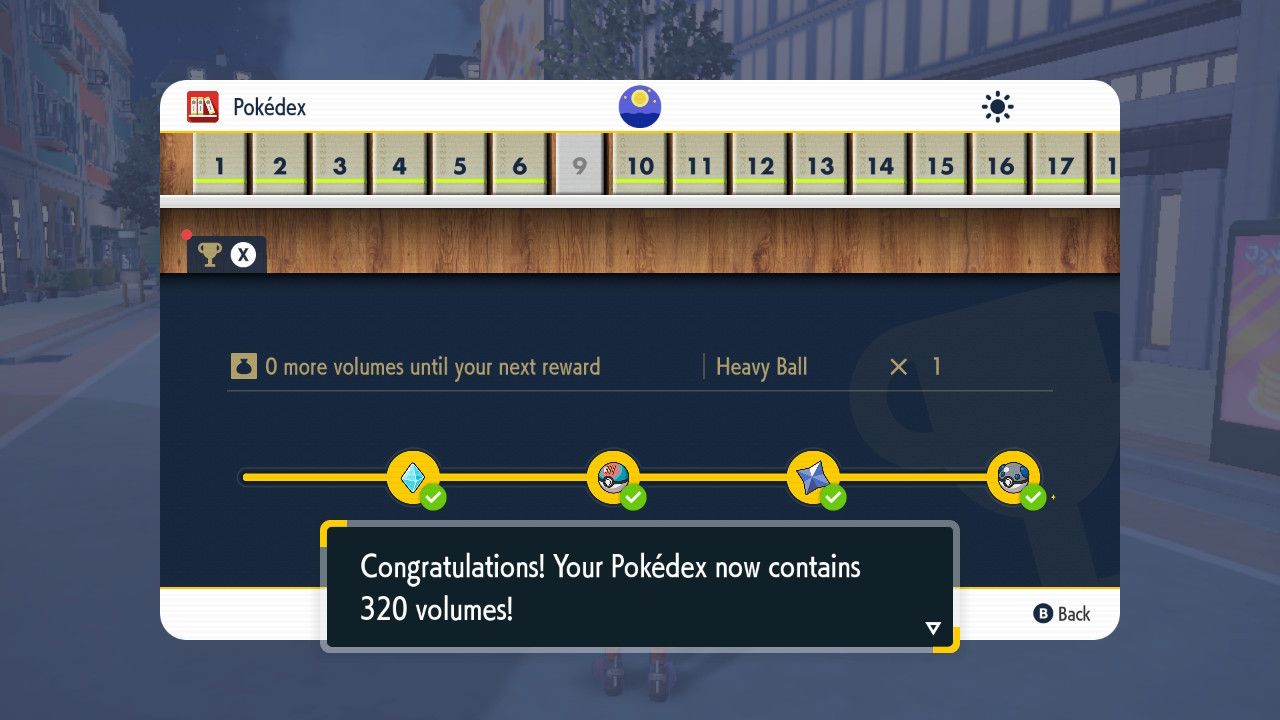 Pokedex Rewards in the Milestones Menu are available by opening your Pokedex, going to your Volumes, and pressing the X button. After every ten volumes are filled, you'll be able to receive a new reward.
Once all four hundred volumes are filled, you can take your Pokedex back to Jacq to get your final reward. All available rewards available in the Milestones Menu include:
All Pokedex Rewards

Volumes Filled

Rewards

10

3 Stardusts

20

10 Great Balls

30

Thunder Stone

40

10 Ultra Balls

50

5 Exp. Candy S

60

Fire Stone

70

10 Net Balls

80

Water Stone

90

10 Nest Balls

100

5 Stardusts

110

3 Exp. Candy M

120

10 Quick Balls

130

Dusk Stone

140

10 Dusk Balls

150

Shiny Stone

160

3 Exp. Candy M

170

10 Dive Balls

180

10 Stardusts

190

10 Luxury Balls

200

5 Exp. Candy M

210

Moonstone

220

10 Timer Balls

230

3 Star Pieces

240

1 Fast Ball

250

3 Star Pieces

260

1 Friend Ball

270

Dawn Stone

280

1 Level Ball

290

3 Exp. Candy L

300

1 Lure Ball

310

3 Comet Shards

320

Heavy Ball

330

3 Exp. Candy L

340

1 Moon Ball

350

3 Exp. Candy L

360

1 Dream Ball

370

1 Nugget

380

2 Nuggets

390

3 Big Nuggets

400

1 Beast Ball
Source: Read Full Article