I've been attempting the same trick for 20 minutes at this point. A simple boardslide.
I begin with my skateboard in hand, drop it to the concrete, then kick and push until I reach the stairs, where a wrought iron railing extends downward for about five feet.
Twenty minutes in, I have biffed it in every conceivable way. I've flown forward, like an unconscious Superman, onto the cement below. I have missed the railing and landed sideways halfway down the steps. At one point, my back axle made contact with the railing and stayed there perfectly, a slow-motion metal-on-metal smooch. This got a half-cheer, half-laugh from the journalist behind me, who had been patiently watching my progress as I got closer and closer to landing the trick.
I first played Session: Skate Sim in 2020, a few months into its time on Xbox Game Preview — not long after I had 720'd my way through Tony Hawk's Pro Skater 1 + 2. After that much time in the Birdman's sneakers, Session felt almost hostile. The camera's position, which mimics the board height perspective frequently seen in skate videos, made the experience disorienting. Developer crea-ture Studios' decision to map each thumbstick to one of your skater's feet caused the control scheme to flip each time I turned around, so if I wanted to do an ollie, I would need to hold down the right thumbstick, or push up on the left thumbstick, depending on which direction I was currently facing. I adjusted fairly well to steering with the triggers, but practically, I was falling down much more than I wanted to. I played for an hour or two, then put the game down, annoyed.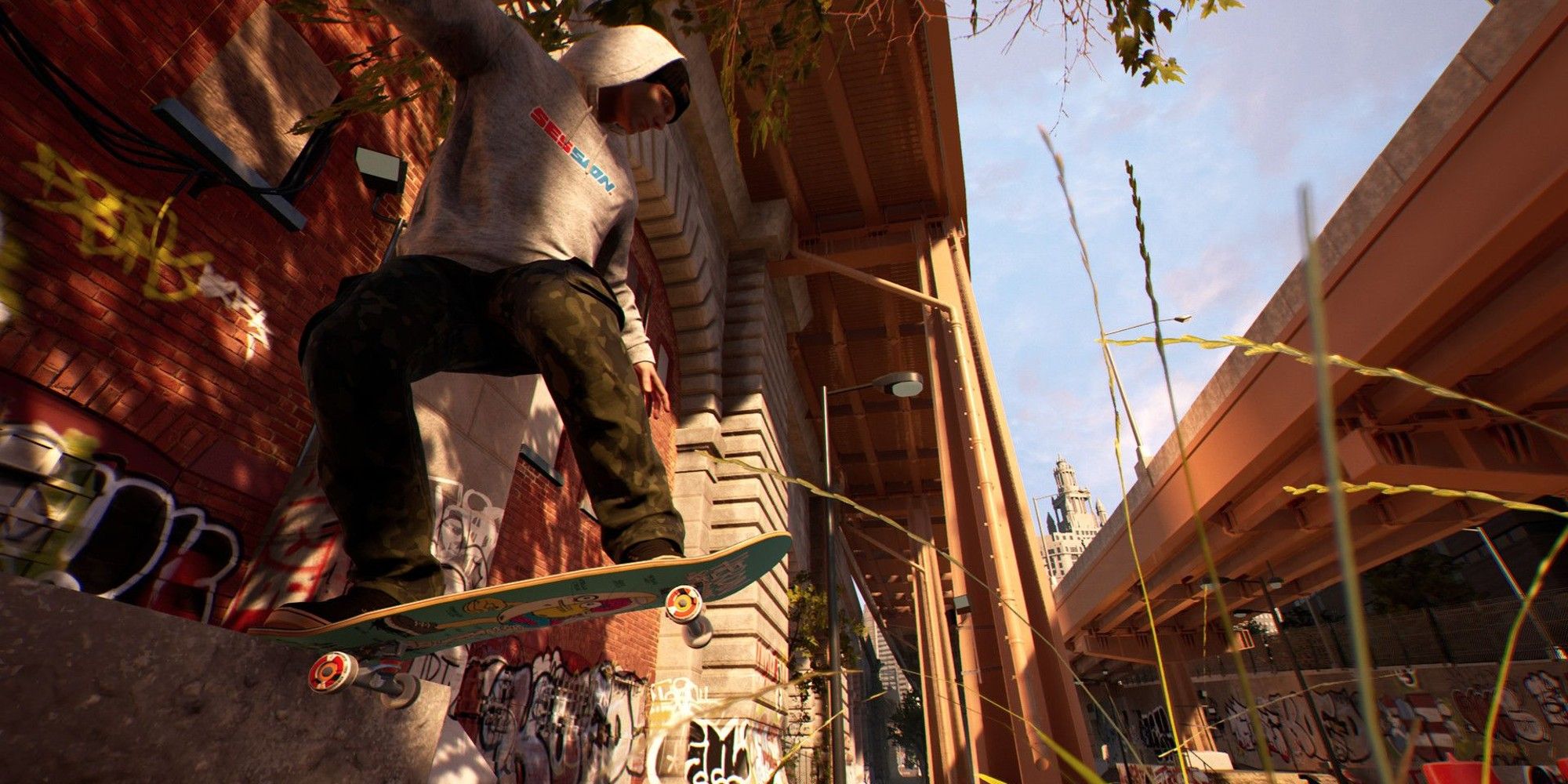 But now, I'm not on my couch at home in Illinois. I'm at Substance Skatepark in Brooklyn, New York, where monitors are set up on seven tall tables draped with long black tablecloths, arranged in a circle with TVs at the center. A mix of journalists and skateboarders, both pro and amateur, are playing the game. The skateboarders who aren't playing the game are riding up ramps, grinding on rails, and occasionally whipping by the game station, making the tablecloths shudder in the breeze. Everybody else is collecting slices of New York style pizza from the mountains of plain white boxes sitting on folding tables by the open garage doors leading from the sidewalk into the warehouse-like indoor park.
Like me, the game is in a very different place than it was the first time I played it. After three years in Early Access, Session finally entered 1.0 last week (the day after the launch event in Brooklyn). It's still a radically different take on skateboarding, but it has plenty of options that players can tweak to make it more approachable, like shifting the camera to a more traditional perspective, opting for legacy controls that feel straight out of Skate, and adding more tutorials and a mission structure to guide players across its many maps. Still, even with all that and plenty of difficulty options, Session is never going to be THPS, and it isn't trying to be.
"The loose analogy I like to use is… are you playing an arcade jet game where you've got one thing to fly and a booster? Or are you playing Microsoft Flight Simulator where you've got 300 controls to get a Boeing off the ground?" says Session producer Jeffrey Spicer. "Jump into that, you're not going to be flying anywhere."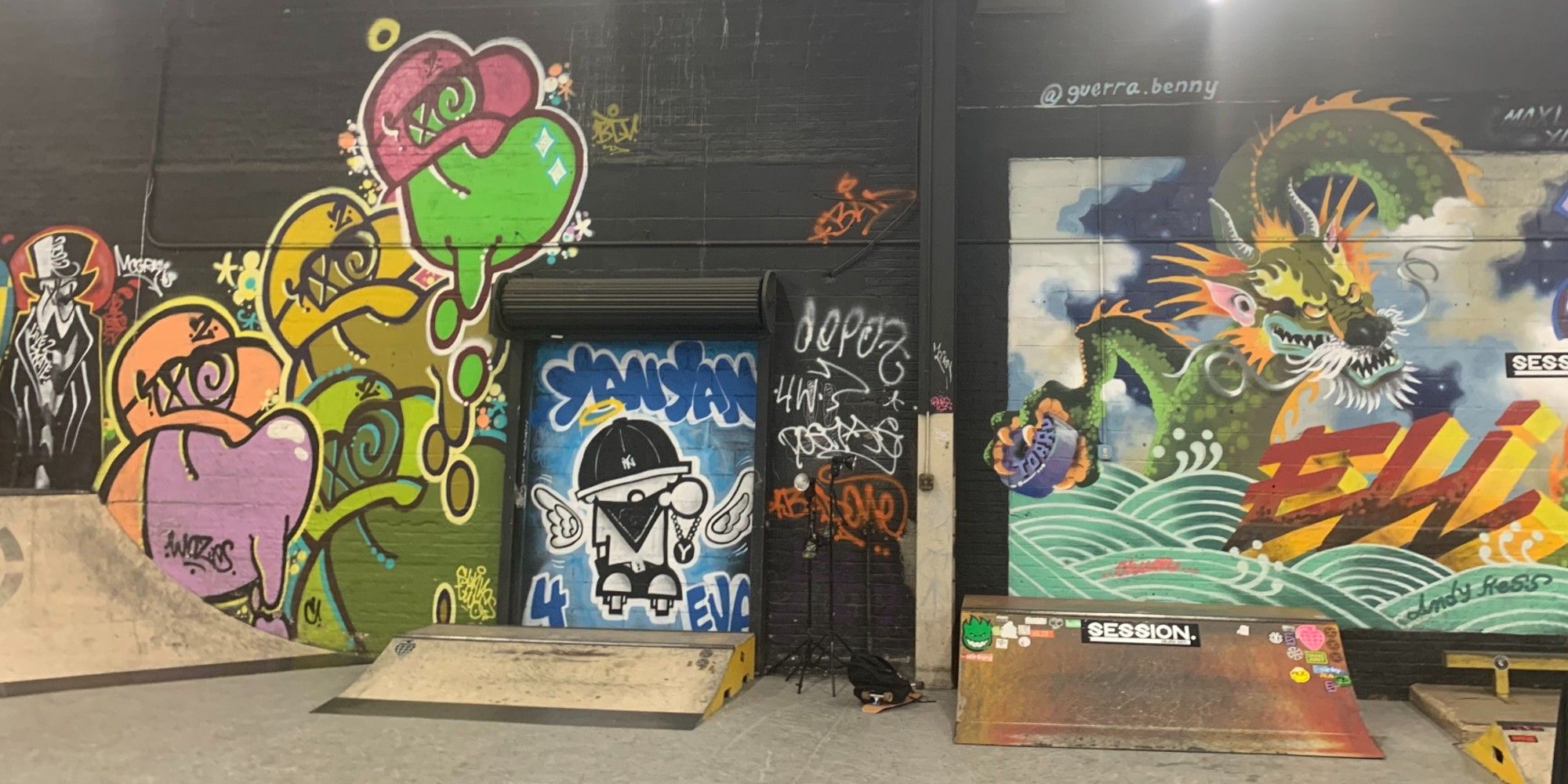 But, that slowness is important. Tony Hawk's Pro Skater introduced millions of kids to skateboarding, and played no small part in the boom in cultural relevance the sport underwent in the early '00s. But it also simplified incredibly difficult tricks to simple button prompts and turned the skateboarder into a godlike figure who could string a series of once-in-a-lifetime moves together, consistently, run after run. Session offers up something much closer to the reality of learning the sport.
"When I was learning how to play [Session] right now I was doing a Nollie Heel Frontside 50 and it took me a while to do one," says Manny Santiago, a pro skateboarder who is a playable character in the game. "And then someone's like, 'Oh it's kind of like the real thing.' And I'm all, 'It's pretty close,' but real skateboarding is actually years and years. But the game applies that pressure. Because, in the other skateboarding video games you learn tricks so fast that it gets kind of redundant… Not boring, but not as challenging. Where this is really challenging you, so when I actually do a trick in the game everybody's cheering like it was real life."
It's true. Twenty-five minutes in, I ollied up, positioned my board horizontally above the rail, slid down, and landed on the concrete below. The journalist behind me was still watching. He cheered.
Source: Read Full Article