In this day and age, there is nothing valued more than having things simple and easy. Everyone wants access to everything as quickly as possible. This can be both good and bad, depending on context. In this case, Steam seems to have a full understanding of how people work, so they took the liberty of crafting a new browsing system for their games.
According to Steam, they spent an entire four months in beta experimentation through Steam Labs testing out this new system. Considering Steam has tens of thousands of titles within their store, easier access to these titles is definitely a bonus.
There are several new features that Steam has added in order to help with easier categorization. To start, since gamers are often looking at the charts on Steam for info about what's new and popular, they've added a "New & Noteworthy" section to their menu. This way, gamers can just click on this and instantly have access to all current specials, updates, and upcoming titles.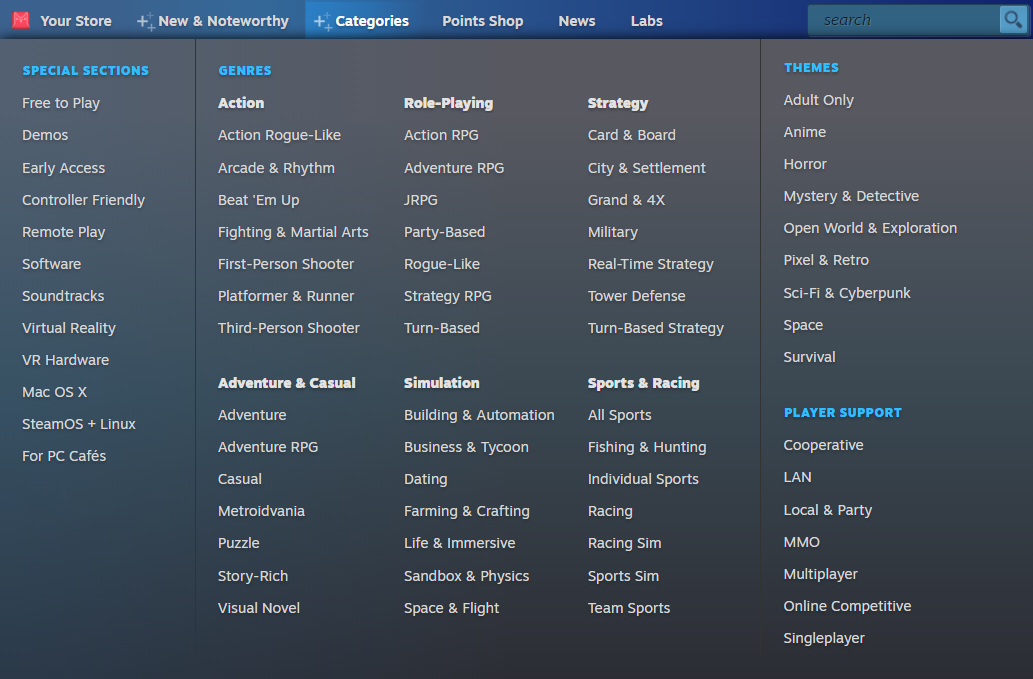 Furthermore, they've updated their categories menu. While Steam did already have a way to browse different categories of games, they've now added dozens of new categories in order for the searches to be more concise.
They've also taken data and analyzed how gamers tend to search through Steam, which they've categorized into genres, themes, and player modes. In short, you will now be able to enter into one of these navigational entry points and search for genres (farming sims, RPGs, etc.), themes (fantasy, mystery, etc.), and player modes (single player, multiplayer, etc.). In total, this will include 48 genres, eight themes, and seven player mode categories.
Steam further shared that each of these main additions have their own URLs, so gamers will be able to bookmark them all for easy return later on. Lastly, they've moved content such as software and soundtracks into a separate "special sections" location within categories.
All of this put together makes for a major upgrade for Steam, and we couldn't be more appreciative for these convenient additions.
Source: Read Full Article