Hype really got the better of me in 2022. So many of the games I poured my hope into turned out to be duds, and now I find myself hesitant to get too excited. Horizon Forbidden West, God of War Ragnarok, Darktide, The Callisto Protocol, High on Life, and Gotham Knights all failed to meet the expectations I had for them, and most of the games that really clicked for me this year were the ones I didn't see coming.
Looking back on my most-anticipated list for 2022, the only games that really panned out were Marvel's Midnight Suns and Marvel Snap. What made these games successful for me – other than the fact that they're both excellent – is my deep personal connection to Marvel, as well as my predisposition towards their creators and genres. I'm a huge fan of Firaxis and turn-based strategy games, so Midnight Suns was right in my wheelhouse. Similarly, I was probably going to be a fan of any CCG Ben Brode created, the fact that Marvel Snap is a Marvel game is just the cherry on top.
Now I'm looking ahead to 2023 with that in mind, and shifting my expectations. There's a lot of games I'm looking forward to next year, like Diablo 4, Redfall, Avatar: Frontiers of Pandora, Alan Wake 2, and Suicide Squad: Kill the Justice League. Some of those will be great, some will probably be disappointments, and there will be plenty of things I'll love that I don't even know about yet. But if there's one thing I can count on, one game I know is going to do it for me the way Midnight Suns and Marvel Snap did, it's got to be Umbreon in Pokemon Unite.
Is it silly to put all my hopes and dreams on a new character in a middling MOBA I play on my phone? Probably, but you have to understand how deep my love for Umbreon goes. As a critic I try my best to stay as objective as possible and avoid getting sucked into fandoms, but I am unapologetically an Umbreon simp. There's something about those piercing red eyes and frowny little face that took hold of me when I was nine, and I've loved that Pokemon ever since.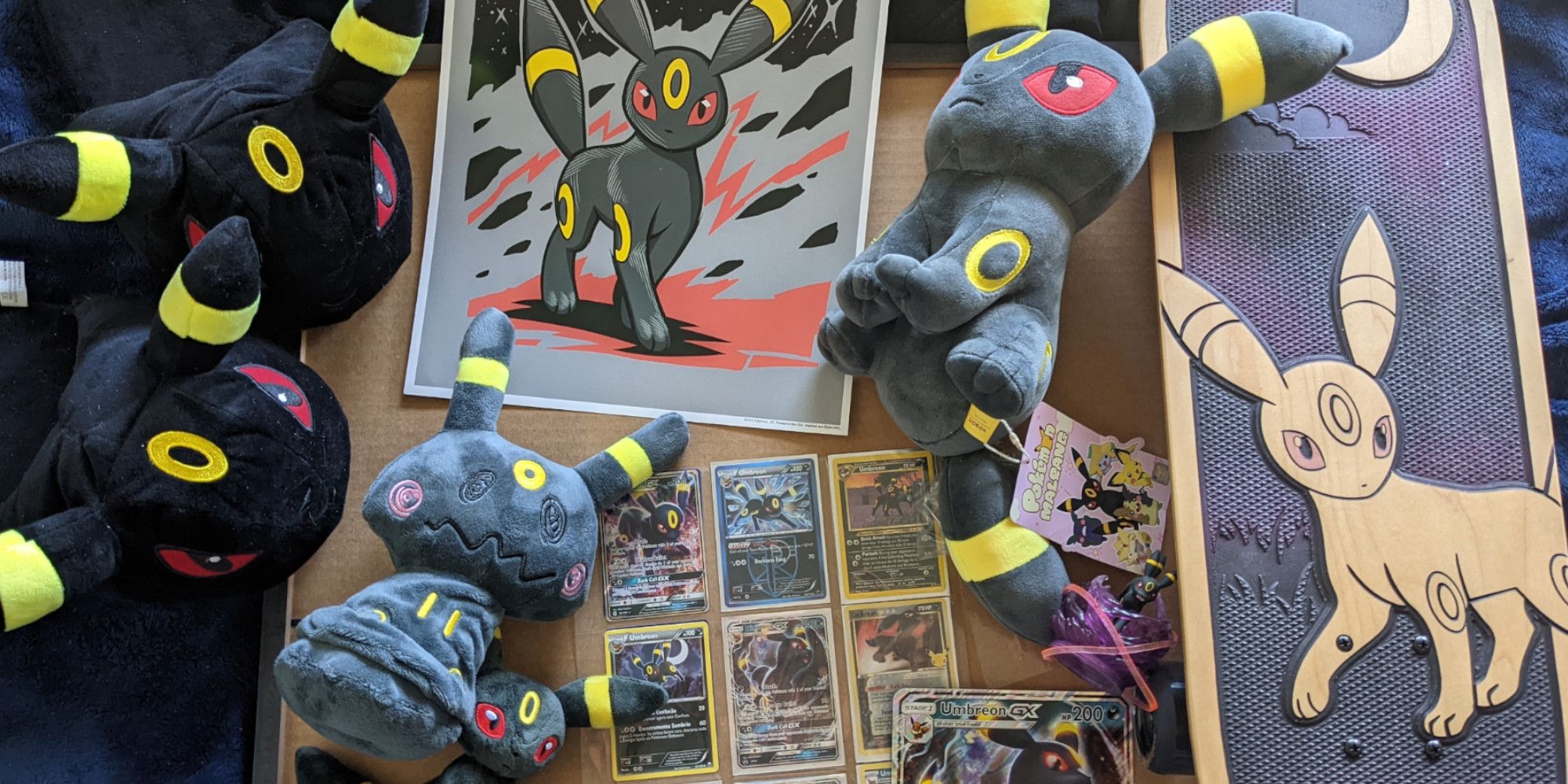 It's an obsession. I've covered my office in Umbreon merch. I adopted my cat because she reminded me of Umbreon. I'm not into Star Wars, I don't care about Dragon Age, and I'm not one of the Sonic the Hedgehog perverts, but you can put Umbreon on anything and I'll cough up some money for it – just ask my two (2) handmade Umbreon skateboards.
Umbreon hasn't been announced for Pokemon Unite, but it's just a matter of time. So far, three of the eight Eeveelutions have made it into the game, with Glaceon being the most recent back in July. When asked about the rest of the Eeveelutions at the Pokemon World Championship this August, producer Masaaki Hoshino couldn't confirm one way or the other, but did say he personally wants to see a full Eevee team. We would need five Eeveelutions to do that, but at that point why not go for all seven, right?
Sylveon, Espeon, and Glaceon were the first three, leaving Leafeon, Umbreon, Vaporeon, Jolteon, and Flareon to be added. If the pace of three per year continues, we may not see Umbreon until 2024. There are other trends we can look at, however. Among the 20 most popular Pokemon from the oft-cited 2020 Pokemon of the Year poll, all but five are either in the game or confirmed to be coming soon (Dragapult). Lugia likely will never have a Unite License, which just leaves Chandelure, Toxtricity, Mimikyu, and Umbreon. Unite just added a ghost Pokemon (Sableye) and back-to-back Gen 8 Pokemon Urshifu and Dragapult, so Chandelure, Mimikyu, and Toxtricity seems less likely than Umbreon for an early 2023 inclusion.
With Dragapult confirmed for next week and Comfey hitting the PTR, we're due for an announcement of the next three Pokemon. With any luck, Umbreon will join the roster in the next few months and start my year off on a high note. I don't know what gaming has in store for me in 2023, but if there's one thing I can count on, it's my little moonlight baby.
Source: Read Full Article