Quick Links
Scorned Magnamalo – Strengths And Weaknesses
Best Equipment To Fight Scorned Magnamalo
Scorned Magnamalo – Fight Breakdown And Moves
Scorned Magnamalo – Drops And Materials
Monster Hunter Rise's expansion, Sunbreak, adds Master Rank to the game. Along with increased difficulty, Sunbreak brings a new story, new locales, the Skill Swap, and an array of additional monsters. Following the pattern of previous Master Rank expansions, variant monsters are part of the bunch. These monsters aren't just stronger than their base form, they have completely different attacks.
A completely new variant is the last one most players will encounter – Scorned Magnamalo. Scorned Magnamalo is deep, deep into the endgame. You have to reach MR 100 to even unlock it. This variant of Rise's flagship is constantly surging with hellfire, especially from its oversized arm blades. It will truly test your control over the game's mechanics, and here's how to rise to the challenge.
Scorned Magnamalo – Strengths And Weaknesses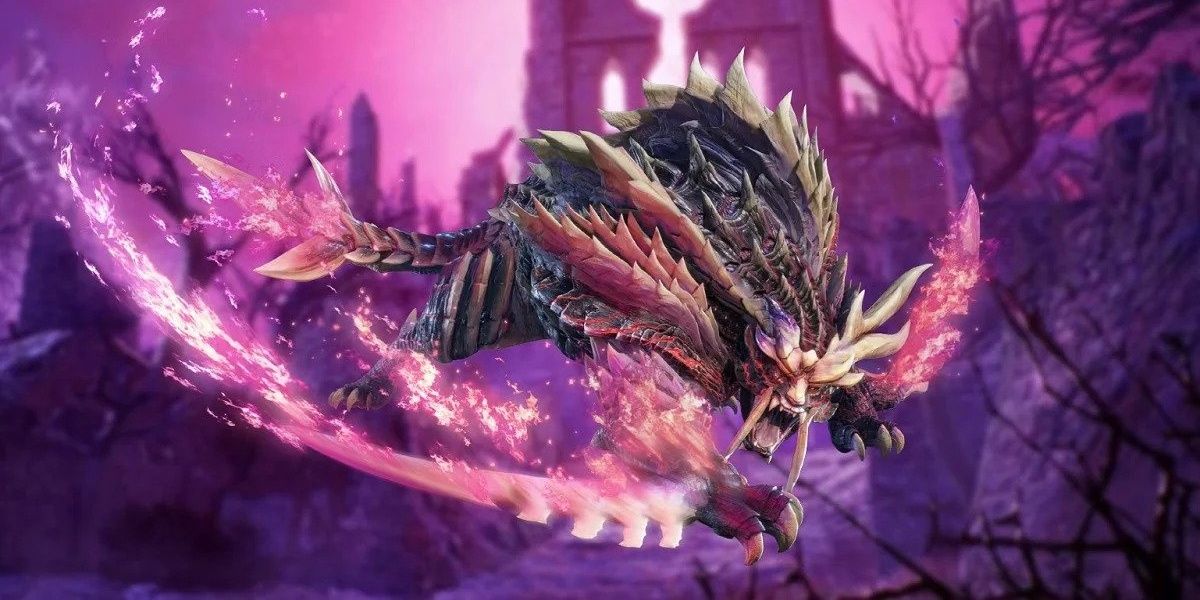 Scorned Magnamalo has surprisingly good hitzones for an endgame monster. It takes decent damage from all parts of its body, but it's most vulnerable at the head and front legs. It will also fill parts of its body with hellfire throughout the fight, which makes them more vulnerable for a bit.
The elemental weaknesses are the same as the regular Magnamalo – weak to Water and Thunder, resistant to Fire and Dragon. Severing damage has higher hitzone values on average, but Bludgeoning damage also works well because Scorned Magnamalo stuns easily.
Weak Points – Head, Forelegs, Armblades
Resistant Points – Torso
Elemental/Ailment Weakness – Water, Thunder, Stun
Elemental/Ailment Resistance – Fire, Dragon, Blast
Best Weapon Damage – Severing
Best Equipment To Fight Scorned Magnamalo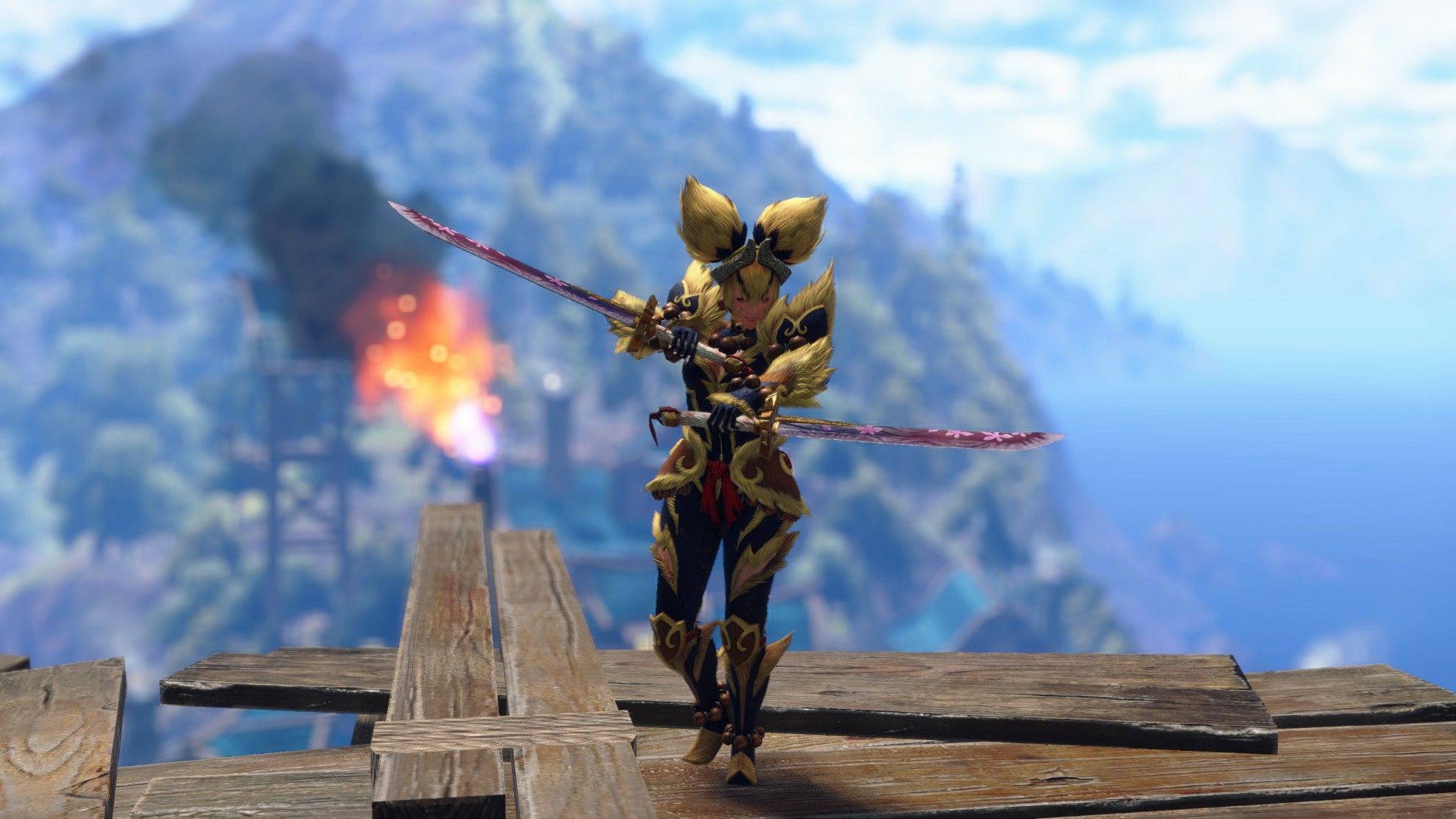 This fight is not friendly to ranged weapons. Scorned Magnamalo's hitzone values for projectile damage are very poor, and its most dangerous attacks are all long-range. It is best to stick with mobile, short-range weapons. Use fully upgraded Mizutsune weapons to take advantage of Magnamalo's Water weakness. The king of elemental damage is Dual Blades, like the Dark Aurora+. If you want more versatility, try the Sword and Shield Kurenawi Kunpuu +. The SnS lets you guard and can stun surprisingly well with its shield bash.
Mizutsune weapons also have innate Affinity, so you'll want to maximize their potential with a Critical Element build. Furious Rajang armor is fantastic – it comes with Critical Element, and the gimmick skill Furious gives you infinite stamina with a well-timed Skill Swap. Also look into a few pieces of the Arc/Storge set (that's the Shagaru Magala armor, its name is different depending on your player gender). This is also a Critical Element set, but it's more risky because of the Bloodlust skill. Bloodlust will periodically infect you with Frenzy, which makes you stronger but drains your health.
Recommended Weapons And Armor
Weapons – Dark Aurora +, Kurenawi Kunpuu +
Armor – Grand Divine Ire, Arc/Storge
Scorned Magnamalo – Fight Breakdown And Moves
Like the nominate Magnamalo, Scorned Magnamalo will charge certain parts of its body with Hellfire. Hitting charged parts does extra damage and eventually causes a topple. Aggression is the key to this fight. Running away will cause Magnamalo to use its most powerful moves, like the tail stab. You want to have a third Wirebug with you as much as you possibly can. Wiredash will rid you of hellfireblight, and you need as many movement options as you can get.
Spikes will grow out of Scorned Magnamalo's back when it's enraged. During rage, it'll start doing some of its attacks multiple times in a row. Knowing when to Wirefall is the most important part of this boss. Remember, your hunter is invincible when they're lying on the ground. Hitting the Wirefall immediately can open you up for a second attack. Be observant and note Scorned Magnamalo's attack patterns.
This monster isn't just aggressive, it's incredibly mobile too. Anything that will put it down for a few seconds is highly valuable. Use a Stinkmink to lead other monsters to Scorned Magnamalo for a Wyvern Ride. Traps are useful as well. This monster stuns easily. If you do not have a bludgeoning weapon, use Thunderblight. While Magnamalo has thunderblight, it'll accumulate stun damage from all attacks, not just bludgeons to the head. Note that you have to hit the head to actually activate the stun topple.
Scorned Magnamalo – Drops And Materials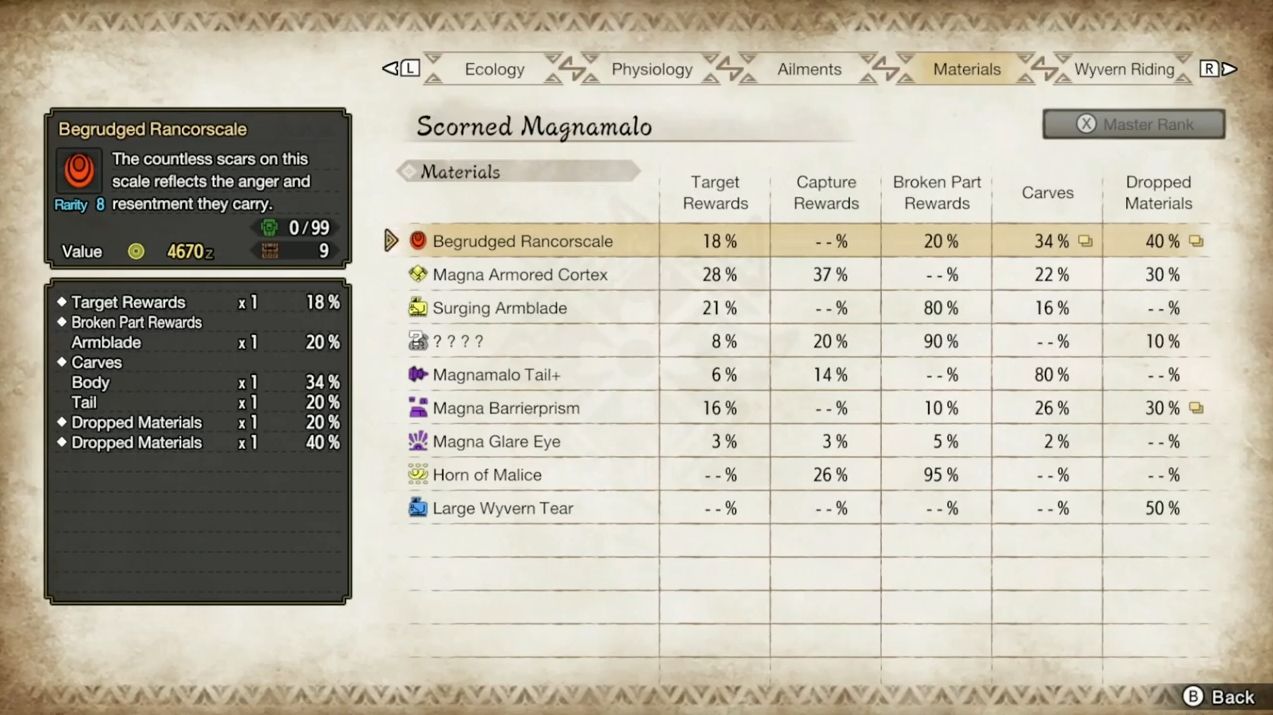 Scorned Magnamalo can drop the following materials as target rewards, capture rewards, part breaks, carves, or shiny drops:
Begrudged Rancorscale
Magna Armored Cortex
Surging Armblade
Moaning Bladeshell
Magnamalo Tail +
Magna Barrierprism
Magna Glare Eye
Horn of Malice
Large Wyvern Tear
Source: Read Full Article