When it comes to gaming gear, subtle differences matter. In debuting its new HyperX Alloy Origins mechanical gaming keyboard with HyperX Aqua keys, HyperX once again proves its potential to provide superior gaming products at fair prices.
The keyboard lives up to the brand's promise to provide "the best blend of style, performance, and reliability." Retailing for $109.99, it's designed with a specific type of gamer in mind.
However, what drew me in most about this keyboard is the specific key switch type. Before we dig deeper into the review itself, it's important to have some context for what differentiates the HyperX Alloy Origins with HyperX Aqua keys from its predecessors.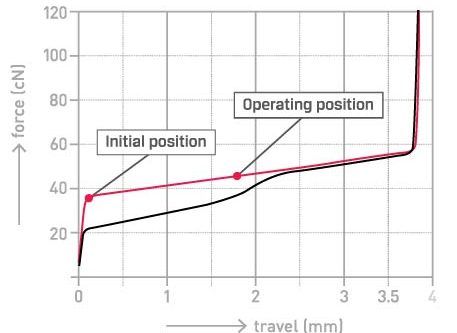 In contrast, here's the actuation chart for the HyperX Aqua "tactile" key switches.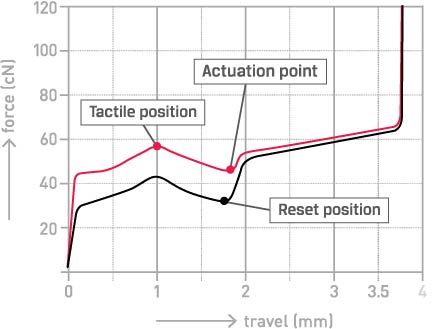 A Successful Experiment
The Aqua key switches are specifically designed to give the player a confirmation of a keypress, according to the HyperX website. As someone who can at times be picky with her gear, I was eager to see how the HyperX Alloy Origins with Aqua "tactile" key switches would compare with a keyboard I already own: the HyperX Alloy FPS with CHERRY MX Brown "tactile" key switches.
These are similar keyboards, though there are distinct differences. For example, unlike the Alloy Origins, the model of Alloy FPS that I own doesn't use RGB color and is instead limited to red backlit keys. Regarding the switches, HyperX touts that the actuation point of its key switches is 1.8 mm, a slight but notable change from the CHERRY MX actuation point of 2 mm. The total key travel difference is 3.8 mm as opposed to the CHERRY MX's 4 mm keys. The HyperX keys purportedly have a lifespan of 80 million keystrokes, while the CHERRY MX are limited to 50 million.
However, I was mostly interested in comparing the sensory differences in the keystrokes between the two key switch options. My verdict is that the HyperX Aqua keys are superior to the CHERRY MX Brown.
A Difference You Can Feel
The first thing I noticed is that the HyperX Aqua key switches aren't nearly as noisy at the CHERRY MX ones. Some people appreciate this auditory feedback, but ideally, keys that are "tactile" should be on the quiet side unless they're also specifically marketed as being "clicky."
There seems to be less resistance in the HyperX Aqua keys. However, the bump is still noticeable, which makes it ideal for someone who wants both quick movements and sensory feedback. In contrast, the higher resistance in the CHERRY MX keys means keystrokes will inevitably be slower.
Overall, the keys on the HyperX Alloy Origins feel sturdier. As a whole, my gameplay felt smoother, which was caused by a combination of the reduced resistance and a more durable product. The keys don't rattle at all, and it's hard to imagine they'd break unless there was significant force applied to them.
A Lot To Love
The keyboard itself is heavier than one might think. It's 1075 g (about 2.37 pounds), and it also feels small for a keyboard, coming in at 442.5 x 132.5 x 36.39 (17.43 x 5.21 x 36.39 in). This renders it both compact and durable, which is important for any gamer whose keyboard will endure wear and tear over time. The player can set the keyboard to three different angles (3 degrees, 7 degrees or 11 degrees), depending on their preference.
Then, there's the RGB lighting patterns. The bright RGB color is a welcome contrast to the red backlights on the HyperX Alloy FPS. Though it's mostly a gimmick with no real performance benefits, it is fun to have a brightly-colored keyboard that reacts to what's happening on the screen (even if I rarely pay attention to the lighting because I'm too engrossed in my gameplay). One could understand how these lighting effects could spice up a livestream or recorded gameplay. The HyperX NGENUITY software required to customize the lighting is easy to set up and players can set multiple keyboard lighting profiles in minutes.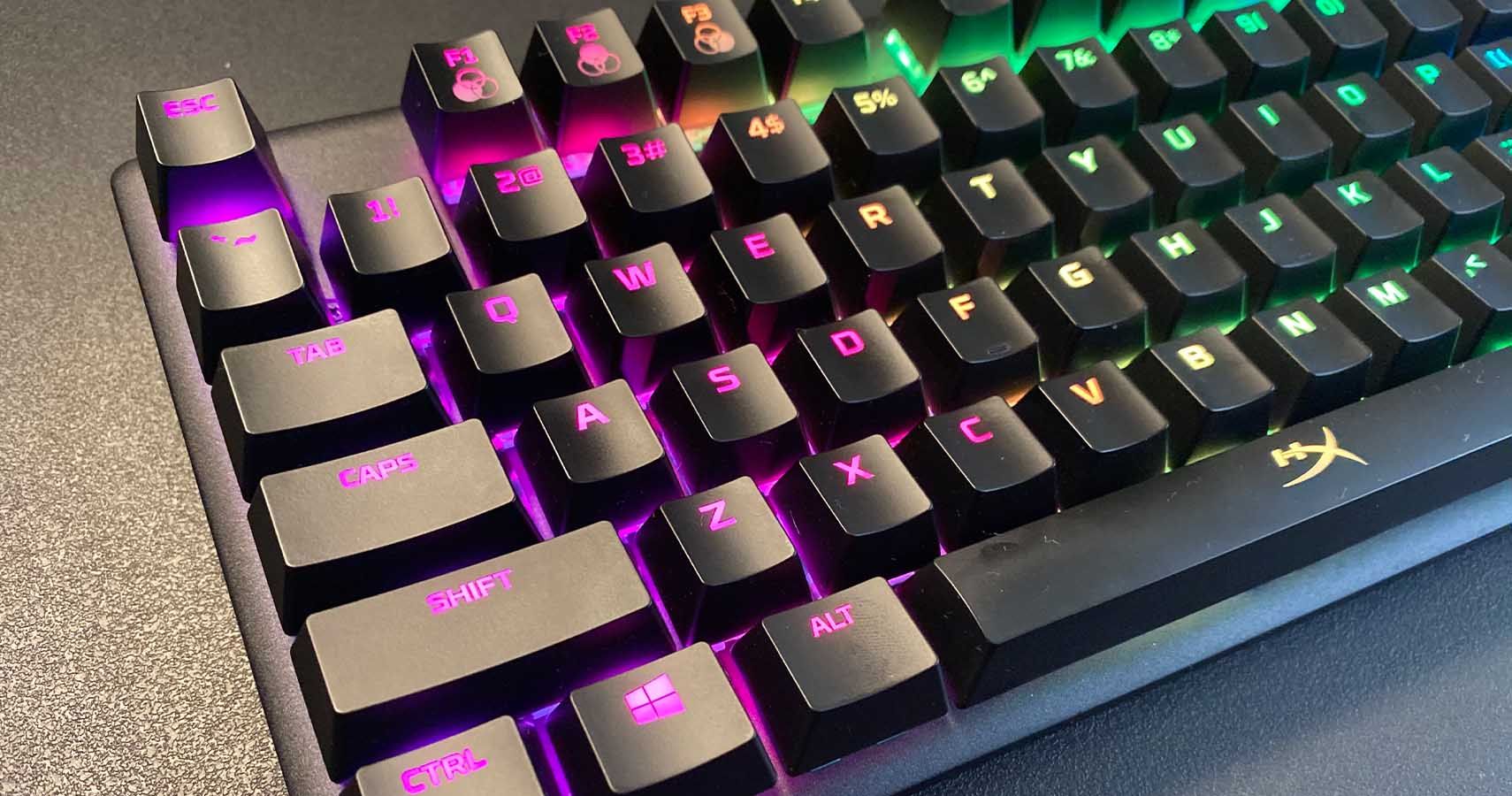 It also has n-key rollover, which means it detects every key regardless of how many keys are held down at once, as well as anti-ghosting measures, which means the keyboard shouldn't ever erroneously trigger keys that weren't actually pressed (this can sometimes happen when a person holds down several keys at a time).
The Alloy FPS that I already owned came with a set of detachable keycaps with a different texture for their main keys. This makes it easy for a player to find their way back to their primary controls of WASD. The Alloy Origins didn't include these, but I like this feature, so I just popped the keycaps off of the Alloy FPS and put them on the Alloy Origins.
Final Thoughts
HyperX's foray into developing and manufacturing its own key switches appears to be a success, with its Aqua key switches providing a strong competitor to the CHERRY MX Brown.
This, when grouped with all the other aspects of a gaming keyboard that combines performance with style, makes it a strong option at a reasonable price point.
A HyperX Alloy Origins Mechanical Gaming Keyboard with HyperX Aqua "tactile" keys was a provided to TheGamer for this review. The keyboard is available for purchase via the HyperX website and retails for $109.99.
Source: Read Full Article