Quick Links
How To Get The Burger Town Burger King Promo Skins
Papa Johns Modern Warfare 2 Skins – Available In The UK
Call Of Duty Twitch Drops
Expired Call Of Duty: Modern Warfare 2 Promos
This is a regularly updated guide on how to get the latest event and limited-time skins in Call of Duty: Modern Warfare 2 starting with Jack Link's Beef Jerky promo, the Burger King promo, and skins from Twitch Drops.
There have already been a host of new events and freebies available ahead of the launch of Modern Warfare 2 Season One and Warzone 2. We will keep this page updated with all the new free giveaways and events!
How To Get The Burger Town Burger King Promo Skins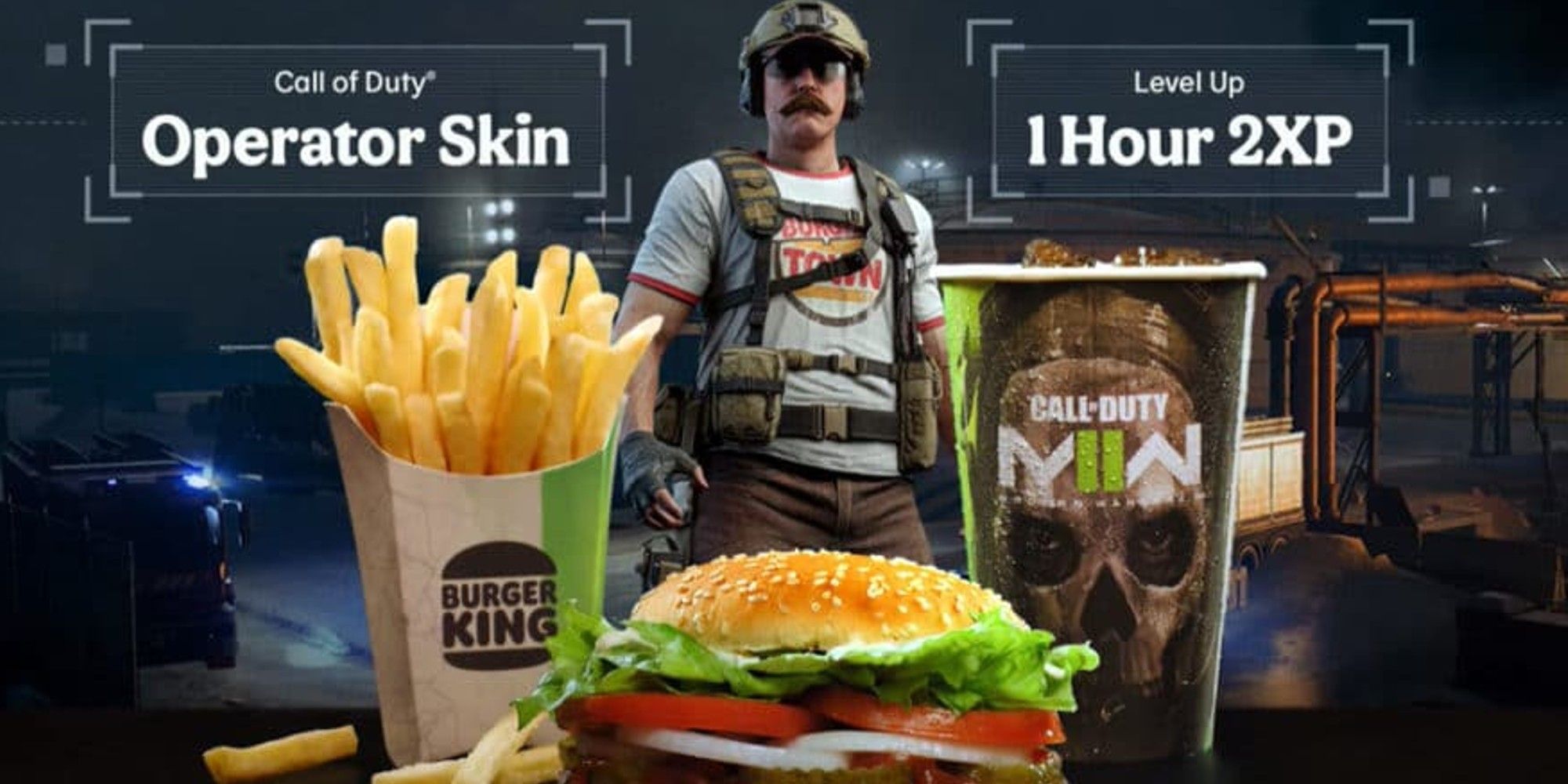 The Burger Town Operator skin is available by purchasing the specific Burger King Call of Duty Promo meal at Burger King, or Hungry Jacks in Australia.
This promo is not available in the US, or the UK. However, you can purchase codes for the cosmetics online.
Once you have purchased the meal, your receipt will have a unique code on it. To redeem this code you will need to:
Redeem the code at the official Call Of Duty website.
Paste the code into the box, fill in verification, then submit.
You will find the rewards in your in-game notifications area.
This promo is available in:
Argentina
Australia
Bahamas
Brazil
Canada
Cayman Islands
Chile
Colombia
Costa Rica
Curaçao
Cyprus
Denmark
Dominican Republic
Egypt
El Salvador
France
Switzerland
Trinidad
Tobago
Turkey
United Arab Emirates
Venezuela
Guatemala
Kuwait
Martinique
Mexico
Morocco
Netherlands
New Zealand
Nicaragua
Norway
Oman
Panama
Peru
Portugal
Puerto Rico
Saudi Arabia
South Africa
Spain
Sweden
Little Caesars Promotion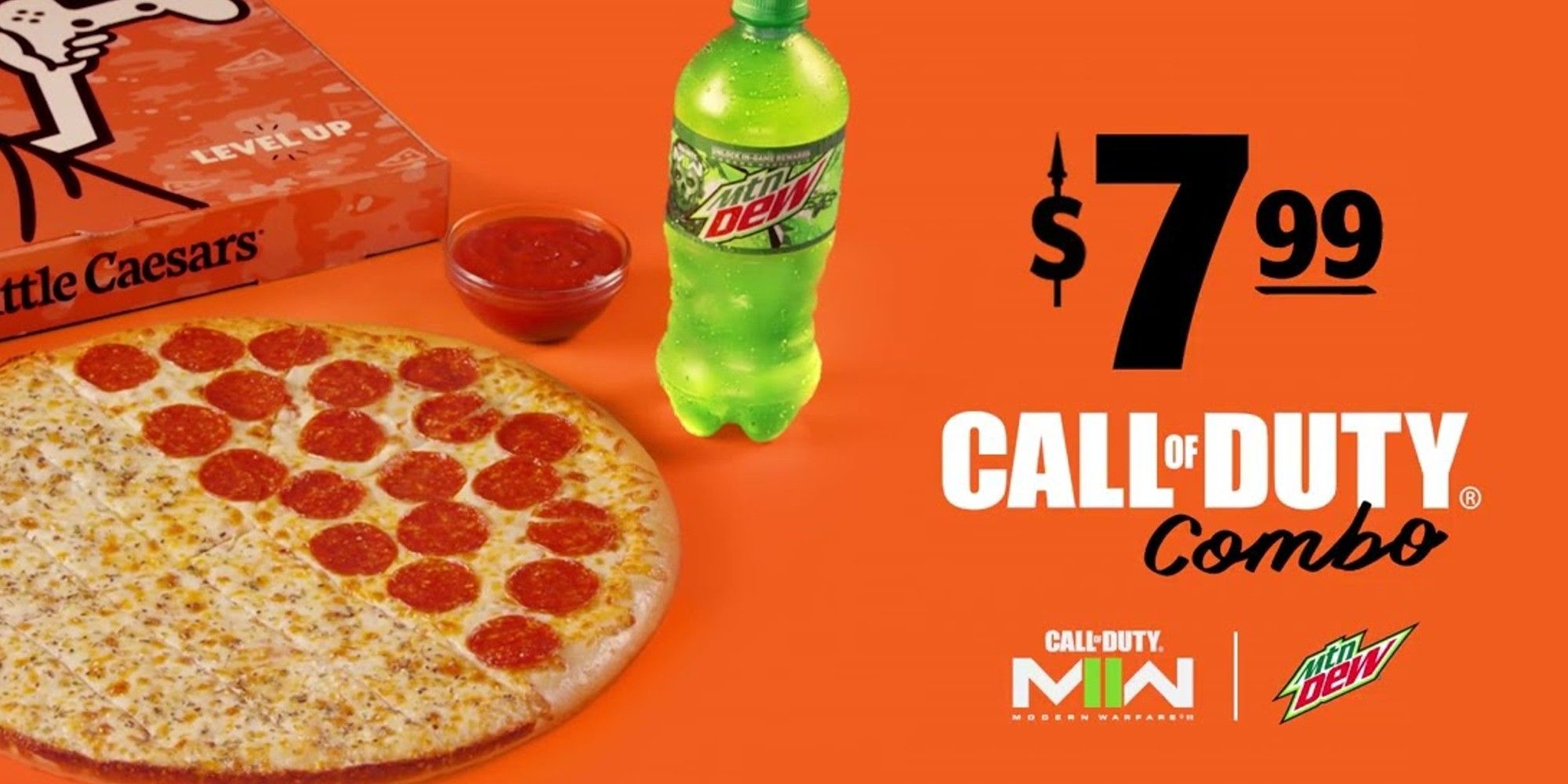 The Little Caesars promotion runs until December 31, 2022. You can unlock:
Weapon Charm, Pizzla Emblem, Calling Card
30 minutes double xp
To redeem codes, you need to purchase the matching Caesars meal at a restaurant and upload a picture of your receipt if you ordered in-person, or enter the redeem code if ordered online.
Head over to the official page here to set up your account.
Mountain Dew Promo
In collaboration with Little Caesars and Call of Duty, you can also earn a variety of rewards by purchasing Mountain Dew products. This promotion runs between October 17 and March 28, 2023. You can get codes for these rewards:
Call of Duty Points
Mountain Dew Operator Skin
Double XP
Product
Reward
20 Oz Products
12 Pack Products

60 Minutes of double xp
75 Call of Duty Points

24 Pack Products

2 hours of double xp
150 Call of Duty Points

Game Fuel
To get these rewards, you need to create a Mountain Dew account and then link it to your Activision account. Enter the code in the appropriate box to get your cosmetic items in-game.
Papa Johns Modern Warfare 2 Skins – Available In The UK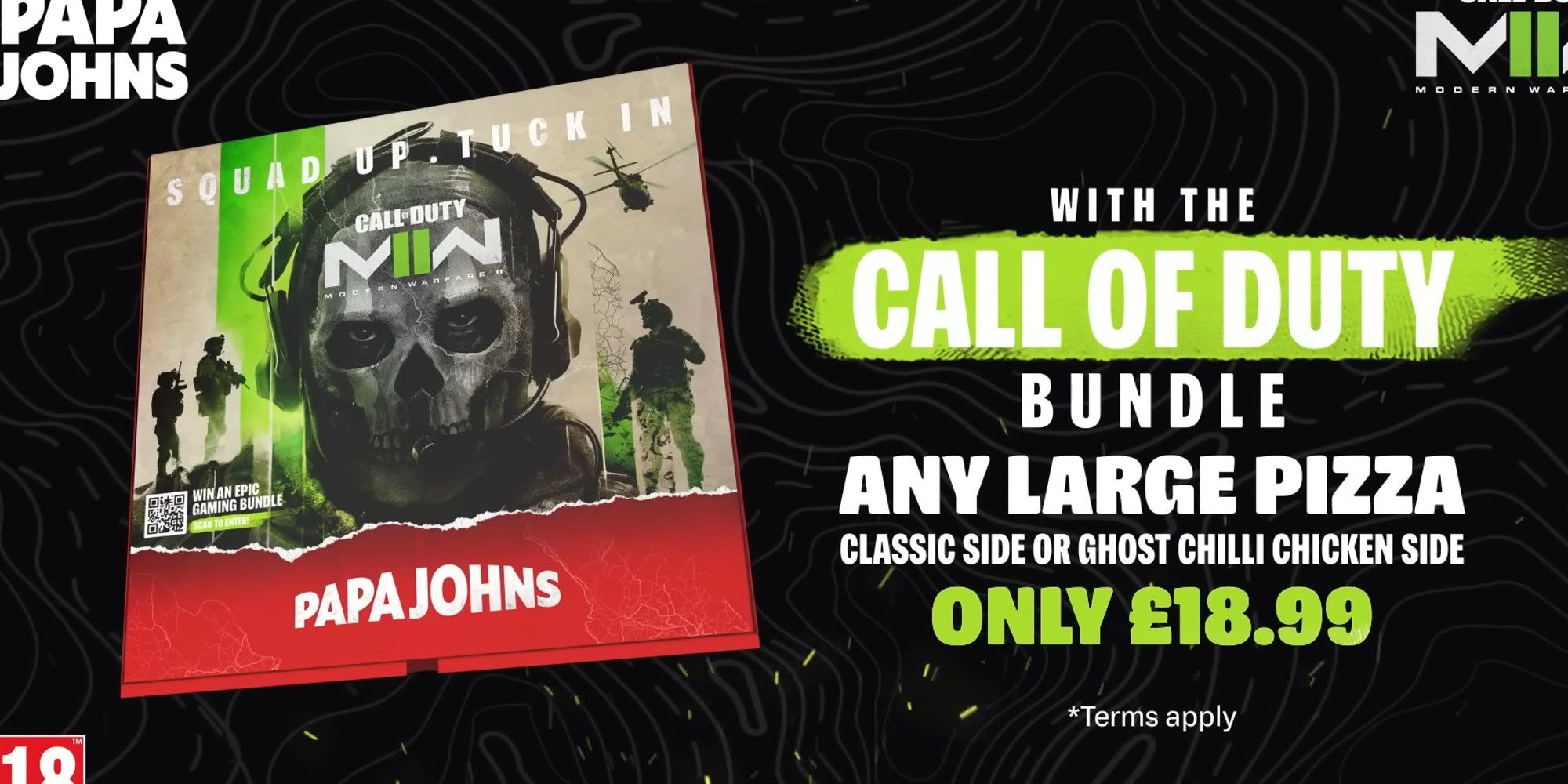 There is one promo running for the UK, and that's at Papa Johns. All you need to do is order the Call Of Duty Modern Warfare 2 Bundle at supported restaurants. This bundle is available online.
You will unlock:
Weapon Charm, Calling Card decoration, and an Emblem
Double XP for one hour
To redeem the code, simply enter the code sent to your email account into the Call of Duty website redemption page.
Call Of Duty Twitch Drops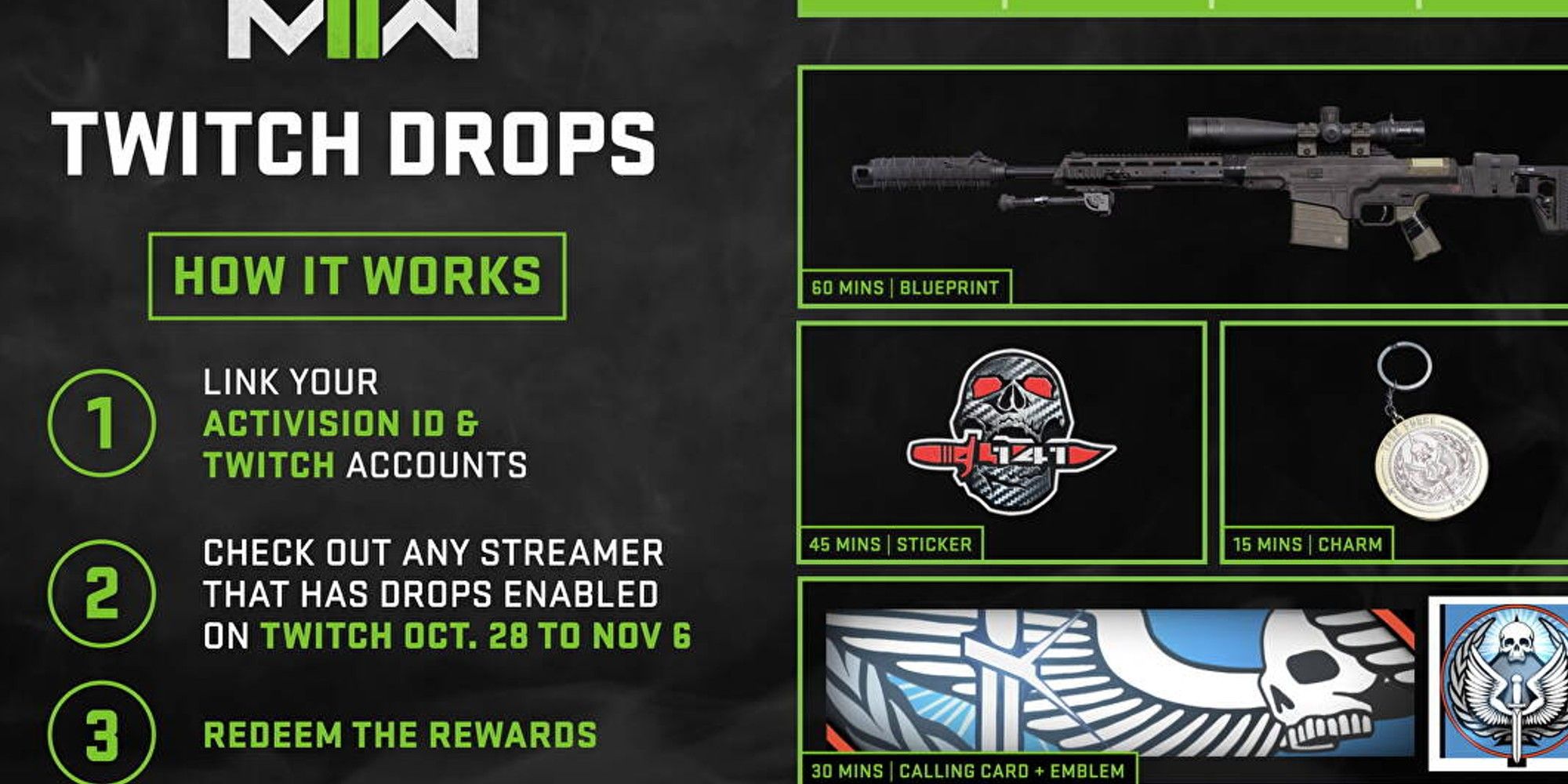 This round of Modern Warfare 2 Twitch Drops ends on Sunday, November 6, 2022. Get your hands on the free 141 Weapon Blueprint by watching 60 minutes of your favorite Call of Duty streamers.
There are a total of four Twitch Drop rewards available:
15 minutes of watch time will get you the Medallion 141 charm
30 minutes will get you the Death's Angel Calling Card
45 minutes will get you the Something In My Teeth Weapon sticker
60 minutes will get you the Watchdog 141 Weapon Blueprint
To get these rewards, you must link your Activision Account to your Twitch Account.
Keep an eye on your Twitch inbox/notification bar on the top right of the screen, as this will notify you when you have got all the drops/keep you updated on how many more minutes you need to watch before unlocking them.
Expired Call Of Duty: Modern Warfare 2 Promos
This section is for promo events that have now expired.
EXPIRED: How To Get The Jack Links Beef Jerky Skins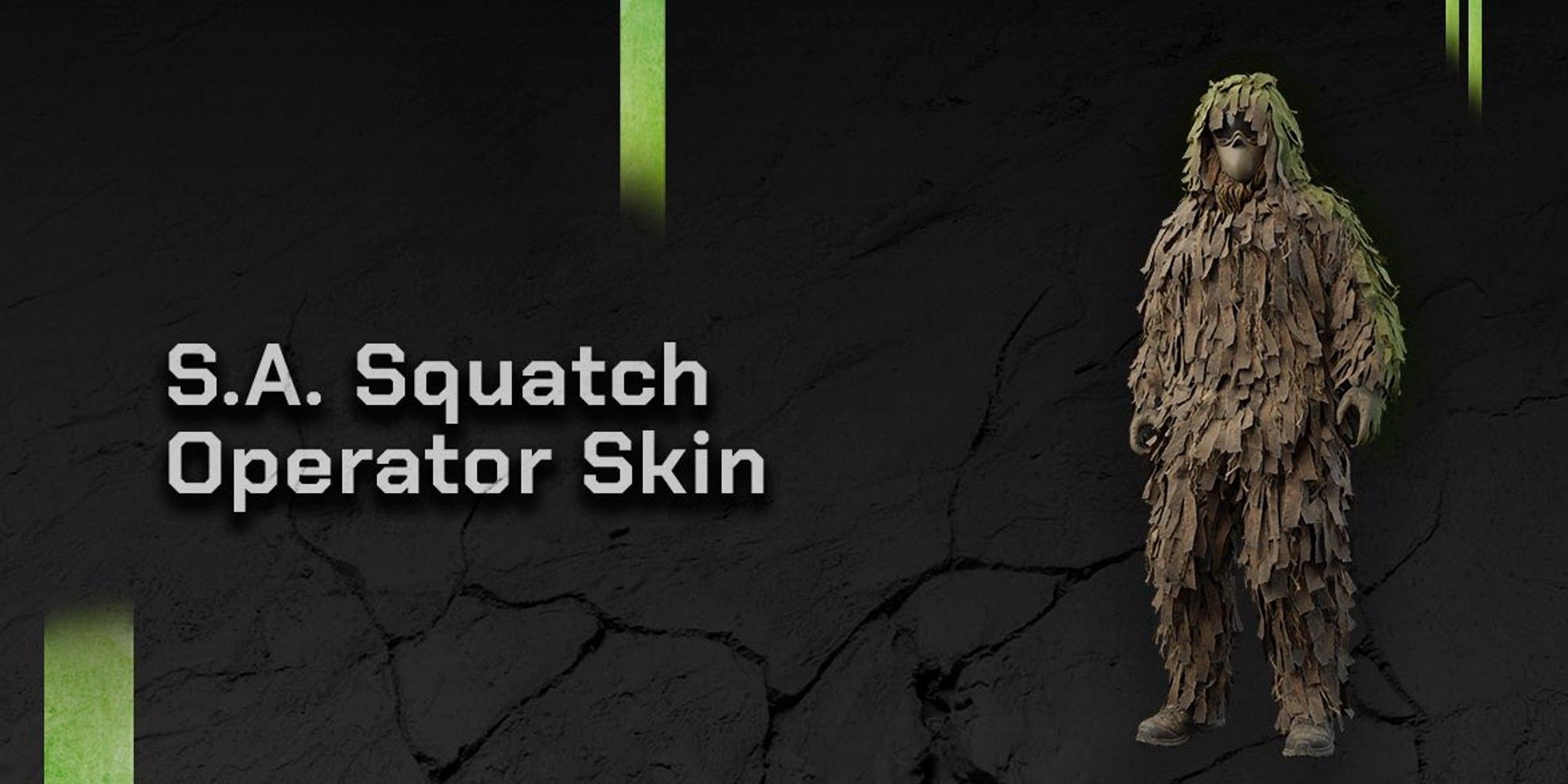 This promo is available to those living in the United States. Activision has struck a promo deal with Jack Links with four available freebies:
Sasquatch Animated Emblem
Sasquatch Weapon Charm
Sasquatch Character Skin
Sasquatch Animated Player Card
To get your hands on these items, you will need to purchase at least four specially marked bags of Jack Links products in supported retailers, like Walmart and Kroger.
Each pack has a code that will show on your receipt or on the actual product. Head over to the official Jack Links promo page (just click here) click on the Redeem Codes. This will take you to the official Call of Duty website page where you can enter the reward codes.
Source: Read Full Article