Hollow Knight: Silksong could be launching soon, according to its GOG page on mobile. While the desktop page still displays the release date as "TBA" (as it does on Steam), accessing it through mobile reveals it to be an unspecified date in 2022, suggesting that the team is gearing up for an announcement.
This information can be found if you scroll down to "product details", which contains the date 2022 (thanks, r/GamingLeaksAndRumours). Other games have the date of their launch in this section, so it's possible that this does indeed mean that the long-awaited sequel will be with us shortly.
There's always the possibility that this is a placeholder and not a sign that a release is imminent, but it would track with previous reports. A leak back in September also had a release date of 2022, so we now have two stories pointing this year.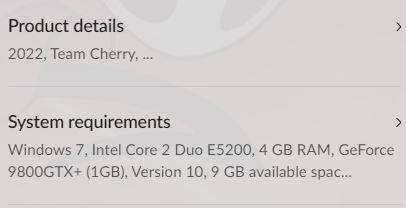 After skipping E3 last year, it's likely that the pandemic slowed development as it has done for many other titles. It was announced back in 2019, so fans have had to be patient for a follow up to the original 2017 Metroidvania.
Whenever it does launch, it will be available on PC and Nintendo Switch. The first Hollow Knight game can be played on both of these platforms, as well as PS4 and Xbox One. It's not known if the sequel will eventually be ported to other platforms just as the first one was.
Source: Read Full Article