Gotham Knights trophies represent achievements earned in the game that are often tied to specific player actions, story progression, and side missions. Gotham Knights contain 49 trophies, including 39 Bronze trophies, seven Silver trophies, two Gold trophies, and a Platinum trophy.
You can unlock these trophies as you play through the single-player campaign, side quests, and open-world activities. Meanwhile, as you advance in the game, unlocking missions and trophies will become increasingly difficult. To help you with this, you will find a list of Gotham Knights' achievements/trophies, and we've included their descriptions and guides to help you unlock them all.
Achievement/Trophy List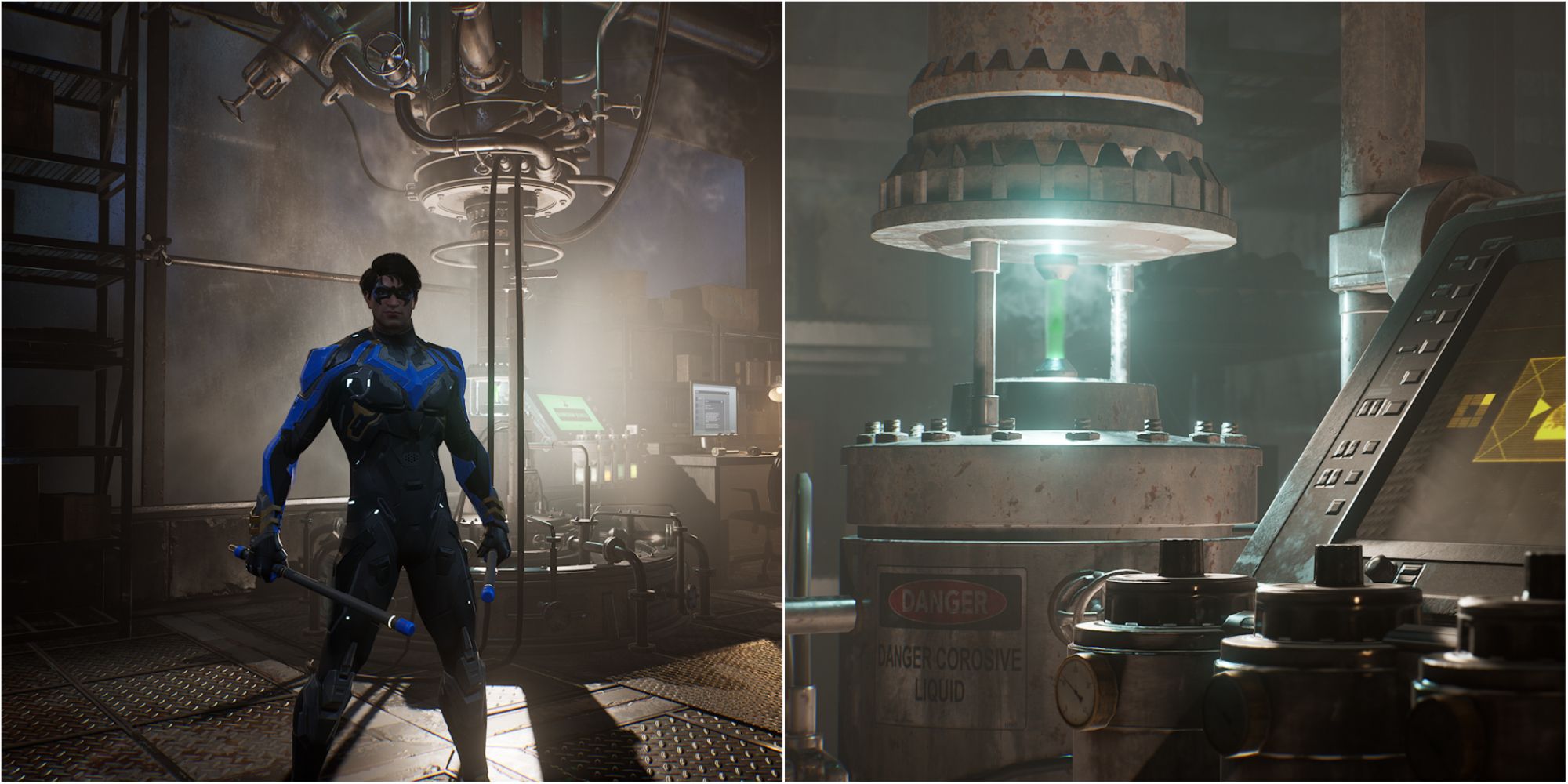 Achievement/Trophy
Description
Guide
Loose Ends
Complete case file 01
This is your first case file called Main Case 01: Batman's Last Case. It is a snippet of what to expect in Gotham Knights. Complete all four chapters to receive the trophy.
Whispered Words
Complete case file 02
Once you've unlocked the Loose Ends trophy, you can start the second case file, called Main Case 02: The Rabbit Hole. You can get the prize by playing through to the end of the chapter.
Lock And Key
Complete case file 03
The third case file, Main Case 03: In the Shadows, can be started if you've unlocked the Whispered Words trophy. You can get the trophy by completing the chapter.
Bad Apples In Every Orchard
Complete case file 04
The fourth case file, Main Case 04: The Masquerade, can be started once you've unlocked the Lock and Key trophy. Completing the chapter will earn you the prize.
From Inside Gotham's Walls
Complete case file 05
Start and complete the case file called Main Case 05: The Court of Owls once you've unlocked From Inside Gotham's Walls trophy.
Voiceless
Complete case file 06.
Start the case file called Main Case 06: Jacob Kane once you've unlocked the Voiceless trophy. You can get the prize by seeing it through to the end of the chapter.
Seeking Asylum
Complete case file 07
Start the case file called Main Case 07: The League of Shadows after you've unlocked the Voiceless trophy. You get the prize by completing the chapter.
Gotham Knight
Complete case file 08
After unlocking the Seeking Asylum trophy, you can start the case file called Main Case 08: Head of the Demon. Finish everything off, take out the final boss, and you'll earn the prize.
To The Victor Go The Spoils
Discover the new problem in STAR Lab
A new Case File with the name "?.? – Heist at S.T.A.R. Labs" will become accessible on your map when you finish Case File 01. To unlock the trophy, go to the lab, battle the Regulators Mr. Freeze, and finish the level.
Quartzer Life Crisis
Investigate the glitch in the Quartz Lab
The side mission FR01: Mr. Freeze Case File becomes accessible once you've unlocked the To The Victor Go The Spoils trophy. As you move through the case file's 1.2 – Cold Front chapter, you'll be able to access 1.3 – Quartz Labs, and stop the crimes carried out by Regulators gang members to unlock the trophy. On a side note, your investigation into Mr. Freeze will take you to Quartz Labs, which contains a vault. You can use this FR1.3 Vault Puzzle Solution guide to open the vault.
Snow Problem
Stay cool and survive the storm at the Elliot Center
Play 1.4 – Gotham City on Ice from the FR01: Mr. Freeze Case File at the Belfry once you've completed 1.3 – Quartz Labs and obtained the Quartzer Life Crisis trophy. This straightforward quest leads to a massive boss confrontation with Mr. Freeze himself after you ascend a frozen Elliot Center. If the boss fight is causing you trouble, you can set the difficulty to Very Easy and play again.
Cooldown
Throw an inmate back into his cell in Blackgate
After obtaining the Snow Problem trophy, you'll have to question Mr. Freeze's thugs in the open world before destroying one of their strongholds and putting an end to a few robberies. You can then return to the Belfrey and launch 1.6 – Breakout At Blackgate from the FR01: Mr. Freeze case file. Stop the Blackgate breakout, take on Victor in an icy boss battle, then lock Victor up to obtain the trophy.
Har, Har, Har, Very Funny
Visit the unlikely source at Blackgate Prison
You'll be required to meet Harley Quinn at Blackgate Prison as part of the 01: Batman's Last Case file. To unlock the trophy, complete this mission.
Get Req'd
Explore the dubious self-help program on the streets of Gotham
This trophy may be obtained by starting the HQ01: Harley Quinn Case File, and completing the first three tracked crimes on your map for this Case File.
Working Hard Or Harley Working?
Interrupt a presentation at the Monarch Theater
Once you've completed the questline subchapter, left the theater, and returned to Belfry, the trophy will automatically become unlocked.
Universal Health Care
Go to Gotham General Hospital after visiting hours are over
You must resolve a few crimes in the open world to finish 1.3 – Paging Dr. Q after completing the mission 1.2 – Dr. Q At Monarch Theatre. After that, you can go back to the Belfrey and start 1.4 – Chaos in General from the HQ01: Harley Quinn file. To get the trophy, fight some rioters in this file, enter Gotham City General Hospital, then defeat Harley in a boss battle.
Something In The Clay
Discover a villain who shouldn't be in Gotham City
When you speak with Detective Montoya, she will inform you that there have been allegations of a faceless robber hitting people. Some of these anonymous muggers will commit a crime in the West End. Fight and defeat them. While at the West End, locate and eliminate four more clay Mimics (they'll have the same orange markings on your map). When you complete these fights, the trophy will be unlocked.
The Snow Mud Go On
Storm a movie set and piss off the director
To unlock the trophy, move on to Dixon Docks and complete 1.2 Disturbance at Dixon Docks mission.
Rock And A Hard Place
Crack the case at Gotham Reservoir.
You can take on the 1.3 Rumble at the Reservoir case file in CF01: Clayface if you've unlocked The Snow Mud Go On trophy. To unlock the trophy, engage in dramatic combat with Clayface at Gotham Reservoir.
End Of An Era
Complete all the villain case files
After you must finish the case files for HQ01: Harley Quinn, CF01: Clayface, complete the FR01: Mr. Freeze mission to obtain this trophy.
The Batman Family
Play as Batgirl, Robin, Nightwing and Red Hood
Simply interact with the character's outfit in the left corner of your headquarters, "The Belfry," to flip between all four of them. It can be completed in 30 seconds.
Practice Makes Perfect
Complete all 16 exercises in the training area
You must complete the 16 Combat Tutorials, which are accessible via the exercise equipment on the left side of The Belfry (headquarters), in order to unlock this trophy.
Gotham City Confidential
Find all the hidden audio recordings of Bruce Wayne
Your map will start to show Secret Caches after you finish Case File 1. Discover more of these caches, then dash past the beacons to reveal the cache's location. You'll also discover an accompanying audio recording after you locate them. As you finish Case Files, both the main and side quests, more Secret Caches will appear on your map, so keep a watch-out. There are a total of 12 Secret Caches (and therefore 12 Audio Logs); get all of them to unlock the trophy.
Solid Alibi
Successfully protect Batman's identity
There are five Secret Identity Compromised in Gotham Knights. On the map, they are indicated by white symbols labeled "Secret Identity Compromised." They can be found at:

West End
Southside
Old Gotham
Financial District

Bat Out Of Hell
Complete all Batcycle time trial races
As you advance through the game, Batcycle time trials will ultimately begin to show up on your map. Every time you finish one, a fresh one becomes available the next night. Once you've finished them all, the trophy will become available.
Knighthood
Achieve "Knighthood" with all heroes
Open the "Challenges Menu," select the "Knighthood" Challenges, and complete these challenges to become a Knight.

Timed Strike Training
Stop ten Premeditated Crimes
Defeat three Minibosses

After completing all three Challenges, return to The Belfry (headquarters) to find certain artifacts tagged with your character's emblem.

---

Engage with each of them in the area of The Belfry. Finally, you will need to interact with the Batman mask that is located close to the large entrance that leads out of The Belfry. Following this, a little cutscene appears, and you are promoted to full Knighthood.

A Worthy Successor
Unlock all Knighthood abilities for all members of the Bat-family
You can access all of your Knighthood skills once you've finished the Knighthood trophy. You'll need about 11 Ability Points to unlock every ability in Knighthood. After you unlock every ability for one character, you will earn the trophy.
First Step Into The Knight
Unlock an ability for the first time
When you initially arrive at The Belfry (the game's headquarters) in Case 01, the game displays the Abilities Menu, and to move on to the next objective, you must purchase the "Perfect Evade" skill. This purchase will get you your trophy in the game.
He'd Be So Proud Of You
Reach the maximum level with all heroes
The level cap for the first playthrough is 30. Once the story has been completed, you can launch New Game+ from the title screen. The level cap can be raised to 40 by starting a New Game+ from the main menu. Once you achieve level 40 by replaying the game and gaining experience, you will have earned the trophy.
A Momentum Occasion
Unlock all Momentum abilities on all Heroes
More Momentum Abilities will be added to the Momentum Abilities page as the tale progresses. You'll need to fulfill a certain task after a new ability first appears here in order to unlock it. Complete the Momentum Ability challenges listed on the Challenges page when they appear to earn the trophy.
Unstoppable Force
Unlock all Momentum Bars for all Heroes
As you complete Momentum Challenges and become a Knight, you will acquire this automatically.
Family Meeting
Defeat 30 Godmothers mobs
In Gotham Knights, godmothers act as minibosses. They are large women with greater health than typical foes. In areas where the mob is active, you can discover these godmothers. 30 of these minibosses must be eliminated.
Shock Til The Drop
Defeat 45 regular Shockers
Once you reach level ten in the story, Regulator Shockers will start appearing at almost every Regulator crime in Gotham City. You must defeat 45 of these Regulator Shockers.

---

If you are unable to unlock this trophy, look for crimes in regions of the map where Regulators are present (this can vary from night to night) and continue eliminating Shockers (Up to 45) and the trophy will display.

Drone You Out
Defeat 30 regular Drone Masters
The Regulator Drone Masters make their initial appearance in the task Heist at S.T.A.R. Labs. Once they appear, they will frequently appear at Regulator crimes throughout Gotham; locate and kill 30 Drone Masters to unlock the trophy.
Bulldozed
Defeat 30 Freak Bulldozers
Once you reach level ten and advance through the tale enough, Freaks Bulldozers will start appearing at pretty much every Freaks crime in Gotham City. Eliminate 30 Bulldozers for the trophy appears.
Out Of Their League
Defeat 45 League of Shadow Assassins & 30 Rocket Shooters
Assassins and Rocketeers are opponents from the "League of Shadows" faction who first appear in Main Case 04 and will later spawn in the open world. They are the faction's most vulnerable and frequent foes.

---

They appear at randomly occurring crimes in areas where the League of Shadows is active. So, take your time and take out 45 League of Shadow Assassins & 30 Rocket Shooters.

The Man-Bat Family
Defeat ten Man-Bats in Gotham City
As the game progresses, locate and eliminate 30 Rocket Shooters and 45 League of Shadow Assassins.
Talonted
Defeat 40 feral Talons, 25 Gladiator Talons, and 15 Hunter Talons
Feral Talons, Gladiator Talons, and Hunter Talons are all foes of the "Court of Owls" faction. After you pass The Court of Owls, you'll start encountering these foes. Fight 40 feral Talons, 25 Gladiator Talons, and 15 Hunter Talons to unlock the trophy. Keep your head up; the Talons are especially dangerous.
In Your Element
Inflict elemental effects on enemies 50 times
The simplest way to accomplish this is to equip a melee or ranged weapon with elemental damage. You can tell it's working by attacking an enemy and seeing the elemental damage appear on their health gauge.

---

Do this 50 times to unlock the trophy. By adding mod chips to these weapons, you can increase the amount of elemental damage you cause.

Claiming The Mural High Ground
Discover all the murals for Tim's Gotham City street art project
You will discover all the murals for Tim's Gotham City Street Art project in 12 locations. They include:

The Cauldron (Stolen Gotham)
The Cauldron (Faces of Gotham)
Financial District (A Green Gotham)
Old Gotham (Simpler Times)
Old Gotham (Gotham Piers)
Bowery (Lyceum Mural)
Otisburg (Origins of Evil)
West End (Born This Way)
West End (Our Friend Joel)
Gotham Heights (GCU)
Robinson Park (The March of Crabs)
Bristol (See Us)

History Major
Find all of Gotham City's landmarks
In and around Gotham City, there are 40 Historic Landmarks. Below are all the district locations of Historic Landmarks:

Southside
The Cauldron
Financial District
Old Gotham
Tricorner Island
Bowery
Otisburg
West End
Gotham Heights
Robinson Park
Bristol

Batarang Collector
Get every hidden Batarang in Gotham City
The rooftops and back alleys of Gotham City contain 60 secret Batarangs. All of them can be found in the following districts:

Southside
The Cauldron
Financial District
West End
Old Gotham
Tricorner Island
Bowery
Otisburg
Gotham Heights
Robinson Park
Bristol

Read Owl About It
Collect all the missing pages from the mythical Historia Strigidae
After completing Case File 02: THE RABBIT HOLE, you can begin collecting the 42 missing pages of the Historia Strigidae, an old tell-all book concerning the Court of Owls. Your map indicates the first place to get this, and after you've located it, you can gather the others in the same way.
Expert Crime Fighter
Prevent 250 crimes in Gotham City
You'll encounter several crimes as you move throughout Gotham City, highlighted by white triangles on your map and compass, as well as premeditated crimes marked using the information you obtained.

---

This is quite easy but if it seems complicated or takes a while, just stop each crime that you come across on your map. By performing this 250 times, you can unlock the trophy.

Not On My Watch
Successfully stop all premeditated crimes in a single night
Hunt down clues in a single night while battling smaller criminal organizations all across the map. After that, head back to the Belfry to count the number of premeditated crimes that have appeared on your map.

---

Return to your patrol route in Gotham and concentrate on the named crimes indicated on your map. This includes any Case File offenses that have also been noted on your map; completing them all will release the prize.

---

If the trophy does not appear, seek out and question informants during crimes (the smaller offenses represented by white triangles). If there are any unfinished premeditated crimes, they will show up on your map.

Protector Of Gotham
Complete 50 challenges
You must complete 50 of the challenges in the "Challenges Menu." There are several categories, such as:

Mission-specific (mandatory to advance Main- and Side Cases)
Momentum Abilities (to unlock new abilities)
Knighthood (to unlock new knighthood skills)
Basic Training (combat training)
Gotham's Most Wanted (defeat enemies at 'Very High difficulty' crimes)
Crafting (craft certain types of gear)
Collectibles (you need these for other trophies anyway)

Fusion Expert
Acquire 50 modchips through mod fusion
As you progress through the game, you'll acquire a ton of modchips through challenges, loot chests, and enemy-dropped items. You can also combine four chips to create new modchips. Do this up to 50 times.
Dressed To Impress
Craft a complete set of legendary gear (suit, melee weapon, ranged weapon)
To do this, you must create one piece of Legendary (Yellow) Gear in each of the three categories of Suit, Melee, and Ranged. When you reach Level 30, visit The Belfry's Crafting Station (headquarters), there should be at least one Legendary Craftable available in each category. If, for some reason, you don't, level up to 40 in New Game. Craft the items and equip them to get the trophy.
The task of becoming the true protege of Gotham Knight is surely a daunting one. But never much; the Platinum trophy will be yours when you unlock all the trophies. This Platinum Trophy is exclusive to the PlayStation 5 version of Gotham Knights and is called 'Heir to the Cowl.'
Source: Read Full Article