If you're participating in the Genshin Impact Marvelous Merchandise event, there's a good chance you'll spend a decent portion of today looking for pinecones — or at least you would have, if not for this guide. As it turns out, pinecones are incredibly easy to come by in Genshin Impact, and you should be able to find ten for Liben in about 30 seconds once you know where to look.
We've taken the liberty of putting together this Genshin Impact pinecone location guide to make today's Marvelous Merchandise request much easier for you — here's everything you need to know about where to find pinecones in Genshin Impact.
Genshin Impact Pinecone Location — Where To Find Pinecones In Genshin Impact
As mentioned above, the only way to complete today's Marvelous Merchandise objective is to bring ten pinecones to Liben, who will trade you one Box o' Marvels for them. For those unacquainted with how this new event works, a Box o' Marvels usually include 30 Primogems as well as some other rare items — yesterday I got 20,000 Mora and eight mystic enhancement ores on top of my Primogems, whereas today I got nine talent ascension materials.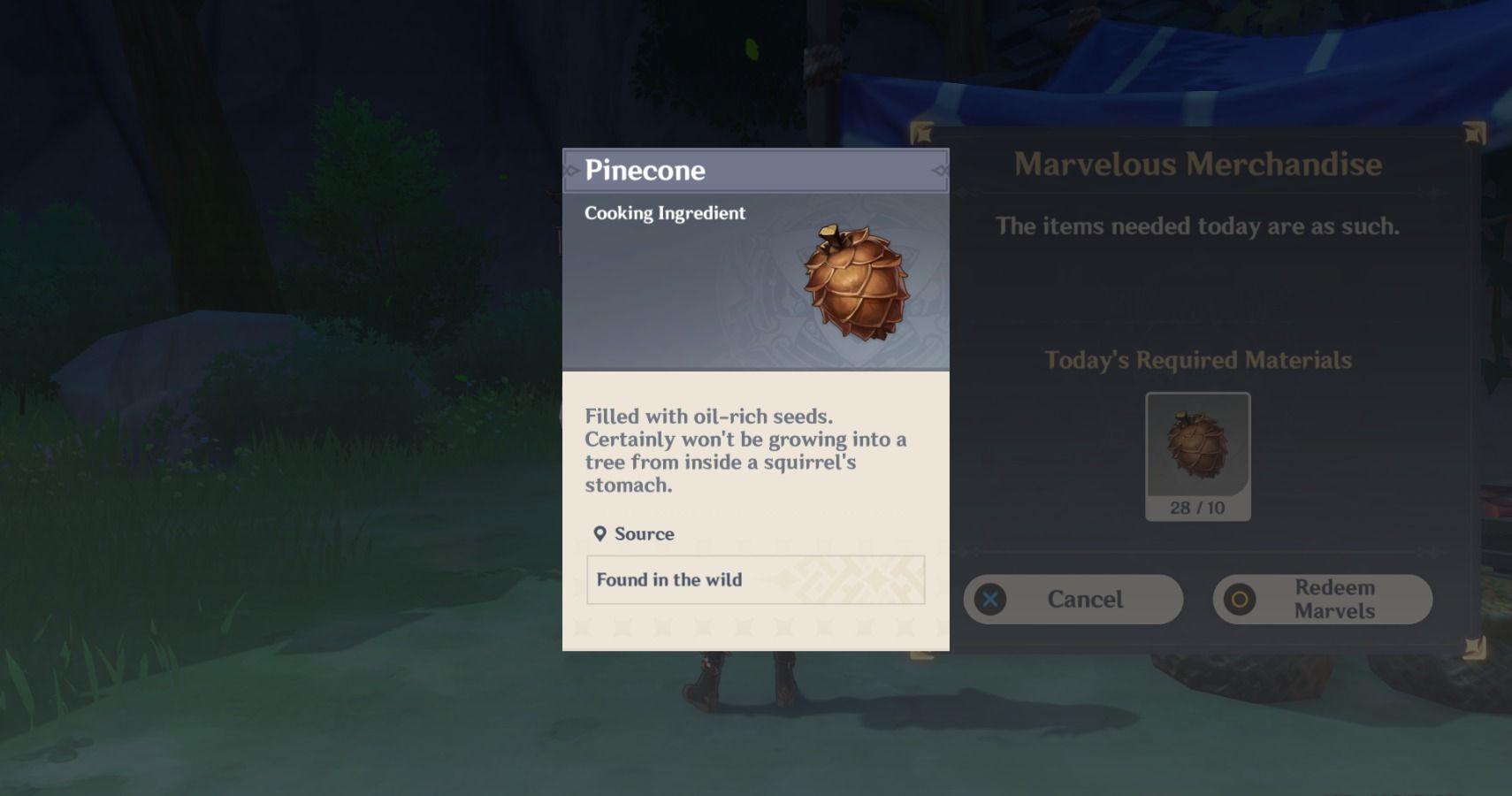 As you can see in the screenshot above, all Liben wants in exchange for this excellent reward is a few pinecones. The prompt itself gives you a hint — "found in the wild" — but it's not a very specific one, and you can't find pinecones just anywhere.
To be completely honest, the best way to look for pinecones is to search for pine trees, which are dotted across all of northern Mondstadt. If you head to Stormbearer Mountain in the northeastern corner of the map, you'll find ten pinecones in a matter of seconds — all you need to do is look for pine trees, which look like Christmas trees, and pick up the shiny items beneath them.
However, Stormbearer Mountain is a big area. Although you're sure to find more than enough pinecones here, you can also go to Qingce Village if you've made it to the Liyue section of the main story. The bridge to the northern part of the village is littered with pinecones, meaning you can pick up all ten in one fell swoop. Bear in mind that you need to be at a certain point in the story to be able to access this area, though, so if you're still a relatively low level or haven't been focusing much on main quests, Stormbearer Mountain is where you need to be.
You can also just make your way across Mondstadt as per usual, doing daily commissions and completing quests. There are pine trees everywhere in northern Mondstadt, to the extent that it's good to see Mihoyo finally giving us a reason to collect pinecones.
That being said, you only need ten pinecones, but don't be afraid of collecting more. Pinecones are cooking materials and can be used to make Mondstadt hash browns, which are cheap to make, easy to cook, and brilliant for healing.
Read next: Genshin Impact Next Banner Could Be Xiao, Judging By A Recent Leak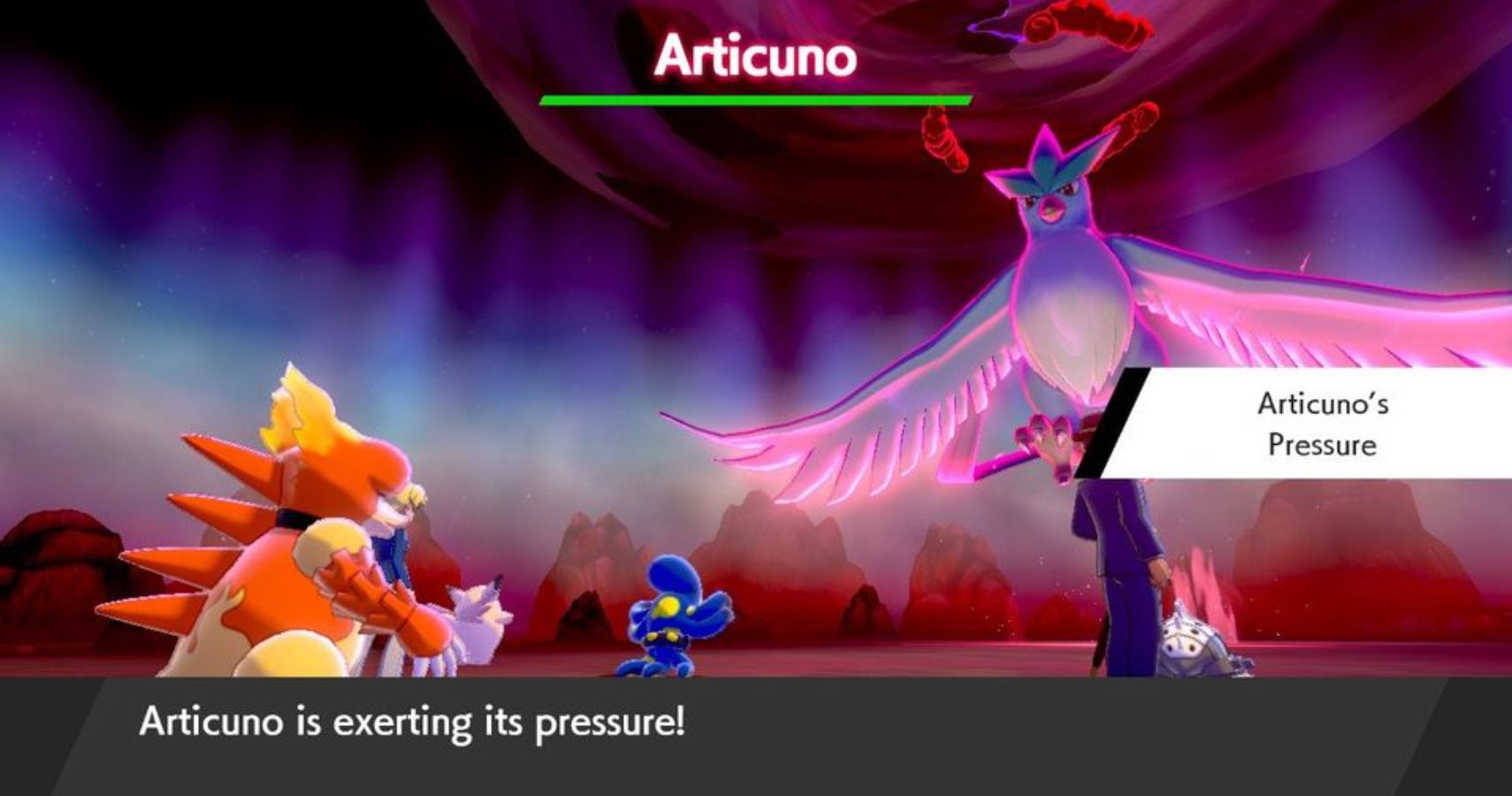 Guides
Nintendo Switch
PC
ps4
Genshin Impact
miHoYo
Cian Maher is an Associate Editor at TheGamer. He's also had work published in The Guardian, The Washington Post, The Verge, Vice, Wired, and more. His favourite game of all time is and always will be The Witcher 3, but he also loves The Last Guardian, NieR: Automata, Dishonored, and pretty much every Pokemon game ever released. You can find him on Twitter @cianmaher0.
Source: Read Full Article