Mihuyo's Genshin Impact continues to amass popularity, alluring more and more players with its enchanting gameplay. With a constant stream of newcomers, it's natural there are still questions regarding some of the game's base mechanics, especially the different types of currency.
Here we are covering Genesis Crystals; what they are, how to obtain them, and what they are best used for.
What Are Genesis Crystals And Where Do You Get Them?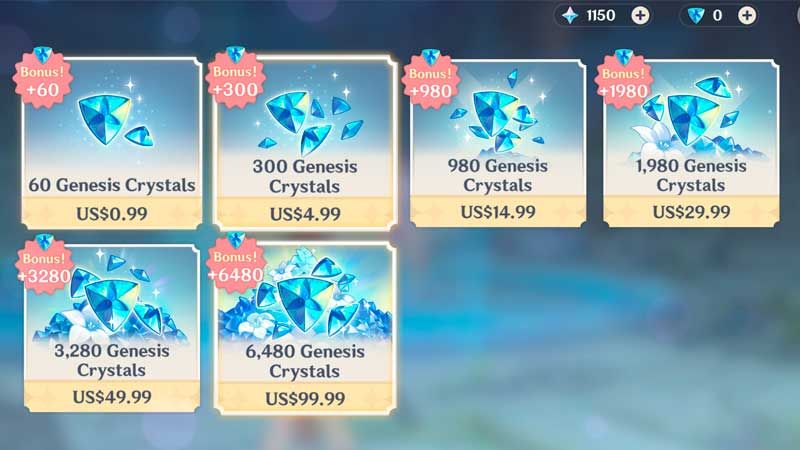 Genesis Crystals are Genshin Impact's premium currency bought with real-world currency.  They can then be traded for a range of other in-game items.
There are a couple of places you will find Genesis Crystals for sale within the game.
In-Game and PS Stores
Genesis Crystals are exclusively locked behind a paywall without a manual grind free-to-play option, but the game does start you out on the right foot by offering double the Genesis Crystals on your first purchase in the in-game store.
This means if you were thinking of dropping a considerable sum on crystals, it might be worth it to go all-in on the largest bundle you can, double your payout, and get the biggest bang for your buck. Below is the full set of Genesis Crystal prices listed in the store.
$0.99 – 60 GC
$4.99 – 300 GC
$14.99 – 980 GC
$29.99 – 1,980 GC
$49.99 – 3,280 GC
$99.99 – 6,480 GC
For PC and mobile users, you will find these offers under the "Crystal Top-Up" tab in Genshin Impact's in-game store, which you'll be able to browse from the Paimon menu.
Console users will access these sales through the PS store listed under Genshin Impact Add-Ons alongside the game's other bundle offers.
Blessing of The Welkin Moon
The other option for obtaining Genesis Crystals is to purchase a Blessing of The Welkin Moon from the "Gift Shop" tab, also found in the in-game store.
The Blessing of The Welkin Moon is a re-purchaseable bundle item that includes a one-time gift of 300 Genesis Crystals and a daily allowance of 90 Primogems for 30 consecutive days. That's 2,700 Primogems throughout the month!
With that gigantic Primogem boost and priced at the same five dollars it costs to buy 300 GC alone in the in-game store, the Blessing of The Welkin Moon is hands down a better deal. You do need to log in every day though, or you will lose the 90 primogems for that day.
Spending Genesis Crystals Wisely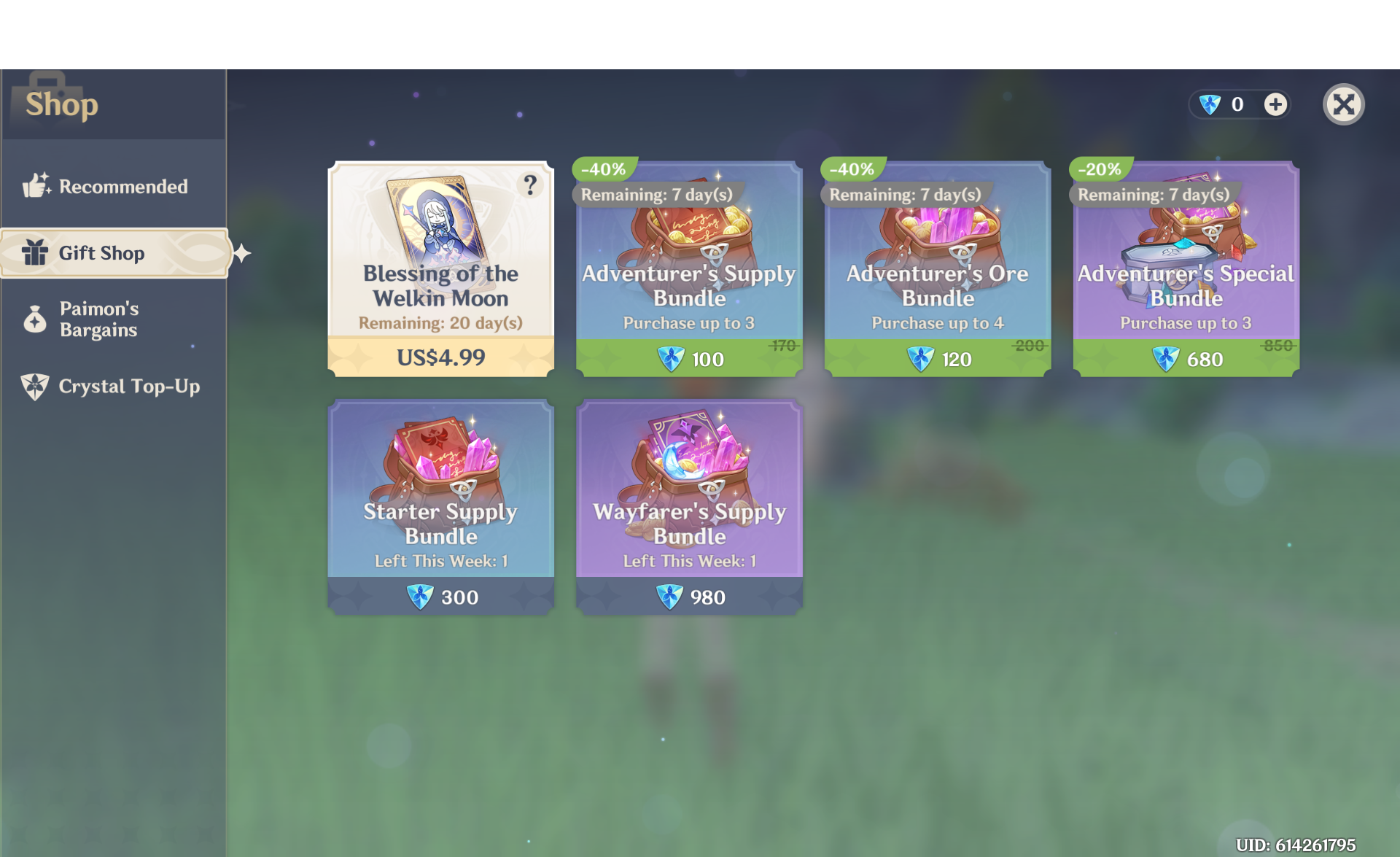 The Gift Shop also cycles through daily, and weekly bundle offers that can cost anywhere from 100 Genesis Crystals to upwards of 900. While these deals will come and go, you'll want to keep your eyes peeled for certain ones, depending on your situation.
Starter Supply Bundle
This starter bundle costs 300 Genesis Crystals and includes:
80 Adventurer's Experience
40 Fine Enhancement Ore
Naturally, this bundle is helpful to those just starting out. However, keep in mind that you will have abundant access to these materials via quest rewards as a new player. It's more beneficial to seasoned players who've already reaped these base rewards from the extent of starter quests but still need more materials to improve gear and characters.
Wayfarer's Supply Bundle
The Wayfarers bundle is on the pricier end, at 980 Genesis Crystals, and includes:
50,000 Mora
50 Hero's Wit
25 Mystic Enhancement Ore
1 Fragile Resin
This supply bundle will be best for those who've again utilized the rewards given from all the quests available to them. You'll want the Wayfarer's Supply Bundle most if you've run out of upgrade materials or lack the Original Resin to farm more.
Primogem Exchange
One of the best ways to spend your Genesis Crystals at the moment is to trade them for the even more valuable Primogems at an equivalent one-to-one exchange. Primogems buy Intertwined Fate and Acquaint Fate which in turn earn you Wishes for Genshin Impact's gacha mechanic banners. These wishing grant weapons and characters.
Additionally, Primogems are an effective currency for stocking up on ascension materials, along with Stardust and Star Glitter to purchase more Wishes, and in turn, more gacha rolls.
Get Jean's Summer Outfit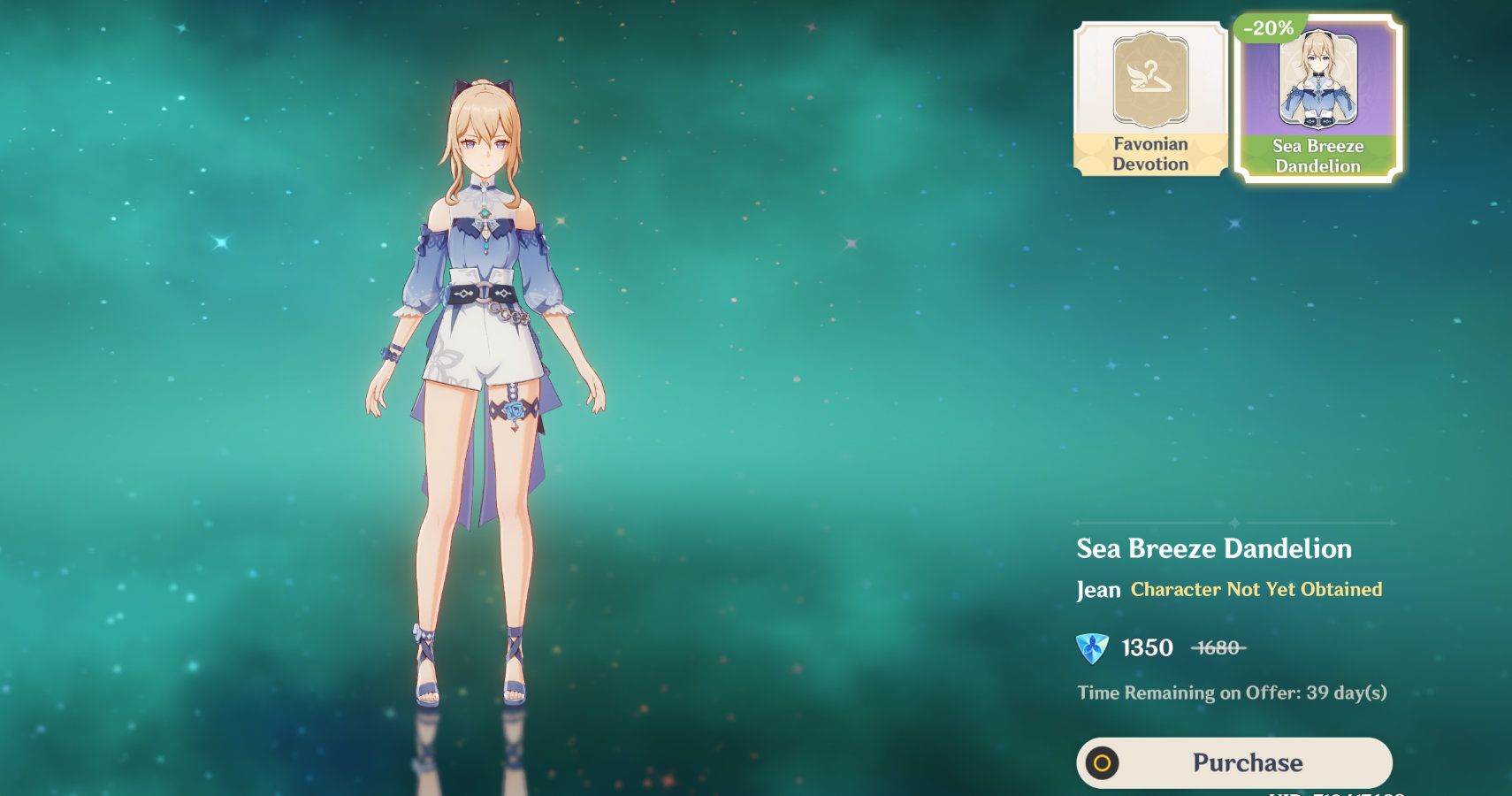 If you summoned Paimon to access the in-game shop, then you probably already saw the flash ad for Jean's summer outfit. Throughout the heat of the summer, it is on sale for 1350 Genesis Crystals but this price will rise to 1680 Genesis Crystals in just over a month.
This is the first time we are seeing the developers expand the use of Genesis Crystals past basic currency exchange and material bundles. Exclusive clothing is certainly an exciting way to expand the usage of Genesis Crystals. If Jean's premium summer wear proves to be a hit, it's likely we will see more limited-time deals like this in the future.
Source: Read Full Article