When the folks at FlexiSpot offered for me to try out the Comhar EG8 All-in-one Standing Desk, I was excited. It was time to say goodbye to my narrow and tattered cheap IKEA desk, and dive into the world of premium ergonomics – and also time to get some blood flow back into my legs. I stood at a counter and walked around all day in my previous job, so my joints have certainly suffered a decline in the sudden switch of a career.
I had been tempted with standing desks before, but the prices were always a means to procrastinate the notion. I had no idea what a standing desk would be like, so spending a considerable amount of money was not something I could do lightly. After all, I didn't want to go so cheap that it works against the benefits of the desk, but was put off taking the plunge and investing in it entirely if I was only going to end up sitting down most of the time. This is a situation that many people will be in, especially as working from home becomes more and more common, so here's my experience with the desk, which at £449.99 feels like the perfect balance of premium quality and a durable build.
The setup is always the first step, and can potentially make or break the first impressions. After all, you don't want to receive a new desk and be stuck figuring out which way this metal piece fits on or where that type of screw you need has gone. Luckily, this is not the case at all with the Comhar EG8. It arrived in two boxes and is a simple case of attaching the legs and plugging it in. It can easily take less than ten minutes to get set up, though you might need an extra hand to carry the boxes – it's glass and it's heavy, so take it easy.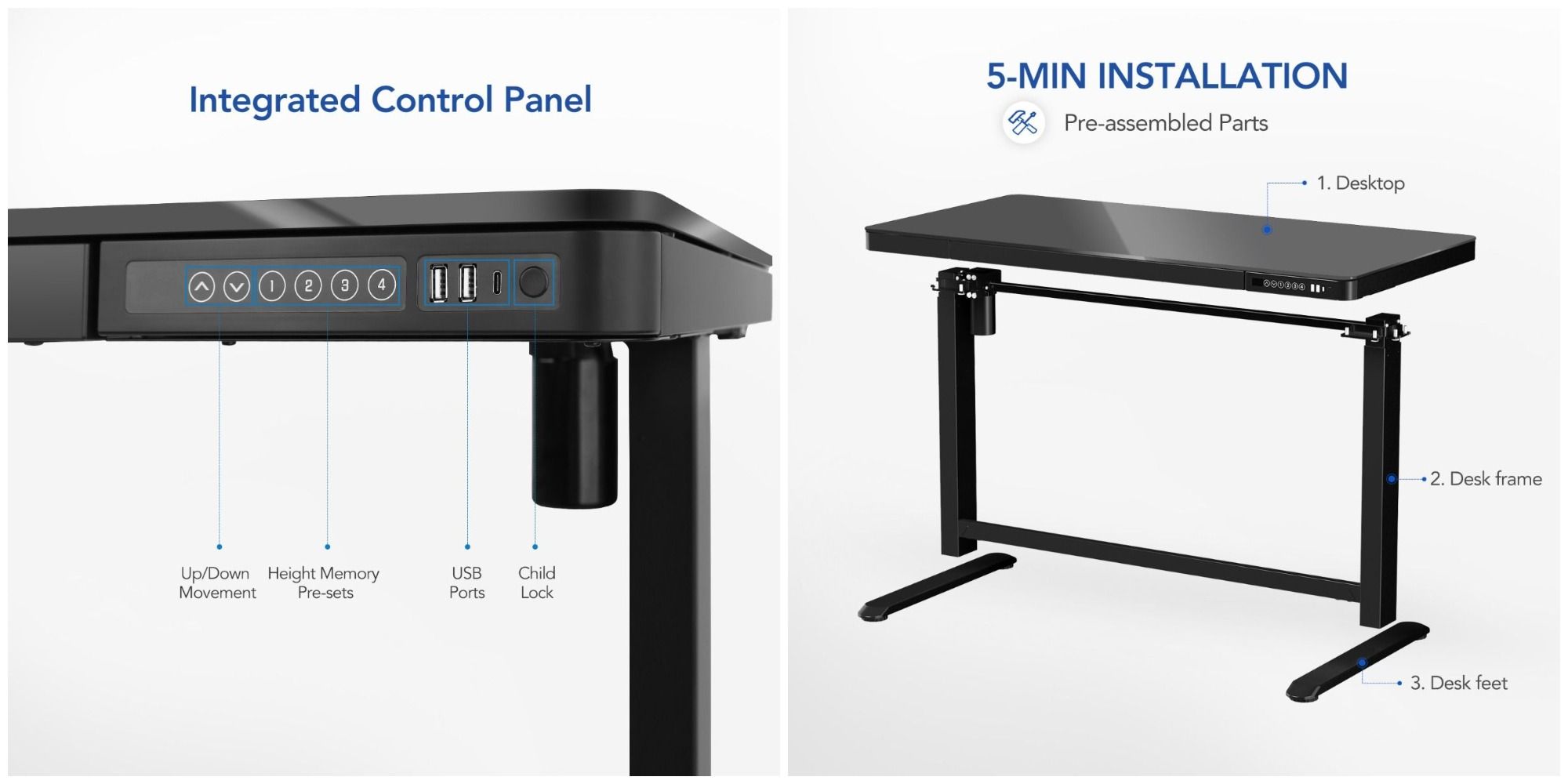 After it was upright and had power, it was good to go. There are touch-sensitive buttons on the front of the desk for the controls, two USB-A ports, a USB-C port, and a safety lock button to prevent the controls from being accidentally pressed or activated by a pet or child. Strangely, the lock button is on the front with the rest of the controls, so it's not exactly hidden from anything that could press it. The upside to this is the collision detection, where the desk will sense anything underneath and stop to prevent causing damage to itself or anything else. The sensitivity of this detection can be adjusted too, making sure you feel secure in your setup.
The overall design of the surface of the desk is slim, which works well – a standing desk with minimal bulk, and it even has a compact drawer that can easily fit a large laptop, as well as any chargers or documents you might want to keep on hand. When you're ready to adjust the desk, either hold down the up or down buttons, or press the buttons labeled 1-4, of which you can program to be set at custom heights – this can be done by holding down one of the numbers while the desk is at the height you wish to assign. This is ideal if you want to keep your preferred heights consistent, or if you have multiple people working at the same desk from time to time.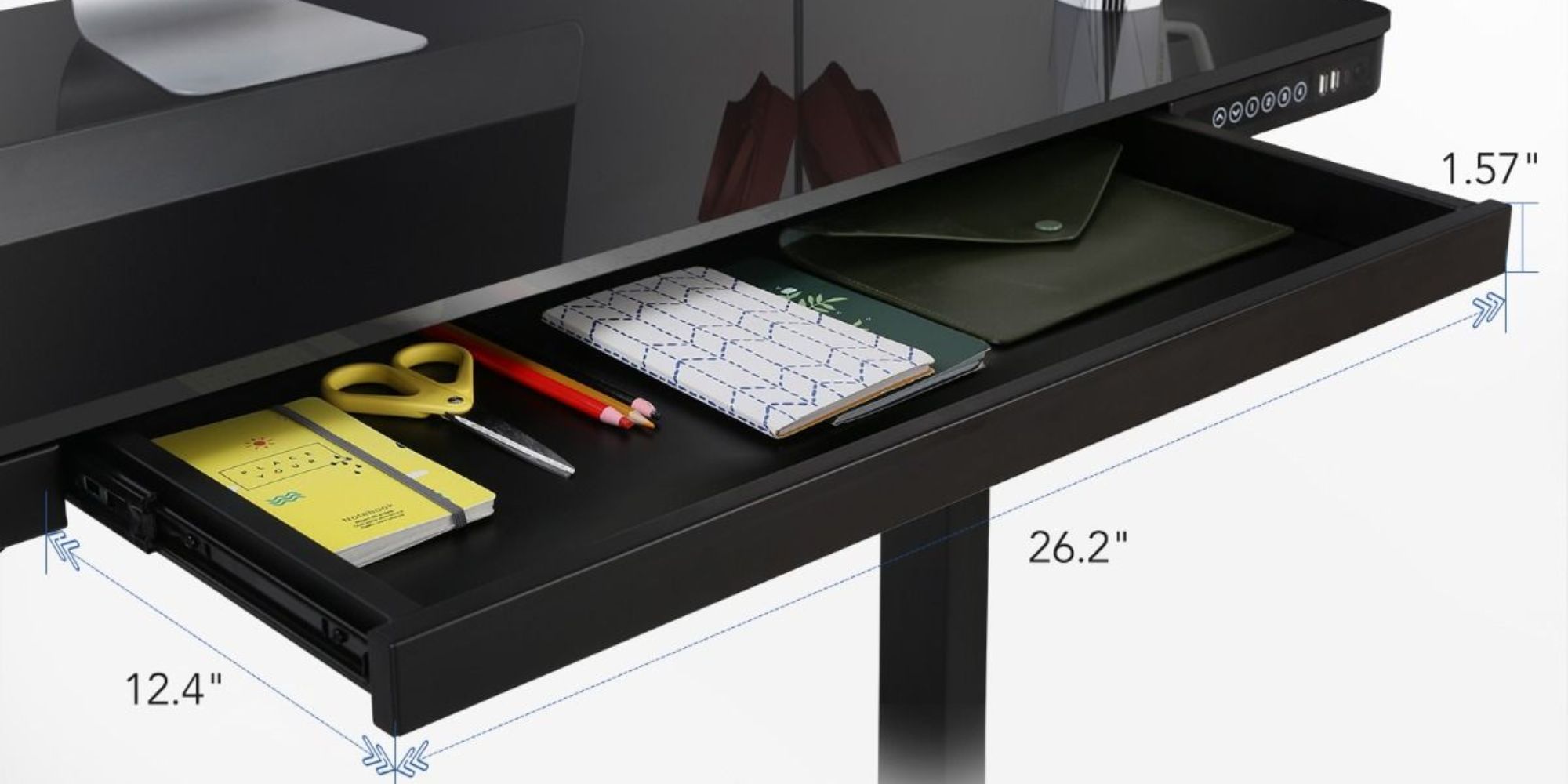 I was initially worried about having a glass top desk, as it might feel fragile or that any sudden impact could cause damage, as well as too much weight. However, with a weight capacity of 50kg and strong tempered glass, I quickly forgot those worries and had a wonderful time working on the desk. Though bear in mind, it's not recommended to use any sort of monitor stand or mic arm that uses a clamp, as it could cause pressured damage to the glass surface. It may be fine, but it's not worth the risk – this could potentially be a dealbreaker in certain setups, so it's worth noting.
I opted for the black version, though it is also available in white – both models being of a solid metal build and with an opaque glass surface. As it uses opaque glass, you will notice dust buildup or pet hairs, especially on the black model of the desk. I have a dog who somehow gets his hair everywhere, so I'll often be quickly sweeping the surface of the desk and dusting it off, but it's certainly not enough to make me regret the choice of color.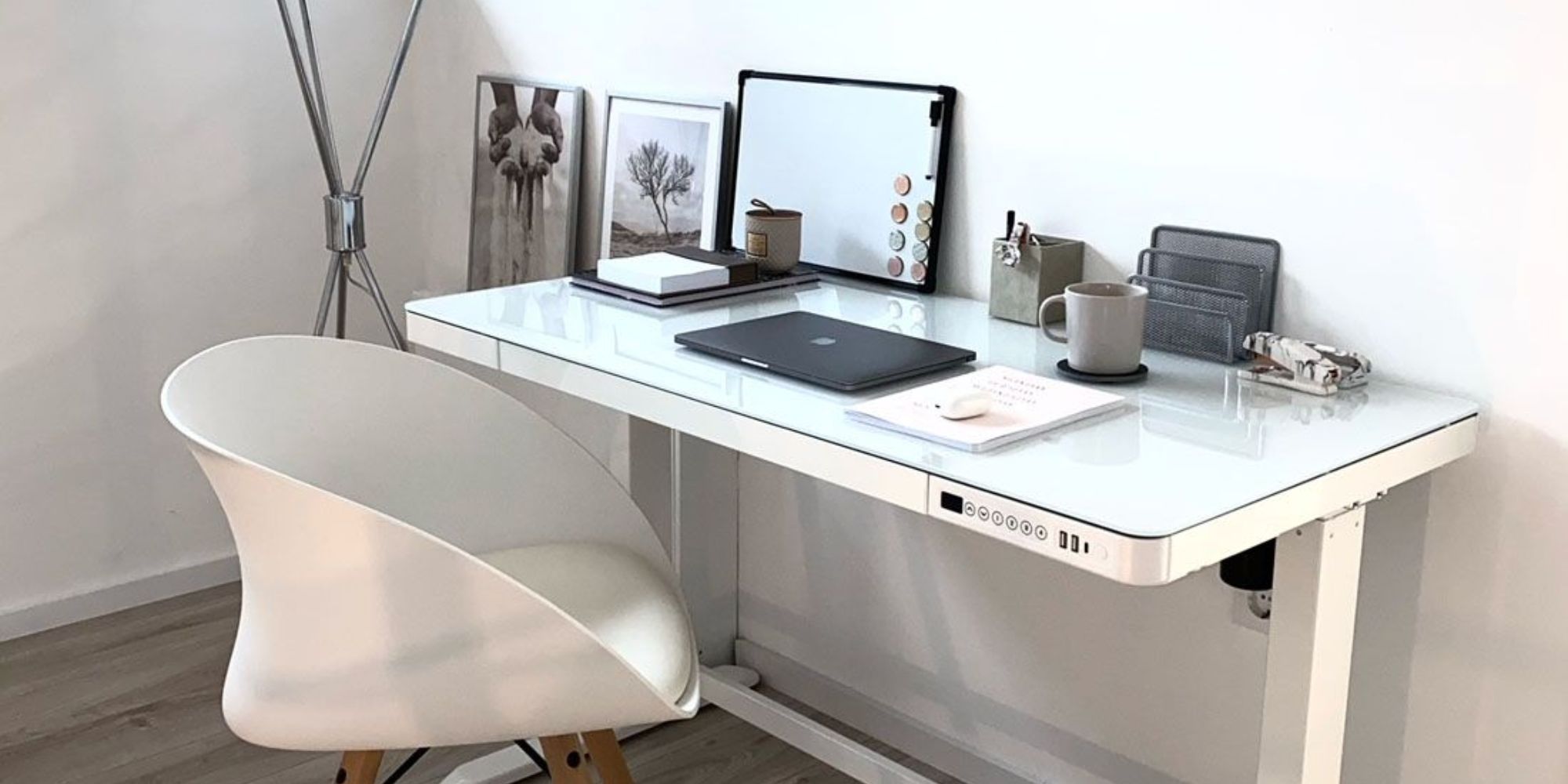 The big question you probably have is: Is it worth getting a standing desk? When working at home or in an office for extended periods of time, it's important to make sure that you are as comfortable as possible, stay active, and don't cause any strain or long-term issues. I can happily say that this desk has greatly improved my workspace, and the freedom to work at a standing position at any point with just the push of a button has made all the difference.
Press the button, wait a few seconds for the motors to adjust the desk to your liking, and you're ready to go. The desk itself is also quiet – still audible, that's for sure, but it's not an unpleasant or imposing sound, which helps that much more in the ease of use. Standing up to work or play games can feel a little strange at first, but it soon becomes natural. I definitely needed the daily activity and this desk makes it so easy to make sure I'm working comfortably and efficiently while still getting the exercise I need – sitting down is easier, but it can feel counterproductive when it's all you do, both during work and after.
At the end of the day, the price tag on the desk is still significant. Currently sold for £449.99, it's definitely an investment and one that you might be pondering back and forth. Nevertheless, I feel confident in recommending the desk, as it certainly feels premium, brilliantly ergonomic, and it's going to last the foreseeable future while offering consistent benefits. The only potential caveats are the dust buildup on the black glass model, the safety lock can feel a little pointless in its current position, and the limitations of using clamped peripherals. However, in most everyday home use, work environments, or even gaming, the desk is going to feel fantastic to use.
This desk was provided to TheGamer by Flexispot for review.
Source: Read Full Article