Video game studio KOG Games recently announced a special pre-registration event to welcome the new character Noah to its MMORPG Elsword. The event kicks off on Wednesday, December 30, and is currently scheduled to last until Monday, January 11, 2021.
You can sign up for this event at the Noah Pre-Registration Event Page, and as long as you pre-register during the event's run time, you'll earn yourself the Gift from the Moon – Full Moon in-game package, delivered directly to Noah's mailbox. The Full Moon package includes items that will help your Noah with buffs designed for use within dungeons, and to help leveling up go faster.
But wait – there's more! The Full Moon package also contains a [Ariel] Noah Exclusive Custom Motion. According to the press release, this is "a unique animation for your character that will symbolize your Noah as being an original Noah character created on release." Note that the Noah Custom Motion is exclusive, available only through the Pre-Registration Event, and will not be made available afterward in the future.
But wait – there's even more! You are also invited to participate in the Noah Pre-Registration Share Events. All you have to do here is create a Noah character, or simply share the Noah Pre-Registration Video (embedded above), for a chance at winning an exclusive Noah Merchandise Pack that includes "a specially designed Noah Mousepad and Noah Facemask."
Noah is Elsword's first new character in two years, hence all the fanfare and gamefare surrounding the launch. As shown in the video, Noah is an assassin who fights with "a combination of fast mobility and the power of the shadows for swift, smooth and flashy gameplay." But more importantly, Noah makes Elsword history as being the first character you get to choose the Awakening Effect for. This new system is designed to allow you to switch out a character's Awakening Effect any time you want to better suit your character for its current situation.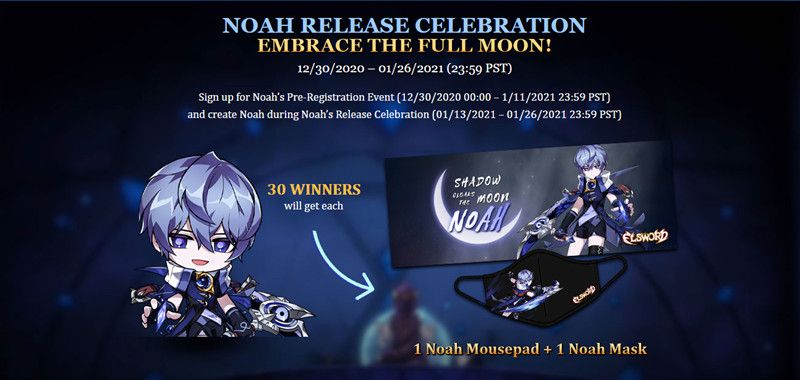 To learn more about the award-winning free-to-play massively multiplayer online game Elsword, click over to the website, where you can also download the game. You can follow Elsword's Facebook, Twitter, YouTube, and Twitch channels for more info.
Source: Read Full Article