eFootball is 2021's worst-reviewed game, alongside Werewolf: The Apocalypse – Earthblood, and Balan Wonderworld.
Despite a string of big releases being delayed throughout the year, 2021 has been a pretty solid year for gaming overall. With games like The Forgotten City, Deathloop, It Takes Two, and The Artful Escape, there's been a lot to celebrate. Unfortunately, there's also been a lot of games to be irate about, with some notable releases getting critically panned.
As reported by VGC, eFootball is 2021's worst-reviewed game, based on Metacritic's averages. Upon launch, eFootball was massively panned by critics and players alike, with Konami even having to apologise for the state of the game. Averaging all of eFootball's Metacritic scores across platforms gives it a score of 25, the lowest of 2021 by far. Let's just say it was a bit of an own goal.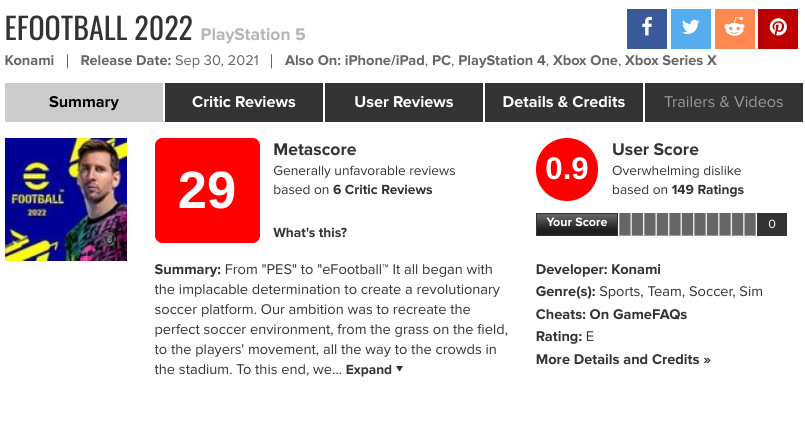 The next most-panned game is Werewolf: The Apocalypse – Earthblood, which jumps up to an average score of 42 overall. That's not great, but it's a lot better than eFootball before it. Earthblood was received pretty negatively on launch, obviously, but there are a few more positive reviews for it that enjoyed its simplistic gameplay.
Next up we have one of 2021's biggest disappointments – Balan Wonderworld, which sits at an average of 44 across all platforms. Despite a decent amount of excitement when it was first revealed, Balan quickly became known for its seizure-inducing final boss and two-button controls. It even caused its creator to resign from his own studio and "go indie".
The rest of the list is full of smaller titles and ports like Of Bird and Cage, Demon Skin, Taxi Chaos, and Necromunda: Hired Gun, but there is one notable entry at number eight. GTA: The Trilogy – Definitive Edition has an average of 53, which might be surprising considering how hated it was by both fans and critics at launch. Imagine going back in time and telling someone a GTA game is in the top 10 worst of the year. They'd never believe you.
Source: Read Full Article