Achievements in fighting games tend to be difficult. Sometimes they ask you to complete hard combo trials that only pro players can do or to play hundreds of matches that can take you some sweet time.
Unfortunately, DNF Duel falls in this category, with some trophies that will task you with playing many online matches and completing some intense challenges. However, these can be a bit easier and less time-consuming than how they seem at first. Plus, there are tons of easy achievements that you can get just by playing against the AI.
DNF Duel: Achievement/Trophy Guide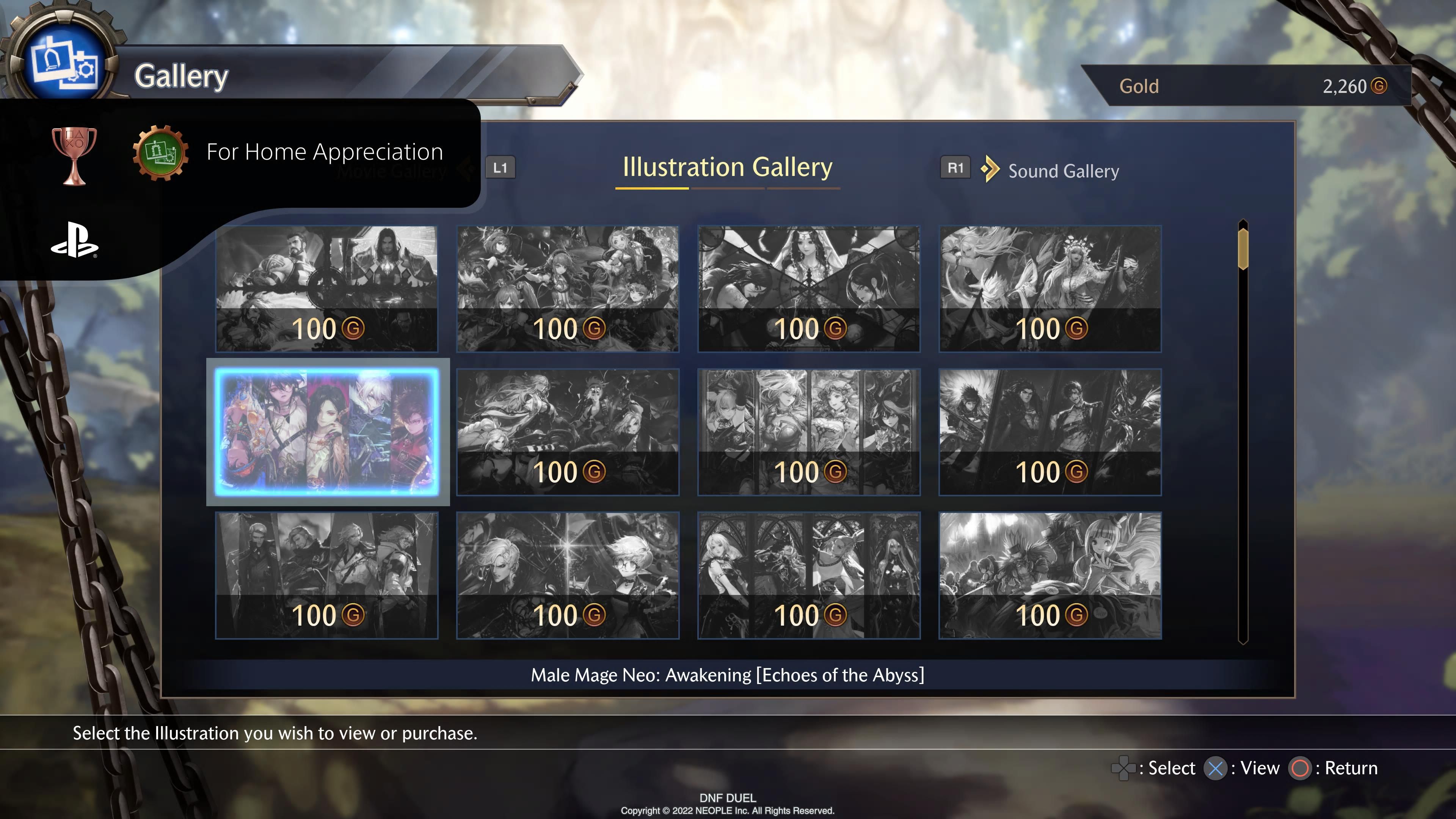 There are 44 trophies to unlock in DNF Duel, including the platinum. Fortunately, they all have pretty clear instructions and only a few might prevent your 100 percent completion right away. Let's take a look at the whole list below.
| Trophy/Achievement | Unlock Requirements | Tips |
| --- | --- | --- |
| Epic Collector | All Trophies Acquired. | You'll unlock this one once you have all the other trophies/achievements. |
| Gold Merchant | Spend 50,000 gold. | You can spend this currency on a variety of collectibles. However, you'll first have to earn this amount. Check our guide to learn how to farm gold in the game. |
| Relentless Will | Clear a Character Story for the first time. | Complete the Story mode with only one character. This mode consists of nine chapters full of dialogues and battles that you need to win. |
| In the Face of Will | Clear 5 Character Stories. | Same as above, but with five characters. |
| Advocate of The Gate | Clear all Character Stories. | For this one you have to finish Story mode with 15 characters (Lost Warrior doesn't have a story). |
| The Beginning of a Legend | Acquire a win in Online mode. | Simply win one match in Online mode, which can be a Player Match or a Ranked one. |
| Thorough Preparation | Compete in 100 matches in Online mode. | You need to fight 100 online battles. It doesn't matter if they are Ranked or Player Matches, or if you win or lose. |
| Veteran Fighter | Compete in 300 matches in Online mode. | One of the trophies that will take you a while. You need to fight 300 online battles. It doesn't matter if they are Ranked or Player Matches, or if you win or lose. |
| Home Sweet Home | Enter the Player Match Room for the first time. | Go to Online mode and select the option Player Match. Here you'll have to select an Avatar and then check some search settings. You can either host your own room or join other players' ones. Once you get inside, the trophy is yours. |
| Level Analysis Complete | Complete a Player Match. | Play a match in the mode described above. |
| Man with 100 Names | Purchase over 100 Titles. | A Title costs 100 gold, which means that you will need at least 10,000 gold for this achievement — you'll get there while trying to get Gold Merchant. Also, most titles are locked by Story mode and Online progress, but there are hundreds in total. You'll be able to purchase the needed amount while farming gold. |
| Suspicious Collector | Purchase all Icons. | There are 49 Icons, and each one of them costs 300. This means you will need 14,700 gold in total. It's worth mentioning that there are some Icons locked — you need to finish the Story mode with one character to unlock them. |
| Well, This Is Who I Am… | Purchase all Battle Card Designs. | You need to buy 16 Match Card Designs, which costs 1,000 gold each. This means you will need 16,000 in total. |
| For Home Appreciation | Purchase a Gallery item for the first time. | Go to the Gallery inside the Collection menu and purchase anything you want. |
| Gallerist | Purchase all illustrations, BGM, movies, and Character Voices. | There are over 100 Illustrations, which costs 100 gold each. Then, Character Voices cost 1,000 and there is one collectible per character. For the BGMs part, you'll need to buy 15 tracks that cost 500 each. Lastly, there are only three movies, but they cost 3,000 gold each — plus, you need to complete the Story mode to unlock two of them. |
| Barely Alive | Clear Survival mode A Course. | This route asks you to complete 15 matches without dying in Survival mode. Check our specific guide for tips. |
| Back from the Dead | Clear Survival mode B Course | This route asks you to complete 30 matches without dying in Survival mode. Check our specific guide for tips. |
| Eternity Crusher | Clear Survival mode C Course | The last struggle. Complete 100 matches in Survival mode without dying. Check our specific guide for tips. |
| Unsinkable | Completed 10 consecutive Survival mode matches without purchasing HP recovery. | You have to win ten matches in a row and don't heal yourself in Survival mode. It's recommended to try to get this in the A Course because it has an easier difficulty. |
| Adventurer at the Precipice | Clear Arcade mode once. | Simply complete a playthrough in Arcade with any character you like. |
| Victorious over Hardships | Defeat the strengthened Lost Warrior in Arcade mode. | The strengthened Lost Warrior is an enhanced version of the last boss. To make him appear, you need to complete every match before him without losing a single round. |
| Downloaded | Complete all Tutorials for one character. | In the Practice mode, go to Tutorial. Select any character you want and complete their Tutorial section, which includes basics for every character and a couple of explainers unique to the fighter selected. |
| The Strength to Fight | Use 5 different Basic Combos. | In the same mode as above, you need to complete five Basic Combos, which are trials that task you with performing a specific combo. It can be five from different characters. |
| Performance Examination | Clear 5 different Challenges. | The last leg of the Tutorial consists of unique Challenges for every character. These are missions in which you need to complete a task, like hitting an opponent without receiving damage. Complete only five and the trophy is yours. |
| Loyal Vassal | Complete all Basic Combos/Challenges for one character. | This one can take some time as there are characters with pretty complex Basic Combos. We recommend using Vanguard, Berserker, or Crusader for this achievement. You need to finish the eight Basic Combos and eight Challenges with one of them. |
| My Best Battle | Watch a replay for the first time. | Replays are automatically recorded in the Collection menu. However, you'll have to play a Ranked or Player Match in order to have any recordings. |
| One Step at a Time | Play Training mode for a total of 1 hour. | It doesn't have to be one hour in the same session. |
| Training Advancement | Save a Recording for the first time. | You have to record part of your training session with your dummy. |
| A Raging Madness | Complete 10 Matches as Berserker. | Simply finish ten matches with this character. It doesn't matter if you win or lose. Arcade, Survival, Free Battle, and Online matches count. Story mode, however, doesn't count. |
| Training Shall Proceed! | Complete 10 Matches as Striker. | Simply finish ten matches with this character. It doesn't matter if you win or lose. Arcade, Survival, Free Battle, and Online matches count. Story mode, however, doesn't count. |
| To Greater Heights | Complete 10 Matches as Grappler. | Simply finish ten matches with this character. It doesn't matter if you win or lose. Arcade, Survival, Free Battle, and Online matches count. Story mode, however, doesn't count. |
| Inquisition | Complete 10 Matches as Inquisitor. | Simply finish ten matches with this character. It doesn't matter if you win or lose. Arcade, Survival, Free Battle, and Online matches count. Story mode, however, doesn't count. |
| Fire! | Complete 10 Matches as Ranger. | Simply finish ten matches with this character. It doesn't matter if you win or lose. Arcade, Survival, Free Battle, and Online matches count. Story mode, however, doesn't count. |
| Here We Go, Astra! | Complete 10 Matches as Dragon Knight. | Simply finish ten matches with this character. It doesn't matter if you win or lose. Arcade, Survival, Free Battle, and Online matches count. Story mode, however, doesn't count. |
| No Regrets | Complete 10 Matches as Hitman. | Simply finish ten matches with this character. It doesn't matter if you win or lose. Arcade, Survival, Free Battle, and Online matches count. Story mode, however, doesn't count. |
| Behold My Ninja Arts! | Complete 10 Matches as Kunoichi. | Simply finish ten matches with this character. It doesn't matter if you win or lose. Arcade, Survival, Free Battle, and Online matches count. Story mode, however, doesn't count. |
| Looking for Friends | Complete 10 Matches as Enchantress. | Simply finish ten matches with this character. It doesn't matter if you win or lose. Arcade, Survival, Free Battle, and Online matches count. Story mode, however, doesn't count. |
| Unrelenting Spear | Complete 10 Matches as Vanguard. | Simply finish ten matches with this character. It doesn't matter if you win or lose. Arcade, Survival, Free Battle, and Online matches count. Story mode, however, doesn't count. |
| Storm Watch | Complete 10 Matches as Swift Master. | Simply finish ten matches with this character. It doesn't matter if you win or lose. Arcade, Survival, Free Battle, and Online matches count. Story mode, however, doesn't count. |
| Two Swords One Soul | Complete 10 Matches as Ghostblade. | Simply finish ten matches with this character. It doesn't matter if you win or lose. Arcade, Survival, Free Battle, and Online matches count. Story mode, however, doesn't count. |
| Mercenary Business | Complete 10 Matches as Troubleshooter. | Simply finish ten matches with this character. It doesn't matter if you win or lose. Arcade, Survival, Free Battle, and Online matches count. Story mode, however, doesn't count. |
| Path of Benevolence | Complete 10 Matches as Crusader. | Simply finish ten matches with this character. It doesn't matter if you win or lose. Arcade, Survival, Free Battle, and Online matches count. Story mode, however, doesn't count. |
| Duty Calls | Complete 10 Matches as Launcher. | Simply finish ten matches with this character. It doesn't matter if you win or lose. Arcade, Survival, Free Battle, and Online matches count. Story mode, however, doesn't count. |
| At the End of Wandering | Complete 10 Matches as Lost Warrior. | Same as above, but first you need to unlock Lost Warrior. Check our guide here to learn how. |
Source: Read Full Article