Wall Street is not necessarily the indicator of good economic news for a company, but in this case, there's reason to be hopeful, at least for GameStop. After posting slightly disappointing results for their holiday sales, GameStop's stock is rallying to heights unseen in years.
GameStop Corp's stock price started the day at just under $20 per share but it's since shot up to $32.90 as of the time of this right–an increase of roughly 65%. Earlier today it rose as high as $38.28, which is a jump of over 80% from its initial price when the markets opened today and way more than GameStop started the year.
So what gives? According to Bloomberg, there are likely two driving factors behind Wall Street's sudden interest in a shrinking games retailer.
First, although holiday sales shrunk in 2020 compared to the same period in 2019, e-commerce sales rose by over 300%. Digital and online sales are widely considered to be the future of gaming (some might even argue it's currently the present of gaming), and that sort of figure shows how hard GameStop is pivoting towards online markets.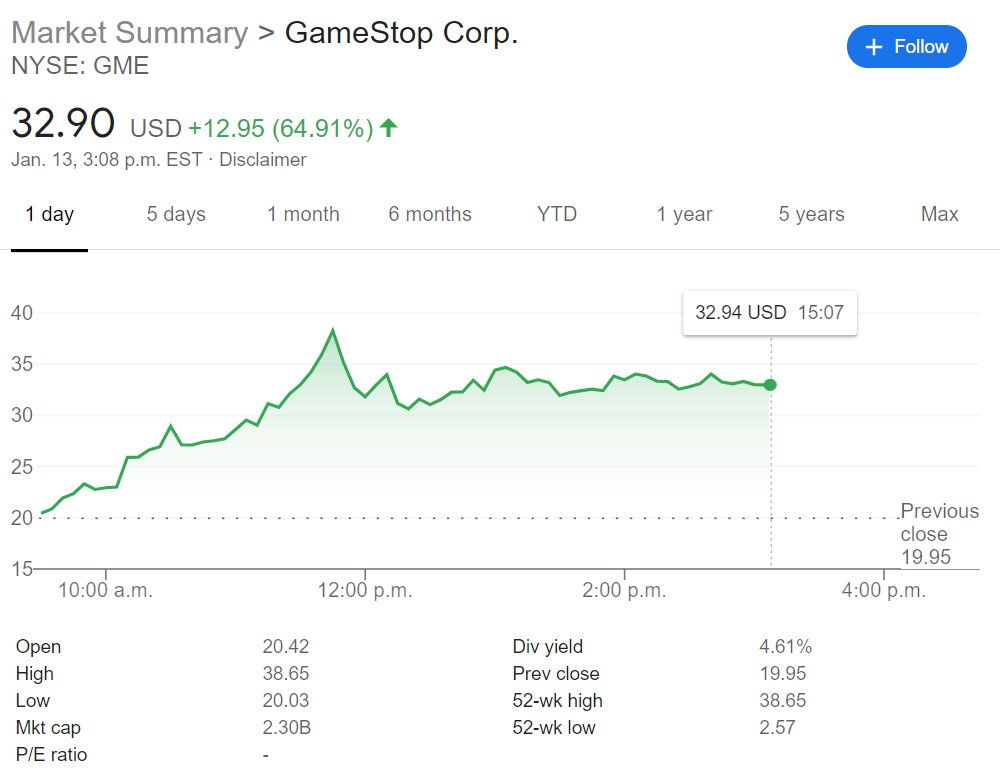 And second is news of three new members that were appointed to GameStop's board of directors. Strangely, all three come from a pet food company, but all three specialized in online marketing and retail–exactly what GameStop needs to survive and thrive in 2021. One of them is Ryan Cohen, manager of RC Ventures and a stockholder of GameStop. He's the same one that wrote a scathing letter of GameStop's management, accusing executives of focusing way too much on brick-and-mortar stores and not making a plan to evolve GameStop into a technology-focused company.
With Cohen on GameStop's board of directors, he'll be able to chart a course for GameStop that might lead back to growth for the company. His letter from last summer outlined a general plan to continue closing underperforming stores and selling assets to fund "larger gaming catalogs, digital content and community experiences, online trade-ins, streaming services, and esports."
Source: Read Full Article