With the introduction of its 1980s setting, now set alongside a backdrop of iconic Hollywood film locales, Warzone invites players to its simultaneously sleek and fresh new dual maps. Action stars John McClane and Rambo join the squad for this revamped Season 3 of Rebirth and Verdansk, yet their tremendous guts alone won't be enough to stave off the threat of enemy squads hunting you into the final circle.
For that, you will need some heavy firepower made all the more effective via the best weapon attachments and loadout perks. Whether it be soaking up the rays on the shore of Rebirth or blazing your way to the top of Nakatomi Plaza, the various gear presented below will no doubt be of worthy servitude to the cause of that oh-so-necessary Warzone dub.
Assault Rifles
CR-56 AMAX
Despite even its most recent nerf, which dropped the weapon's headshot multiplier from 1.62 to 1.5, the AMAX still remains the top dog among assault rifles in Warzone. It has a 630rpm base rate of fire with a menacing time to kill (TTK), averaging between 35-56 damage depending on where your shots land. I myself main an AMAX alongside the Kar98k for both Verdansk and even Rebirth, but as for the latter game mode, there are definitely better weapon options to choose from.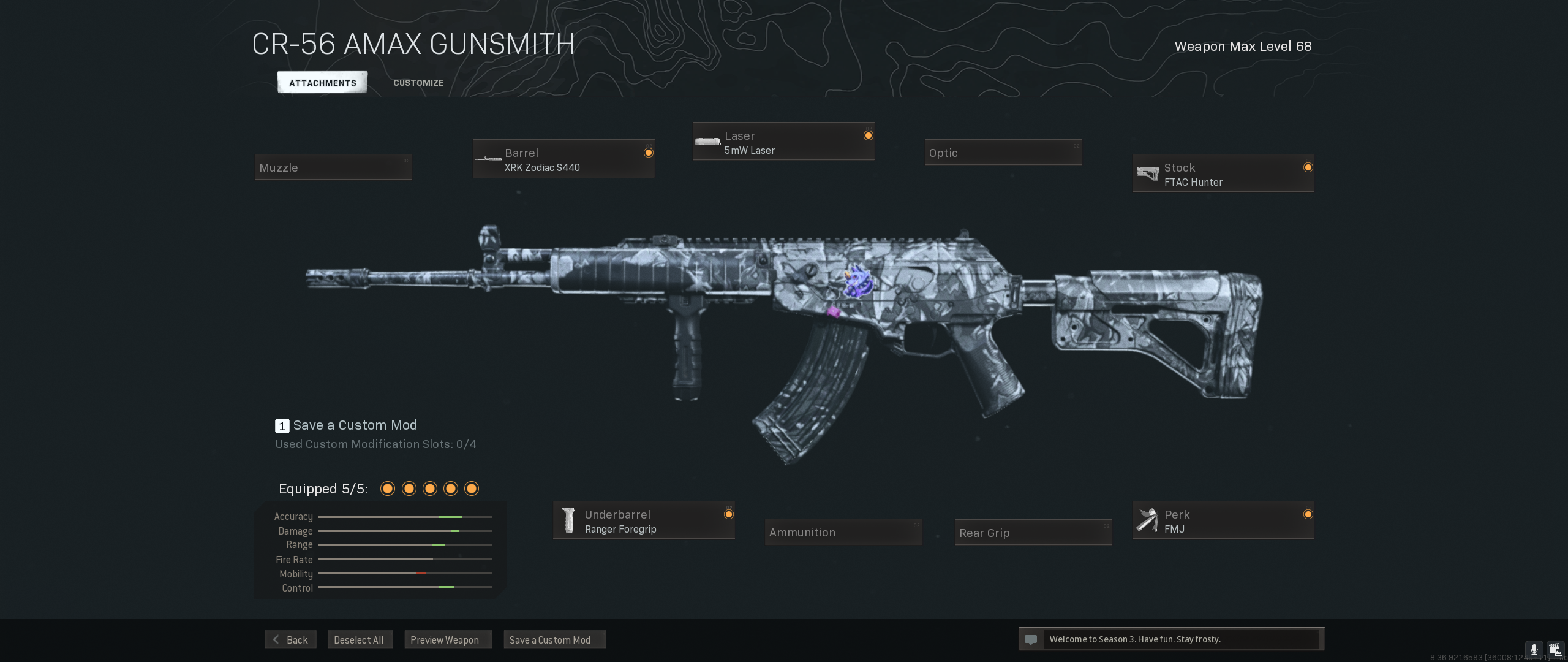 Laser: 5mw OR Optic: VLK 3.0x
Barrel: XRK Zodiac s440
Stock: FTAC Hunter Stock OR Ammunition: 45 Rnd mag
Underbarrel: Ranger Foregrip
Perk: FMJ OR Barrel: Monolithic Suppressor
The attachments I use on the AMAX are the Ranger Foregrip, 5mW Laser, XRK Zodiac S440 Barrel, FTAC Hunter Stock, and FMJ perk, but you could always swap out the latter two for a Monolithic Suppressor Muzzle and an optic, preferably the VLK 3.0x, for the best ranged results.
FARA 83
Introduced in the last season of Warzone, the FARA is currently one of the most common assault rifles witnessed on the battlefield. Thanks to its extremely fast rate of fire it has a particularly annoying recoil, which can be reduced with some attachments, but the weapon packs a powerful punch in the right hands. Simply put: don't miss your shots, as base damage to the head at a close range equals 40 points, but you hit anywhere else and it's a lousy 31.
Best attachments:
Muzzle: Agency Suppressor
Barrel: 18.1″ Takedown
Stock: KGB Skeletal Stock
Underbarrel: Spetsnaz Speedgrip
Ammunition: Salvo 60 Rnd Fast Mag
RAM-7
The RAM has recently caught the eyes of many a beholder, what with its 856rpm rate of fire and a 42 close-range headshot damage output. Still, like the aforementioned FARA, you'll definitely want to land those blows, as anything other than a dome shot will be granted with a lowly 28. It's an effective weapon in both Verdansk and Rebirth, made all the more worthwhile when saddled up with either an SMG, such as the MP5, or a sniper, like the HDR.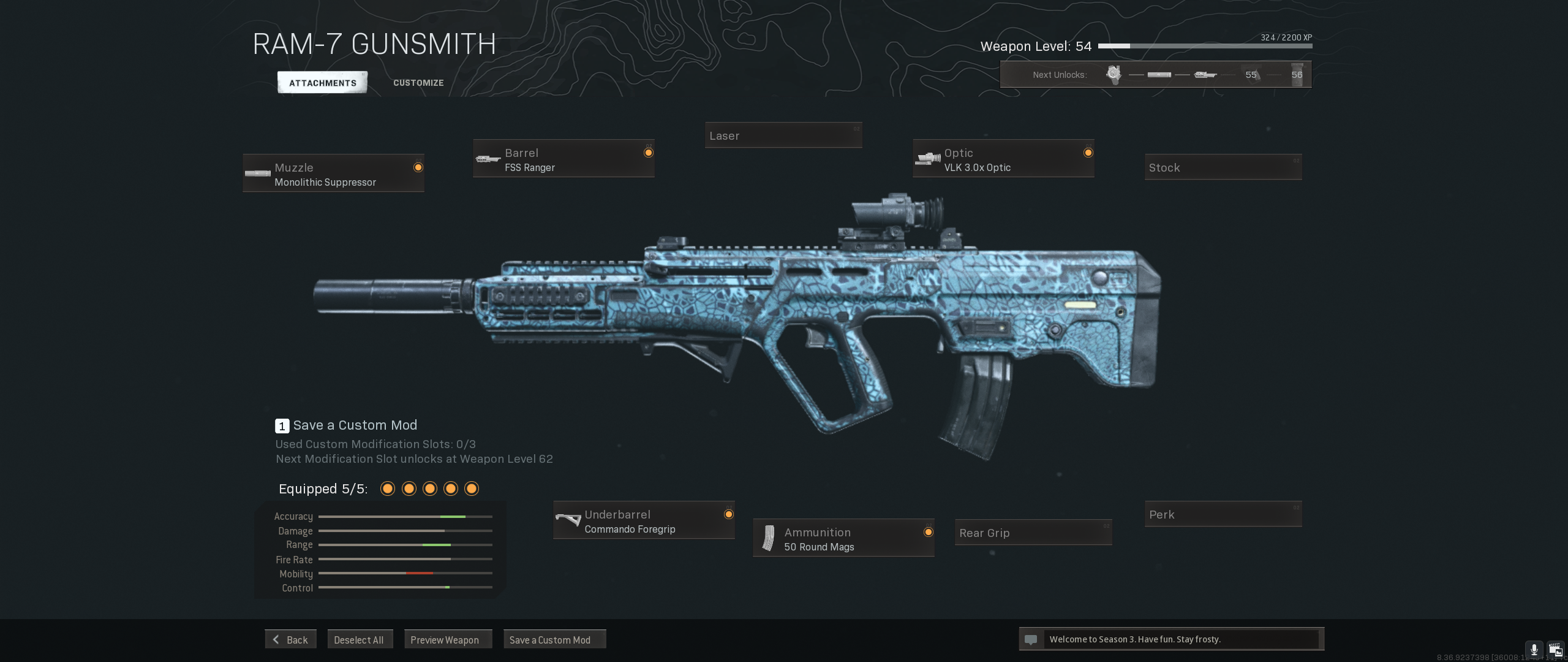 Best attachments:
Muzzle: Monolithic Suppressor
Barrel: FSS Ranger
Laser: Tac Laser OR Optic: VLK 3.0x
Underbarrel: Commando Foregrip
Ammunition: 50 Round Mags
Krig 6
The Krig, although still an effective tool in Warzone, isn't as beloved as it used to be. It still has some uses, when pitted alongside the right shotgun for Rebirth or marksman rifle in Verdansk, but it just doesn't have the same feeling with the variety of better options to choose from. As a Cold War weapon, it still has so much potential though, best expressed in its 45 headshot damage from up to even 38 meters away.
Best attachments:
Muzzle: Agency Suppressor
Barrel: 19.7″ Ranger
Optic: Royal & Kross 4x OR SUSAT Multizoom
Underbarrel: Field Agent Grip
Ammunition: STANAG 60 Rnd
Light Machine Guns
Stoner 63
LMGs typically aren't the way to go in Verdansk and especially the fast-paced island of Rebirth, but there are some caveats, like the now somewhat meta Stoner 63. These hulky masses slow you down far too much for comfort. However, they tend to make up for it in both damage output and ammunition capacity, which the Stoner proves to be of immense abundance when paired with its 120 round speed magazine, which also makes those pesky reload times a lot less stressful.
Best attachments:
Muzzle: Agency Suppressor
Barrel:  21.8″ Task Force
Optic: Visiontech 2x OR Axial Arms 3x
Underbarrel: Field Agent Grip
Ammunition: 120 Rnd Speed Mag
PKM
The PKM is yet another weird one that I had a blast testing out. A friend of mine swears by it, utilizing the Double Time perk to offset the issues with the gun's extreme weight. It has slowly grown in popularity, despite being an LMG, and my friend even uses it most in Rebirth, so it's not a bad choice if you think having more ammo is better than the downside of limited mobility. Pair this nicely with either a marksman rifle, like the Kar, or an SMG for the best loadout optimization.

Best attachments:
Muzzle: Monolithic Suppressor
Barrel: 26.9″ Extended Barrel
Optic: VLK 3.0x
Underbarrel: Snatch Grip
Rear Grip: Strippled Grip Tape OR Laser: Tac Laser
Burst, Semi-Auto & Long-Range Rifles
Kar98k
This bolt action marksman rifle remains, hands down, the best sniper in the game – so long as you pick complementary additions to make it lethal. Pick off enemies from the rooftops and from a great distance, downing foes with a well-placed bullet to the dome, but don't get too greedy, or you may find yourself in the sniper scope glare of an enemy's own Kar. One could easily down you or break your entire armor set, given its 250 headshot damage output at any range.

Best attachments:
Muzzle: Monolithic Suppressor
Barrel: Singuard Custom 27.6″
Optic: Sniper Scope OR Variable Zoom Scope
Laser: Tac Laser OR Perk: Focus
Stock: FTAC Sport Comb OR STVOL Precision Comb
HDR
Although a bit heavy and certainly not the best choice for Rebirth, the HDR is saddled up next to the Kar as the second most effective long-range beast in the game. It hits like an utter brick, just like the Kar, with a 250 headshot damage output at any given meter range, along with 112 and 91 damage to the chest/stomach and extremities, respectively, at less than 100 meters. Don't forget about the newest immersive inclusion of sniper flinch, as it does add a whole new level to long-range bouts.
Best attachments:
Muzzle: Monolithic Suppressor
Barrel: 26.9″ HDR Pro
Laser: Tac Laser OR Optic: Variable Scope Zoom
Stock: FTAC Stalker-Scout
Perk: FMJ OR Ammunition: 9 Rnd Mags
M16
The M16 is one of the most versatile of the tac rifles, offering itself up as both a powerful burst assault and, if set up correctly, even a well-rounded sniper. You could match this up with a good SMG in Verdansk or a shotgun if you're dropping into the sun-streaked streets of Rebirth island. The 72 headshot damage output from as far as 80 meters away is what makes the M16 a reckoning to fear, made especially more dangerous with the 60 round fast mag attachment.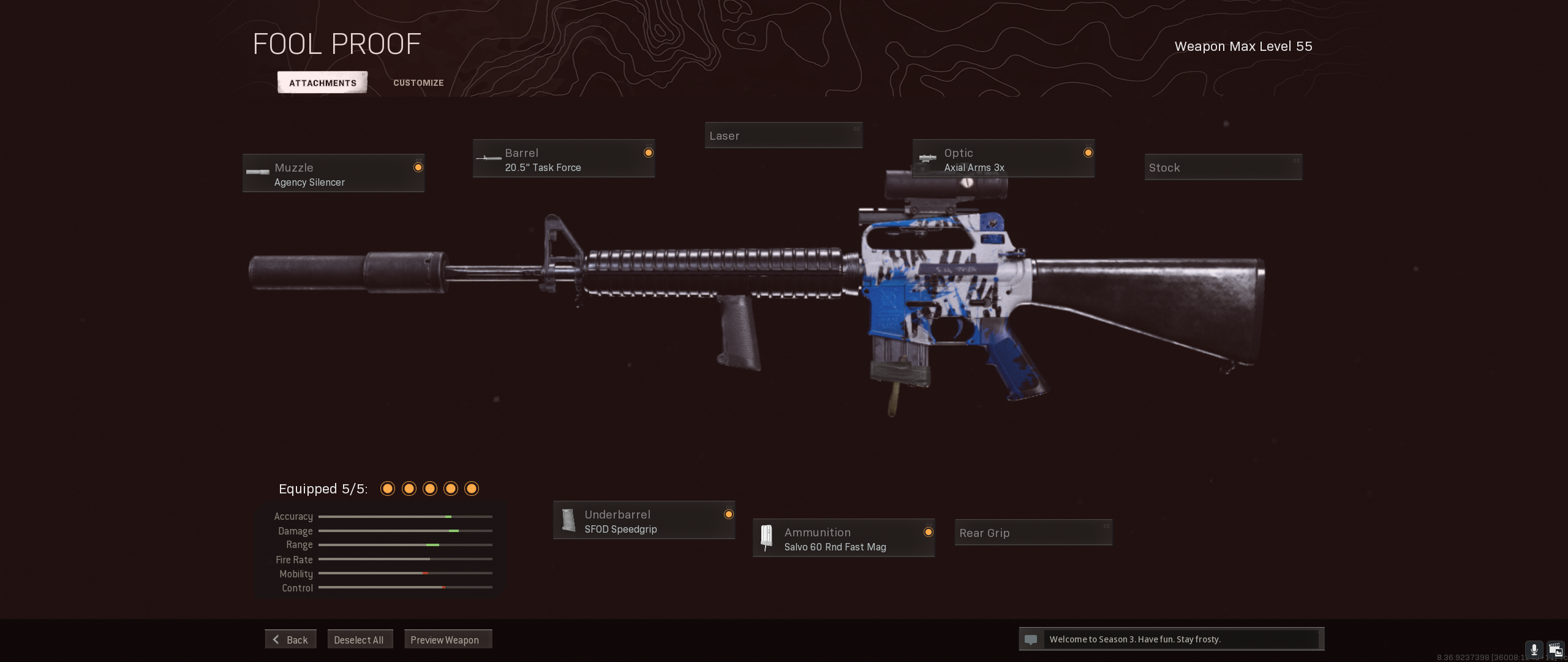 Best attachments:
Muzzle: Agency Silencer
Barrel: 20.5″ Task Force OR 16.3″ Titanium
Optic: Axial Arms 3x
Underbarrel: SFOD Speedgrip
Ammunition: Salvo 60 Rnd Fast Mag OR 45 Rnd Mag
CARV.2
As a Cold War weapon, the most recently added CARV.2 rifle packs a serious punch, but it isn't exactly easy to come by in the first place. To unlock it, players will have to first kill two or more players with a tac rifle in a total of 10 different matches, which could take quite a while if you're not playing multiplayer. The CARV does a whopping 61 headshot damage at 31 meters or less and has a 308ms ADS speed, which is something special when paired with its 514rpm rate of fire. A veritable monster would be an understatement when describing this tactical rifle.
Best attachments:
Muzzle: Agency Silencer
Barrel: 20.8″ Strike Team OR 16.3″ Rapid Fire
Optic: Axial Arms 3x OR Millstop Reflex
Underbarrel: Field Agent Foregrip
Ammunition: 45 Rnd Speed Mag
Submachine Guns
LC-10
The LC-10 has gradually gained in popularity over the past several months since its debut, reaping the most benefits for users in Resurgence mode, despite being dropped down a peg with the growing Bullfrog meta, but it does still have its uses in regular Warzone. Although it has slightly lower damage outputs for anywhere on the body besides the 48 point headshot, the LC-10 makes up for this with a 790rpm rate of fire alongside a swift 4.82 m/s movement speed and 2.2 second reload time.
Best attachments:
Muzzle: Sound Suppressor
Barrel: 13.9″ Task Force
Stock: Raider Stock OR SAS Combat Stock
Rear Grip: 

Airborne Elastic Wrap OR Field Agent Grip

Ammunition: STANAG 55 Rnd OR Salvo 52 Rnd Fast Mag
Bullfrog
Like the LC-10, the Bullfrog has terrific accuracy, which can be made even more prevalent with the right combination of attachments. This submachine gun also has a bit better damage output stats when compared with the former, not to mention a 50 round mag, which can be boosted up to 65 with the ammunition upgrade attachment. The Bullfrog is best paired with a long-range sniper or marksman rifle, unless you want to go the LMG route.

Best attachments:
Muzzle: GRU Suppressor
Barrel: 7.4″ Task Force
Optic: Millstop Reflex
Stock: KGB Skeletal Stock OR Rear Grip: Serpent Wrap
Ammunition: 65 Rnd
MP5 (Cold War)
Maybe aiming down sights isn't all that important to you? Enter the Cold War MP5, a viable weapon for fast-paced action and dropping enemies on a dime. This is another multiplayer-specific gun that still translates well into both battle royale modes, but it is only slightly hampered by its damage range. Tack on the 9.5″ Task Force barrel to dramatically boost its medium-range effectiveness.
Best attachments:
Muzzle: Agency Suppressor
Barrel: 9.5″ Task Force OR
Stock: Raider Stock OR No Stock
Underbarrel: Field Agent Grip Laser: SWAT 5mW Laser Sight
Ammunition: STANAG 50 Rnd Drum
Shotguns
Gallo SA12
Shotguns, much akin to the many LMGs in the game, just don't have a home in battle royale, unfortunately. The two most useful tools from this shed would have to be the Gallo and the Streetsweeper, both of which offer some superior forms of close-range action. The Gallo is honestly a really fine loot box pickup in the early stages of Rebirth or even Verdansk, best used for rushing targets hiding inside of buildings. If you do add this to your loadout, make sure to pair it with some medium to long-range rifle, like the M16 or Krig.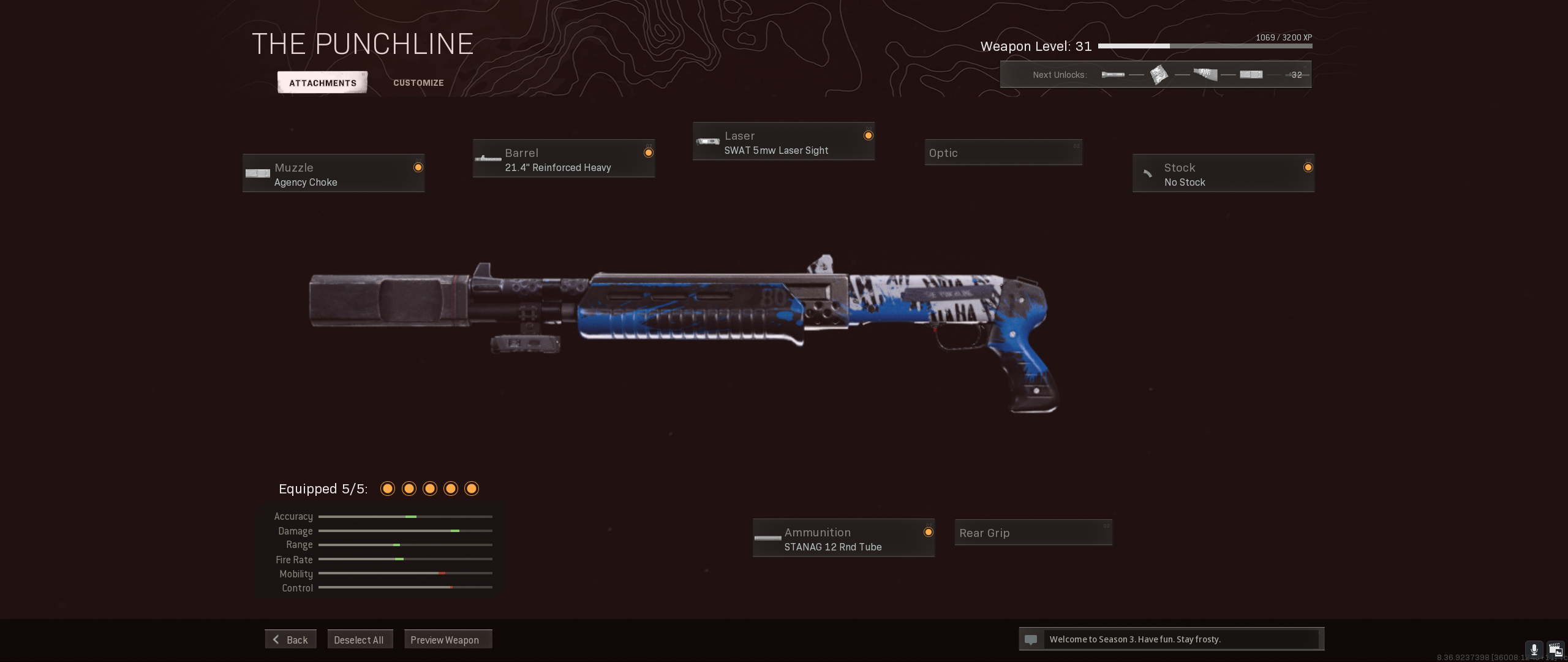 Best attachments:
Muzzle: Agency Choke
Barrel: 21.4″ Reinforced Heavy
Laser: Ember Sighting Point OR SWAT 5mW Laser Sight
Stock: No Stock OR Duster Stock
Ammunition: STANAG 12 Rnd Tube
Streetsweeper
Introduced in December, the Streetsweeper has (no pun intended) swept the Warzone world by storm, leaving such a menacing early-game mark that it had to be removed from loot boxes. Combined with the DMR 14, this fully automatic shotgun makes for one annoying build to deal with in Verdansk. It definitely isn't an ideal weapon of choice, but is still viable in the first few circles of the game and will easily drop foes in two quick shots in close proximity.
Best attachments:
Muzzle: Agency Choke
Barrel: 13″ Reinforced Heavy OR 13.3″ Hammer Forged
Laser: Ember Sighting Point OR SWAT 5mW Laser Sight
Stock: No Stock
Ammunition: STANAG 18 Rnd
Melee
Kali Sticks
The dreaded metal batons of death. These bad boys are a serious pain in the buttocks, dropping players in only a mere two hits. First introduced last year in Season 4 of Modern Warfare, the Kali Sticks as Reddit user Arheal relates in his extensive guide on the melee weapon, are an assassin's best friend, utilized most effectively by sliding into an opponent and jumping before attacking. Players will see the Kali Sticks most in Rebirth saddled up nicely alongside either a hard-hitting sniper or, even worse, the far more dreaded Riot Shield.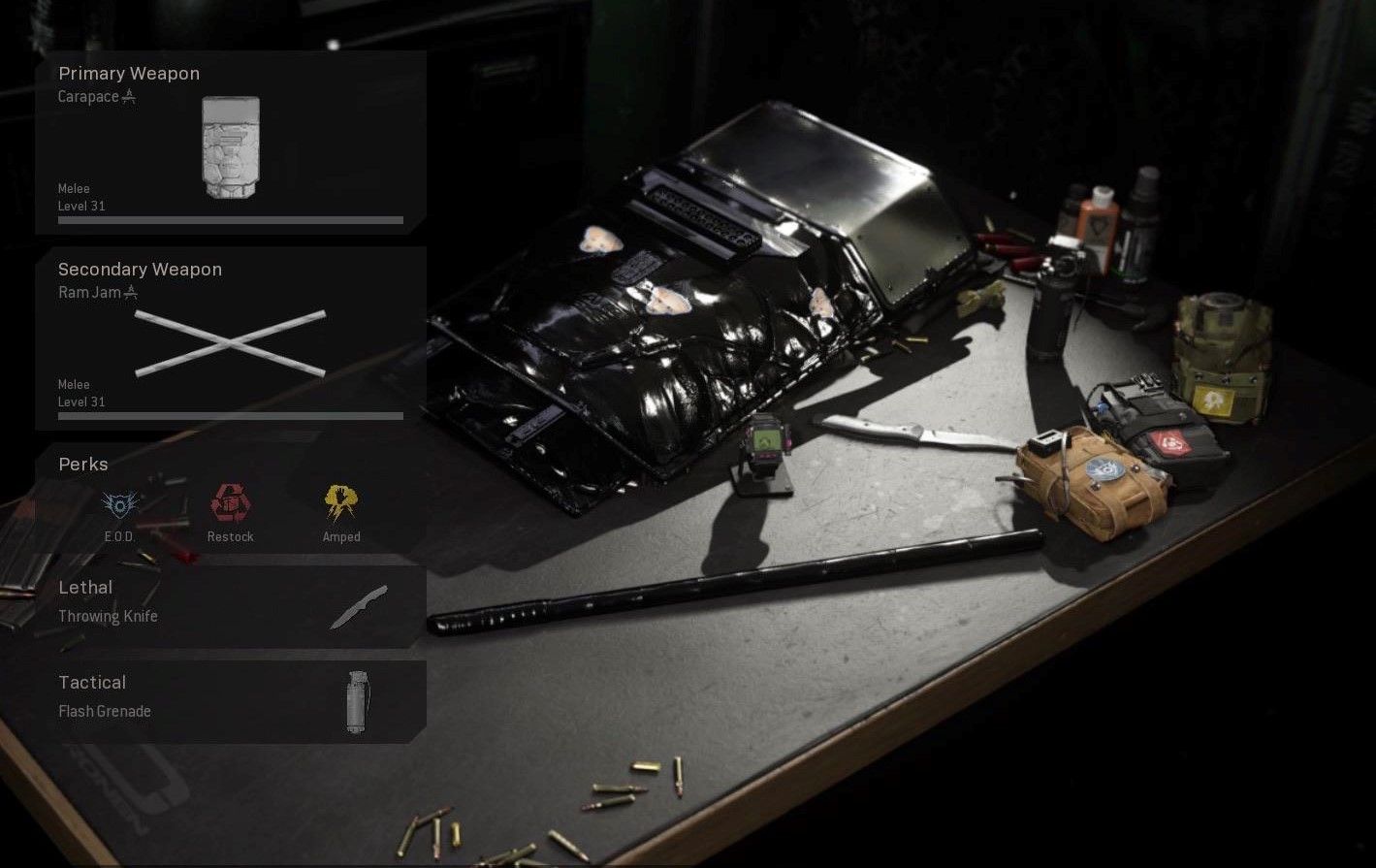 Riot Shield
Please don't run a riot shield. It honestly makes you look like either a scared noob or a massive troll. Although a bane to most players on the battlefield, it does have its uses in specific situations. You can apply the riot shield to your loadout simply for use as a protective shield on your back in Verdansk, so as to mitigate being sniped from great distances, or as a form of cover for friends in Rebirth when pushing objectives.
Source: Read Full Article