The "yellow perks" are the third perk tier in Call of Duty: Warzone and they act as the icing on the cake, often synergizing with one or both of the previous group perk selections. None of them are bad or great on their own, but when complemented with the right guns and skills, they elevate players beyond their experience level.
They can also be an obstacle or an afterthought if not used corrected. With such an important choice at stake, it's wise to learn and research each selection and even practice with each one a little bit before settling in. This practice will also help give inside information about other players, so you can learn how to exploit each of these group 3 perks perfectly.
6

Tune Up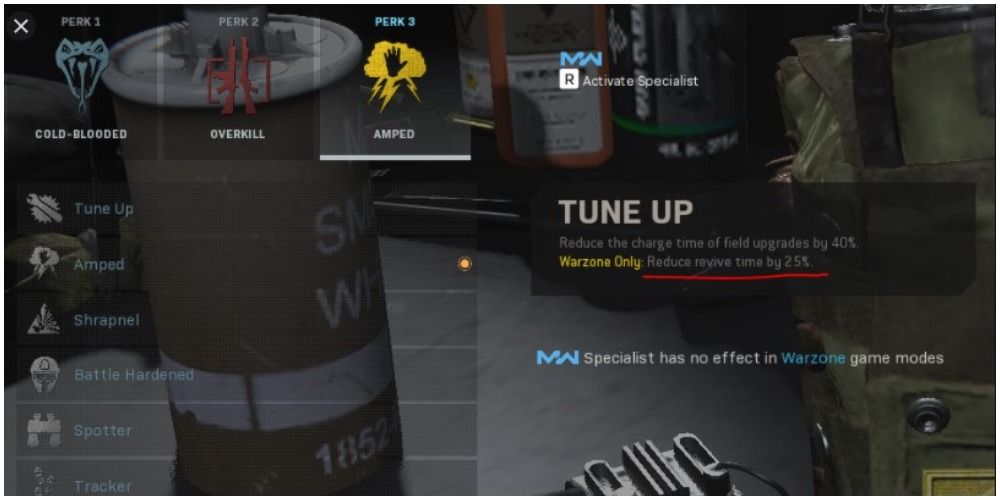 Available at level 1.
Increases the rate at which field upgrades are accumulated by 40%.
In Warzone: Reduces revive time by 25%.
5

Amped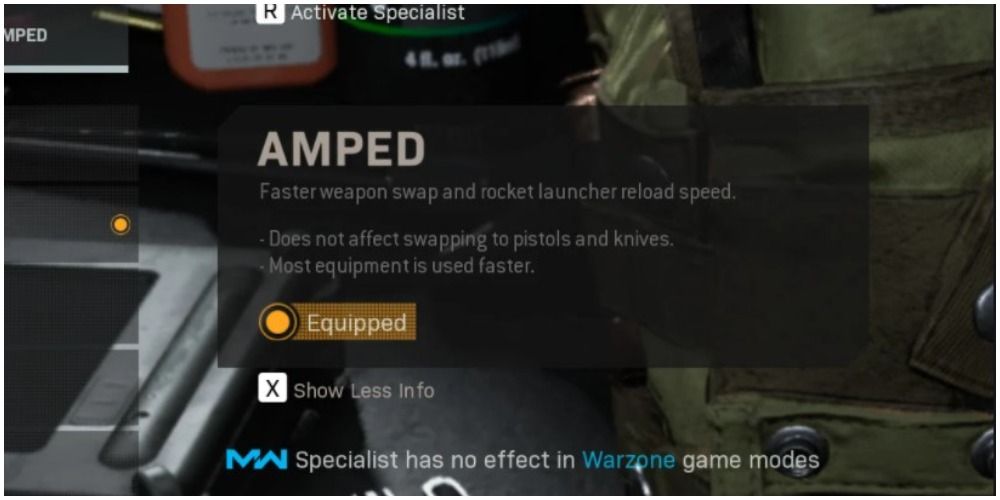 Available at level 1.
Improves time swapping between weapons.
Reloads rocket launches faster.
Equipment is used faster.
As an exception, pistols and knives are swapped to at the normal rate.
4

Shrapnel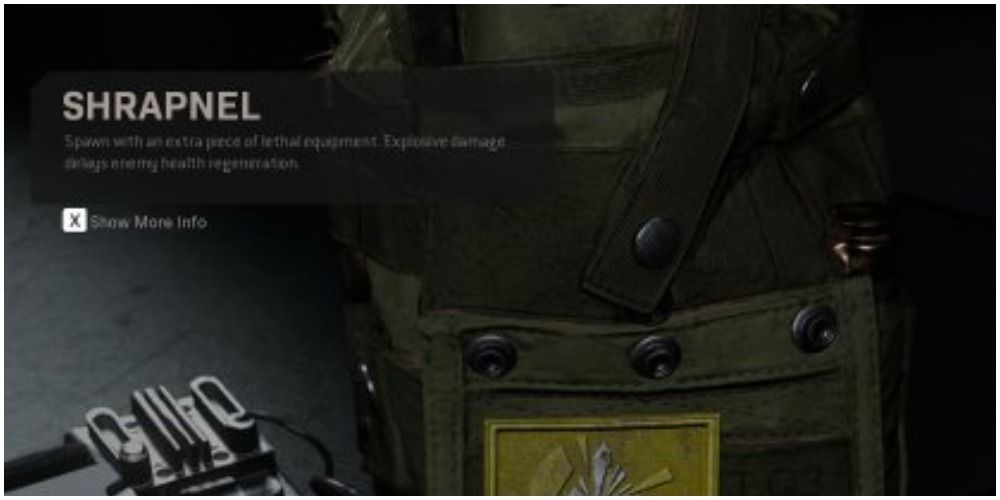 Available at level 13.
Start off with an extra piece of lethal equipment.
Call of Duty: Warzone counts the following items as lethal: Claymore, Frag Grenade, Molotov Cocktail, C4, Sextex, Throwing Knife, Proximity Mine, Thermite, and Flaming Throwing Knife.
Explosive damage done to enemies delays their health regeneration by three seconds.
3

Battle Hardened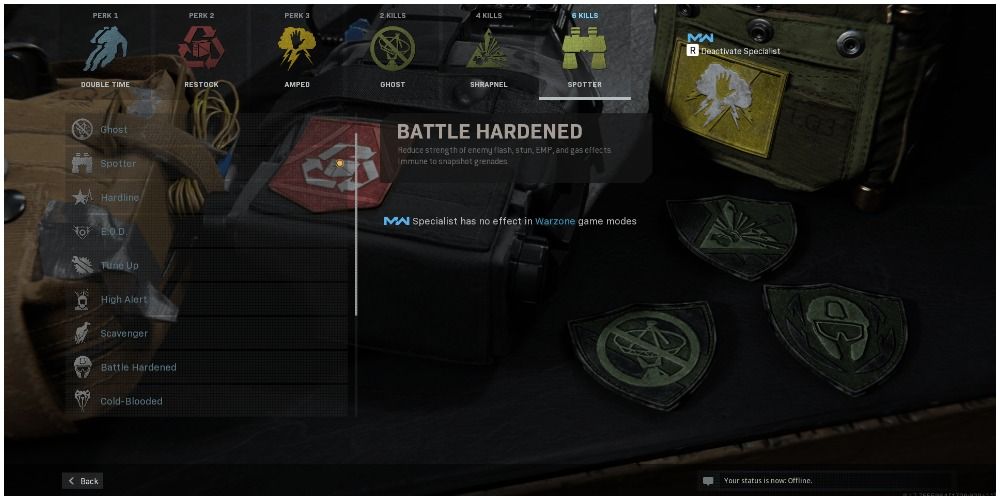 Available at level 26.
Grants immunity from Snapshot Grenades.
Reduces the effectiveness of Flash Grenades, stun effects, EMPs, and toxic gases.
This ability was recently upgraded, taking the Snapshot Grenade immunity away from the Ghost Perk and the resistance to gas was added in as well.
2

Spotter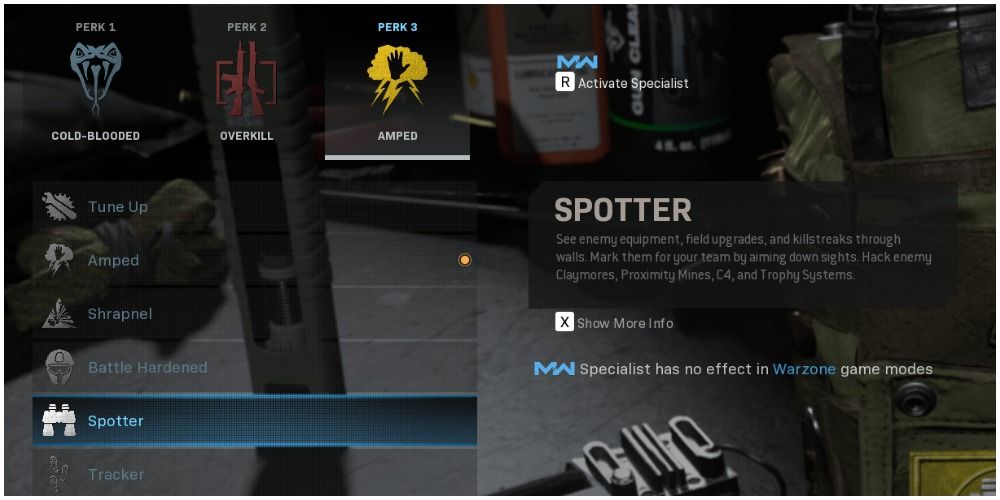 Available at level 38.
Grants you the ability to see certain items behind walls, namely equipment, field upgrades, and killstreak rewards.
You can then mark these items for your team by aiming at them through your scope.
Gives players the ability to hack Claymores, Proximity Mines, and C4 devices and reverse their friend-or-foe technology, converting them to your side.
Also allows the takeover of enemy Trophy Systems.
1

Tracker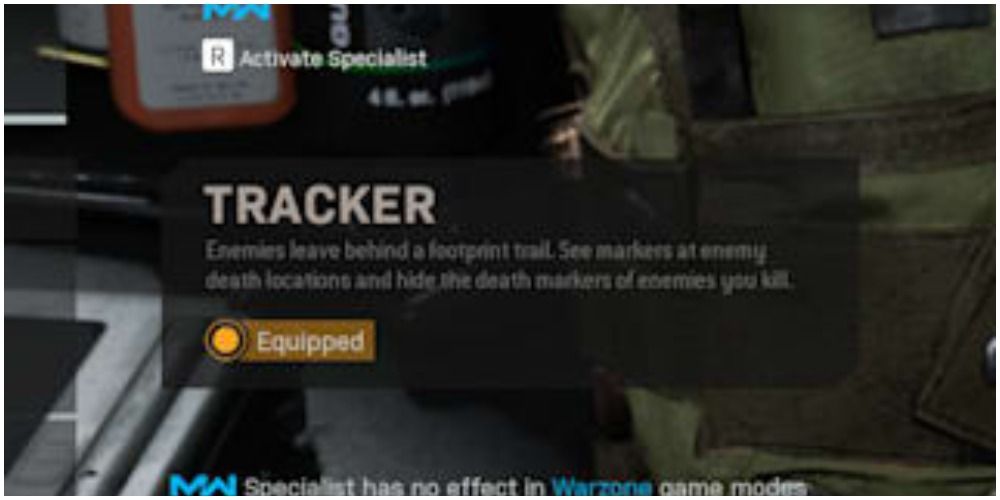 Available at level 51.
Enemy footprints are visible and marked by an orange glow.
Reveals enemy death locations, allowing you to either get closer to or further away from the action.
Hides the markers for enemies that you kill from all enemies.
Hopefully, this is indeed the cherry on top of your sundae. For so many players, the perk 3 group is what makes or breaks a team and, with so many great choices, it's good for each squad to coordinate and have each member grab a different one. The pros always make sure to have a Spotter and Tracker on the team, then let the other players play to their strengths. If you make the right choice here, you'll be your squad's favorite player in no time.
NEXT: Warzone: 10 Unique Strategies That You Should Try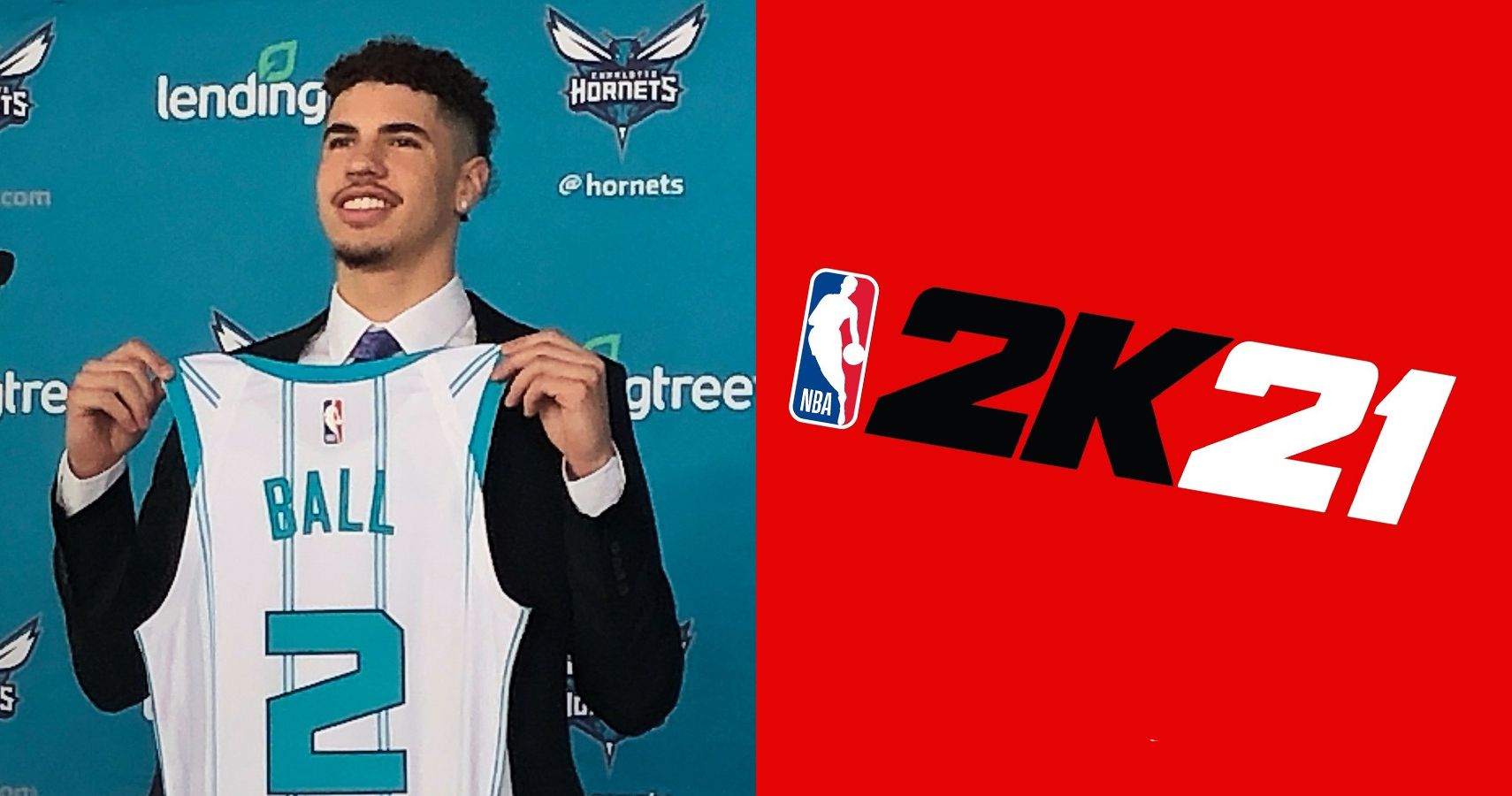 Guides
Call of Duty: Warzone
Hodey Johns is a writer for Game Rant based out of the Rocky Mountains in North Ogden, Utah. He's had a passion for video games and literature since he was a child growing up along the beach in San Diego, California. As a graduate of Theology from Liberty University, he puts his experience with religion, philosophy, and debate into his work. His other interests include sports, bike riding, and good old-fashioned barbecue.
Source: Read Full Article