Warhammer's answer to American football is debuting its third wave next year in Blood Bowl 3. The fantasy sports game will arrive on current-gen and next-gen consoles, but until then, the Games Made in France event showcased new screenshots from the game, along with fresh gameplay details.
Blood Bowl first surfaced in 1986 as a collaboration between British miniature wargames manufacturer Games Workshop and its long-time strategy manager and designer Jervis Johnson. The game is set in an alternate reality to the fantasy Warhammer setting, whilst retaining its archetypal creatures, such as goblins, elves, orcs and trolls. What started out as a board game expanded into video games in 1995 for the MS-DOS, which then progressed with developer Cyanide Studios from 2004.
Related: Snotlings Hit The Field In New Blood Bowl Releases
As part of Paris Games Week this year – which sadly had to be taken online – new screenshots and gameplay information from Blood Bowl 3 was shared during its Games Made in France event. A good handful of screenshots revealed a better look at the arena with the team's bands playing fanfare, as well as a closer look at Skavens, orcs, and their respected teams. Project lead Gautier Bresard and game designer Basile Bastian had already revealed the 12 teams that would be available at launch, including Dark Elf, Skaven, and Chaos Chosen. However, four more teams were added, including the Black Orcs, the Imperial Nobility, the Old World Alliance, and the Chaos Renegades.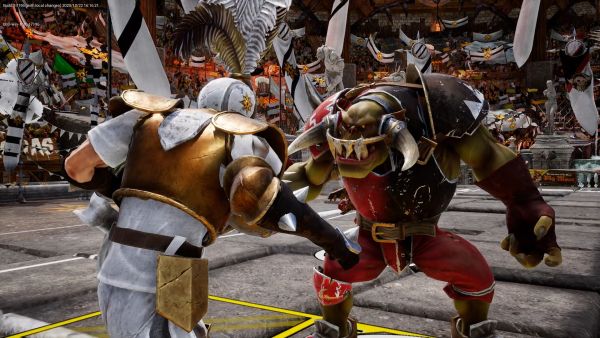 Staying faithful to the board game, Blood Bowl 3 will use Special Play Cards used to add temporary skills to units pre-match, in order to take down opponents. Cyanide Studios has also added a campaign mode, which will feature different characters who will challenge players at the beginning of a game. Blood Bowl 3 will also have more customization options, allowing you to change colors, logos, armor and more. Finally, more content, competitions and updates will be delivered post-launch, as Cyanide continues to make Blood Bowl 3 user-friendly for new players as well as veterans.
Blood Bowl 3 was due to arrive this year – alongside the release of its updated tabletop variant Blood Bowl: Second Season Edition – however it was delayed until 2021, revealed in its Gamescon 2020 trailer back in August.
Source: Read Full Article