Quick Links
Best SFAR-M GL Attachments In Battlefield 2042
The SFAR isn't the most popular gun in Battlefield 2042, and that's a bit of a shame. We're not sure if it's what you count as a 'hidden gem', but there are definitely ways to get some game time out of this heavy-hitting assault rifle.
This attachment guide covers what we believe is the best loadout for the SFAR. It really focuses on medium to longer range engagements, because unfortunately, you'll find yourself outgunned at most ranges when you're using it. Here's the loadout rundown.
Best SFAR-M GL Attachments In Battlefield 2042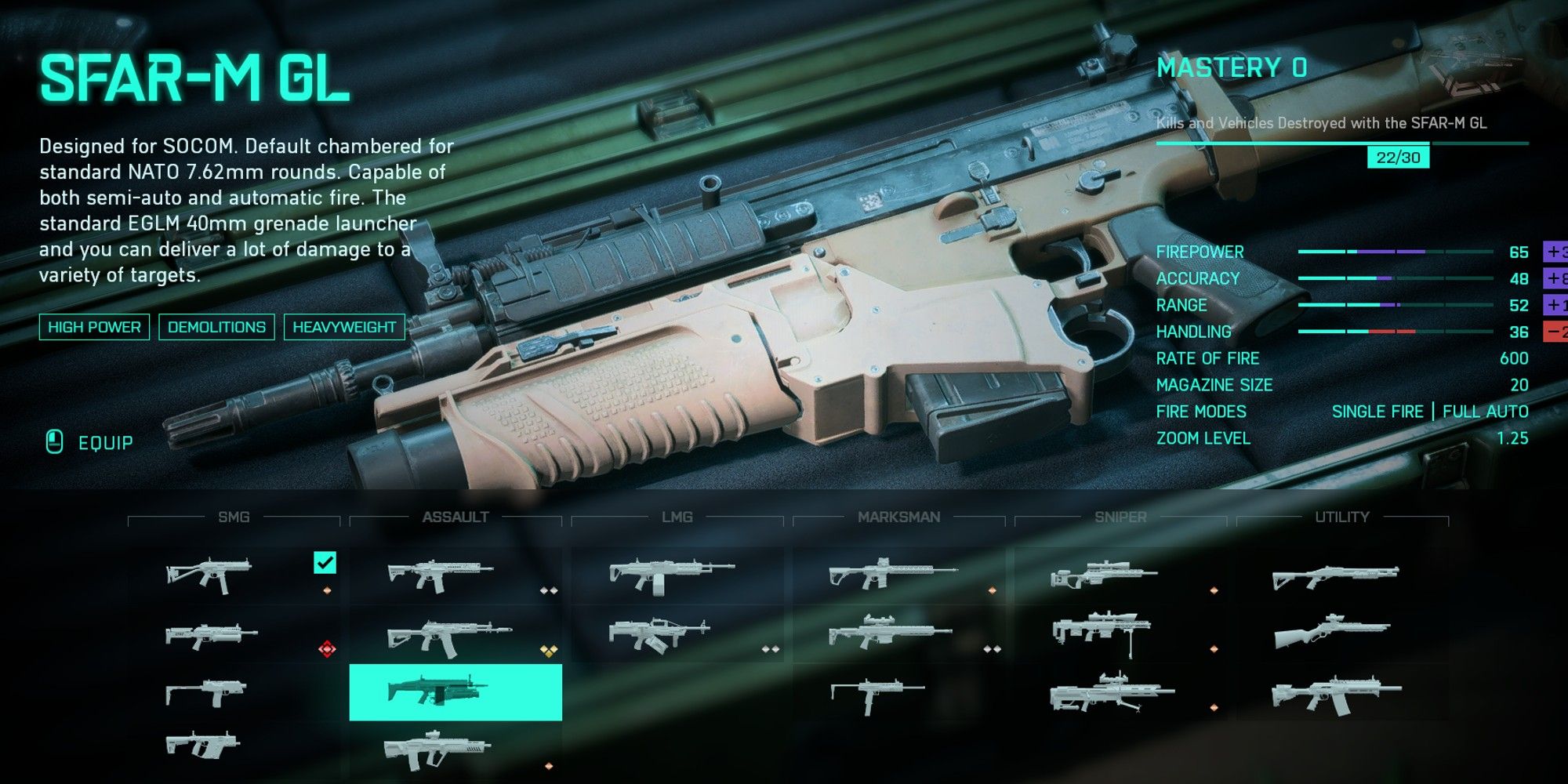 This attachment loadout hones in on what the SFAR does best: hitting hard. Its fire rate isn't the best and its hip fire is pretty poor, which means you want to maintain a medium-range distance if possible. Here's a closer look at the preferred attachments.
Sight – Fusion Holo. That's it. That's the guide. This comes down to personal preference, but the clean sight of the Holo is just spot on for this gun's range and damage output.
Ammo – High Power. Even slower fire rate, but we're not working with the gun's disadvantages, but rather going with them. This slower fire rate equals a lot more damage, which is what you want from this gun.
Barrel – Warhawk Compensator or even the Extended Barrel – either are fine. Take the Comp if you need something to control that recoil, go for the Ext Barrel if you've learned how to master the SFAR and want some extra range.
Underbarrel – This is a stock standard on the SFAR, a Grenade Launcher. You can mix and match with smoke and other grenades, but stick to the regular frag and you can pick up some easy kills with it.
The SFAR is a tricky gun to get used to, but with these attachments and a bit of practice, you'll find yourself putting out some heavy, slow-hitting damage that melts enemy players.
Check out some of our other attachment guides below:
Best AK-24 Attachments
Best M5 Attachments
Best DM7 Attachments
Source: Read Full Article