You've probably seen loads of videos of car meet-ups in GTA Online. A bunch of virtual gear heads get together in a dark parking lot to show off their suped-up tuners and tricked-out exotics. Well, have you ever seen one with Mario Kart-style go karts? What about one with an airshow? How about both combined? Well, that's the kind of meet-up iOSGamer's crew, We Da Best Events, hosts.
"Everything has to be minutely, obsessively planned ahead of time," iOS tells me. Once he gets an idea for an event in his head, he'll go and scout out locations, take pictures, and even puts together a PowerPoint with a timetable. The lobby size in GTA Online is capped at 30, and iOS tells me his events hit that with ease, so planning is essential.
In the video shared on Reddit, we see players dressed up as Mario, Luigi, and Waluigi – basically colourful shirts under overalls – around semi-circles of bright go karts as planes fly in formation and streak smoke across the sunset beach sky. Armed guards keep an eye on proceedings to keep everyone safe, and then off to the races we go!
"I played Mario Kart Wii as a child, one of my favorite tracks is Daisy Circuit," iOS explains. "I worked backwards and I was like, 'I want to imagine what it's like to have Mario Kart in GTA.' I put tidbits of different spots that would really fit in with the Mario Kart theme. You've got the playground, the sunset, the beach – Daisy Circuit's all about the beach."
But how did these events become so big? iOS started hosting events last year during Covid lockdowns, "because why not?" He'd spent time filming airshow crew Black Sabres Display Team's flights, so for his first event, a Springbreakers-themed birthday party for himself, he got them to provide the aerial entertainment. Protection roleplayers QSEC Security donned fluorescent bikinis and balaclavas and made sure no griefers disrupted the festivities. "It's all different kinds of categories – I even had a GTA wedding."
Although the groups involved enjoy roleplaying, they don't play on the GTA RP servers. Instead, it's all done on standard public servers, hence the need for QSEC. Everyone also plays on Xbox One, which can lead to some technical difficulties. "There's a lot of training involved to fly in formation, especially in a very laggy session," iOS says. "You got 29 players, it's gonna be very laggy – we're all playing on old gen."
Still, despite some lag, the events are a success. I used to DJ at uni, and getting 30 people to agree to meet up at a specific place and time is harder to do than it sounds, especially if you have to coordinate three different groups, likely split across time zones.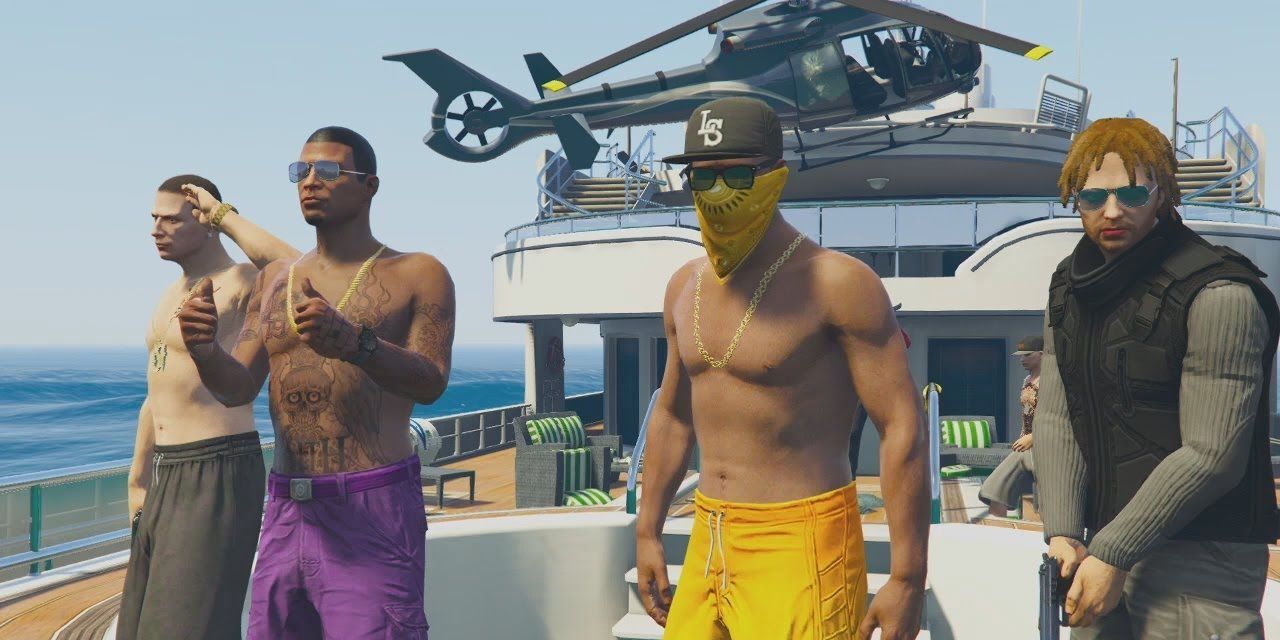 Communities like We Da Best Events are a huge part of the reason GTA Online has gone on for as long as it has. Despite only starting to play last year, iOS's passion shows just how creative you can be in a game that was designed around heists and murder. You can check out more of iOSGamer's events and videos here.
Source: Read Full Article