Quick Links
Crafting Resource Overview
Every Location And What Materials They Have
In Bear and Breakfast, you might spend a lot of your downtime collecting materials. They are scattered throughout each map in access and are crucial for keeping your resorts bustling and for advancing in the storyline. There are over 18 types of crafting resources you will need to build the ultimate forest resort from the ground up.
We will list every resource there is in the game and how to obtain them. The maps can be quite huge, so it's important to know which region has what materials and what to even use these crafting resources for. Crafting resources that you loot from the floor will respawn every day or two, so you will never run out. If you can't find any more materials, simply wait and sleep until the next day.
Crafting Resource Overview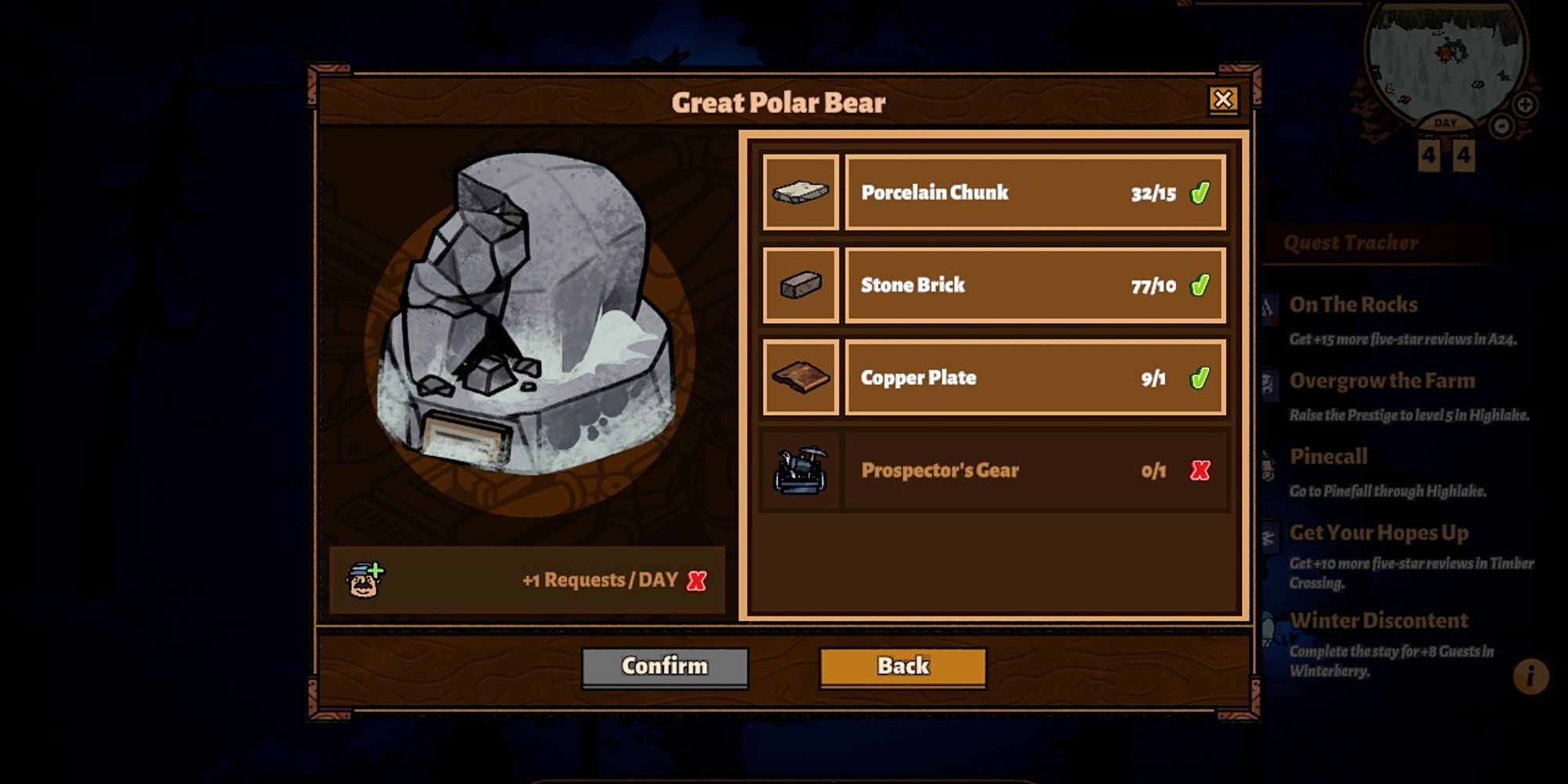 You will need your crafting resources to repair sculptures, resorts, and bus stations. You will also need them to craft furniture and repair monuments. You'll find broken-down sculptures and monuments on each map. When repairing them, they will offer bonuses' to the nearby resort, such as an increase in Requests. Aside from crafting materials, you'll also need Prospector's Gear or Logger's Tools to repair these sculptures.
New resorts require renovation. After speaking to Fin the blue shark and cleaning up a new resort, you'll be asked to gather crafting resources to rebuild. The entire map of Bear and Breakfast is quite large, and it can be hard to walk everywhere on foot. Bus stations act as fast travel destinations once you repair them in each location.
Last but not least, you'll need to craft furniture for resorts. You may be able to buy decorations from Took, but actual usable furniture must be crafted at the crafting table and in build mode. This is probably how most of your resources will get used up. You'll need to craft a lot of beds, sinks, etc… per resort. Not including redecorating, resort building and restoration will be your main need for crafting supplies.
Most crafting resources are found in piles on the ground around the map, but every time you find a new resort, you will have fresh materials to clean out of the buildings as well.
Types Of Wood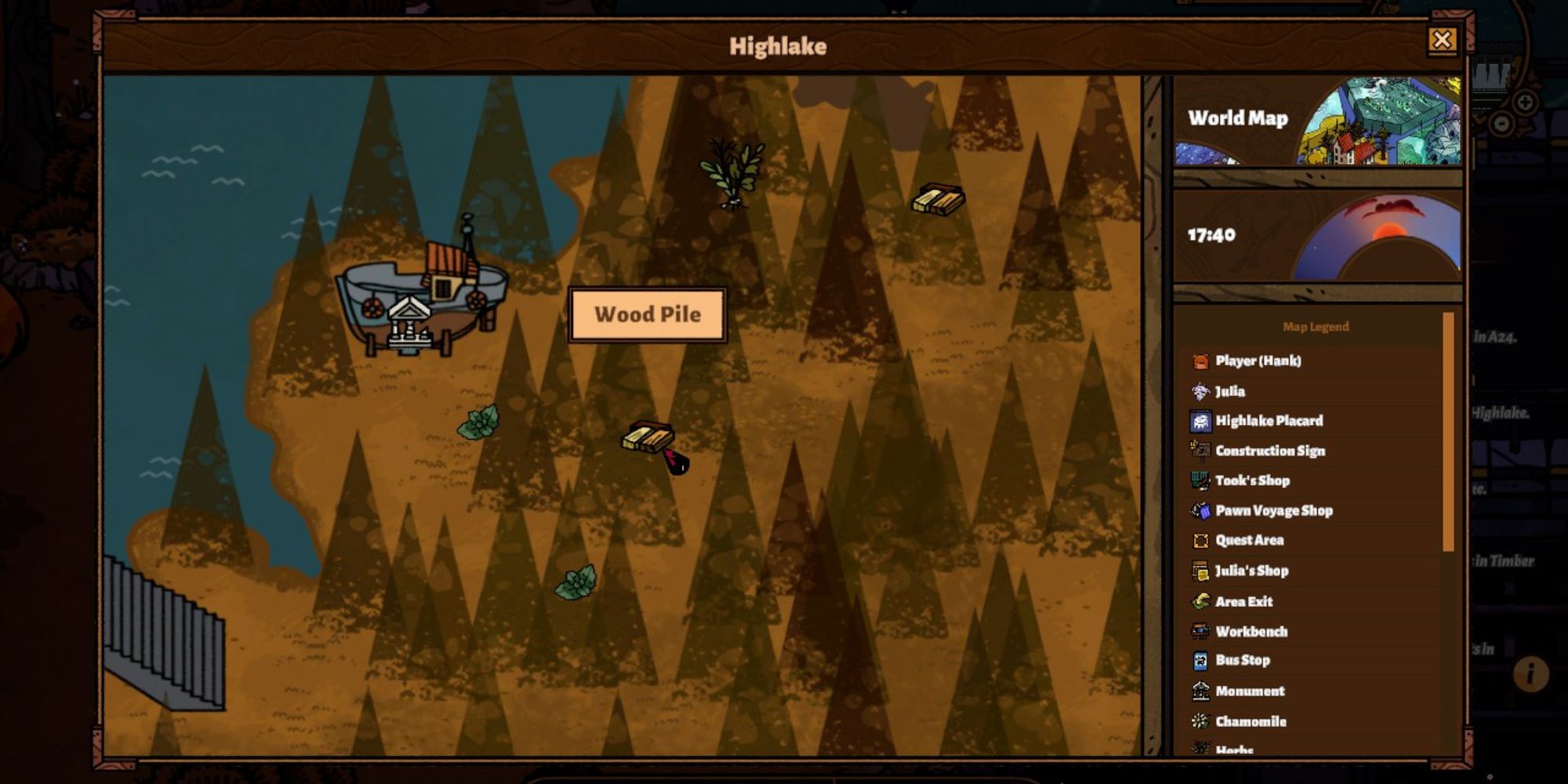 After The Thicket and Blackmoss, you'll find yourself in Timber Crossing as your first resort destination. On the outer edges of the map, there will be a few wood piles, but not enough for the tasks at hand. The second location you visit in Bear and Breakfast is Sawdust. As the name suggests, Sawdust will have most of your wood plank needs.
Other areas will have wood piles, but Sawdust will be your main source. Wood piles will be of different colors. This will indicate what type of wood it has. Light-colored wood is Plywood, a darker beige is Pinewood, and a red color to the pile means it has Mahogany wood.
| Wood Pile Type | What And Where |
| --- | --- |
| | |
| | Plywood Plank, Pinewood Plank |
| | Plywood Plank, Pinewood Plank, Mahogany Plank |
Types Of Scrap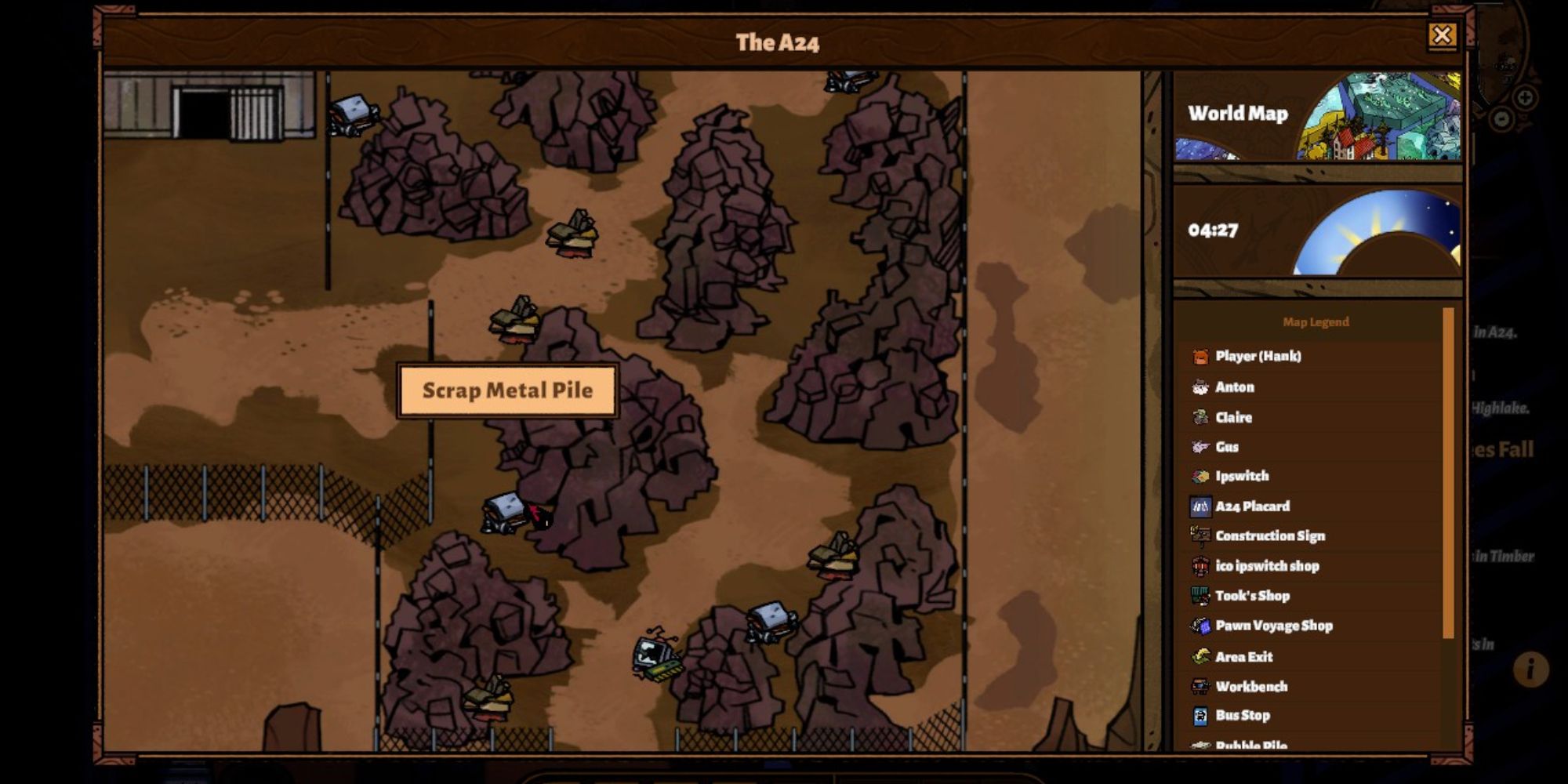 Metals are another important material in the game. You'll find most of your metal within The A24. There is a scrap metal junkyard on the right end of the map. After starting the Find The Rat quest and saving Wade, you'll have free access to the scrapyard.
This quest pops up automatically as a story mission once you've successfully turned Timber Crossing into an inhabitable resort and are able to move on to the next area, The A24. In a cutscene, Hank will go to sleep in his bed, and a small mouse named Anton will walk into the room and initiate the quest.
The scrapyard respawns at a slower rate than everything else because these materials are precious. There are tons of piles of scrap in it, and unlike wood piles, you won't be able to tell what's inside just by looking at the type of pile. The scrapyard will contain various metals, but also things like Glass and Plastic Boards.
All around the top edge of The A24 is where you'll find most of your stone piles or rubble piles as well.
Scrap Type
Locations
Iron Nail

The A24
Beachside
Pinefall

Iron Plate

The A24
Beachside
Pinefall

Glass Panel

The A24
Beachside
Pinefall

Steel Screw

The A24
Beachside
Pinefall

Steel Plate

The A24
Beachside
Pinefall

Copper Plate

The A24
Beachside
Pinefall

Electronics

The A24
Beachside
Pinefall
Stone Type
Locations
Stone Brick

The A24
Highlake
Whitestone Bay
Pinefall

Porcelain Chunk

The A24
Highlake
Whitestone Bay
Pinefall
Extra Materials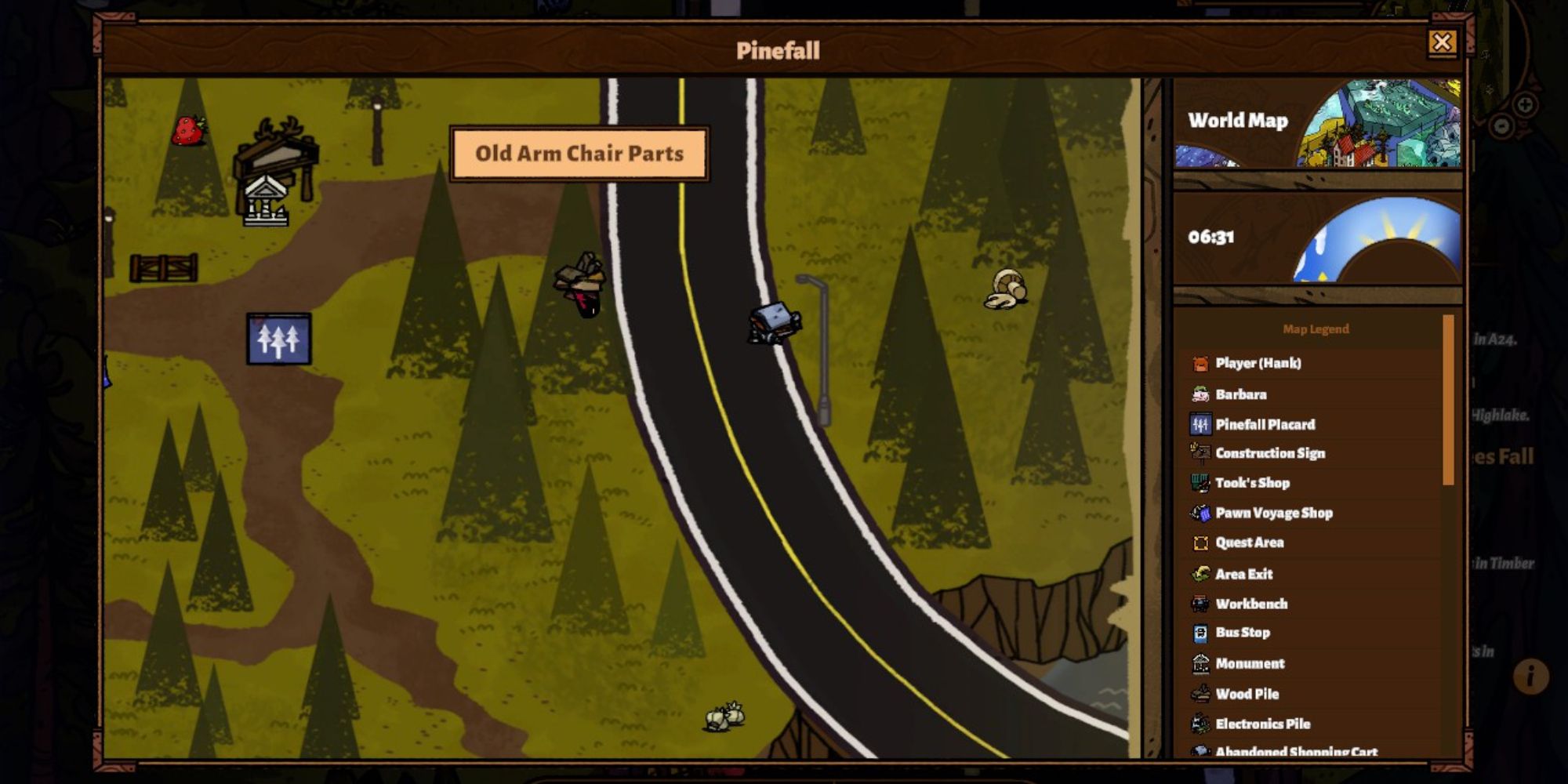 Destroyed furniture is often found inside soon-to-be resorts that you discover. They can also be found in general around the map when you discover a new map. Old furniture, like couches and armchairs, will have your sheets and cloth material.
Old furniture does not respawn like wood piles or stone piles would.
Material Type
Locations
Synthetic Sheet
Plastic Board

Destroyed furniture
Scrap piles

Silk Sheet
Rubber

Destroyed furniture
Scrap piles
Every Location And What Materials They Have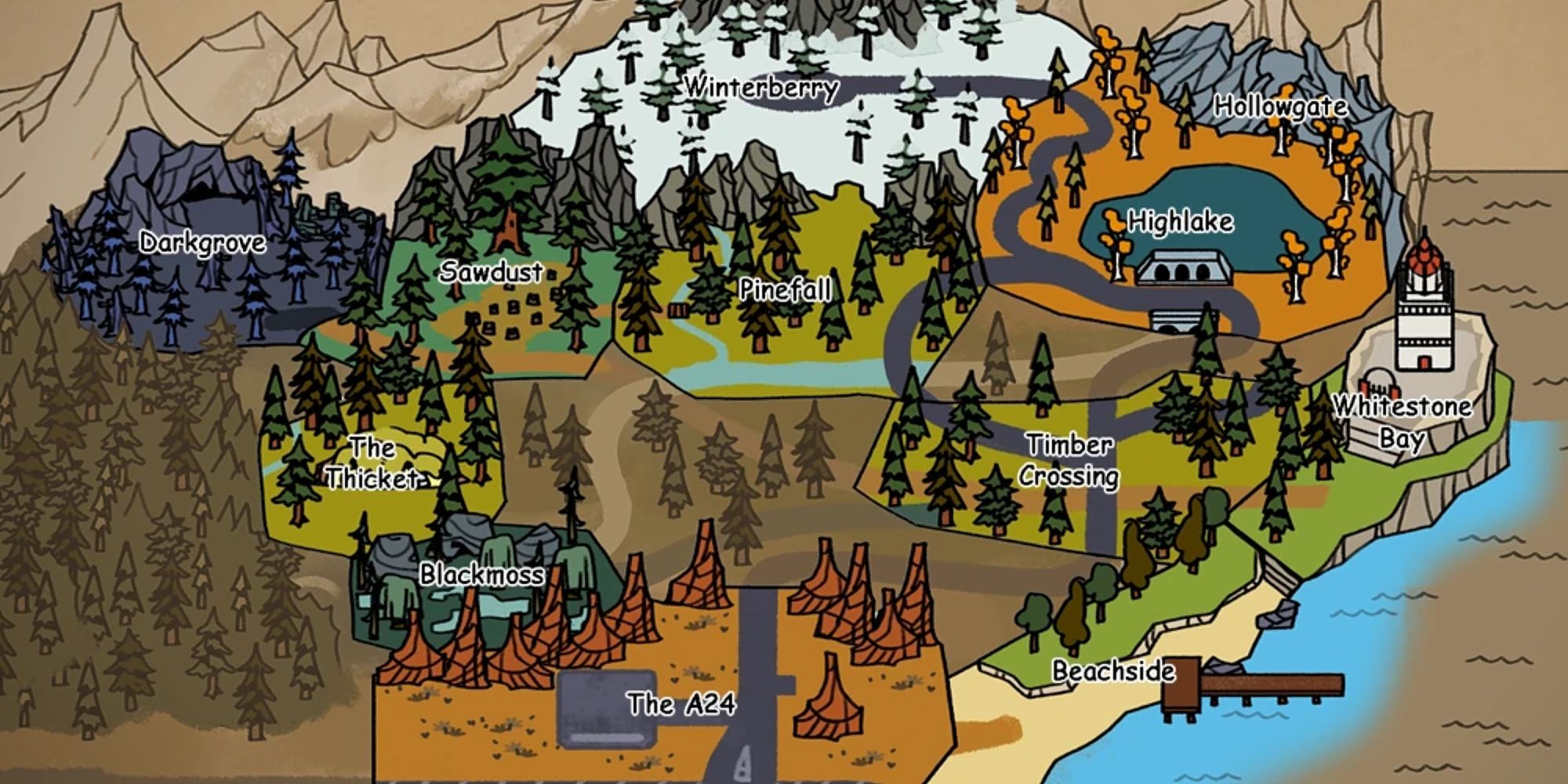 Location
Materials
The Thicket
Blackmoss
Timber Crossing
Sawdust
The A24

Scrap metal piles
Stone piles

Highlake
Darkgrove
Winterberry
Whitestone Bay
Pinefall

Scrap metal piles
Wood piles
Stone piles

Hollowgate
Beachside
Source: Read Full Article