Rare announced that Battletoads has hit the one million player mark, just two short months after release. Launched on Xbox One and PC, there's no doubt that its inclusion in Xbox Game Pass played a large role in its success.
In order to celebrate the occasion, Rare released a bunch of stats about Battletoads – shedding some light on its most popular character, collectibles collected, and number of times our heroic toads have succumbed to an untimely death.
Players have died, 80,037,506 times (More than half were due to turbo bike crashes).

Players have revived 2,880,267 toads.

8,677,560 collectibles have been discovered.

The game's first boss (Porkshank) has been defeated 1,562,508 times.

Fuzzyness holds the record for fastest full game speedrun at 1:38:51.

Rash is the most popular toad, followed by Pimple and Zitz.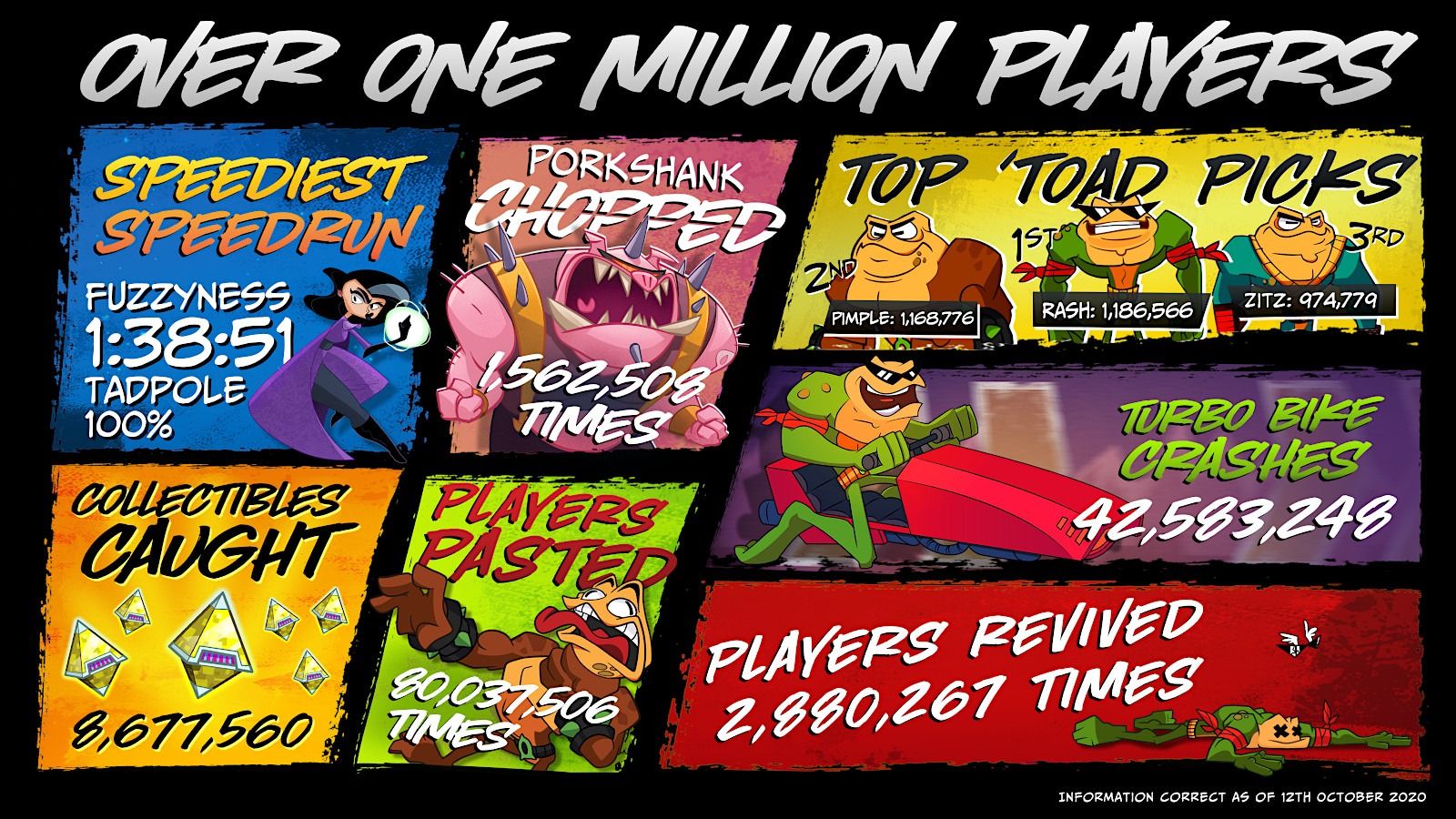 Battletoad-fever clearly hasn't waned in the years since its initial release, and its great to see the remake doing so well in such a competitive market. In fact, Battletoads has several crossovers going on right now to promote itself further. Sea of Thieves is currently offering a Fightin' Frogs Ship Set that is free to players if they've also played Battletoads and completed its first act.
Then there's The Lost Adventure comic created by Titan Comics, which details the events leading up to the Toads latest game. The first issue (which is completely free) landed on October 21. Rare also pointed out that the Battletoads soundtrack is out now on Spotify, YouTube Music, and various other platforms.
If you've been holding out for a Battletoads release on PS4 or PS5, you're probably out of luck. Developer Rare is owned by Microsoft, and it's highly unlikely Battletoads will ever seen the light of day on a console outside the Xbox family. If you don't own an Xbox, you can always try it out using Xbox Game Pass for PC – or even stream it to your Android device with the Game Pass app.
Battletoads is available on Xbox One and PC, and seems to be just as popular as the original.
Source: Read Full Article