Battlefield 2042's second season is called Master of Arms and will introduce a new specialist, a new map, new weapons and vehicles, and a new mission objective system that allows players to earn Battlefield Portal weapons in All-Out Warfare.
The big new addition of Master of Arms is a new map, Stranded, which takes place on the shores of Panama. The central point of the map is an overturned tanker where black market arms deals are being held, although screenshots of the map also showed a large ship and a radio tower are also on the map. The tanker seems focused on close-quarters combat, with crates stacked around for players to climb and shoot from.
Another big addition to the game is a new operative, Charlie Crawford, who can call in a mounted Vulcan turret as his special ability. Although that may make Charlie seem more action-oriented, he also has a unique ability that gives allies ammo when they're revived by him, making him a cross between an assault specialist and a medic.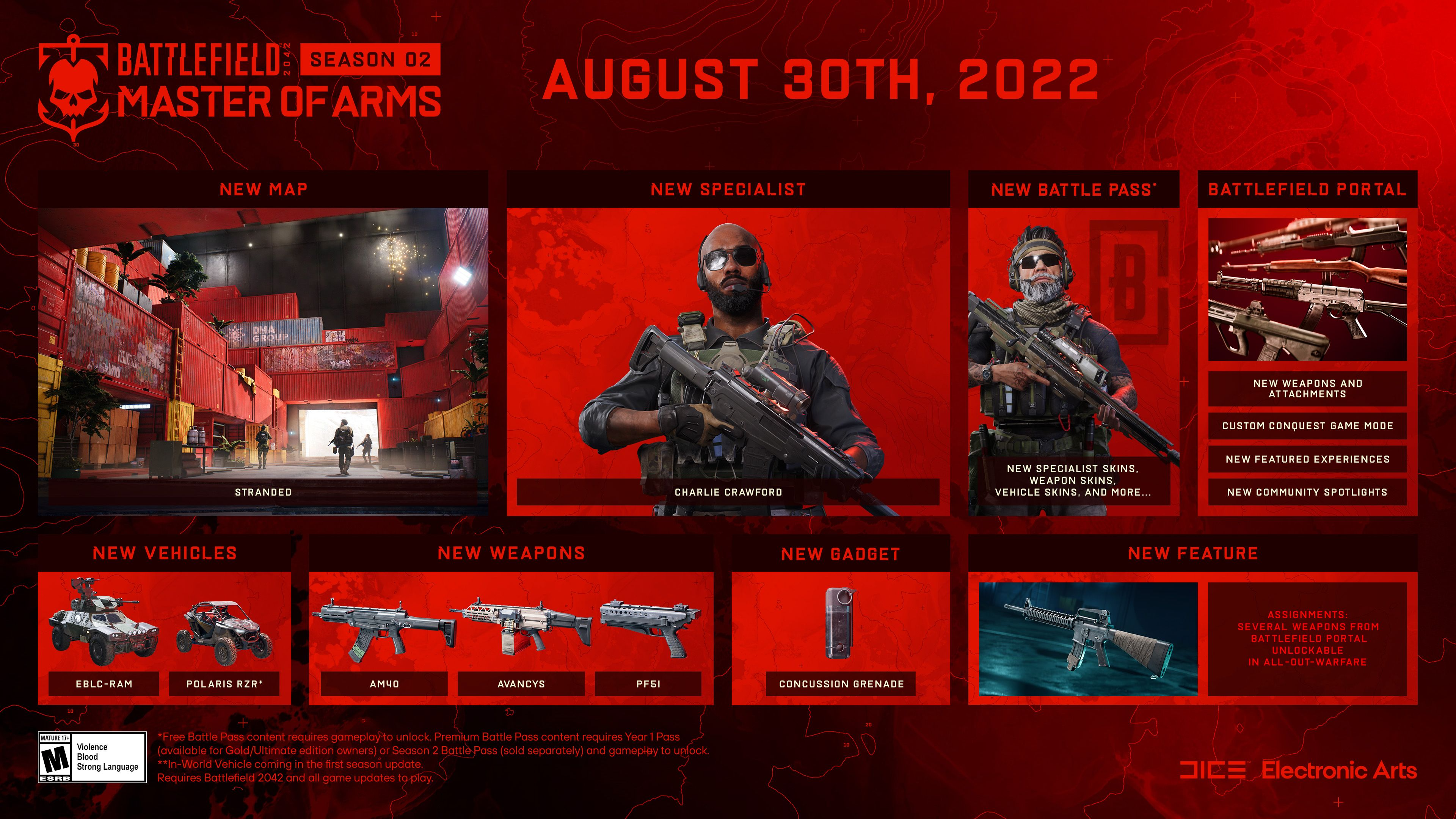 There are also a range of new weapons being introduced in Master of Arms, including the AM40, Avancys, PF51, and the new Concussion Grenade. As for new vehicles, there's the EBLC-RAM, which features a host of different firearms and the ability to drop a beacon for allies to spawn in on, and the Polaris RZR, which is a lightweight buggy that lets you speed around the battlefield
Aside from new content, Master of Arms will also be introducing a new system called Assignments, which are objectives available to all players that will allow you to unlock Vault Weapons, which were previously only unlockable in Battlefield Portal, for use in All-Out Warfare. This is in addition to several new guns from Battlefield 3, Bad Company 2, and Battlefield 1942 being added to Battlefield Portal.
EA also confirmed that when Master of Arms launches August 30, it'll have a new 100-level battle pass for players to work through with special skins, tags, executions, and more. It also confirmed that all of the "gameplay-altering" content will be earnable for free, and that all content can be earned after the season ends.
Source: Read Full Article