Baldur's Gate 3 has been in early access on PC for quite some time now; initial release windows have been pushed back thanks to, well, the obvious, but this hasn't stopped plenty of us from enjoying the game. While we've only had access to the first act and content has been drip-fed to us over the past few years, it's already a well-rounded, worthwhile experience.
Tonight at The Game Awards, Larian Studios shared a new trailer for Baldur's Gate 3 housing a number of exciting announcements. It was a perfect distillation of the game to get people hyped up – along with dramatic dialogue from the companions we already know; we got a glimpse at some familiar faces, a few scenes from the game's second act, and the eponymous city itself. The prospect of heading back to Baldur's Gate in glorious HD fills me with excitement, so it's going to be a long few months until the August 2023 release date. We don't have an exact date yet, but having such a tight release window is promising.
The trailer also had more surprises in tow. While dataminers were already pretty confident that we'd end up recruiting classic character Minsc, the prospect of Jaheira returning in a recruitable capacity seemed remote. It turns out that both will be joining the fray. While I always found Minsc to be a little too memey for my tastes (he keeps a space hamster for a pet, whatever that is), Jaheira is one of the better-written characters of the original duology and a fun Fighter/Druid multiclass to boot, so I'm eager to see what she's like after so long. I love her new look – it seems Jaheira was allowed to age gracefully, while Minsc apparently spent a century petrified in stasis, keeping his iconic looks intact. It remains to be seen whether Boo, the aforementioned space hamster, will be returning. But they gotta, right?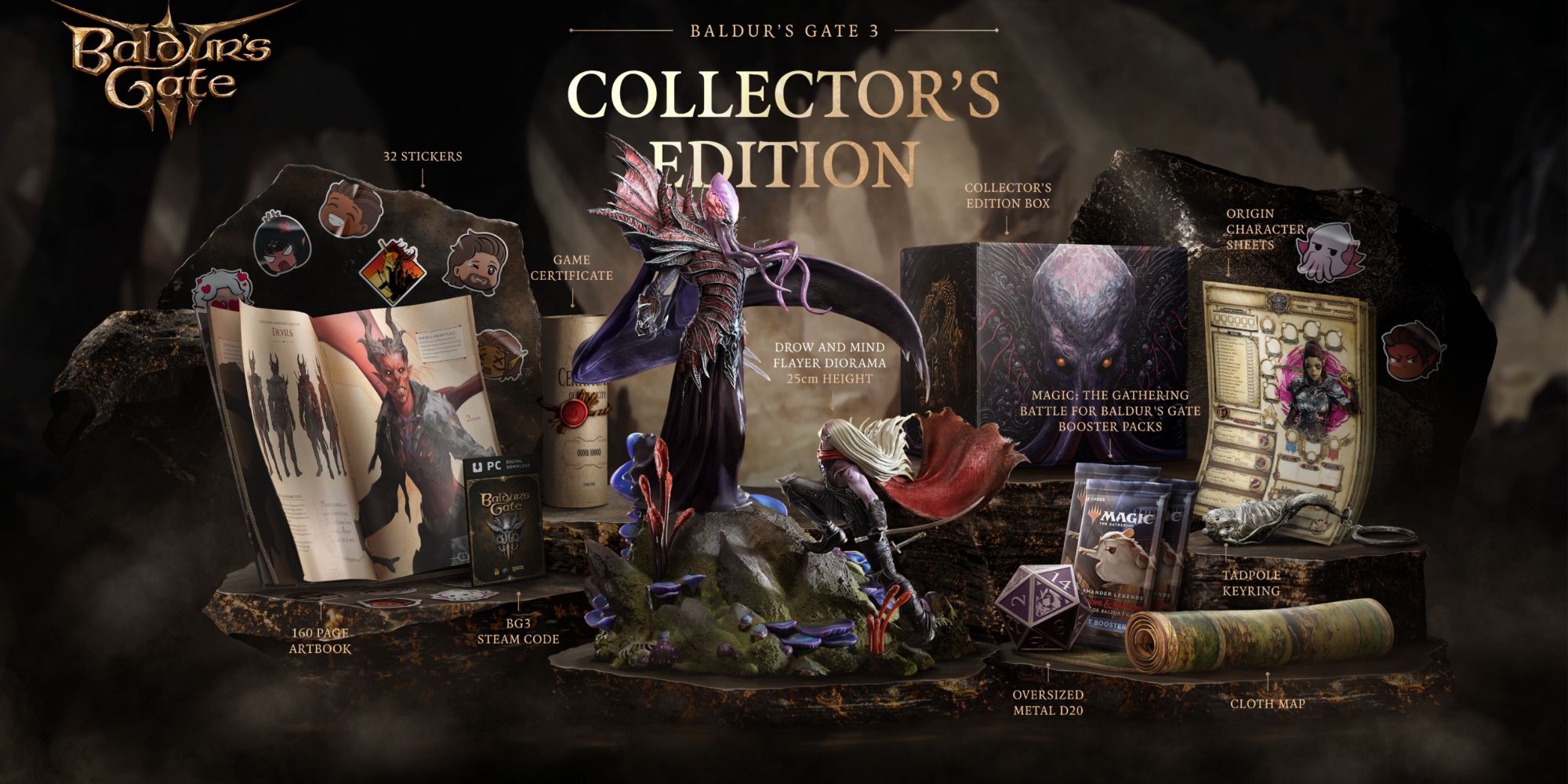 While the next big patch for the early access game is coming soon (with more details to be revealed at the Panel From Hell live on Twitch on December 14 at 6pm GMT, it brings me no joy to know that we won't be seeing Minsc and Jaheira in-game just yet – we'll have to wait until August next year to greet our old friends and see exactly what Larian considers the canon ending to Baldur's Gate 2.
The Baldur's Gate 3 collector's edition was also revealed. In addition to the usual haul of stickers and a nice cloth map, those who get one of only 25,000 packs will bag themselves a neat tadpole keyring, a set of character sheets that let you play Dungeons & Dragons as characters from the game, some Battle for Baldur's Gate Commander Magic: The Gathering booster packs, and a beautiful-looking 160-page artbook.
The best of the best, are the "table-breaking" oversized metallic D20 and the diorama of a drow taking on a devious mindflayer, both of which would make great additions to whatever shelves of geeky tat we all seem to cultivate. The collector's edition will set you back a cool EUR 259.99/USD 269.99.
Baldur's Gate 3 is currently available in Early Access. For more information about next week's Panel From Hell, which will go into detail regarding the next milestone patch, check out the official website.
Source: Read Full Article