Blood Bond is the second main quest in Assassin's Creed Valhalla's Wrath of the Druids DLC after Irish Trade and Irish Adventure, as well as the first quest that actually transpires on Irish soil.
You'll trigger Blood Bond right after landing in Dublin with Azar, at which point Barad mac Imair – King of Dublin and your long-lost cousin – will greet you. It's not the longest quest in the world, but it does require a little bit of legwork and a lot of intuition, which is why we've taken the liberty of putting this guide together in the first place.
If you've just started Wrath of the Druids and are curious about how to complete Blood Bond, whether that means where to find the graveyard in Dublin or how to defeat the enemies that ambush you, look no further than this comprehensive Assassin's Creed Valhalla Wrath of the Druids Blood Bond guide.
Assassin's Creed Valhalla Wrath Of The Druids Walkthrough: How To Complete Blood Bond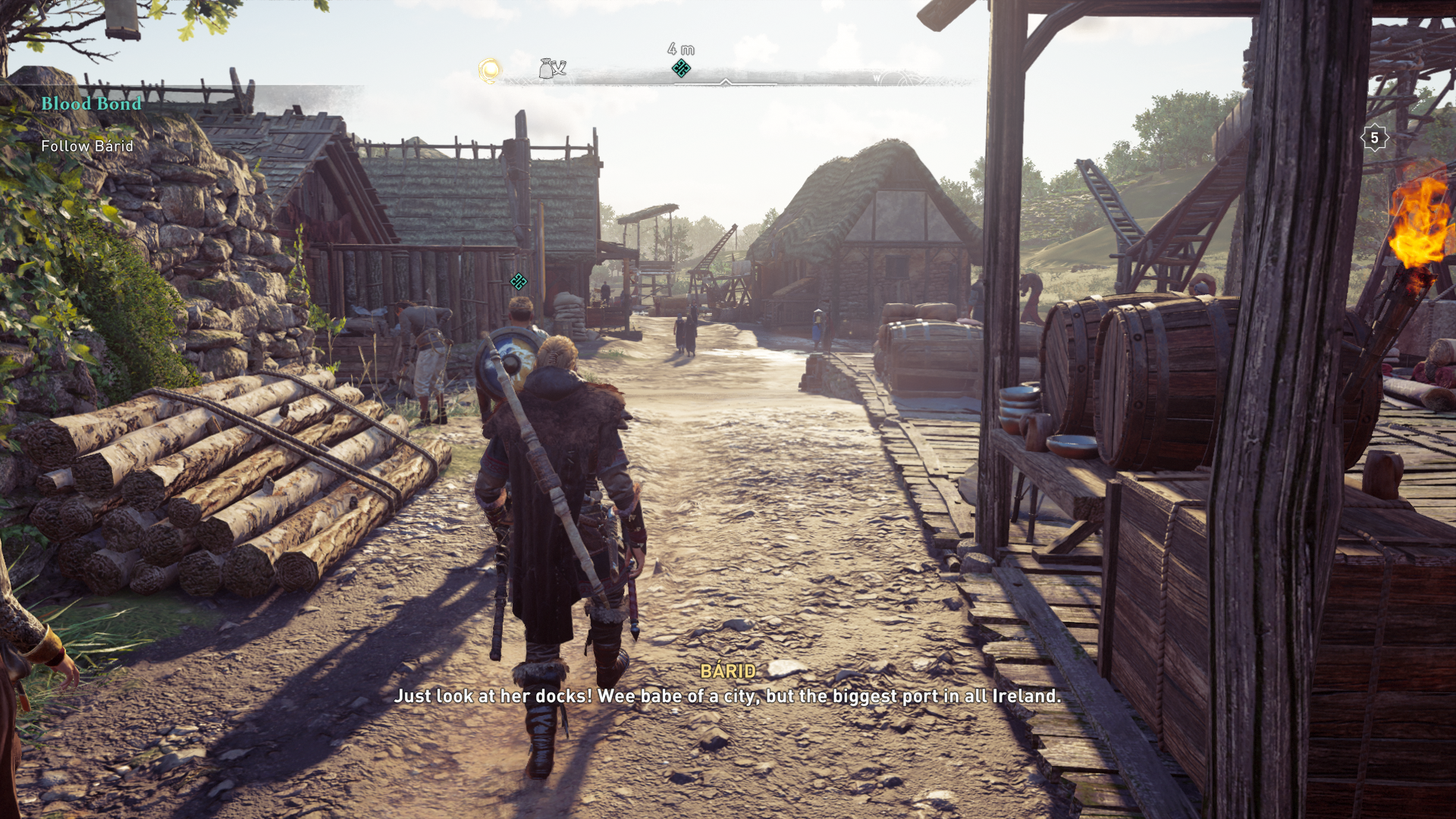 After landing in Dublin, Barid will escort you to his "castle," which is really just a wooden building similar to a longhouse. There's already a bit of a party going on here, although Barid will storm off during the festivities after having a disagreement with his son, Sichfrith.
After scolding Sichfrith and quite literally punching some sense into him, the young lad will tell you that his dad is likely visiting his grandfather's grave. As is the case with a lot of Valhalla's base game quests, there's no quest marker denoting the exact location of said grave, meaning you'll need to listen to the directions and find it yourself.
Fortunately, it's pretty easy to find the grave. From Barid's longhouse, head directly south and cross the river. You'll see a large hill here, approximately 100 in-game meters away from Barid's house, with arches and tombstones lining the path all the way up. If you follow it, you should be able to find Barid in no time at all – he's towards the top of the hill, off to the right in one of the larger enclosures.
After talking to Barid, you'll be tasked with following him back to Dublin. However, you will be ambushed along the way, marking your first encounter with the eponymous wrath of the druids. These enemies are quick and fight alongside Irish wolfhounds, so if you're a little rusty, remember to balance dodging with aggression in order to ensure your stamina doesn't get depleted. Ultimately, you should be okay, although the ambush is a little unexpected, so be sure to be on your guard.
Once you have defeated the druids, regroup with Barid and continue on your way back to Dublin. Barid will state that schemes like this have become fairly commonplace of late, before directing you to one particular Vikingr bandit who is almost definitely to blame, which commences the next main quest in Wrath of the Druids: Snaring Thorstein.
Source: Read Full Article