The beauty of Call of Duty: Modern Warfare is the insanely detailed and extensive Gunsmith, wherein players can enhance the game's arsenal of weapons to their heart's content. This mechanic, coupled with the Armory, allows for an almost endless variation to loadouts, which can then be utilized with tactical precision in Warzone. First, players will need to understand how the Perks now operate, as some have altered effects, in addition to which tacticals and lethals are best for this new battle royale.
Just be prepared to either have enough cash ($6,000) to buy a loadout crate in-match or enough weaponry to snag a random drop without being overrun in the process.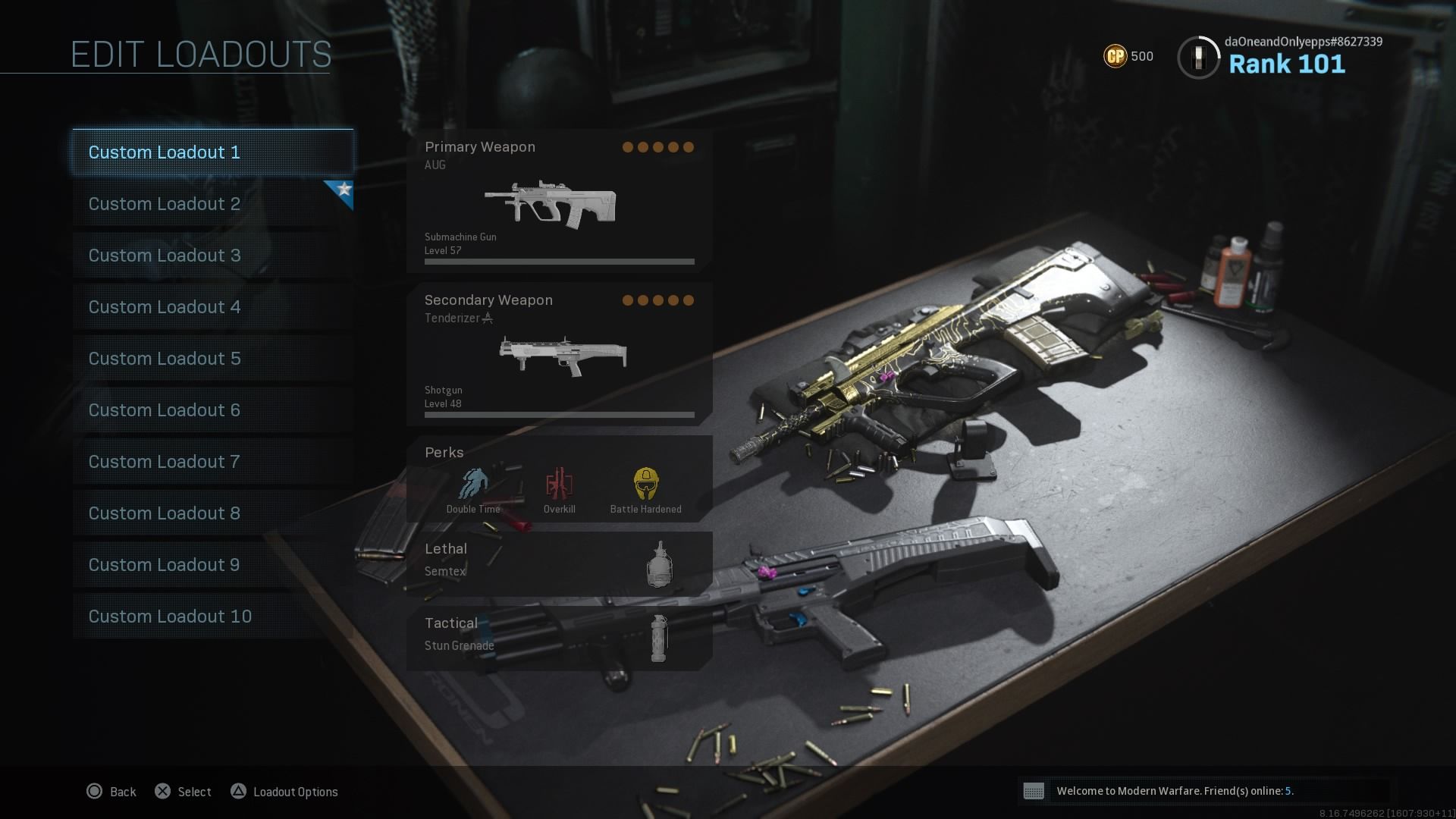 Mid To Close-Range Combat
If you want to maintain a more close-combat approach, make your loadout an SMG and a Shotgun, preferably the AUG with a drum attachment and the R9o or Origin. Players can even pair an SMG with a Riot Shield for something a bit different, but far more comfortable for the action-crazed. VG247 suggests their "The Cheese," an AUG and a riot shield, while GameRant likes the MP7 and the Oden. Here are two loadouts for close up and personal players:
• Primary 1: AUG (Compensator, Lightweight Barrel, Viper Reflex Sight, 60-Round Drums, Ringer Foregrip)
• Secondary 1: R90 (Choke, Sentry Barrel, Bulldog Pump, Operator Foregrip, Sleight of Hand)
• Primary 2: Bizon (Monolithic Supresser, Aluminum Barrel, Canted Hybrid Optic, No Stock, FMJ)
• Secondary 2: M13 (Muzzle Brake, Tempus Mini Barrel, 4.0x Flip Hybrid Optic, Merc Foregrip, Granulated Tape)
• Perks: 1. Double Time 2. Overkill 3. Shrapnel/Amped
• Grenades: T. Smoke/Heartbeat Sensor  L. Molotov/Throwing Knife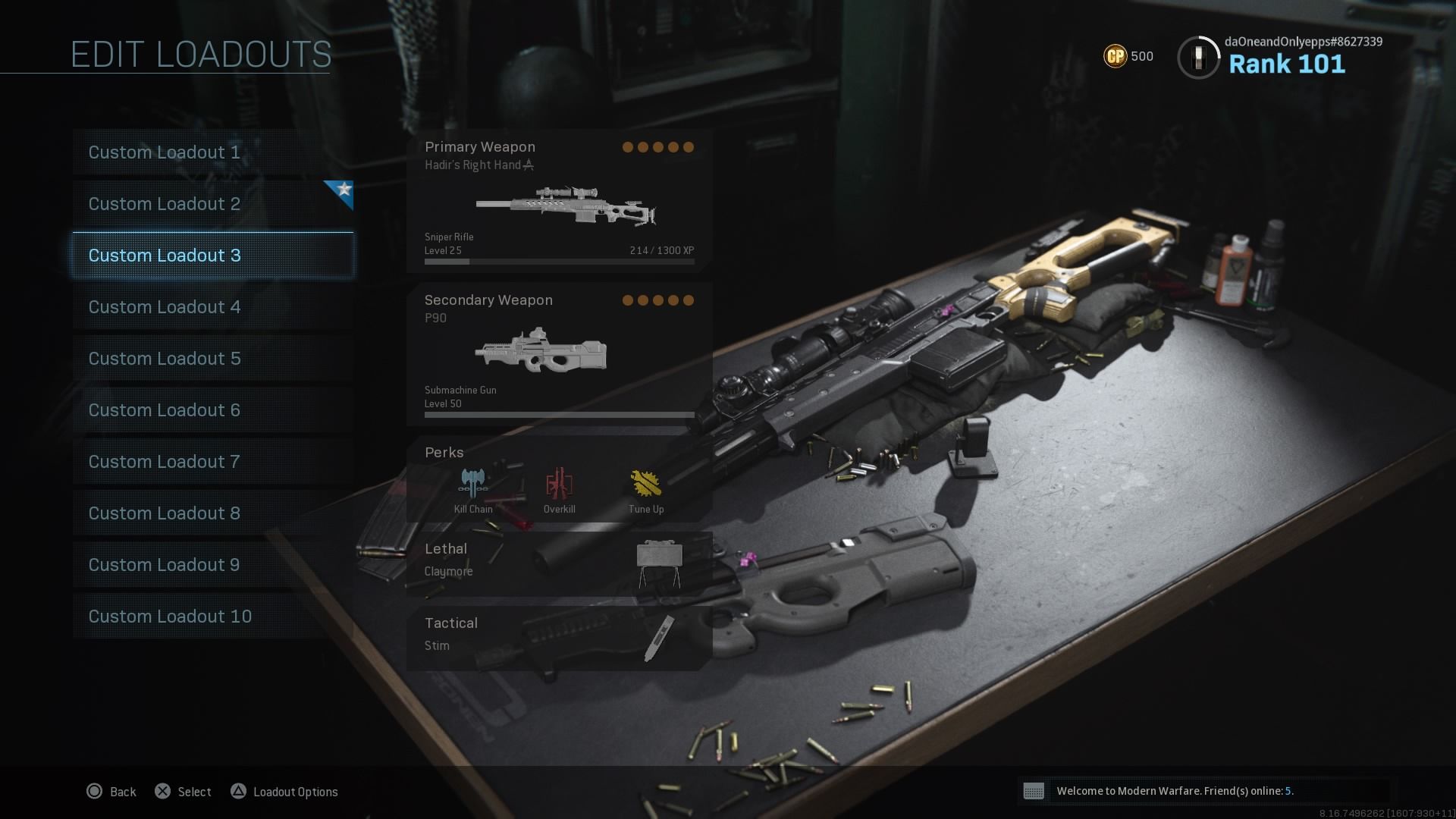 Long-Range Warrior
The great thing about Warzone is its extensive map. At first, it doesn't look too menacing, until you're scouring for a weapon with a team of two opponents shooting from the rafters of the building opposite you. For this reason, sniping is almost a must in the new battle royale mode. Personally, I always choose a class that has a sniper, whether that be an HDR or an EBR-14, but I'll often compliment that with an SMG, like the P90, or an assault rifle, like the RAM-7. Even an M4 would work well as a long-range weapon with the right modifications, as shown by one streamer with 22 kills to his name in one match.
Check out these two long-range loadouts:
Primary 1: HDR (Bull Barrel, Variable Zoom Scope, Champion Stock, 9 Round Mags, Focus)
Secondary 1: P90 (Compensator, Retribution Barrel, Halo 7 Sight, Heavy Stock Pro, Sleight of Hand)
Primary 2: Holger (Spitfire Barrel, Solozero 4.0x Integral Optic, No Stock, Merc Foregrip, Sleight of Hand)
Secondary 2: EBR-14 (Muzzle Brake, Precision Barrel, Sniper Scope, Raider Chassis Elite Stock, Tactical Foregrip)
Perks: 1. Cold Blooded/Kill Chain 2. Overkill 3. Tune Up/Amped
Grenades: T. Stim L. Proximity Mine/Claymore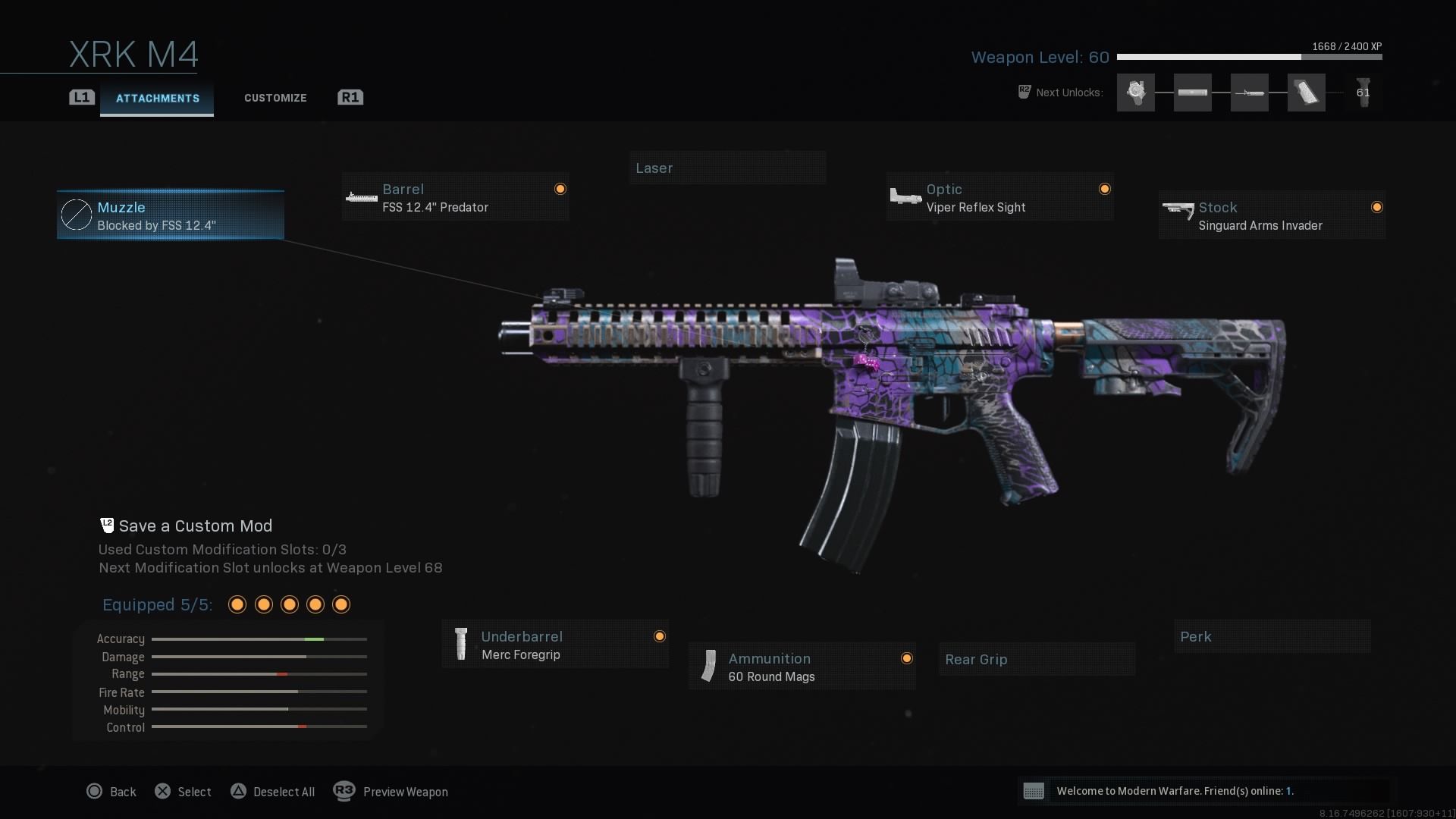 All Stealthy-Like
For the James Bond, Jason Bourne, and John Wick crowd, these types of classes tend to be geared more for stealth-like action, particularly utilized best in Solos. Here are two good classes that allow for the option to swap out that Secondary for a better in-match weapon, like a gold SMG or sniper, depending on what guns you may have already found or what type of loadout speaks to you in that match.
Primary 1: RAM-7 (Tactical Suppressor, Compact Barrel, 4.0x Flip Hybrid Optic, Equilibrium Stock, Sleight of Hand)
Secondary 1: Combat Knife
Primary 2: XRK M4 (Predator Barrel, Cronen C480 Pro Optic, Singuard Arms Invader Stock, 60-Round Mags, Merc Foregrip)
Secondary 2: X16 (Lightweight Suppressor, Vanguard Elite Barrel, 17 Round Mag, Lightweight Trigger, Sleight of Hand)
Perks: 1. Cold Blooded/EOD 2. Ghost/Restock 3. Spotter/Tracker
Grenades: T. Stim/Heartbeat Sensor L. Throwing Knife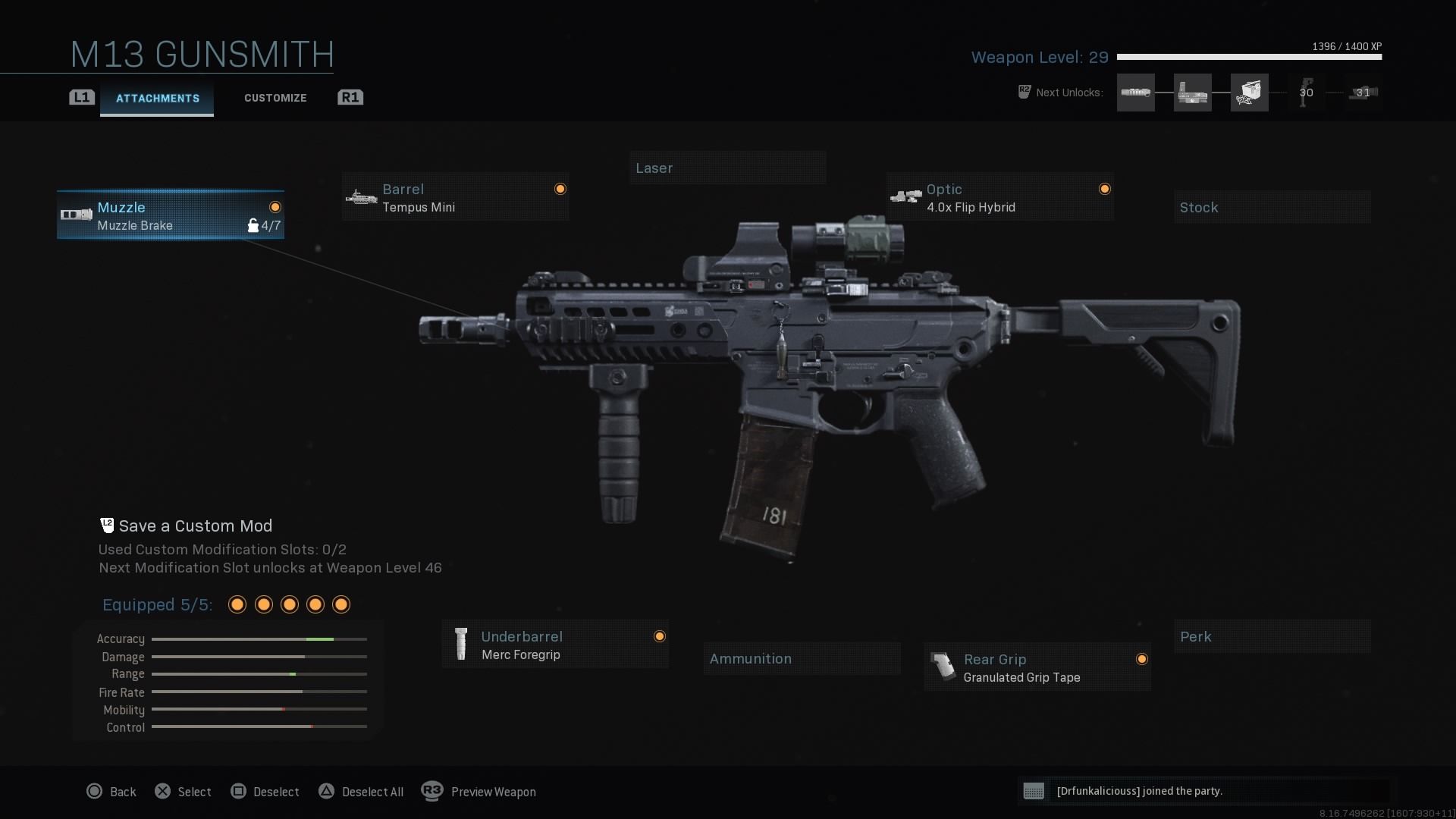 Gunsmith And Armory Upgrades
Knowing the best way to complement the weapons in your loadout is as important as the weapons themselves. This is not only in reference to the primary and secondary guns, but also the perks and the grenades. Saddling a loadout with Overkill is probably the most used option, but players should not forget Ghost, which works well with more silent classes, Restock, and Hardline. As for perks 1 and 2, the best ones to go with are Double Time, Kill Chain, Cold Blooded, Tune-Up, Amped, and Shrapnel.
Players should also be aware of utilizing the Armory. If you're unsure of how the weapons color coding in Warzone works, the Armory is the best place to learn, as the color they appear there will be the same in battle royale. What I personally like to do is use Armory guns and modify them to my own liking. It's also best used for the weapons players don't use as often and aren't as upgraded as much, limiting their attachment options. For instance, Hadir's Right Hand, the modified HDR with a gold stock, is perfect for snipers, whereas the Flood (MP5 variant) is better for close-combat players.
When it comes to loadouts, it really comes down to trial and error. There's an entire Reddit community dedicated to listing out all the varied opinions on what guns work well in Warzone. Test them all out and see which work best with what type of modifications. It's not as simple as saying "These are the best classes," given the amount of depth and variety awarded via the Gunsmith in tandem with the Armory. It's a system that works well and, if you use it right, it will treat you well.
Source: Read Full Article