Age of Empires 4 didn't quite receive the comeback we thought it would. Despite receiving good reviews at launch, the game currently sits at 107th spot in terms of 24-hour peak concurrent players on Steam. The highest concurrent players it ever garnered was a mere 73,928. It seems that the world has moved on from the classic RTS formula, and those who did play it at launch bounced off after their nostalgia was satiated. However, some new features may just bring back a few players.
The devs have shared a roadmap of what we can expect to be added to Age of Empires 4, and it comprises some of the community's most requested features, including Ranked Seasons.
"With our first major update of 2022 approaching, along with the official start of Ranked Seasons, we wanted to take a moment to thank you all for continuing this journey with us as we continue to maintain and grow Age of Empires IV," said a note by Relic Entertainment.
The post went on to explain that updates will henceforth be referred to in numerical seasons – Season 1 being the upcoming one – as opposed to Spring, Summer, or Winter updates. This is being done because update names based on the temperate seasons don't work for a global community.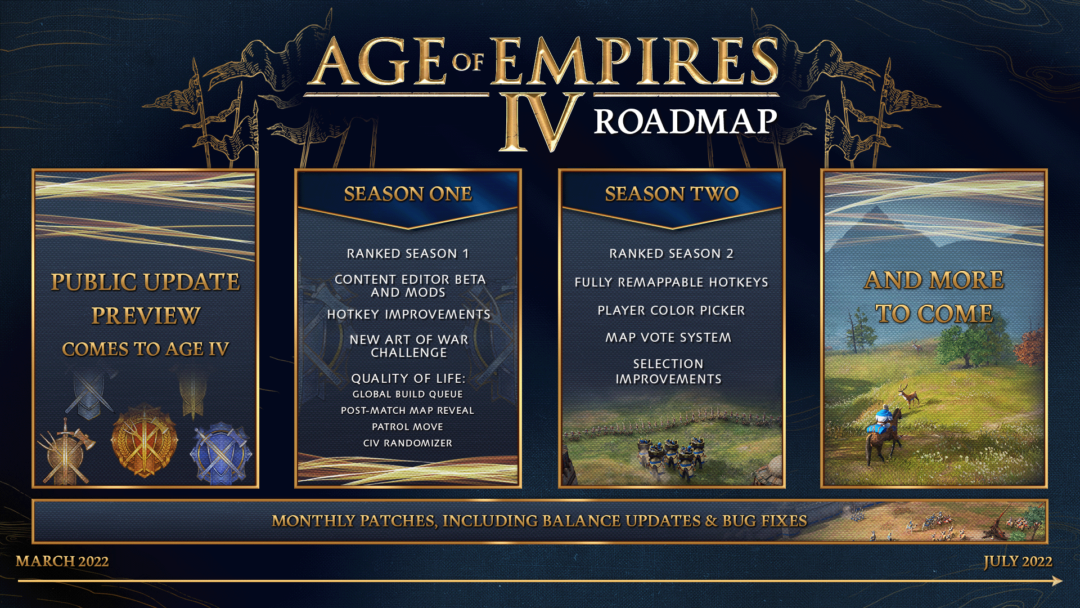 Season One will see the introduction of a Content Editor as well as mods. The Content Editor will launch as a beta, and remain throughout the season, with constant updates and tweaks made with the help of community feedback. The mods will be in-house, but there's no word yet on if they will be opened up to the public later.
The 1v1 Ranked Ladder will also make its debut in Season 1. A preview of the feature was held back in January, and the final version will include a few tweaks based on the feedback received then. Along with that, the games Hotkeys system will also receive an overhaul to make things easier and more accessible.
Season 2 doesn't include too many major updates, but will fine tune existing ones and introduce a bunch of minor ones like remappable inputs, a map vote system, and a player colour picker. However, the post noted that "plans for Season Two are not as locked-in as Season One".
Source: Read Full Article