Imagine a life sim game with a Two Point twist. A character creator with a quirky claymation style, combined with the room-building aspects and decorations we've come to know and love, all thrown into a big open sandbox neighborhood for you to live your best virtual life. That's what I want. I think a Two Point life sim could go the distance to rival even The Sims, and the recent launch of Two Point Campus is proof of that.
At first glance, Two Point Campus may look and feel the same as Two Point Hospital, and you might write it off as just another business management sim with familiar gameplay. However, once you truly get stuck into life on campus, you'll come to realise it's an evolution that offers new mechanics that not only improve it as a business sim, but hint at what could come next.
For starters, Campus students have more individuality than your Hospital patients ever did. Sure, they have basic needs, like being fed, watered, and generally wanting to be clean and happy. But they have personalities too, their environments affect them, they have trendy little groups they fall into — such as goths or nerds — and more importantly, they can build relationships with one another. I spent much of my time forcing students to fall for each other so that I could watch them have fun on the Double Jump bed. Take your mind out of the gutter, they use it like a trampoline, so it's far tamer than your Sims woohooing under the covers. Yet in the right game, maybe this is how beautiful Two Point babies could be made.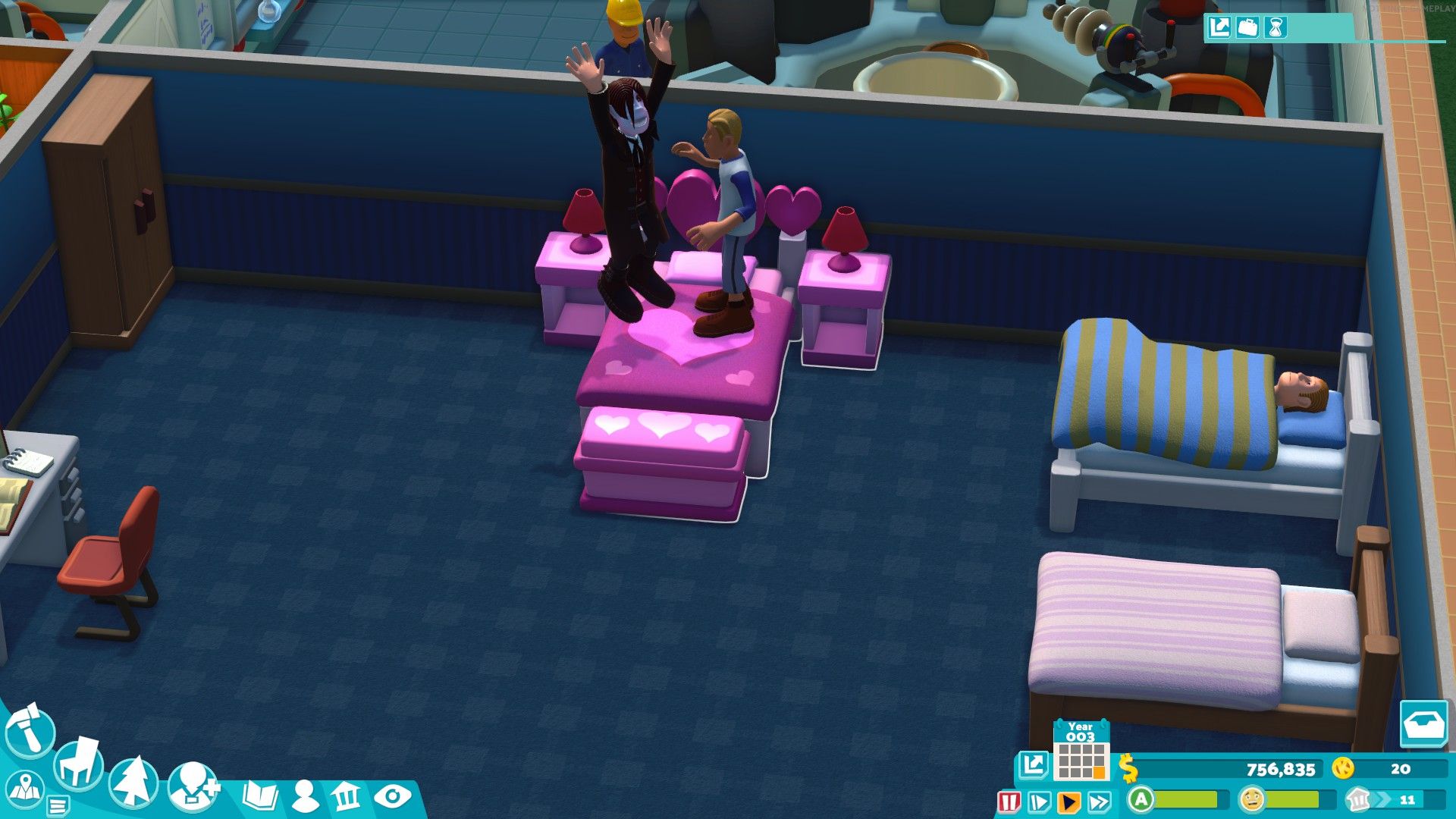 Students have traits that make them even more unique. These dictate how likely they are to keep themselves clean, how quickly they act or work, and how friendly they are with others. This social aspect is one of the most important building blocks of what makes a good life sim. Imagine selecting traits like this when creating Two Point life sim peeps, or it's possible your characters would inherit traits depending on what you make them do. If you're too busy working them to the bone and neglecting their hygiene, maybe that's when they'd get the 'Gross' trait.
Now imagine your little characters living in a Two Point world. There might be a chance of them suffering from classic Two Point Hospital ailments, or perhaps they could work in a hospital or campus, or attend a course to begin their career as a knight. Don't forget to watch the weather report, I hear there's a chance of frog rain today.
Two Point peeps aside, what else makes a great life sim? Let's face it. There are three camps of players. The regular players that like to build their families and play through the game. Then, there are those with darker enjoyments — I'm firmly in this camp — who enjoy drowning people in swimming pools, creating scandals in the neighbourhood, or churning out artist mills in a basement. Lastly, there are the architects. Those who build beautiful houses and decorate them to create stunning masterpieces.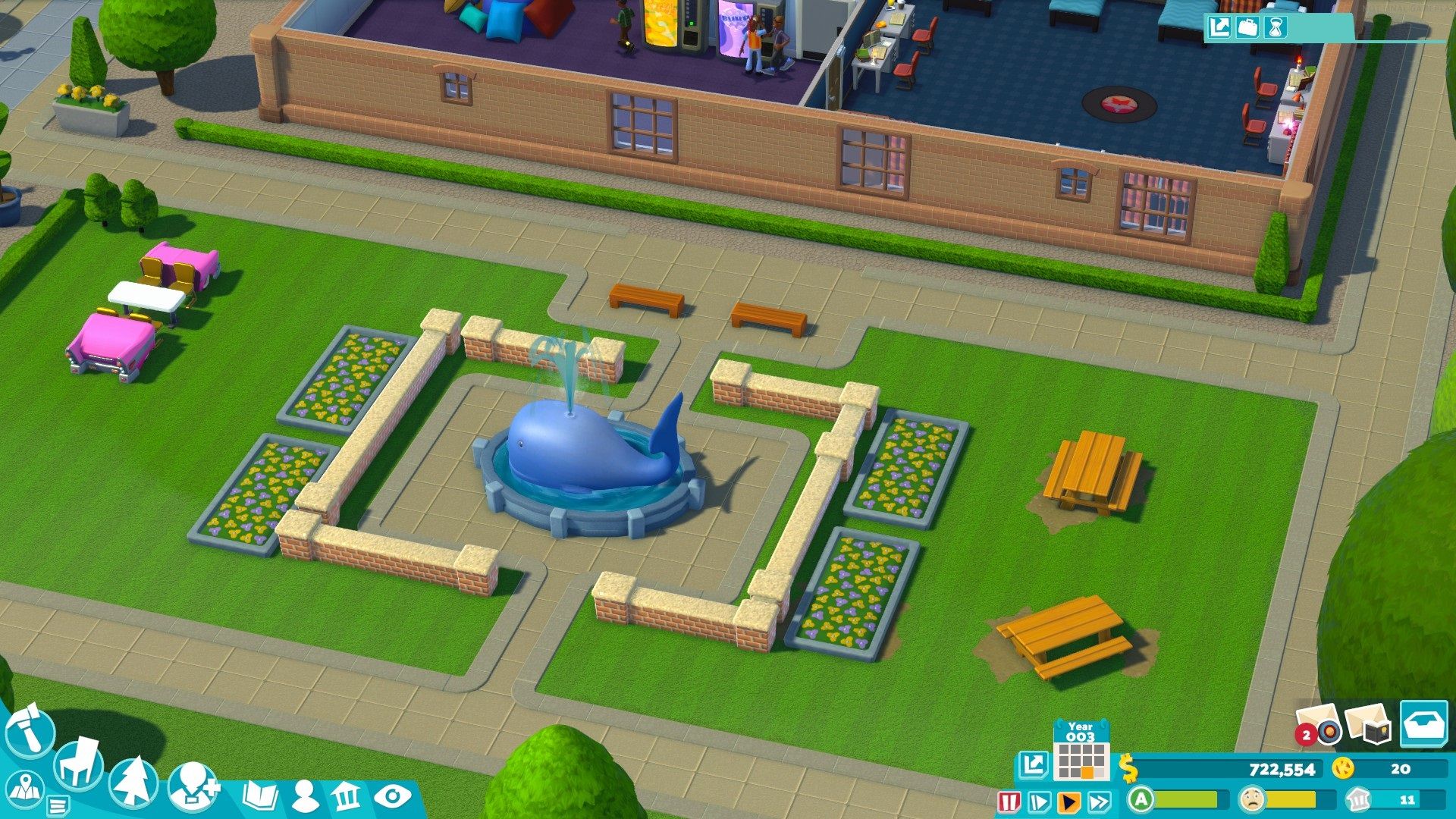 Well, that's where Campus proves that Two Point Studios can tick every box. Unlike Hospital, Campus allows players to fully design campus layouts, creating buildings from scratch if they wish, and even landscaping the outside as much as the inside. This lets players build their dream campus, whether that's something as old-fashioned and mystical as Hogwarts, or something more streamlined and modern to suit the tastes of the Robotics students. Sure, none of these aspects are as in-depth as what The Sims has to offer, but it shows that Two Point could do it too. A few more creation tools, more decor options and designs to choose from, and you're onto a winner.
Campus is an evolution that has me contemplating what the series could grow into next. Like many fans, I'd undoubtedly be happy with just another business sim, but the idea of breaking out of that barrier and into something new is even more exciting. Give me more of that weird and wonderful British humour, but set in the wider Two Point world with a focus on life rather than business.
Source: Read Full Article